Creative Clash Of Titans: What Really Happened Between K Balachander And Ilayaraaja?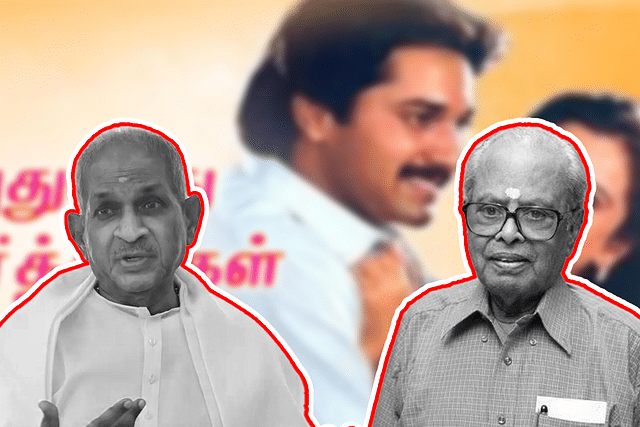 K Balachander and Ilayaraaja.
Snapshot
If anything, they were fans of each other. It is just that there was a rift between them for a short while.
Listening to the impossibly orchestrated beauty of hundreds and hundreds of his songs, many non-Tamil Nadu music lovers are regularly wont to go on the lines, "Ilaiyaraaja is a remarkable genius. He must be such a respected icon in your state."
Well, the music maestro, who has scored tunes for a mind-boggling over 1,000 films across languages, is indeed an icon in the state.
But looking at the recent comments of the dominant and powerful Dravidian sections on the social media platforms, one may start thinking otherwise. Tamil Nadu's greatest musical genius ever is today the butt of a concerted attack.
The man has been targeted with vileong and bigoted words by the Dravida Munnetra Kazhagam (DMK) supporters and others who generally identify themselves as 'D stock' on Twitter and elsewhere.
Ilaiyaraaja, who is arguably among the top 5 of the all-time greatest Tamilians, has been attacked by the DMK lackeys because the man likened Prime Minister Narendra Modi to Dr B R Ambedkar in the foreword to a new book, saying both of them were 'striking personalities' and practical men who believed in action rather than 'mere thought exercise'.
And the fact that the ace musician was nominated to the Rajya Sabha by the Modi government also has raised the hackles of the Dravidian elements, who have also poured scorn on him in casteist terms (Ilaiyaraaja is a Dalit from the Pannaipuram village in Theni district).
And they also brought up Raaja's old spat with ace director K Balachander (KB) which they said was responsible for the rise of A R Rahman and Maragathamani (Keeravani), the two Oscar winning music directors from India.
KB And Raaja — A Flashback
It is this discord between KB and Raaja that is interesting as quite a few versions of this story are doing the rounds.
The popular belief is that Raaja and KB had a fallout, and in a fit of pique the director launched the careers of ARR and Maragathamani in 1992 and thereby effectively "finished off Raaja's high-flying career".
Never mind the fact that Raaja is still around and scoring music for a variety of films, including the recently released Vetrimaran directorial Viduthalai.
Many of the Raaja baiters share a popular YouTube video of the director Karu Palaniappan where he talks of how KB broke the stranglehold of Raaja by simultaneously launching three films without his music and this was a turning point in Kollywood's musical annals.
But, as it happens, the narrative is flawed and not entirely factual.
As someone who got the opportunity to speak with many of the people concerned (including KB himself), this writer feels that too much is being made out of the squabble between Raaja and KB.
To be sure, the duo did have a disagreement and stopped working with each other. But the two never lost respect for each other, and there is hardly any truth to the claim that KB worked behind the scenes to settle scores (pun unintended) with the music director.
To this day, there is no record of either of them bad-mouthing the other in an interview or from a podium.
To understand the issue, a little bit of flashback is needed. Though K Balchander's first film with Ilaiyaraaja was the musical tour de force Sindhu Bhairavi in 1985, the latter had been scoring music for KB's production under the Kavithalaya banner since its inception in 1981.
The banner's first ever movie Netrikan had the music of Ilaiyaraaja, who as ever scored memorable tunes with all the four songs being big hits.
Even while Raaja was doing music for many of the important Kavithalaya films (that is, those starring heavyweights like Rajini or Kamal), KB stuck with M S Viswanathan (MSV) for Agni Sakshi (1982), which was his first directorial for his own production house.
Even as MSV's reign was coming to an end, KB did not immediately switch over to Raaja, as was the norm those days.
KB's last film with MSV was Poikal Kudhirai (1983) — a film that saw the introduction of 'Crazy' Mohan as a writer in Tamil films. KB did Achamillai Achamillai (1984) and Kalyana Agathigal ((1984) with the violinist turned composer V S Narasimhan.
By 1985 when KB decided to make Sindhu Bhairavi, the choice of Raaja was inevitable as he had become a force of nature by then.
A film of that calibre needed a musician of Raaja's skill. It was a match made in heaven, and the film to this day remains a musical gem and got Ilaiyaraaja his first ever National Award in 1986. (Incidentally, his second also came through the KB-helmed Telugu film Rudra Veena in 1989.
Aside from these two, Raaja scored music for four other KB movies — all of them to this day are remembered for its musical brilliance — Punnagai Mannan (1986), Manathil Uruthi Vendum (1987), Unnal Mudiyum Thambi (1988, the Tamil remake of Rudraveena) and Pudhu Pudhu Arthangal (1989).
The last-named is where the problems for the two came to a head. Or so we are told.
Two Titans And Their Feud
Then again, there are conflicting accounts about it. Raaja, as was always the case with him then, was neck-deep into composing for multiple films simultaneously. KB, having announced the release date for Pudhu Pudhu Arthangal, was impatient for the re-recording to be completed for his film.
Raaja was involved in, among others, films like Kamal's Vetri Vizha, Rajini's Maapillai and Vijayakanth's Dharmam Vellum. (This film will be remembered for the fact that Raaja made Jikki sing a mainstream film song — Poovodu Kaathu Vandhu — after she fell into a depression following the death of her husband the singer A M Raja in a tragic accident).
There was also a strike in the industry and getting background instrumentalists was impossible. Recording could be done only in Bombay (Mumbai).
As things reached a flashpoint, KB went ahead and used some of the existing tunes and riffs that Raaja had composed for the film as background music.
Raaja, who values creative integrity, was miffed. But KB campers claim that they used the stock tunes (which was anyway Raaja's) only after getting his nod. Raaja's side holds that even if he had said 'yes' due to time pressure, KB should not have resorted to that shortcut approach.
It is irrelevant now as to who was right and who was wrong. But there was a rift in their relationship. But both being strong and opinionated individuals who value their artistic work, such tiffs based on creative differences were not uncommon.
KB has had his misunderstandings with the likes of Kamal, Nagesh and Rajini. Ditto for Raaja with Maniratnam and Bharathiraja.
And it is here, the details need to be looked at carefully. KB after the Pudhu Pudhu Arthangal fracas moved back to V S Narasimhan for his next directorial Oru Veedu Iru Vasal (1990).
And for his 1991 film Azhagan, KB brought Keeravani from Telugu and introduced him as Maragathamani. He also scored for Kavithalaya's 1991 movie Nee Pathi Naan Pathi.
So the narrative as popularised by the likes of Karu Palaniappan is a bit shaky. ARR and Keeravani were not unleashed simultaneously in a vengeful fit in 1992. They never came together. They arrived in different years (Roja was in 1992).
Their success under Kavithalaya brand was just providential and not a planned onslaught on Raaja's hegemony. To make a story based on their relative success post-facto is too pat and dubious.
In any case, Raaja was never unseated from his perch. Just look at the number of films he had scored music for in the immediate years following ARR entry in Tamil film industry (1992). In that year alone, Raaja had more than 50 films under his belt.
In 1993, it was over 40. All through the 90s, there was not a single year when Raaja's film numbers went below the double digit. It is unclear whether ARR or Maragathamani have had a year in their entire career in which the number of films they scored music for hit the double digit mark.
Raaja And KB Mutual Fans
There is also a misconception — again engendered by vested interests — that KB, Maniratnam and Vairamuthu joined forces against Ilaiyaraaja as each one of them had an axe to grind against the maestro.
Well, this is just a cunning conflation of various issues at play. Vairamuthu and Ilaiyaraaja feud is different and has a personal angle to it. Raaja has never forgiven the lyricist for his misdemeanours.
Vairamuthu, it is important to note here, has talked pejoratively about Raaja even in public functions. Vairamuthu, it is no secret, using his political connections, had planted stories against Raaja.
KB and Mani never did anything of that sort as their differences were just creative misunderstandings and issues that can crop up between any two individuals due to pressure and stress of their work.
Mani still talks very highly of Raaja, and even spoke at his famous concert in Chennai a few years ago. KB, for his part, always held a great opinion of Raaja. In the early 2000s, in an interview with KB, I asked him who was the best music director he had worked with.
After all, the great man had put to use in his films the likes of MSV, V Kumar, Narasimhan, Vijaya Bhaskar, ARR and, of course Raaja for his movies.
KB paused for a moment and said, "it'll not be fair on my part now to single out a name as being the best." And then, he added pertinently: "but almost all reckon that the best music in my films belongs to Sindhu Bhairavi".
That film too is among Raaja's favourites from his staggering oeuvre. The songs happened, especially the brilliant Mari Mari Ninne (Raaja set it to Saramathi while Thyagarajar had composed it in Kambhoji), because of the film, Raaja said many years later.
Not a man to please easily, and not a man to throw his words around carelessly, Raaja in fact said that because of the challenging situation (the film scene that KB was able to think up) he was able to compose such an envelope-pushing song.
He said that on a platform in which KB was also present. If Raaja had found any person to be deceitful, he would not have shared the dais with him, leave alone praise him profusely.
So this also puts to lie that the two masters were inimical.
If anything, they were fans of each other. It is just that there was a bit of a quarrel between them for a short time.
It is clear that the Dravidian sections and some other vested interests are trying desperately to badmouth Raaja and also paint KB in a certain colour as he happened to be a Brahmin, a tag that is under the most concerted attack in Tamil Nadu today.
Petty politics, especially on social media forums, can always be understood. But it should not be at the cost of bringing down artistic icons who have brought glory to the state and the nation.
Get Swarajya in your inbox everyday. Subscribe here.
An Appeal...
Dear Reader,
As you are no doubt aware, Swarajya is a media product that is directly dependent on support from its readers in the form of subscriptions. We do not have the muscle and backing of a large media conglomerate nor are we playing for the large advertisement sweep-stake.
Our business model is you and your subscription. And in challenging times like these, we need your support now more than ever.
We deliver over 10 - 15 high quality articles with expert insights and views. From 7AM in the morning to 10PM late night we operate to ensure you, the reader, get to see what is just right.
Becoming a Patron or a subscriber for as little as Rs 1200/year is the best way you can support our efforts.
Become A Patron
Become A Subscriber