How do we connect our cities to the interiors and drive urbanisation? A proposal for developing concept of economic circles in this second part of the series on urban transportation.
The first part of this series identified the golden distance concept as 50/500 km links. The 50 km links would be the intra city-metro or suburban links; and the 500 km links span over the 'economic-circle' of 500 km radius about major cities.
An overlap between such circles would surely occur, and that would give greater economic cohesion in the country. This is inspired by how Mumbai grew around its sub-urban lines. By building these fast transit links, we would give axis for the future urban growth that would be more evenly distributed. Such links could bring about development of towns in this economic circle in to proper urban centres. In this part we discuss about these 500 km-radius links.
A Rethink on New Mobility Platforms for Differentiated Services
Metros get governed by their own Act, with the Ministry of Urban Development as its administrative ministry, mainline railways get administered under a separate act by the Ministry of Railways and the trams get administered by the local (municipal) governments. So the intra-city transit has two distinct governance structures and the inter-city and long-distance rail transit has the third structure. It is hence inescapable that when such economic circles get planned, there is need of cutting the inter-ministerial barriers, centre-state and state-state barriers.
The 500 km Challenge
The linkage of the city and the surrounding areas is currently served by the Indian Railways. Passengers are packed in like sardines, there are interminable waitlists and many a times the runtimes are unpredictable. On the freight side, news about missing trains make for interesting stories; week-long journeys are a norm; inability to handle small volumes is a handicap.
A lot of action is in the offing on the semi-high speed and the high speed rail on the passenger side of railways. On the freight side long distance dedicated freight corridors are being planned and built. What have been clearly missed out are the golden links which serve distances up to 500 km. Plot a circle of 500 km radius on major cities and one finds there are clusters of urban centres in these circles (we can refer them as the economic circles).
Make a circle about Lucknow and we find in them- Kanpur, Unnao, Etawah, Barabanki, Faizabad, Raebareli, Amethi, Allahabad, Gorakhpur, Sultanpur, Varanasi, Agra, Ghaziabad, Meerut, Delhi etc. A similar exercise at Delhi, Kolkata, Bengaluru, Chennai, Hyderabad, Vizag reveals a similar ensemble. Urban development planning needs to focus on such economic circles and create multi-node urban clusters.
Creation of such links would have a greatly stabilising affect on urban growth in the country by defining the axis on which urban growth would take place (like development of Mumbai along their sub-urban line). Uttar Pradesh has recently acquired 3,000 ha of land for the Lucknow-Agra expressway. Why can't such an approach be taken for railway lines too? As we argue later in this article, one can design such links and rolling stock which can take traffic off the roads.

Key challenges faced in rail based transportation-Seeds of solutions embedded in present:
So, how and when would 500 km challenge be met? Let's examine the existing challenges and evolve solutions. A snapshot of things as they stand in the country is given below.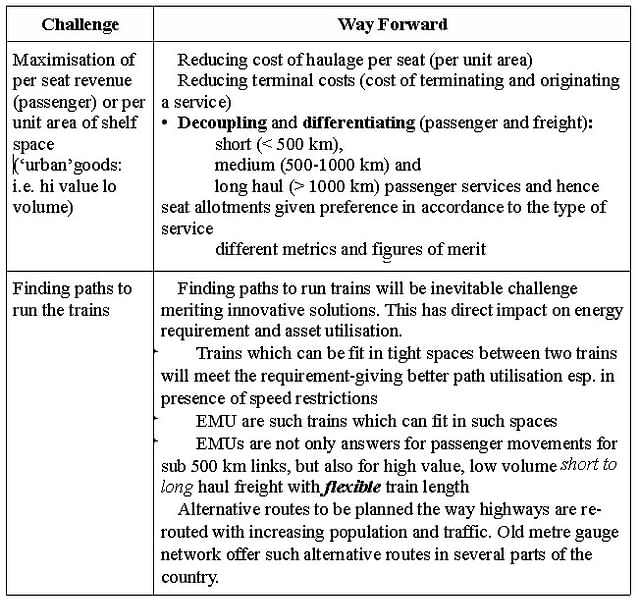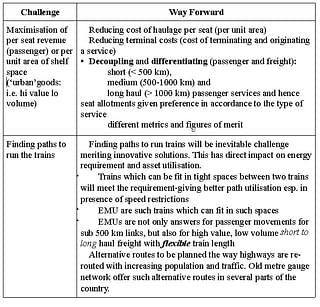 Table #1: Challenge map for train services (for sake of brevity the term EMU in this piece refers to both pure electrical-EMU/MEMU and diesel-DEMU powered options).
We see that services are not well differentiated. Further, they are not offered on different rolling stock platforms; practically all trains end up being locomotive hauled in general. It has been amply established that multiple unit platforms offer much faster handling of frequent 'start-stops' and have quicker turnaround times. It is hence important that short haul movement of 'urban' freight and passenger gets shifted to EMU (electric multiple unit) platforms as part of larger game-plan of serving the golden distance over the urban spread (avoiding use of 'sprawl').
Per seat revenue realisation gets affected because of lack of segmentation of long-medium and short haul services. This results in revenue per seat getting reduced – a short distance commuter at times finds timings of a long distance train more convenient! There are intercity trains, but they are in most cases woefully short on numbers, quality of service and scheduling. They haven't been planned with the intention of spreading the 'catchment area' of a city and changing the 'economic geography'.
Similarly, rolling stock platforms for moving high value-low volume freight aren't in place. EMUs haven't yet been deployed for freight, except for creating spaces for vendors in largely passenger services in India.
Standard carton sizes or standard custom-built containers/bins which can be handled and transported multi-modally can be part of such a scheme (air freight containers, companies like UPS/FEDEX have standard container/carton size).
Further, a EMU platform with its better brake system offers lower in-train forces (the clanking sound one hears when a goods train starts or stops, or jerks felt in some of the passenger trains) and train length can easily be increased or decreased. This would also give a train a ride quality similar to that of passenger trains.
Further, taking Lucknow-Delhi, Lucknow-Varanasi, Lucknow-Gorakhpur, Lucknow-Allahabad as representative sections for sub 500 km links: one can see the applicability of the use of several low utilisation terminals which can offer car-on rail services (accompanied vehicles) like that offered in the Eurotunnel (Channel tunnel train service) services which are marketed as faster than a ferry.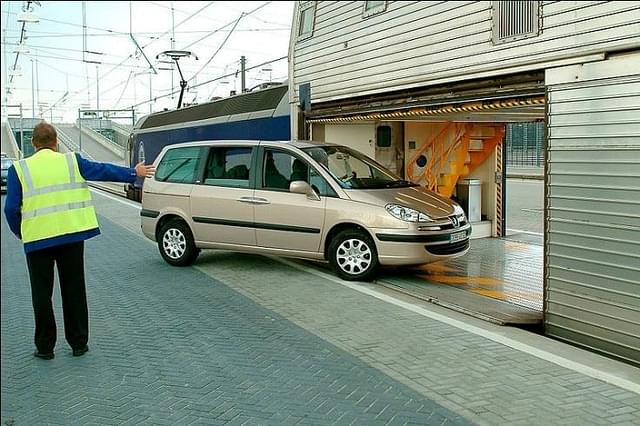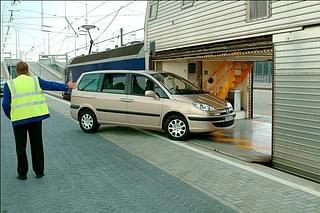 Loading vehicle for transport in Eurotunnel (Wikimedia Commons/Ministère des Affaires Étrangères Français)
These can be high speed transit for cars, small vehicles and containers (they may be engineered easily). Such options can be delivered readily for Delhi-Jaipur, Delhi-Chandigarh, Chennai-Bengaluru, Bengaluru-Mysore alignments.
Similarly, services where trailers or trucks are carried on back of the wagons exist world over and is referred to as rolling highway. Such an option would help to seamlessly tie the logistics hubs, and if planned well can reduce carbon footprint of transport.
Thus, the well planned links can veritably take road vehicles off the roads and get premium well packaged freight on board without worries of last mile connectivity. What a way to increase share of railroads-take the road vehicles on board!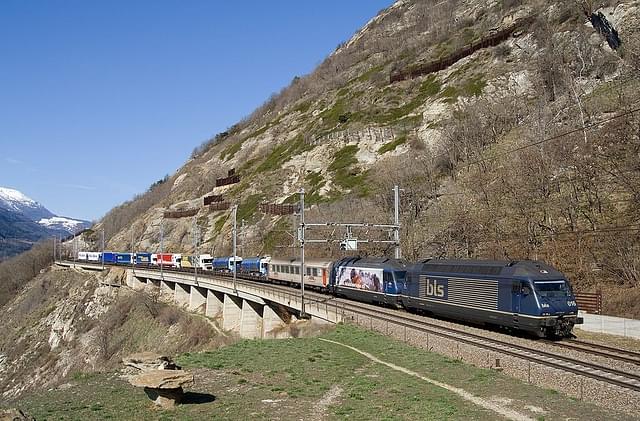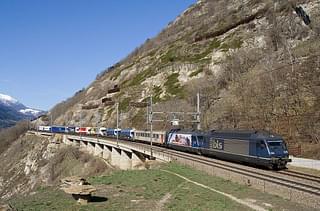 Train carrying trucks; Switzerland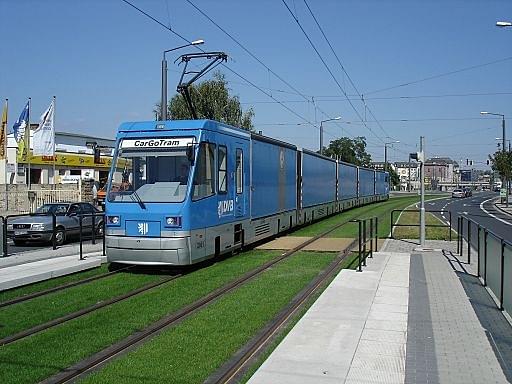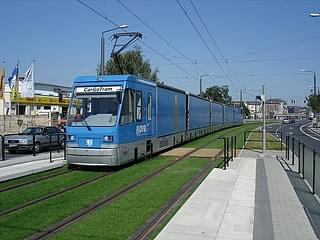 Freight Trams in Desden (WIkimedia Commons/kaffeeeinstein)
More details can be found here, here and here. India has invested heavily in the uni-gauge project, where smaller gauge tracks have been progressively converted to broad gauge. Many such converted sections are yet to be fully loaded and offer alternative routes for 'rolling highways'. A strategic plan, business like marketing and rolling stock customisation is needed: an exercise which can be taken in span of 2-3 years from concept to delivery. In fact, the rail alignment offers excellent alternative to road-based freight movement in the hilly regions.


Innovative designs permit following options (remembering that one can deploy flexi-length EMU trains in place of standard freight trains):
Using standard containers which can be readily loaded on/off the back of small trucks and carried on the trains for trunk haulage-last mile on small trucks/vans
Driving in cars, cargo vans, bikes in to the trains
Driving the trucks on the back of wagons and taking trailers on the back of wagons
Standard Container shipment which can be eased on/off the wagons without overhead cranes
Small loads of perishables and Jerk sensitive shipments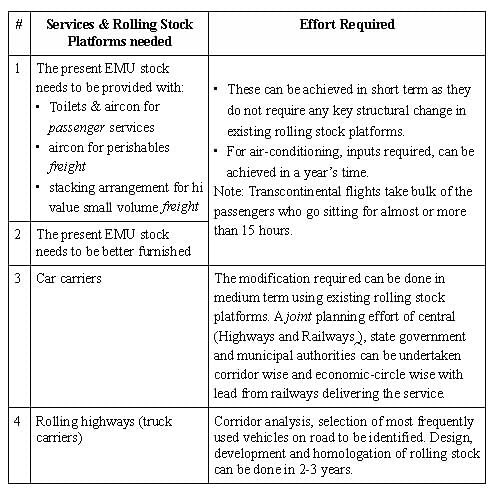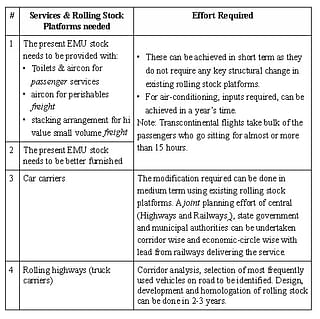 There is hence, a case for planning for mobility options for economic circles not restricted to single cities-there are plenty of options and technologies needed exist. Unless we plan, we can't act and for want of action today, our cities would become unviable and unsustainable tomorrow.
The first part of the series can be read here:  Smart Cities – Reimagining Urban Transportation