Heavy rains and floods in various parts of the country last year and this year have made big headlines this time around. But is India really receiving a bounty rainfall?

If data is to be believed, the answer is no.
Data on rainfall that India has received since 1900, shared with Swarajya by one of its readers , show a disturbing trend. Decade-wise, there has been a steady drop in rainfall that India has been receiving, particularly after the 1940s.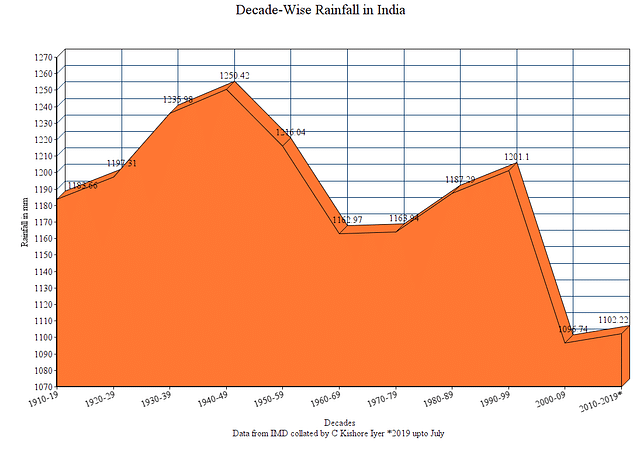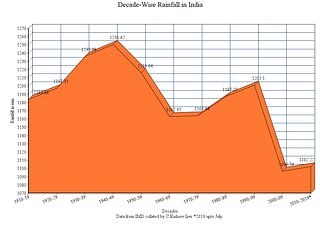 The average rainfall decade-wise is down sharply since 2000.
Only twice during the last century has India got rainfall of over 1,400 millimetres (mm), with the highest amount of 1,464 mm in 1917 followed by 1,401.40 mm in 1990.
The data shows a definitive pattern in the drop in rainfall that the country has been receiving compared with the 1950s and 1960s. For example, during the 1950s, India received over 1,300 mm of rainfall at least thrice. In the 1960s, the country received over 1,300 mm rainfall only in 1961.
The 1970s did not have a single year when the annual rainfall exceeded 1,300 mm. The mark was exceeded in 1983 and 1988. After the second-highest rainfall of 1,401.40 mm in 1990, not once has the rainfall touched the 1,300 mm mark.
In the last 20 years, India has received over 1,200 mm of rainfall only thrice, while the 1,200-mark was breached at least four times between 1991 and 1999.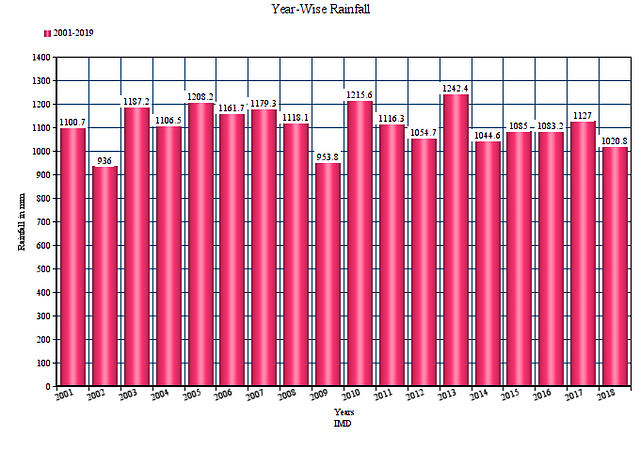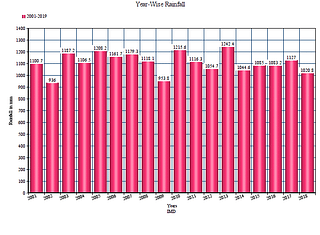 Barring three occasions, annual rainfall since 2001 has been lower than 1,250 mm
The data throws up a shocking feature over the last few years: the country received rainfall of less than 1,150 mm in 12 of the last 19 years. Particularly since 2013, when the country received 1,242.40 mm, rainfall has been below 1,150 mm annually.
A disturbing development in the last two decades has been that the country has been receiving lower rainfall during the crucial monsoon period of 1 June-30 September. The data that was available was viewed decade-wise and year-wise from 2001.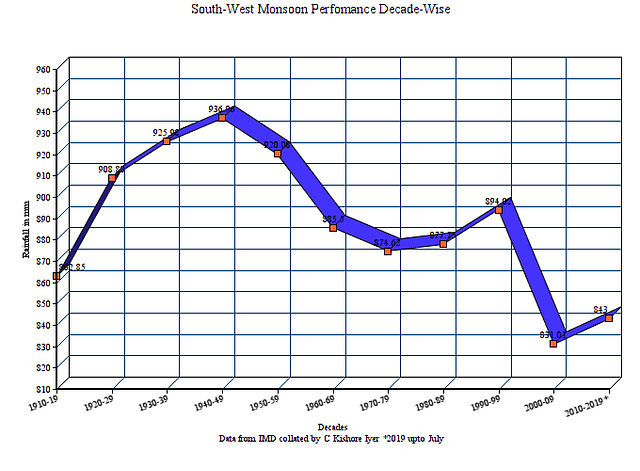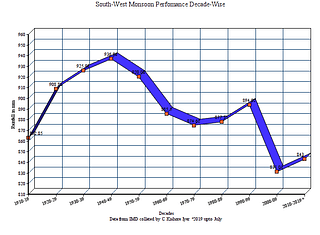 A sharp drop is seen in the rainfall activity during South-West Monsoon since 2000.
A comparison was also done with 1951-69, especially for July rainfall. The results showed that there is a sharp drop in rainfall that India has been getting in July, a crucial month for the monsoon since it peaks at that period, from the beginning of this century.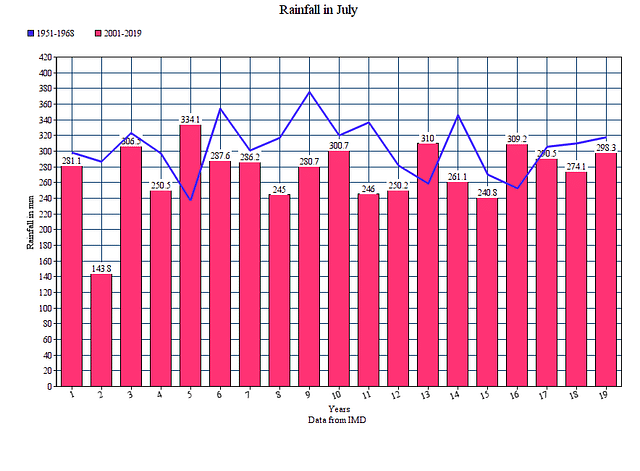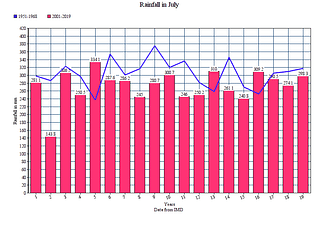 The blue line shows the July rainfall during 1951-69, while the bar shows rainfall during 2001-19.
The data does not show any significant rise in annual August rainfall. In fact, the average rainfall in August every year shows a drop for the last two decades when seen decade-wise.
The average rainfall has dropped to below 250 mm in August since 2001, though it crossed the 250 mm mark seven times after 2001. Between 2014 and 2018, rainfall received in August was below 250 mm.
Data was also examined for post-monsoon and pre-monsoon rainfall and all indicators were negative — the amount of rainfall the country is receiving over the years is dropping.
The drop in post-monsoon rainfall is bad news for Tamil Nadu, Odisha and coastal Andhra on the east coast. These regions depend heavily on North-East monsoon starting 1 October and ending 31 December. Since 2001, only twice has the country had received rainfall in excess of 100 mm in October — in 2001 and 2013.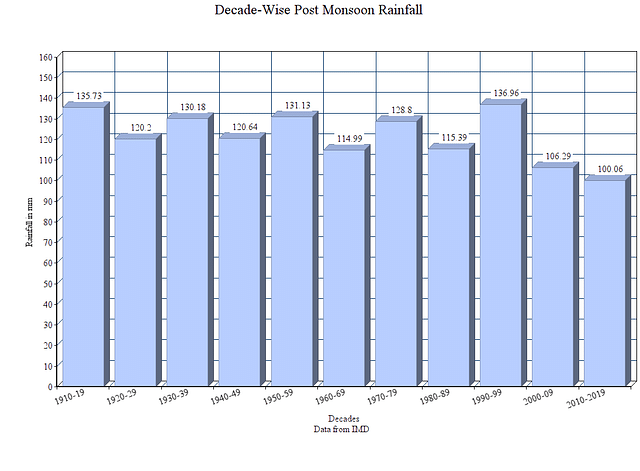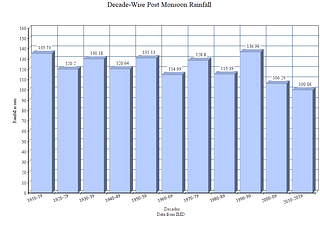 Post-monsoon rainfall trend indicators are bad for State like Tamil Nadu that depend on north-east monsoon starting 1 October. 
Since 1999, rainfall in November has exceeded 30 mm four times but topped 50 mm only once. The rainfall has never gone anywhere near the 1979 record of 76.1 mm for November.
Decade-wise, however, October-December rainfall is at a record low of 100.06 mm for 2010-2019 from 106.29 mm during 2000-10. Over the last two decades, the average post-monsoon rainfall has dropped below 110 mm.
Pre-monsoon rainfall during March-May is showing a downward trend over the last two decades. The best for pre-monsoon was 1980-89 when the country received nearly 150 mm average rainfall.
Interestingly, in May 1990, the rainfall received was a record 112.9 mm with parts of Andhra Pradesh such as Anakapalle being hit by a cyclone. A higher rainfall in May could also mean that the monsoon had set in early that year.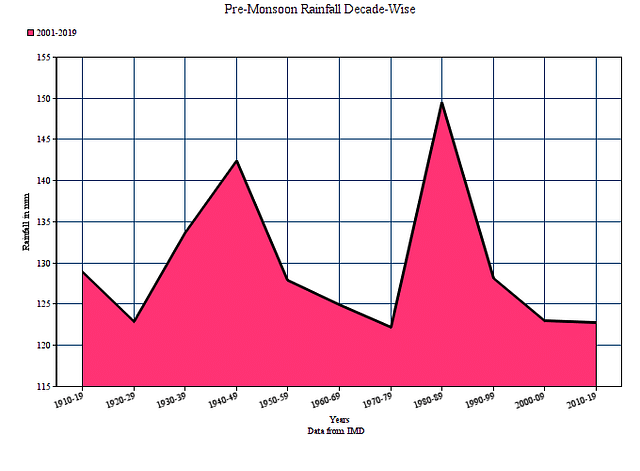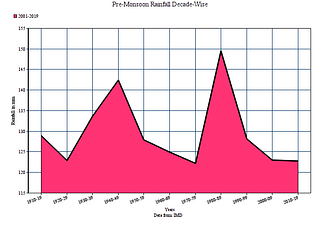 Pre-monsoon rainfall trend is not encouraging either. 
Why has the amount of rainfall that India has been receiving dropped? There can be two reasons for the drop in the annual rainfall.
One, a decrease in forest cover from the 1960s to at least early this century.
According to the Centre, dense forest cover in the country has increased to nearly three per cent of the country's geographical area compared with 1.56 per cent in 2003.
But the government data is being disputed by experts who point out to the decline of nearly four per cent in forest cover in the Western Ghats in recent years. One of the reasons for the floods and damages in Kerala's Idukki and Wayanad districts last year and this year was due to loss of forest cover, they say.
Two, global warming.
Greenhouse gas emissions have increased by 70 per cent between 1970 and 2004. Carbon dioxide emissions from motor vehicles increased to 4.6 billion tonnes a year from 1.8 billion tonnes between 1971 and 2005.
Besides, the average global temperature increased between 0.5 and 0.74 degrees Celsius during the last century, while the sea level has gone up by 10 to 25 centimetres in the last 100 years.
No study has been done linking the Indian monsoon with global warming or the rise in sea levels. Though the amount of rainfall has dropped, India's agricultural production hasn't been affected thanks to farm modernisation, better irrigation practices and use of quality and hybrid seeds.
However, the long-term effect will have to be seen closely. That Indian agriculture's contribution to Gross Domestic Product (GDP) has dropped below 3 per cent in the last couple of years is an issue of concern, and this may require deeper monitoring.