DeMo's One Big Success: Digital Money Is Now An Unstoppable Force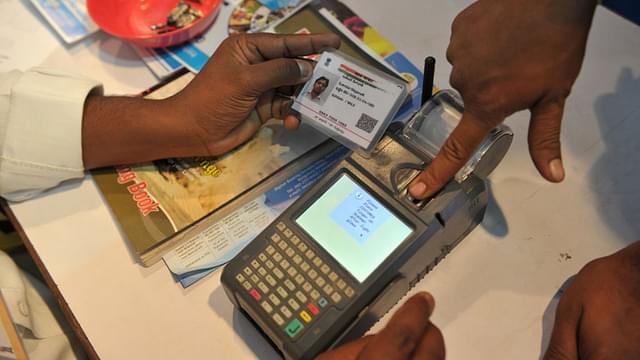 An Indian customer gives a thumb impression to withdraw money from his bank account with his Aadhaar card during a Digi Dhan Mela, held to promote digital payment, in Hyderabad. (NOAH SEELAM/AFP/GettyImages)
Snapshot
Narendra Modi's demonetisation gambit is stoking one big revolutionary change in India: financial digitisation on a massive scale.

It needs small minds, like those of the current leadership of the Congress, to think that demonetisation (DeMo) is the issue today. The pros and cons of DeMo have been discussed threadbare, and regardless of whether you think Narendra Modi's gambit failed or succeeded, it is stoking one big revolutionary change in India: financial digitisation on a massive scale.
Just as the Y2K crisis gave Indian software services companies a big liftoff, and Arun Shourie's exertions on spectrum pricing provided the jet fuel for mobile telephony to hit the big growth numbers, DeMo is likely to be the tipping point from where there is no looking back for digital money.
India already has one of the most – if not the most – sophisticated financial systems in the world, and DeMo was like a lighted match thrown on a can of petrol to make it all work.
Sure, Rahul Gandhi can observe Black Day on 8 November, and the Bharatiya Janata Party can counter it with its Anti-Black Money Day. The available data does not yet prove that Indians have given up their fondness for cash. But make no mistake: the naysayers are going to be wrong on this one. Digital cash is going to take off vertically over the next two or three years.
The broad data does not say the whole story, but gives us only glimpses of it. Most importantly, it shows that there is no major dent in the shift to digital transactions, though the DeMo cash shortage pressure is now completely off. In August, Reserve Bank of India (RBI) data shows RTGS (real-time gross settlements) transactions were up 5 per cent in terms of value compared to the 2016-17 monthly average, even though the latter was bumped up by the cash shortage in the last five months of the year. In terms of volumes, RTGS was up nearly 9 per cent. Since RTGS is largely used for business payments, this relatively moderate growth is explainable purely in terms of the economic slowdown post-DeMo and the implementation of goods and services tax (GST).
But consider other indicators. EFT/NEFT (electronics funds transfers) were up 12.15 per cent by value over 2016-17 averages, and volumes were up nearly 25 per cent. NEFT is the route often used by retail customers for making payments for big purchases, or rentals or even the EMIs on housing loans. Clearly, EFT/NEFT is going great guns.
Credit and debit cards were up 9 per cent by value in August, but a heftier 22 per cent in volume. This divergence in growth rates between value and volume is an indicator of higher adoption of cards for smaller purchases – a signal on increasing usage for day-to-day transactions like kirana purchases.
The biggest growth is clearly in prepaid instruments (PPI) like e-wallets. Values transacted rose 59 per cent in August compared to 2016-17 averages, and volumes were up 46 per cent. This is where DeMo had its maximum impact.
The interesting data is on mobile banking, where value of transactions rose 22 per cent, but volumes were down 27 per cent. What this signifies is that people use mobile banking for larger transactions than before, but probably combine this with e-wallets – another form of mobile payments – to manage day-to-day smaller purchases or peer-to-peer payments.
Overall, electronic payments systems saw a 17 per cent value growth (2016-17 averages versus August 2017), and about 5 per cent by volumes, pointing to increasing usage by organised players.
Some of these numbers may not sound very big, but there is little doubt that anecdotal evidence is pointing towards a huge liftoff in digital transactions soon.
Economist Vivek Dehejia, writing in Mint newspaper last week, suggested that last year's DeMo-induced cash shortage would have "nudged" Indians towards greater adoption of digital avenues. He uses the "nudge" theory of this year's Nobel prize winner in economics, Richard Thaler, to speculate that DeMo may have pushed people to adopting more non-cash modes of payments faster. The "nudge" theory postulates that left to themselves, people often make sub-optimal choices, and they need to be subtly pushed to making the right ones. For example, left to themselves, many young workers may choose not to buy life insurance or save money for retirement since it may give them higher short-term take-home earnings. This is one reason why the government makes provident fund payments and medical insurance compulsory for workers.
Dehejia does not claim that DeMo was driven by any acute understanding of "nudge" theory by the Modi government, but hypothesises that it may have led to some desirable behavioural changes that are beneficial to the economy and to citizens in the medium to long run.
I suspect that the nudge theory is working even better than Dehejia suggests for the simple reason that the financial sector is adopting it even faster than what one would have expected it to do before DeMo. Thus, while the ordinary citizen may still retain her partiality towards cash, banks, financial intermediaries, e-wallet and e-commerce companies, and corporations are finding digitisation very rewarding – or unavoidable – for their future competitive positioning.
Some data is already available on this.
Consider the hardware side of the digital game. While ATM installations have flattened off, point-of-sale terminals zoomed 14 per cent from 2.52 million to 2.88 million.
The Times of India today (31 October) informs us that banks have started shuttering ATMs, with 358 being closed in the June-August period, down from the peak of 222,926 in June to 222,568 now.
In terms of new installations and replacements, the newspaper reports suggest that in April-October 2016, banks added 20,478 ATMs; in the following five months, the numbers added declined sharply to less than 3,000. On the other hand, point-of-sale machines (which allow you to swipe cards) zoomed by two-thirds, from 15 lakh at the end of October last year to over 25 lakh in the next five months. An increase in the use of third party ATMs shows that banks are not going to encourage cash drawals in future by investing too much in cash-vending machines.
Some banks are also feverishly cutting branch staff to emphasise digitisation, with HDFC Bank said to have axed around 11,000 jobs in the last nine months, and Yes Bank by 2,500. State Bank of India, having still to digest the mergers of its subsidiaries to itself, wants to set up a purely digital bank.
While we can rack this job loss as another casualty of greater automation and digitisation, the reality is that jobs are being created at an even faster pace in the fintech industry – another indicator of the coming digital takeoff. Even as mainstream banks are cutting jobs, Paytm is planning to invest nearly half a billion dollars just for KYC (know your customer) compliance. Speaking to Mint, Renu Setti, chief executive officer of Paytm Payments Bank, said: "We have 10,000 people already doing KYC for our customers. Since we have to convert all our customers to being KYC-compliant, we are adding 10,000 more people. Now, 20,000 people on the street doing KYC are targeting to convert 500 million customers into KYC compliant customers."
The road-signs of a digital revolution are painted in bright neon. The indicators are:
One, banks shifting over dramatically to digital modes, and de-emphasising branches and ATMs. HSBC wants to cut the number of Indian branches by half and focus on digital delivery of banking services. When branches and ATMs dwindle, citizens will be pushed rather than just nudged towards digital banking.
Two, government payments are fast being digitised, and there is talk of giving discounts on GST if payments are made through the digital mode.
Three, it's demography. India's mobile-crazy youth are making mobile and wallet banking cool, and The Economic Times informs us that September saw 877 million digital payments, including wallet transactions. Peer-to-peer payments are leading the volumes, with distance creating the need to pay digitally rather than by cash or cheque. I can offer a simple anecdote to stress this shift: my car cleaner in Bengaluru called me earlier this month when I was in Mumbai asking if I could pay him his dues. I told him I would be back next Sunday, but he requested payment by Paytm – and I was happy to be saved the bother of hanging around at home to pay him in cash the following Sunday. The sheer convenience of long-distance payments of small amounts cannot be exaggerated. ET says that cash gifts are now exchanged through e-wallets.
Dehejia's "nudge" is becoming a mix of "push" from the financial sector and "pull" from a tech-savvy youth population that is increasingly comfortable with mobile payments.
Digital is waiting to explode.
If Rahul Gandhi wants to make a big deal of the digital push, he should aim at its chinks: big potential flaws in cyber security. Or, maybe, ask his pet Pidi to handle this issue.
Get Swarajya in your inbox everyday. Subscribe here.
An Appeal...
Dear Reader,
As you are no doubt aware, Swarajya is a media product that is directly dependent on support from its readers in the form of subscriptions. We do not have the muscle and backing of a large media conglomerate nor are we playing for the large advertisement sweep-stake.
Our business model is you and your subscription. And in challenging times like these, we need your support now more than ever.
We deliver over 10 - 15 high quality articles with expert insights and views. From 7AM in the morning to 10PM late night we operate to ensure you, the reader, get to see what is just right.
Becoming a Patron or a subscriber for as little as Rs 1200/year is the best way you can support our efforts.
Become A Patron
Become A Subscriber