It has been almost two and a half years since the Narendra Modi government launched the electronic National Agricultural Market (eNAM). Set on stream through a pilot launch in April 2016, eNAM has come a long way, though it has more distance cover. The eNAM pilot project was launched across 21 mandis in eight states. Today, eNAM covers 585 mandis across 16 states and two Union territories.
Various parameters show that eNAM is gaining acceptance with increasing participation and trade. However, there are a few things that need to be completed if the government's objective of remunerative prices is to be achieved. The government launched eNAM so that a farmer can get access to selling his produce to a buyer at a remote corner of the country. Is the farmer able to do that? It is over here that eNAM will have to cover a lot of ground. Assaying that will guarantee is not happening countr-wide, while only a hundred-odd traders have got unified licence that will help to trade in any commodity in any market in the country. Here are some facts and figures on the progress eNAM has made.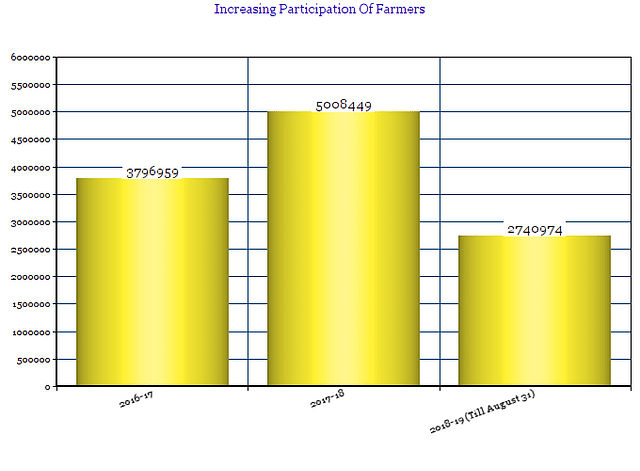 Source: Ministry of Agriculture 
No doubt, farmer participation is increasing in eNAM. The number of farmers who registered for eNAM increased 32 per cent in 2017-18 in comparison to 2016-17. This fiscal, over 27 lakh farmers have additionally registered for eNAM within the first five months of the fiscal, which means this year, too, we will see a rise in the number of farmers wanting to trade through this system.
The volume of agricultural produce sold through electronic trading more than doubled last fiscal, compared with 2016-17. The value of the sales more than doubled to over Rs 21,200 crore. This fiscal, Rs 7,000 crore worth farm produce has been sold in the first five months and the kharif harvest starting 1 October should see a sharp pick-up in trading.
However, there is one issue with eNAM. According to the Ministry of Agriculture data, no electronic trading took place at 14 mandis in Gujarat, 13 in Maharashtra, three in Haryana, two in Andhra Pradesh, one each in Himachal, Jharkhand, and Odisha. Again, e-trading was less than 50 per cent in 46 mandis of Haryana besides one each in Chandigarh, Gujarat, Himachal, Maharashtra, and Uttar Pradesh.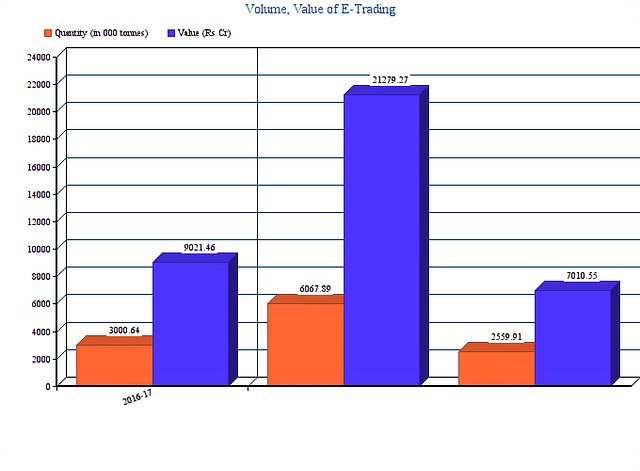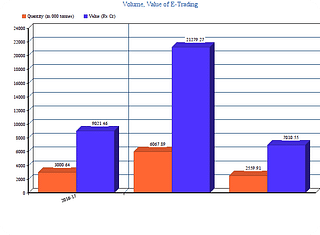 2018-19 (till 31 August); Source: Ministry of Agriculture
Looks like mandis in Telangana and Andhra Pradesh are flourishing under eNAM, with Hyderabad witnessing 6.42 lakh tonnes of agricultural produce being traded since the launch of the system. Guntur traded 4.88 lakh tonnes and Haryana's Sirsa mandi saw a volume of 4.33 lakh tonnes being traded.
Individually, the volume and value of trading has increased when compared month-on-month this and last fiscal. A stark point of how farmers are gaining from eNAM is the number of bids per lots. Be it eNAM or Rashtriya E-Marketing of Karnataka, which has refused to be part of eNAM, there has been a rise in the number of bids that farmers get for their produce. For example, if the average bids per lot was 2.88 last October, it increased to 4.12 in July before slipping to 3.37 in August this year.
August is generally a month that sees slack trading since rabi arrivals would have petered out while mandis await kharif arrivals from mid-September. The increasing bids are a proof that the trading community has accepted the system.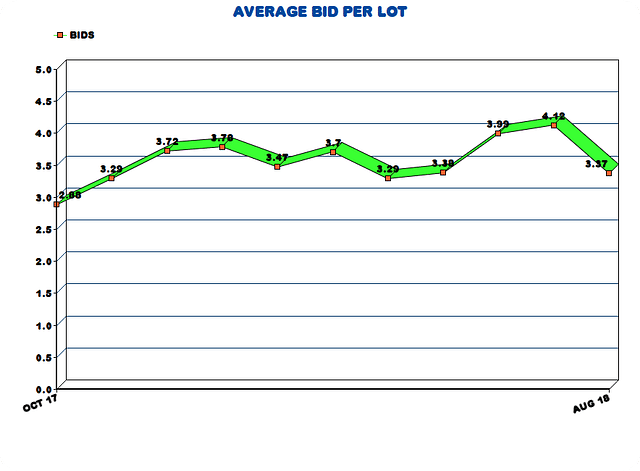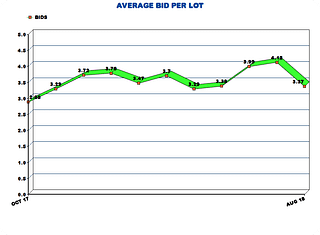 Month-wise bids from October 2017–August 2017; Source: Ministry of Agriculture
Now, here comes the problem for the Union and state governments. For agricultural produce to be bought from a farmer in a rural area in Maharashtra by a trader in Delhi, there has to be an assurance of quality. That can come only if proper assaying facilities are in place. According to the Agriculture Ministry's data, Puducherry, Tamil Nadu, and West Bengal have no assaying facilities at all. In Gujarat, 48 of 79 mandis; in Andhra Pradesh, nine out of 22 mandis; in Maharashtra, 28 of 60; in Punjab, 14 of 19; in Telangana, nine of 47; 10 of 19 in Jharkhand; and five out of 16 mandis in Jharkhand lack assaying facilities.
Again, there are 11 states where assaying labs are available, but quality checks are not being carried out. Still, over 13 lakh lots were assayed last fiscal against 1.13 lakh lots in 2016-17. This year, already 10 lakh lots have been assayed, indicating further progress in quality assurance.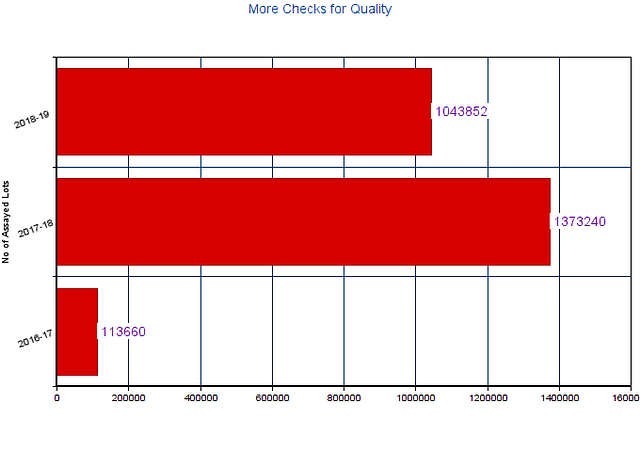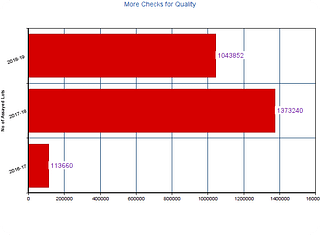 2018-19 (till 31 August); Source: Ministry of Agriculture
The value of electronic payment has also been witnessing a steady rise from a meagre Rs 3.39 crore in 2016-17 to Rs 84.40 crore in the first five months of the current fiscal. No e-payment is taking place in Punjab and Puducherry while only six transactions took place in Bengal in August this year.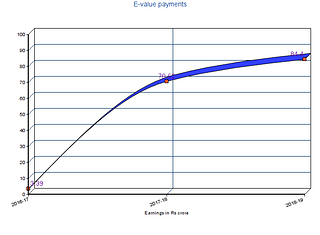 2018-19 (till 31 August); Source: Ministry of Agriculture
To trade on eNAM, traders will have to obtain unified licences that permits them to bid for any produce from any part of the country. Though there are 32,330 registered traders in the country, only a paltry 146 have received unified licences. Not a single trader in Himachal, Madhya Pradesh, Tamil Nadu, Puducherry, Punjab, and West Bengal has got the unified license – a factor inhibiting eNAM growth.
Some states to help eNAM progress and farmers gain have come up with incentives to traders. Six states – Madhya Pradesh, Rajasthan, Andhra Pradesh, Uttarakhand, Uttar Pradesh, and Chhattisgarh – have announced incentives ranging from a cut in trader fees to a rebate in mandi fee. Uttar Pradesh has gone a step ahead, celebrating "eNAM day" on the fourteenth of every month when farmers, traders, and mandi secretaries are rewarded for their outstanding work.
During the rabi 2018 conference, Agriculture Ministry told the states that it had plans to give further impetus to eNAM. The centre is planning to offer a logistics platform besides allowing warehouse-based trading. The ministry has also suggested to the states various ways to popularise and increase the acceptance of eNAM, like attracting exporters, big retailers, and processors.
Acceptance of eNAM will rise if the centre can ensure quality assurance through assaying and growth in participants of traders across the country. As of now, the government seems to be headed in the right direction, though it still has miles to go.