Manipur is a state with immense tourism potential. It is blessed with a cool climate and stunning natural beauty: endless hills and valleys, verdant forests, lakes, rivers, waterfalls, and diverse flora and fauna. No wonder it is called the Switzerland of India. It is home to the beautiful Meitei culture which is a distinctive synthesis of Sanamahism and Hinduism, and also hosts several tribal groups, each with their own customs and language. It is home to one of India's most iconic classical dance forms.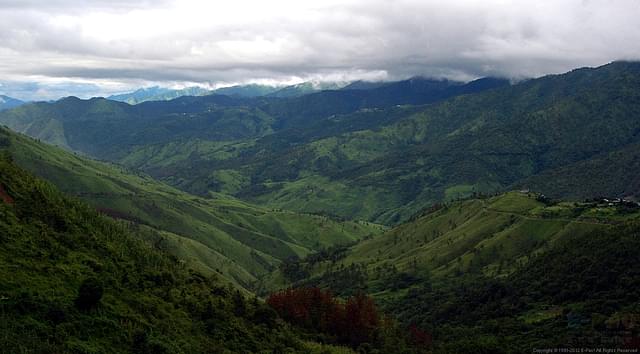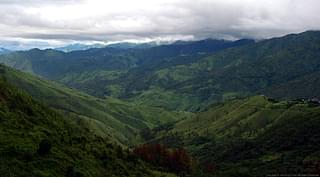 Manipur is a land of endless, picturesque hills and valleys.
Manipur produces perhaps more sportsmen and women per capita than any other Indian state. It has tremendous hydroelectric power potential that can not only supply 24/7 electricity to all its residents for the foreseeable future, but also leave surplus that can be supplied to other states.
Despite these advantages, Manipur's potential has been squandered thus far, due to decades of governmental neglect, corruption and misrule. An insurgency that first tore the state apart in the 1960s continues to fester. It has claimed thousands of lives over the past decades. There are no industries. There is no private sector. Government jobs are scarce and very difficult to secure. As a consequence, there are few opportunities for employment.
The only viable highway connecting Manipur to the rest of India – which passes through Nagaland – is routinely blockaded for months at a time, crippling the state with shortages, skyrocketing prices of essentials, and unimaginable suffering. Another highway, which passes through Assam, has inexplicably been kept in a state of disrepair for decades.
Illegal foreign infiltrators from a couple of neighbouring countries have been settled in the state for the past decade or so, occupying pristine public lands in various districts, and setting up slums in the heart of the capital, Imphal (the first-ever slums in the history of Manipur!). These foreigners constitute a severe security threat to the nation, and aggressively compete with legitimate citizens for land, resources and employment. Needless to say, they have no intention of assimilating the local culture.
It would not be wrong to say that Manipur has become a failed state.
Yet, there is new hope today, for the first time in decades. The new government in the state has promised to turn it around by building infrastructure and creating a strong tourism sector.
Tourism is the ideal catalyst for kick-starting small economies. It is known to have transformed the fortunes of Maldives and Seychelles in less than a decade. Bali, Aruba, Jamaica and the South Pacific islands have also benefited immensely from tourism. For instance, tourism accounts for over half of Jamaica's foreign exchange earnings and about a quarter of its jobs.
Tourism creates a demand for new hotels, inns, bed-and-breakfast establishments, restaurants, resorts, bus and taxi services, tourist guides, entertainment services, cottage industries and souvenir shops, and much more, all of which create new jobs. It infuses cash into the local economy. It creates a need for new roads, railway lines and stations, and new or expanded airports. This also generates employment.
In short, if planned and implemented properly, the tourism sector alone can transform the economy of a small state like Manipur within a decade, and lead to long-lasting prosperity.
Normality Must First Be Restored In Manipur
Manipur has been designated as a "disturbed area" since 1980. For normality to be restored in the state, four pre-conditions must be met, without which it is futile to even think of developing the infrastructure for tourism:
Re-impose law and order. Free the people and businesses from threats and harassment. Create an environment that makes them feel safe to venture out after sunset, as in other parts of the country.
Deport all illegal foreign infiltrators, even if they have been given Indian documents. Manipur must not be allowed to go the way of Assam and West Bengal.
End corruption, as promised. This is easier to achieve in Manipur than anywhere else, as Manipur is a very small state (population 2.72 million), with a correspondingly small bureaucracy and government machinery.
Free Manipur from the constant threat of blockades from Nagaland by linking it to the rest of the country by highway and rail, via Assam. This will have the additional benefit of giving tourists more options for reaching Manipur. It is heartening to note that steps in this direction have already been taken.
Eight Steps To Develop Manipur Into An Attractive Tourist Destination
Once the above four conditions are met, the following developmental steps should be taken:
1. Develop places of natural beauty into tourist destinations, in an eco-friendly way that does not damage the environment. Manipur's USP is its unmatched natural beauty. Leverage it to attract tourists. Make places such as the Loktak Lake and Sendra island, Keibul Lamjao National Park, the state's many waterfalls, caves, and picnic and camping sites easily accessible by road. Equip them with facilities and personnel to handle tourists.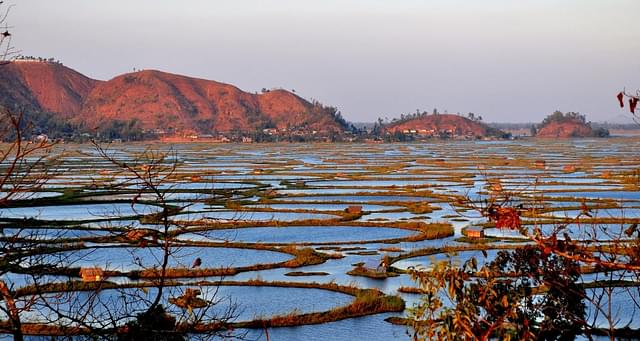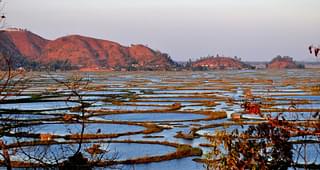 Loktak lake is famous for its floating islands.
2. Develop at least two hill stations per district. Manipur's hilly areas enjoy a cool, pleasant climate even during the summer months. This will make Manipur an attractive destination for domestic tourists. Manipur has 16 districts, which will give it at least 32 hill stations to start with. More can be developed later. This will decentralise tourism, instead of concentrating it in a few places in the state.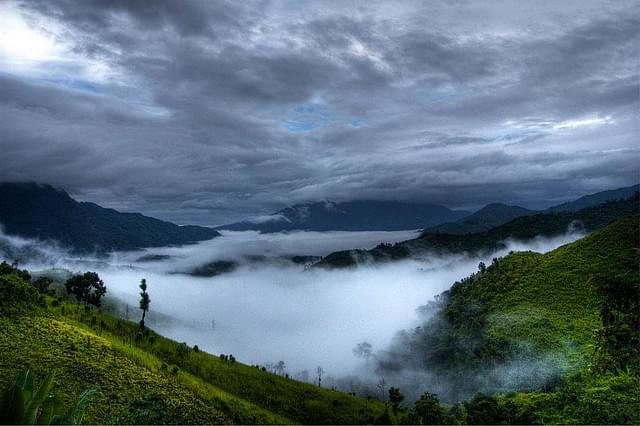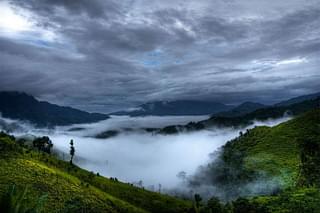 Manipur ... the Switzerland of India.
Develop adventure sports such as hiking, trekking, camping, mountaineering, ballooning, paragliding, in each hill station to give tourists value for their money. Give easy loans to local entrepreneurs to build hotels, restaurants, inns, bed-and-breakfast facilities, etc. Ensure that this is achieved in an eco-friendly manner.
3. Develop new cultural institutes and hold more cultural festivals. I have covered this in detail in my previous article. Manipur has a beautiful and unique culture, which, unfortunately, is in danger of dying out. Revive it by developing five new institutes (for starters) – one each for Manipuri classical dance, performing arts, music, Manipuri martial arts and films.
Develop these in five different cities of Manipur instead of basing them all in the capital. Have each institute hold regular events and festivals. This will have the effect of reviving and rejuvenating Manipuri culture, and of creating a cultural ecosystem that will help attract tourism.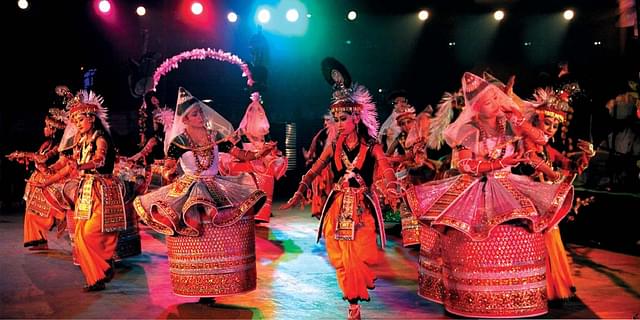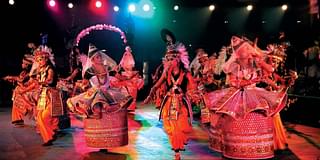 Manipuri dance is one of India's iconic classical dance forms.
4. Develop historical places as tourist destinations. How many people know that the Indian national flag was hoisted for the first time on Indian soil by Subhash Chandra Bose's Indian National Army (INA) in Moirang, Manipur? Moirang is home to the museum, which is in a poor condition. Transform it into a place of national pride.
There are many other notable historical places in Manipur that can attract domestic as well as international tourists, such as the two millennia-old Kangla fort, the world's oldest Polo ground, the British and Japanese Second World War cemeteries, the Red Hill where the Indian Army inflicted a catastrophic defeat on the Japanese army, and many more. Leverage them all as tourist attractions.
5. Designate suitable historical places as world heritage sites. Sites with world heritage status are a touristic force multiplier. If a British-built railway station in Mumbai can be designated as a World Heritage Site, then why not the Kangla Fort, and the world's oldest Polo ground?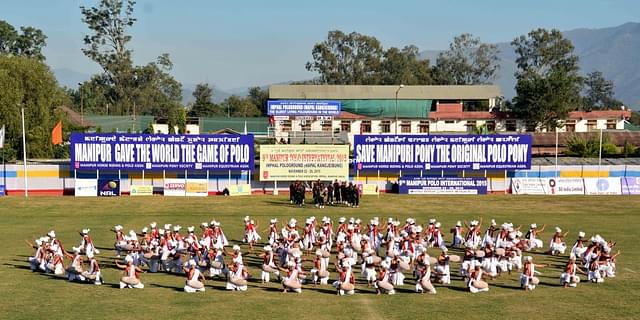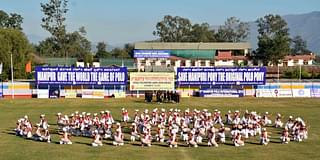 The world's oldest polo ground, Imphal, Manipur.
6. Develop religious places as tourist destinations. Manipur is home to many beautiful temples, such as the Shree Govindajee temple, the Gopinath temple, the Marjing temple (considered to be the birthplace of polo), and festivals such as Lord Jagannath's Rath Yatra, among others. Develop and showcase them effectively while keeping religious sentiments in mind.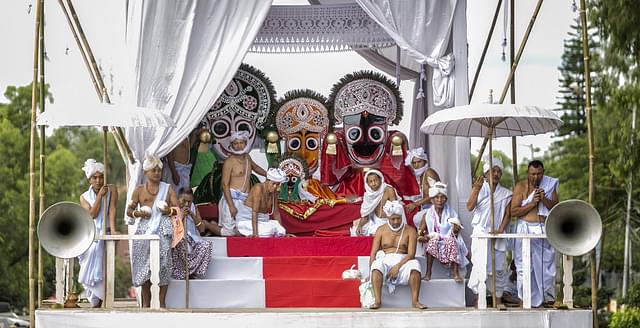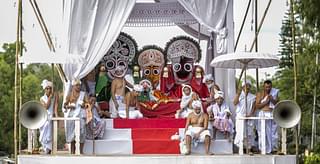 Lord Jagannath's Rath Yatra, Imphal, Manipur.
7. Develop Manipur as India's gateway to South-East Asia. Make it possible to take a road or train trip from any of India's major cities all the way to Singapore, via Manipur, Myanmar, Thailand and Malaysia, within the next 10 years. Make it possible to reach Vietnam and Cambodia by road, via Laos. Develop the border town of Moreh as an economic hub. Trade with Myanmar and other South-East Asian countries will create a plethora of new entrepreneurial opportunities and new jobs in Manipur.
If necessary, help build roads in Myanmar for easy access to the rest of South-East Asia. Develop Imphal's Tulihal airport into a hub to reach the rest of India, especially to Buddhist religious places such as Sarnath (via Varanasi), Bodh Gaya, etc.
8. Develop Manipur as the sports capital of India by creating the necessary infrastructure. Manipur has a unique sporting ethos that is not found anywhere else in India. The proposed National Sports University is a good initiative. It will succeed in producing world-class athletes only if it adheres to the highest global standards.
Create world-class academies in various cities of Manipur for athletics, football, hockey, combat sports, weightlifting, water sports, etc. Leverage the expertise of retired sportspersons and athletes by having them certified as coaches and employing them in these academies. Transform Manipur into a finishing school for the best sportspersons from across India. Create year-round sports leagues as well as tournaments – which will give tourists more reasons for visiting Manipur and staying longer.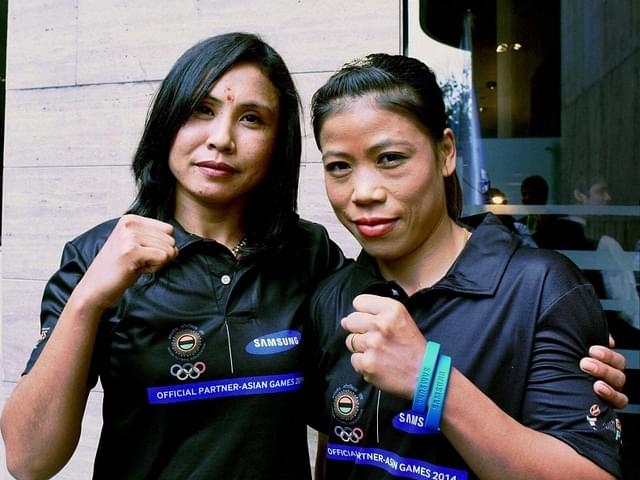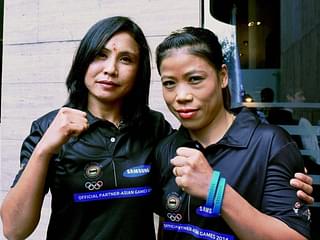 Champion boxers Sarita Devi and Mary Kom: Manipur has a unique sporting culture.
A Four-Pronged Strategy To Promote Tourism
I propose four ways to promote tourism in Manipur:
Develop a world-class Manipur tourism website and boost its search rankings using search engine optimisation (SEO). Ensure that the website is well-designed, attractive, user-friendly and informative. It should be a one-place stop that contains all the information prospective tourists need – the different options for reaching Manipur, a detailed list of tourist attractions, hotels, restaurants, local tour operators, how to book licensed guides, bus and taxi services, weather and climate information, etc. This is an inexpensive way to raise the state's touristic profile.
Create a large number of promotional YouTube videos (on an ongoing basis) that showcase the state's natural beauty and tourist attractions. Again, this is an inexpensive way to promote the state.
Have films, serials, TV ads, and reality TV shows filmed in Manipur. This is an effective and inexpensive way to garner publicity.
Run TV ad campaigns about Manipur tourism on Indian TV channels. This will undoubtedly cost money, but it is a necessary investment that can pay the state back several folds in terms of tourism revenues.
These four actions are enough to firmly place Manipur as a beautiful, exciting and affordable touristic destination in the Indian tourist's radar.
Manipur should work toward becoming a destination for domestic tourists, first, by solving its long-standing issues (the four pre-conditions of the above roadmap), developing touristic infrastructure and getting the basics right (the next eight steps), and by having an effective strategy to promote itself (the last four steps).
Revenue from domestic tourism itself is enough to kick-start Manipur's economy. Once domestic tourists start flowing in, word will spread, reviews will appear on the internet, and international tourists will inevitably begin to arrive.
Manipur stands poised on the threshold of a momentous change. The new government is faced with a prodigious challenge: to revive a failed state from nearly seven decades of decay and despair. It is also a massive opportunity, one that can transform the fortunes of the people and serve as an example for other states.
Transforming Manipur into a peaceful, stable and prosperous state will bring profound, long-lasting benefits to the nation. It will bring development and employment to an entire state and improve the lives of lakhs of people in the process. It will help increase India's gross domestic product. It will encourage Indian tourists to travel within the country instead of going abroad. It will bring in more international tourism revenues. It will bring stability to the North-East and develop Manipur into a much-needed bridge to South-East Asia.
I invite Manipur's new government to seize this opportunity and utilise my roadmap to help bring stability and prosperity back to Manipur.