India Should Adopt Smart Solutions Like Swappable Batteries To Popularise Electric Vehicles: Ashok Jhunjhunwala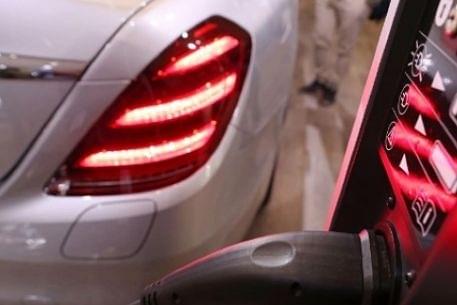 An electric car next to a charging station. (Sean Gallup/GettyImages)
Snapshot
Adopting the swappable batteries standard can catapult India into a leading position globally, and could be adopted by various other countries given the country's diversity and climatic conditions.
"India has large population and therefore large potential market. But incomes for its large section of society is low as compared to the rest of the world. The key to make any product or services flourish in India is to make them affordable." said Prof. Ashok Jhunjhunwala, India's pioneering research scientist in electric vehicles (EVs) and Professor in Electrical Engineering Department at IIT, Madras in an exclusive interview to Swarajya.
In the late 1950s when India chose to supply cooking gas to households, the government of the day then chose to provide liquefied petroleum gas (LPG) in cylinders instead of the more expensive piped gas connections.
The officials then thought it would be the cheap and best way to reach cooking gas to many households compared with gas pipelines, as used in the western nations. The strategy proved to be a smart solution as over 80 per cent of the households in the country now have a cooking gas connection, at far less outlay than piped gas, thanks to the supply through the cylinders.
Prof Ashok Jhunjhunwala, India's pioneering research scientist in electric vehicles (EVs) and Professor in electrical engineering department at IIT, Madras, strongly backs a similar smart solution to popularise electric vehicles in the country. "We have to use a different approach and look at battery swapping. Such an approach will provide a huge advantage overall," Jhunjhunwala told Swarajya in an interview.
The IIT professor, who was government advisor for its ambitious electric vehicle programme until last year, says the fastest possible movement towards EVs is a must for India. "It is happening in many parts of the world, as electric motor is four times more energy efficient that an IC (internal combustion) engine and the number of moving parts in an EV are far less", he says.
"India depends on imports to meet its (crude) oil demand. If it shifts towards EV, its GDP can go up significantly. It will be a huge boost for our economy. Therefore, it is even more important for India," Prof Jhunjhunwala says.
India's crude oil imports are estimated to be $125 billion (Rs 8,75,000 crore) this fiscal with the expenses rising due to demand growth, higher prices and fluctuation of the rupee against the dollar. "Our economy gets significantly impacted by (global crude) oil prices," he says.
With India home to 14 of the 20 most polluted cities in the world, EVs will also have a very big impact on pollution. "The problem with adoption of EVs is the cost of battery. Costs of batteries are falling, and yet is half the cost of an electric vehicle. This makes it more expensive than petrol vehicles," the IIT professor says.
World over, countries like the US and China subsidise EVs up to 40 per cent. These countries, essentially, take off the battery costs. "But India cannot afford that amount of subsidy. Our priorities have to be poverty, farmers, drinking water, electricity and infrastructure. So, you cannot allocate such a large sum of subsidies on vehicles," Prof Jhunjhunwala says.
That leaves the country in a dilemma, where it can choose to wait till the prices drop. But it will take four to five years for the prices to drop and by that time the Chinese and others will flood the markets with their batteries and EVs, badly affecting India's GDP.
"India's GDP is 7 per cent dependant on automobiles and 5 per cent on transport fuel distribution. If we just start importing, we will hurt ourselves. Whether we like it or not, we need to find some alternatives," he says.
The basic reason for higher price of EVs is battery costs. Western countries make the batteries bigger to give better coverage, and address the 'range anxiety'. "Tesla has a model that has a battery with 550 km range. This makes the vehicle very heavy and reduces its efficiency besides costs being high. Other vehicle makers have 300 km range. India has to do the opposite – make batteries small," Prof Jhunjhunwala says.
Making batteries small, however, will have an adverse effect on the range the vehicle can cover. Small batteries will make the economics work. A smaller vehicle, an efficient vehicle with smaller battery will work.
"But what happens if you run out of battery charge? It takes time, at least 45 minutes, to get it fully re-charged. If you try to charge faster, the battery cost goes up like anything, and the battery life also reduces" Prof Jhunjhunwala says.
This then takes us the question can we look at battery swapping. This means, whenever the battery runs out of charge, it can be taken out and another fully charged one can be put in its place. This will take four to five minutes, he says, adding that it will give a huge advantage where battery is small and vehicle cost is also less.
There are other advantages in opting for swapping batteries. Temperatures matters a lot during charging of batteries. In countries, where the temperature is 25-30 degrees Centigrade most of the time, these batteries behave well.
When a battery is charged at 45 degrees centigrade, it kills the battery. "In swapping, the battery is removed from the vehicle and is charged in air-conditioned rooms. This enhances the life of a battery.
The Indian industry has to take up the challenge of making batteries swappable. "If batteries are swappable, the new vehicle need not come with a battery. Battery can be provided by a service provider like a petrol bunk. This is something like how cooking gas cylinder is being distributed at a lower cost. There could be initial problems of taking the discharged battery and putting a freshly charged one but over a period of time, people will get used to it," Prof Jhunjhunwala says.
Over time, India could master the system of swappable batteries. The electrical engineering department at the Indian Institute of Technology in Chennai is working with the Indian industry in developing such a system.
Stating that the Centre's second phase of Faster Adoption and Manufacturing of Electric Vehicles (FAME 2) policy is good overall and provides subsidies, it suffers from two problems.
"First, it does not recognise swapping as an alternative. The policy has been framed with the way the West thinks.
"Second, they are giving subsidies based on the size of the battery. Bigger the battery, the more the subsidy. That is actually counter-productive as bigger battery makes the vehicle heavier. The heavier the vehicle, the less energy efficient it is. Fame 2 is promoting this. They should have also looked at swapping small batteries. Probably, the change will happen in due course," Prof Jhunjhunwala says.
Fame 2 emphasises on charging station without clarity. It has not given thought to smaller vehicles, especially two-wheelers. The whole thinking is for upper end cars, affordable to less than 2 to 3 per cent of the population.
"In India, 78 per cent of vehicles are two-wheelers, which do not require charging stations. They can be charged using 15 amp sockets. Similarly, three-wheelers too can be charged using 15 amp sockets.
"Fame 2 could have focussed on such low cost chargers instead of high-end ones that will cater to the segment that makes up the top two per cent of the income bracket.
"How many people buy cars over Rs 10 lakh? Not more than 2 per cent and Fame 2 focus is unfortunately focused on them; though the overall policy is positive. Hopefully, the anomalies will get corrected," he says.

The vehicle standards and design should factor in the lower average vehicle speed in India compared with the western world. This means, EVs should be able to give optimal power when a vehicle is driven at 25 km per hour than 50 km per hour as in the West.
Referring to the allocation of Rs 1,000 crore for setting up charging stations infrastructure, Prof Jhunjhunwala wonders what kind of charging stations Fame 2 was looking at and which vehicles will benefit from it.

Two big challenges that may emerge as India adopts EVs faster are (a) Where will we source raw material for batteries for these EVs? Will we become dependent on Chile and Argentina for Lithium like Middle East in case of oil? (b) What happens to the flourishing auto ancillary industry? Will they be able to adapt?
Prof Jhunjhunwala says "Lithium ion batteries using nickel, manganese and cobalt (NMC) is currently the best option for swappable batteries for better energy efficiency. Though initial requirements may be imported, there is huge number of mobile phones and laptops whose batteries can be recycled when these instruments are discarded, to meet the requirements of the EV industry." The urgent focus of the policy makers should be to ensure that the recycling plants go on stream within the next 2-3 years.
The automobile ancillary industries have to gear up for the future challenge. The total value of components of EVs are comparable, if not higher, than the current IC engine vehicles. If all EV parts, including batteries, are made in India, then the ancillary units can transform themselves to EV parts manufacturers. On the other hand, if they don't do anything, and hope to influence policy to delay early adoption of EVs, they could be badly hurt.
Though India started late in research on EVs, it has caught up in the last 2-3 years and enough technological capabilities have been built indigenously for this industry to scale up.

The government's target of bringing in EVs totally by 2030 is good one and totally achievable. "We may not get 100 per cent. But we can get 98 per cent? 90 per cent? Let's do it by 2030," he says, adding that there is no reason why it can't happen by then.
Many start-ups are working on EVs, while big players are also looking at this sector closely. Prof Jhunjhunwala is trying to get them to join hands in the research work and capitalise on the strengths of both. Start-ups bring in innovation, technology, etc, while large corporates can bring in capital, brand, dealer/service network, etc.
IIT Madras has taken the lead in bringing these two together. The institution has emerged as the thought leader in EVs and become the go-to place for both start-ups and large auto companies.
According to Prabhjot Kaur, CEO, Centre for Battery Engineering and EVs at IIT Madras, India needs a common charging standard for different segments of vehicles. For lower end of the vehicles, the government has specified Bharat charger AC001 for alternate current and DC001 for direct current which are well suited for Indian conditions.
However, the standards for mid-size and large vehicles have not been developed yet. For these two, government has adopted the CCS system as it is from the Western world. It is important for the government to ensure standardisation and regulating charging stations to make EVs affordable.
India is way ahead on the swappable technology and standards. Ample work has been done in collaboration with the industry in the country, including communication protocols between the battery, charger and the vehicle, all in open source platforms on the cloud. The country can take a lead on this and formulate its own standards, she said.
Adopting the swappable batteries standard can vault India to a leading position globally and could be adopted by various other countries given the country's diversity and climatic conditions.
Get Swarajya in your inbox everyday. Subscribe here.
An Appeal...
Dear Reader,
As you are no doubt aware, Swarajya is a media product that is directly dependent on support from its readers in the form of subscriptions. We do not have the muscle and backing of a large media conglomerate nor are we playing for the large advertisement sweep-stake.
Our business model is you and your subscription. And in challenging times like these, we need your support now more than ever.
We deliver over 10 - 15 high quality articles with expert insights and views. From 7AM in the morning to 10PM late night we operate to ensure you, the reader, get to see what is just right.
Becoming a Patron or a subscriber for as little as Rs 1200/year is the best way you can support our efforts.
Become A Patron
Become A Subscriber