The Dravida Munnetra Kazhagam (DMK) government in Tamil Nadu had constituted a committee headed by former Justice A K Rajan to study the impact of the National Eligibility cum Entrance Test (NEET) on medical college admissions in the state.
The committee which submitted its report to Chief Minister M K Stalin on 14 September makes a case for doing away with NEET claiming that it puts rural government school Tamil medium students at disadvantage.
However, many have pointed out that the report is not at all objective and has been prepared to buttress the ruling DMK government's needless and endless politics over NEET.
The report is laden with empty rhetoric and makes unsubstantiated inferences through selective usage and willful omission of data. What should have been an objective study has ended up as a document dictated by the DMK.
In this article, some of the claims made in the report have been busted.
Claim: NEET Puts Government School Students At Disadvantage
Fact: 336 government school students have secured MBBS seat after the previous All India Anna Dravida Munnetra Kazhagam (AIADMK) government under Edappadi K Palaniswami introduced the 7.5 per cent reservation for government school students. This is the highest number of government school students admitted in a single academic year in the last decade and a half.
In total, 347 government school students have secured medical admissions just in the year 2020-21 whereas only 108 government school students were admitted from 2014-15 to 2016-17 as per the report. One is left to wonder why the report does not disclose the number of government school and private students securing medical admissions before 2014.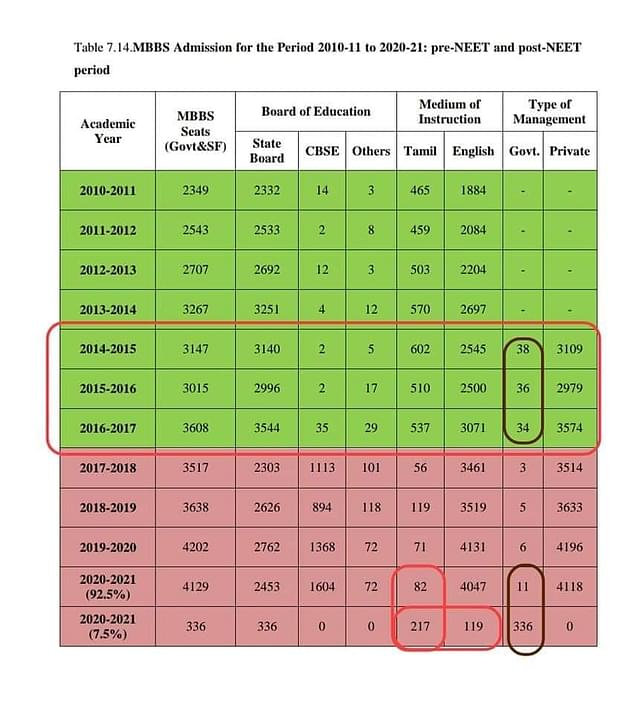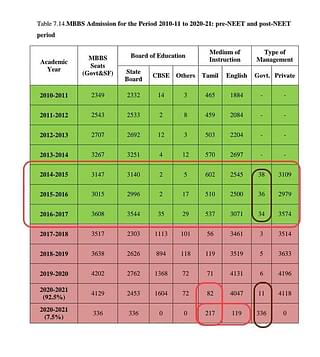 Yes, less number of students had joined in the three immediate academic years post the introduction of NEET. But that has got to do more with the rotten 'Samacheer Kalvi' syllabus introduced by the late DMK patriarch M Karunanidhi, which encouraged rote learning and suppressed critical thinking.
What the A K Rajan committee report doesn't tell is the number of government school students who have been admitted to government medical colleges in the last 15 years. That is because it will expose the DMK's lies and claims.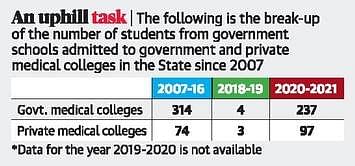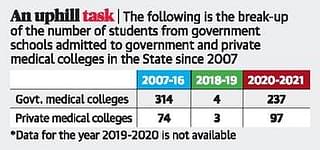 From 2007 to 2016, only 314 government school students made it to government medical colleges. The best year for government schools was 2007 when 62 students were admitted. The worst year was 2013 when just 18 students made it. A total of 74 students from government schools were admitted to aided/private medical institutions, with annual admissions in the single digits, with the exception of 2014, when 12 students were admitted.
This being the case of the pre-NEET years, how is the admission process of using Class XII marks benefitting government school students?
Such willful omission of data to mislead the public is not just intellectual dishonesty but is also criminal.
Claim: NEET Puts Tamil Medium Students At Disadvantage
Fact: As evident from the data in the report, the number of Tamil medium students have been decreasing over the years while a consistent increase has been observed in the number of English medium students.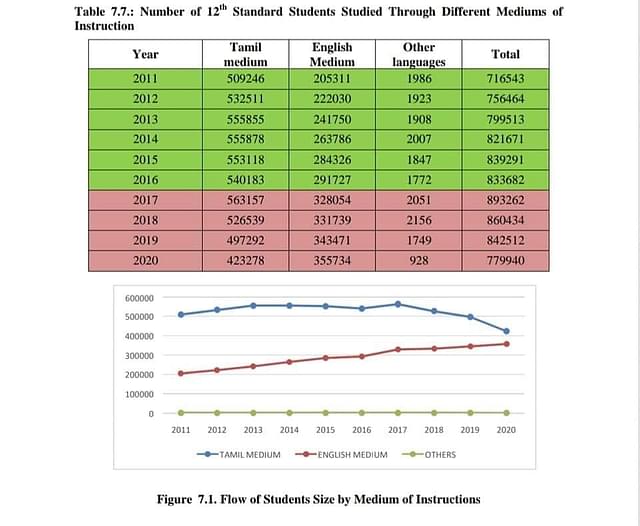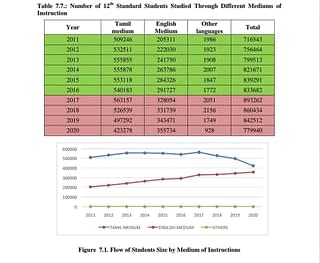 The number of students who have studied science in English medium has been increasing while the number has dropped for Tamil medium students.
If both the overall number of students studying in Tamil medium and Tamil medium students taking science stream has been decreasing year-on-year, so will the number of Tamil medium students getting into medical colleges.
This is not because of NEET but because the education system in Tamil Nadu itself is tilting towards English medium.
If one looks at the data, it is evident that English medium students have always been at an advantage when compared to Tamil medium students.
Yes, there was a lapse (teething trouble) in the initial years of NEET as the exam could be written only in English or Hindi. Now, the exam is being conducted in almost 10 languages including Tamil.
With the 7.5 per cent reservation, 299 Tamil medium students have got medical admissions in 2020-21 academic year.
This number cannot be compared to the numbers in the years pre-NEET as there has been a proportionate decrease in the number of Tamil medium students taking science stream.
It is important to note that the Tamil Nadu government is itself trying to promote English medium education in government schools to attract admissions as parents be it in rural or urban areas want their children to study in English medium.
Claim: NEET Favours CBSE Students
Fact: Table 7.14 in the report shows that before NEET, the number of Central Board of Secondary Education (CBSE) students studying in the state who secured an MBBS were abysmal. It is only post-NEET that those studying under CBSE board have a fair chance of competing with their state board counterparts and their numbers have increased.
Does the A K Rajan committee not consider those studying under CBSE board as students? Should the CBSE students not aspire to secure a seat in Tamil Nadu?
Even after NEET it is the state board students who still have the edge and have secured the bulk of the seat as evident from the table below.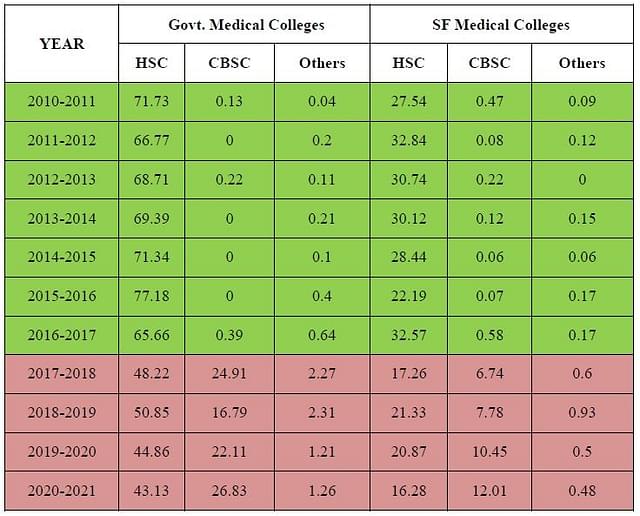 It seems like the A K Rajan committee has considered all CBSE students to be rich and well off. If so, on what basis have they made that assumption?
The reason why high number of state board students found it difficult to crack NEET was because of the substandard 'Samacheer Kalvi' syllabus which dumbed down both the student as well as the teachers of the Tamil Nadu state board. They had gotten used to the board exam pattern of Tamil Nadu which encouraged rote learning as questions given at the end of a lesson were directly asked as questions and did not test the understanding of the concepts.
The CBSE syllabus on the other hand encourages critical thinking and develops problem solving abilities which is what NEET and other exams demand.
Claim: NEET Favours Urban Students
Fact: The only people the previous system favoured were those running private schools (read jails) in the Erode-Namakkal belt. Students belonging to wealthy families studied in these private schools. These schools that charged in lakhs put children through torture robbing them of their childhood. They taught Class 12 syllabus for 1.5-2 years by skipping Class 11 syllabus. It was students from these schools who were taking the bulk of medical seats in the past before NEET.
For example, 1,750 students from these districts alone have enrolled in medical studies in 2016 which is almost 50 per cent of the seats.


Therefore, it is these students who get reflected as rural students in the data put out by the A K Rajan committee report and not the rural government school students. After all, Table 7.14 in the report clearly shows that number of government school students who secured MBBS seats were less than 40 from 2014-2017.
Other Lies
Former Vice Chancellor of Anna University Prof E Balagurusamy put out a scathing statement against the A K Rajan committee's report calling it a lop-sided report with skewed statistics. He points out that the report quotes several court cases and constitutional provisions that have no relevance to NEET.
The A K Rajan committee report had come out with 'profound' findings that the central government cannot establish universities and that the central government cannot conduct entrance exams for state-run universities.
Prof Balagurusamy lashed out saying, "How could a committee headed by a retired judge with many senior government officers as members make such statements?"
The reports also claims that 99 per cent of the students who have cleared NEET had taken coaching. On what basis was this figure arrived at? Did the committee call up all students/parents/guardians in these few weeks and undertake a survey?
The report also makes the absurd claim that the healthcare system of Tamil Nadu would be very badly affected if NEET continues for a few more years. It states that there may not be enough doctors in primary healthcare centres and that Tamil Nadu would go back to pre-Independence days.
Such blanket rhetorical statements are fit to be in an election manifesto and not in a report headed by a former High Court judge.
It seems like the A K Rajan committee had already fixed the outcome of the study and worked backwards to make a case for doing away with NEET in order to suit the narrative of the DMK.
What Students And Parents Should Know
The DMK and its allies will continue to play their politics over NEET. It is important for the students and parents to know that the matter has long slipped away from the legislature. Do not get confused by these futile attempts and empty promises made by the DMK government. NEET has been mandated by the Supreme Court of India and is here to stay. No amount of politicking is going to change that fact.
Also, doctor isn't the only profession that exists in this world. Parents must not force their children to prepare for these competitive exams just for the sake of it.
There are so many avenues for everyone to flourish and build a career.
So, study, work hard and conquer the world.
This article first appeared on The Commune website, and has been republished here with permission.