Soft Power Reparations: A Win-Win Approach For Britain And India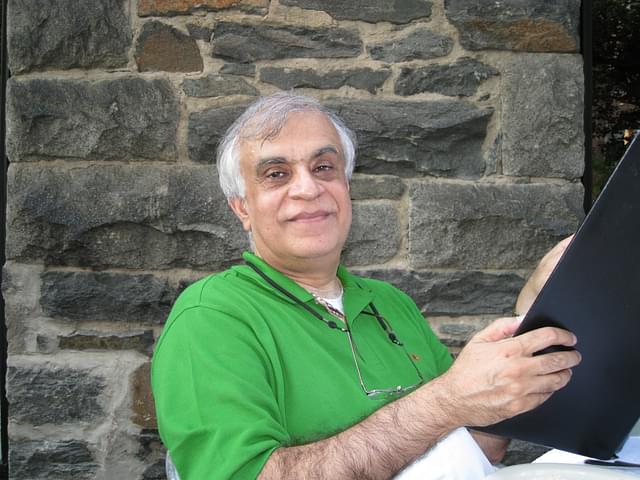 Rajiv Malhotra
Snapshot
Today, one may be left leaning or right leaning but one cannot escape technology. Indians are now investing a lot in technology and they are a big resource not to be ignored.
This is the second and final part of an edited transcript of Rajiv Malhotra's recent talk in the British Parliament. It was exceptionally well-received, with concrete plans being developed to carry the ideas forward. The video of this is available here.
There has been talk since the time of Indira Gandhi about Britain making financial reparations to India. I do not think that is a viable proposition since it would be an astronomical sum of money that Britain would owe to India if one calculates taking into account the various factors that come into play when making such calculations. This is a next to impossible proposition and Britain would never be in a position to honour it and neither would they do it. Instead, Britain and India have to acknowledge the past, correct distorted history, honour each other and help each other in building and reconstructing a positive grand narrative individually while moving ahead into the future. I believe a blame kind of model will never work. Instead, I would replace it with something more achievable that I have – named . This is a term that has never been used before, but it is a term that lends itself to potential success.
Soft power reparations would mean that the narrative of India that gets taught in text books both in India and in Britain need to be relooked at. The ideas regarding India's history should be set right as truthfully as possible as opposed to be being exaggerated and bombastic to assuage an emotional audience. This kind of intellectual exercise will result in honesty being inserted back into the discourse. It does not require a lot of money but just the will and the determination to set things right.
Moving on to specifics, the whole Aryan Invasion theory needs to be dismantled. The early British Orientalists never proposed such a theory. They were very respectful and in fact very fond of Sanskrit. Even William Jones and those immediately following him never said that they were the Aryans who brought Sanskrit into India. This Aryan theory began to make its appearance only at the time of Max Mueller. He is the one who started propagating this theory and he was actively promoted by Queen Victoria who thought this was a fantastic way to legitimise British supremacy. This theory gave legitimacy to British rule over India because it allowed the British to rediscover the civilising mission of old. The first civilising mission was when they came as the Aryan race and gave the refined language of Sanskrit to India. That was colonialism project 1.0. Colonialism project 2.0 was about bringing civilisation with cricket, English, the railways and so on. Therefore, the colonial project of the 18th and 19th centuries was sought to be legitimised as the second civilising mission.
If the British were quick in appropriating the Aryan race theory for their own ends, the Germans were not far behind. The close affinity of German and Sanskrit gave Germans a much-needed premise to build a sense of nationhood. They theorised that they are the inheritors of the vast and beautiful corpus of Sanskrit texts and that their ancestors were those who formed the great nation of the Aryans. The Aryan theory began to get embedded into the German grand narrative, but it was Hitler who appropriated it completely and cruelly for his terrible project of creating the pure Aryan race. The consequence of this megalomania was the holocaust which resulted in the decimation of six million Jews and the negative association of the Swastika symbol. Thus, in the light of all the negative narrative that has been spawned out of this most mischievous and baseless theory, it is time the theory was junked.
Seeing the havoc caused by this spurious theory, my foundation, the scholars we are nurturing in India, and I would be very interested to collaborate with some good, honest scholars from here who are open to looking at this period with an unprejudiced mind. My foundation would like to partner with a foundation here and do a Swadeshi Indology conference here on this topic and set the record straight.
Another area where Britain can help heal the wounds inflicted by colonisation is in the case of honouring the Indian soldiers who gave up their lives fighting on the side of the British during the two World Wars. In the First World War, 1.3 million Indian soldiers fought on the side of the allies. More than 70,000 soldiers died, and an equal number were seriously wounded. These are very high numbers in terms of casualties and a very heavy price for India to pay. However, it is a shame that there is not even a war memorial to them in Britain. The same sort of statistics are revealed for the Secnd World War and similarly there is no honour extended to them. In fact, many military historians indeed feel that were it not for such a large number of brave Indians, Britain would have probably lost the war. It would be a great soft power move for Britain and India to work together to erect a befitting memorial to the Indian soldiers who served or laid down their lives in the two wars. The building of the memorial should not be driven by guilt, shame, blame or anger but just a wish to honour those faceless and nameless people.
It is believed that perhaps if the Indian soldiers were not there to fight on the side of Britain, Britain may well have ended up being a German colony and perhaps would be speaking German today. Hence, it is a very serious event that occurred twice in the 20th century, that we are choosing to ignore. Our ancestors, most of them Hindus or Sikhs, were the ones who ensured the continuation of Britain as a nation. It is imperative that the memorial is built for emotional and psychological reasons.
Another soft power reparation I can think of is commemorating the Jallianwala Bagh massacre. April 13, 2019, will be the 100th anniversary of the massacre. On that fateful day in 1919, General (Reginald Edward Harry) Dyer ordered his soldiers to fire upon a peaceful and unarmed gathering largely consisting of women and children. Thousands perished in the mayhem that unfolded. General Dyer had ordered his soldiers that they must fire indiscriminately till their ammunition was exhausted. However, it is not just one man, General Dyer who needs to be condemned. The shots that were fired that fateful day were fired from the guns of Indian sepoys working as police for the British. Indian sepoys killed fellow Indians in large numbers during the British period, under the orders of the British. So, Indians too need to introspect that so many of our own people sold out to the British to do this dirty work. Rarely are the sepoys censured but the killings would never have taken place if they had revolted. In a similar manner, today we have sepoys 2.0 who are severely mentally colonised and are working to destabilise and thwart any attempts at building a positive Indian grand narrative.
As the Jallianwala Bagh tragedy is a deep wound in the Indian psyche, I believe we need to do something positive, perhaps have a conference to memorialise the event. Many countries do this to deal with the unpleasant memories of the past. Germany, for instance, does teach about the holocaust without shaming its people. They talk about it in a matter of fact way as an event that happened in the past for which no one in the present is responsible. But they feel they need to talk about it so that such an event does not repeat in the future. Similarly, in the United States, they do teach about slavery in a way that allows reconciliation of blacks and whites of the present day. In a similar vein, I think it is time to set the record straight in the case of Britain and India. It is time that Indians got over the negativity that they have towards the British while the British on their part acknowledge what has happened. The anger and hatred can be discarded with an acceptance of the past and the pledge to move ahead. This is the thrust of what I call soft power reparations and it is a win-win proposition that I am making so that the two countries can move ahead as equal collaborators respectful of each other.
Britain Should Re-Evaluate Priorities
The old school Indian elite is a thing of the past with the popular mandate handing them a resounding rejection of what they stand for. Britain should therefore take cognisance of this shift in public perception and avoid giving space to the kind of intellectuals they have been patronising thus far. These intellectuals have a standard template. They obsess about the caste problems in India and, in many cases, they are the ones responsible for instigating the conflagrations.
For instance, when I met with the US Commission on religious freedom which prepares annual reports on the state of religious freedom globally, I pointed out to them that religious oppression happens in the US itself, the statistics of which have never had a mention in their annual reports for the past 15 years ever since the Commission was formed. I also mentioned to them that their overdone support for Christian evangelism in India is rather nasty. When I confronted them with evidence of the kind of strategies that are used to denigrate and demonise the native traditions in India to increase the evangelical subscriber base, the officials were quite surprised. They had never known of the low-down tactics that are used in India for conversion activities. They had been continuously fed spurious and exaggerated data through their own channels which were self-serving.
Similarly, Britain must guard against taking literally reports of evangelists from India. Their reports are often very exaggerated as their aim is to expand and increase their market share. They take recourse to the human rights discourse to feed on the gullibility of the Western people. In fact, the whole human rights discourse is heavily abused in India and feeds into what I call the Breaking India nexus. Britain, by aligning and sympathising with such forces is creating a bad name for itself in India. Britain should take some time to re-evaluate its strategies and build new alliances. It should align with those who are trying to build a positive India for all Indians, of every community and every faith. All Indians need to be part of a good positive grand narrative of India and energies must be spent in constructing this narrative instead of breaking her apart.
Britain missed the boat when yoga began to get globalised. America latched on to the opportunity and since the 1960s, Americans have discovered the enormous benefits of yoga. They are now into a phase of globalising an Americanised form of yoga. Britain actually had 200 years to recognise the benefits of yoga and yet closed its eyes to it. Britain could have decided that apart from taking money alone from India, they could have adopted some of her culture. The benefits of yoga practice are enormous for humanity. Perhaps if there had been 200 years of yogis all around the world, we might have had a much more peaceful world than the one we live in now. Currently, there is a lot happening at the cutting edge of mind sciences. Cognitive science and neuroscience is essentially taking a lot of Indian techniques like advanced meditation, the chakra techniques, the tantra techniques and so on, and doing neuroscientific empirical studies on these.
Infinity Foundation has for the past 15 years being doing research on Indian contributions to mind sciences. In March, there is a conference at Delhi University on Indian mind sciences and there are many westerners who are involved in this. I am also writing a book that talks about the unacknowledged Indian contributions in the last 50 years and more to the domain of mind sciences in the West and I am using Western evidence to establish this fact. This is a huge area for collaboration as a lot of westerners are involved in exploring new paradigms of the mind which stem from quintessentially Indian practices.
There are still more areas in which traditional Indian practices are now gaining favour and momentum in the West. For instance, vegetarianism is traditionally associated with India. However, it is gaining favour and has indeed become the buzzword in the West. Similarly, social theories of aging, multi-generational families and more are all increasingly gaining currency today and India is a natural home for this. Britain, therefore, must seize the opportunity to collaborate and help build these grand narratives which will benefit all of humanity. Britain and India can perhaps build these narratives together and jointly export them.
I will conclude by talking about something that the British could have done but which the Americans again smartly leveraged. The multi-trillion-dollar American economy runs on Indian brains in a very big way. There are more Indians in IT firms like Microsoft, IBM, Google, Facebook, Apple and in tech and science giants like Bell Labs, NASA and so on. Indians are the single largest ethnic group in the US and this includes the White Americans too. In fact, if you account for the Chinese and Japanese along with the Indians, I believe the Asians will outnumber the Americans by a long way. And, the beauty is that these professionals are not at the low-level coding job stage. I am talking about billionaires, entrepreneurs, leaders, CEOs. Britain missed the bus there. She could have utilised this immensely talented pool of professionals to become a giant in her own right.
However, Indians have a weakness despite all their brilliance. They do not have the capacity to institutionalise. They are brilliant as a man here and a man there and the Americans figured that out and got the best out of them. They gave them a home, respect, facilities and made them part of institutions where they were not held under a glass ceiling. Thus, they began to flourish, and this made USA the most preferred destination for generations of bright Indians. The last couple of generations of Indians in the US have done brilliantly for themselves. Here, I would say that this was Britain's to take advantage of. Britain had the knowledge about India, had the clout, the political capital to do it and reap the financial benefits. But, as we have seen, Britain missed the bus on this one.
Finally, I wish to state that there is a clash of grand narratives which has been going on for a long time historically. One cannot dismantle these grand narratives to get rid of the problem. Instead, one must see how to ensure cooperation and move ahead retaining all the narratives but treating each with mutual respect. It is a challenge we all must rise to in an increasingly technology driven world. Today, one may be left leaning or right leaning but one cannot escape technology. Indians are now investing a lot in technology and they are a big resource not to be ignored. So, given these opportunities of collaboration and cooperation between Britain and India, I look forward to working with British organisations in taking the lead to explore these opportunities.
Part 1: The Indian Grand Narrative: How Britain Can Make Amends For Colonial Past
Get Swarajya in your inbox everyday. Subscribe here.
An Appeal...
Dear Reader,
As you are no doubt aware, Swarajya is a media product that is directly dependent on support from its readers in the form of subscriptions. We do not have the muscle and backing of a large media conglomerate nor are we playing for the large advertisement sweep-stake.
Our business model is you and your subscription. And in challenging times like these, we need your support now more than ever.
We deliver over 10 - 15 high quality articles with expert insights and views. From 7AM in the morning to 10PM late night we operate to ensure you, the reader, get to see what is just right.
Becoming a Patron or a subscriber for as little as Rs 1200/year is the best way you can support our efforts.
Become A Patron
Become A Subscriber