Vande Bharat Dashboard: India's Vande Bharat Network Grows With Nine New Routes, Featuring Country's First Orange-White Variant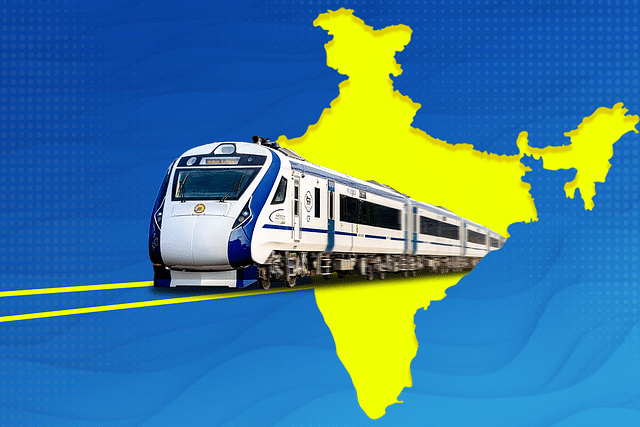 Tracking the progress of the Vande Bharat Express Network.
As part of the continuous effort for transforming the experience of Indian Railways with the expansion of Vande Bharat Express — the network now has 33 operational routes running across several important cities and towns in the country.
Vande Bharat train now runs across 24 states/union territories (UTs), covering more than 12,000 km and connecting an extensive network of close to 160 stations.
Barring a few states where rail track electrification is going on and the UTs Diu, Puducherry, Lakshadweep, Andaman and Nicobar, all states and UTs are being catered to by Vande Bharat services.
The map depicts the comprehensive network of these trains, showcasing the remarkable growth of Vande Bharat.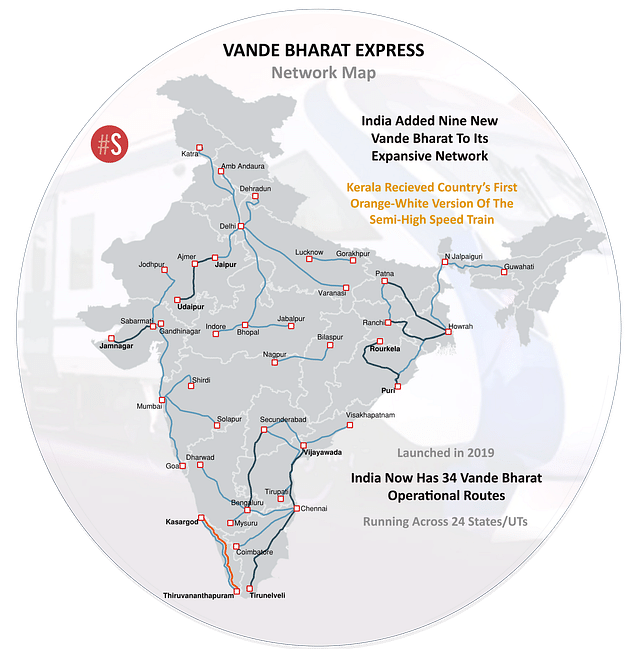 24 September: Nine New Vande Bharat Trains Launched, Kerala Debuts Orange-White Avatar Of The Semi-High Speed Train
Prime Minister Narendra Modi inaugurated a total of nine Vande Bharat trains for service between several popular destinations on 24 September.
Marking a significant milestone as the highest number of trains ever launched in a single day, this event took place nearly two months after the launch of the Gorakhpur-Lucknow Vande Bharat Express and the Jodhpur-Sabarmati Vande Bharat Express on 7 July.
The newly introduced routes include — from Udaipur to Jaipur, Vijaywada to Chennai, Tirunelveli to Chennai, Ranchi to Howrah via Tatanagar and Purulia, Jamnagar to Ahmedabad via Rajkot, Secunderabad (Kacheguda) to Bengaluru (Yesvantpur), Rourkela to Puri via Dhenkanal and Patna to Howrah and, Kasaragod to Thiruvananthapuram via Alapuzha.
The Kasargod to Thiruvananthapuram route received the first new orange-white coloured Vande Bharat train. Due to its overwhelming popularity since its first launch in April, this route will now have two sets of Vande Bharat trains to meet the surging demand.
The introduction of the Puri-Rourkela Vande Bharat service marks the second such service in Odisha, following the earlier launch of the Puri-Howrah Vande Bharat route.
Additionally, with the inclusion of the Ranchi-Howrah route, there are now three Vande Bharat trains providing connectivity to Kolkata.
Vande Bharat Express train is India's first semi high-speed train set with quick acceleration and contemporary passenger amenities.
According to the Indian Railways, these trains are leading examples of Make-in-India initiative, and mark a significant progress for the country's railway network and the enhancement of passenger experiences.
The Vande Bharat Express was inaugurated on its very first route connecting the capital city of Delhi to the holy city of Varanasi in Uttar Pradesh on 18 February 2019.
List of All Operational Vande Bharat Routes
05 September, 2023: A New Vande Bharat Train For Neemuch Route In MP Soon
Union Railway Minister Ashwini Vaishnaw announced that Neemuch in Madhya Pradesh is set to receive a Vande Bharat Express in the near future.
Speaking to the public in Neemuch, the railway minister stated, "The time has come for the Vande Bharat Express to operate on this particular route. Your Member of Parliament (MP) Sudhir Gupta has already made the request for this, and we will soon see the Vande Bharat Express operating on your route."
Among the extensive network, Madhya Pradesh currently has three operational Vande Bharat routes.
This includes the service between New Delhi and Bhopal, which was launched on 1 April 2023.
Additionally, in June 2023, Prime Minister Narendra Modi, during his visit to the state, launched two more routes running between Bhopal-Jabalpur and Bhopal-Indore.
23 August 2023: Vande Bharat Express To Connect Chandigarh and Jaipur
The Northern Railways is mulling to launch Vande Bharat Express service between Chandigarh and Jaipur.
The proposal to start the train is under consideration, said Ambala Divisional Railway Manager (DRM) Mandeep Singh Bhatia.
The division is hopeful that the Railway Board will give it the go-ahead.
Presently, two Vande Bharat trains terminate and pass through Ambala division.
One Vande Bharat Express train runs on Delhi-Katra route via Ambala. The other train runs between Amb-Andaura and New Delhi, with a halt in Chandigarh.
For Rajasthan, this newly proposed inclusion in the Vande Bharat network will add the third Vande Bharat train in the state.
17 August, 2023: Vande Bharat Special Variant for Jammu and Kashmir Region
Chennai's Integral Coach Factory (ICF) has announced its plans to introduce Vande Bharat trains equipped with special facilities for the Jammu and Kashmir region by next year.
With temperature conditions in consideration, the upcoming trains will incorporate heating provisions within their compartments, along with specialised pipes designed to avert the freezing and potential breakage of water lines. (more on this)
This initiative is part of ICF's strategy to design and manufacture various versions of the Vande Bharat trains.
According to previous announcements, these Vande Bharat trains are planned to operate between Jammu and Srinagar once the construction of the 272-km Udhampur-Srinagar-Baramulla Rail Link (USBRL) is concluded.
16 August 2023: Vande Bharat's Fresh Avatar
With a fresh new appearance, embracing a distinctive combination of orange, grey, and white, the indigenously built Vande Bharat train is expected to be unveiled at the Integral Coach Factory in Chennai on 19 August.
As per Swarajya's report, the thirty-first Vande Bharat train is slated to be the first orange colour semi-high-speed express, which is currently in the works at the Chennai production plant.
At present there are 25 Vande Bharat trains running across the country, while four more such rakes are awaiting green signal to be pressed into service this month, taking the number to 29.
Further to this, the manufacturing process of two more Vande Bharat trains is in advance stages — out of which the thirty-first rake will be made as per the new colour code.
Inspired by the Indian national flag, the new Vande Bharat train will roll out in a colour combination of saffron with stripes of green on doors and body.
3 August 2023: Upcoming Vande Bharat Express Routes In August
Four Vande Bharat trains including two from Chennai and one each from Patna and Bangalore, are ready to roll out this month.
The new routes to be launched this month includes — Patna-Howrah, Kacheguda-Yeshwanthpur, Chennai-Vijayawada and Chennai-Tirunalveli.
Currently, there are 25 Vande Bharat trains operational and the new routes will take the total number of semi-high speed trains to 29.
31 July 2023: TMH Signs Agreement With RVNL For Manufacturing Sleeper Vande Bharat Trains
A shareholder agreement between the Russian rolling-stock major Transmashholding's (TMH) subsidiary, Rail Vikas Nigam Ltd (RVNL) and Locomotive Electric Systems has been finally signed, for the manufacture of sleeper class Vande Bharat trains.
Ending the days of uncertainty and speculations, the agreement for 120 trains entails creation of a special purpose vehicle (SPV) 'Kinet Railway Solutions Limited' — which will manufacture, supply and maintain Vande Bharat trainsets operated by Indian Railways.
The newly formed SPV will be manufacturing and supplying 120 Vande Bharat-electric passenger sleeper-trainsets within the stipulated time frame and will also be running maintenance services of the train sets for 35 years.
The trainsets are slated to be manufactured at the Railways' Latur facility. The Railways plans to run the sleeper-edition Vande Bharat trains on long distance routes.
23 July 2023: First Sleeper Prototype To Roll Out In April 2024
The first Vande Bharat train with AC sleeper facility is expected to roll out in March-April 2024 from the Bharat Earth Movers Limited (BEML) factory in Bangalore.
According to the Integral Coach Factory (ICF) at Chennai, the design of the sleeper edition Vande Bharat train, is in the final stage and the prototype is expected to be ready by next year March-April from BEML.
BEML would be responsible for design, manufacturing and commissioning of 10 trainsets (sleeper) on the Vande Bharat platform — for the order worth Rs 675 crore.
The ICF, currently engaged with manufacturing of Vande Bharat trains with seating facility, is providing electrics and wheels while the assembly of coach and furnishing works are being done by the BEML.
19 July 2023: India's Aluminium-Bodied Vande Bharat Sleeper Train
Amid the uncertainty over the pricing of India's first aluminium-bodied Vande Bharat sleeper train, the Indian Railways is yet to freeze the bidding process in which the French rolling-stock major Alstom has emerged as the lowest bidder.
Alstom has been asked by the tendering committee to negotiate and reduce the bidding price of Rs 150.9 crore, quoted for the manufacturing of 100 aluminium-bodied Vande Bharat trains.
According to the Railways, the lowest quotation of Rs 150.9 crore is also on the higher side.
Alstom emerged as the lowest bidder for the Rs 36,000 crore tender for the manufacturing and maintenance of 100 lightweight Vande Bharat trains. The trains are to be manufactured at the Railways' facility at Sonepat in Haryana.
18 July 2023: Vande Bharat Sleeper Variant Production Deal
Russian rolling stock major TMH and Rail Vikas Nigam Limited (RVNL), Indian Railways PSU have resolved their differences and agreed to sign the Shareholders Agreement for manufacturing of 120 Vande Bharat trains with AC Sleeper coaches.
In line with this, the two parties will proceed with the contract signing for the sleeper design tender of Vande Bharat trains — in which the consortium was the lowest bidder.
According to shareholding pattern, TMH subsidiary-Metrowagonmash has 70 per cent, RVNL has 25 per cent and Locomotive Electronic Systems (LES), a Russian equipment supplier has 5 per cent shares in the joint venture.
The contract ran into trouble after RVNL seeking majority share in the project which was not agreed by the TMH resulting in delay in signing the formal contract between the joint partners.
The TMH-RVNL had bagged the nearly Rs 40,000 crore project as the JV was the lowest bidder for manufacturing 120 Vande Bharat trains with sleeper facilities. The contract valued include the cost of maintenance for 35 years.
The Indian Railways is gearing up to introduce Vande Bharat sleeper trains on long-distance routes. At present, these trains have only seating arrangement with Executive Class and Chair Car.
11 July 2023: New Vande Bharat Proposed Routes
Four busy routes including Lucknow-Prayagraj, Delhi-Chandigarh, Chennai-Tirunelveli and Gwalior-Bhopal have been selected for running Vande Bharat trains shortly.
In Uttar Pradesh, on 7 July, the Vande Bharat train was flagged off on Gorakhpur-Lucknow route.
Now there is a plan to connect Lucknow with Prayagraj through the Vande Bharat service, which will be the third route for the state.
Further, in Madhya Pradesh, there are currently three operational Vande Bharat routes — connecting Bhopal from Delhi, Jabalpur and Indore, the fourth one is proposed to connect Gwalior with the state's capital.
Further details on these upcoming routes are present in Swarajya's report.
11 July 2023: Maintenance Facility In Jogeshwari
The Indian Railways has initiated the tendering process for the construction of an advanced maintenance facility at Jogeshwari — designed for the sleeper version of Vande Bharat train sets.
The project aims to establish a depot that will ensure maintenance and servicing of these energy-efficient trains.
IRCON, a government-owned company under the Ministry of Railways, has recently released an Expression of Interest (EOI) to invite well-established companies specialising in civil and structural works to participate as subcontractors for various composite tasks.
According to an official, the depot will be equipped with state-of-the-art amenities and training facilities, including service buildings, training centres, and an electric substation.
The facility is designed to accommodate 24-car trains on both sides, serving as a terminating point for trains. Once completed, this new rail terminus will cater to passengers traveling long distances, as reported by FreePressJournal.
As per the plans, a 600-metre-long and 12-metre-wide will be an island platform, with tracks on either side.
2 July 2023: As per a recent report, first Vande Bharat prototype with sleeper coaches is to be supplied within 24 months, states Russian company TMH's executive.
14 June 2023: A consortium led by Titagarh Rail Systems Limited (TRSL) and Bharat Heavy Electricals Limited signed a contract with Indian Railways for manufacturing and maintenance of 80 fully assembled Vande Bharat sleeper train sets.
This is the first time a contract of this value has been awarded to a private sector player for design and manufacturing of complete train sets and maintenance for 35 years.
The estimated value of the contract is Rs 23,000 crore.
7 July 2023: Prime Minister Narendra Modi flags off two Vande Bharat Express trains today from Gorakhpur, Uttar Pradesh.
This includes Gorakhpur-Lucknow Vande Bharat Express and Jodhpur-Sabarmati Vande Bharat Express. This will be the 24th and 25th routes on the Vande Bharat Express network in the country.
The Gorakhpur-Lucknow Vande Bharat will establish a vital connection between the two cities in Uttar Pradesh, covering a distance of 302 km, including a stop at Ayodhya junction.
It will complete the journey in under four hours. The train is set to commence its regular service starting from 9 July.
The inaugural mini version of the semi-high-speed train in the state will consist of eight coaches, with seven air-conditioned chair cars and one executive chair car coach.
The second train launched today will travel between Jodhpur in Rajasthan and Sabarmati (Ahmedabad) in Gujarat.
During its journey, the train will make stops at Mahesana, Palanpur, Abu Road, Falna, and Pali Marwar stations in both directions. The train will take six hours ten minutes to cover a distance of over 400 km.
Occupancy levels
6 July 2023: Reeling under the impact of low occupancy rate in some Vande Bharat trains, the Indian Railways is planning to revise the fare structure of the semi-high speed service to attract more passengers.
The fare of Vande Bharat Express is on the higher side in comparison to other mail/express trains.
An exercise has begun to lower the fare of Executive Class, as well as Chair Car, in some sectors where the occupancy is much below than the expectation, according to sources.
Vande Metro
Following the successful model of the Vande Bharat Express, the Railways plans to introduce Vande Metro trains by 2024 — for local and suburban services across the country.
The train is intended to travel fewer than 100 km. The Vande Metro will serve large cities in a 50-60 km radius, where there are densely populated areas.
22 June 2023: As part of the plan, the Mumbai Railway Vikas Corporation (MRVC) has also invited tenders for 238 Vande Metro air-conditioned rakes, to upgrade Mumbai's suburban rail system.
As per reports, a total of 2,856 cars will be procured, through the Mumbai Urban Transport Project (MUTP) and will replace the non-AC trains currently in use on the Mumbai local rail network.
16 June 2023: Kerala is getting ready to launch the Vande Metro service in an effort to improve the transportation infrastructure and give commuters a top-notch travel experience.
Kerala has been allotted the Vande Metro as part of the railway budget for 2023-24. The project is being explored for both the Thiruvananthapuram and Palakkad divisions, with each division evaluating five routes.
Ten potential routes are currently being considered.
Get Swarajya in your inbox everyday. Subscribe here.
An Appeal...
Dear Reader,
As you are no doubt aware, Swarajya is a media product that is directly dependent on support from its readers in the form of subscriptions. We do not have the muscle and backing of a large media conglomerate nor are we playing for the large advertisement sweep-stake.
Our business model is you and your subscription. And in challenging times like these, we need your support now more than ever.
We deliver over 10 - 15 high quality articles with expert insights and views. From 7AM in the morning to 10PM late night we operate to ensure you, the reader, get to see what is just right.
Becoming a Patron or a subscriber for as little as Rs 1200/year is the best way you can support our efforts.
Become A Patron
Become A Subscriber