Making India open defecation free is an aspiration and project that the Centre hopes to fulfil and complete by 2019. A concerted effort has thus been made in this regard. The Economic Survey 2017-18 has noted the positive health and economic impact of the action taken on rural sanitation in areas that have become open defecation free, or ODF.
Let us, therefore, take a look at the action as it has unfolded, enumerating the steps that have been taken in what appears to be the right direction.
Rural Sanitation Coverage

According to a baseline survey conducted by the Ministry of Drinking Water & Sanitation, the number of persons defecating in the open in rural areas, which were 55 crore in October 2014 declined to 25 crore in January 2018, at a much faster pace compared to the trend observed before 2014.
The Economic Survey 2017-18 acknowledges that with the launch of the Swachh Bharat Mission (Gramin) on 2 October 2014, the sanitation coverage in rural India has increased substantially from 39 per cent in 2014 to 76 per cent in January 2018.
The rural sanitation coverage in India over time is given in Figure 15 of the Economic Survey, reproduced below: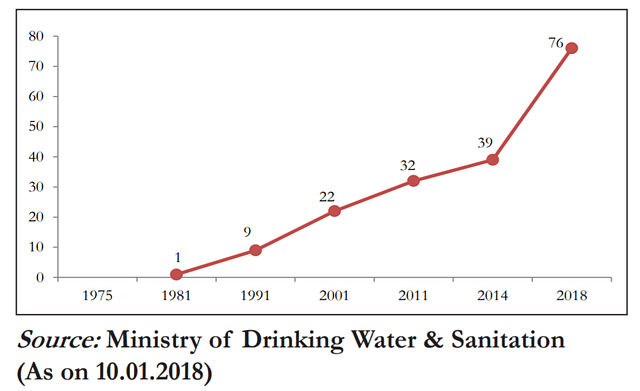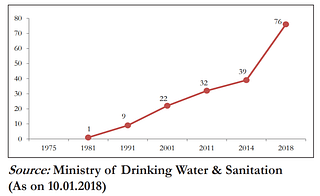 Rural Sanitation Coverage in India (as percentage)
The Economic Survey also points to many other major achievements in rural sanitation coverage:
296 districts and 3,07,349 villages on an all-India basis have been declared ODF
The number of persons defecating in the open in rural areas has declined from 55 crore in October 2014 to 25 crore in January 2018.
Eight states and two Union territories, including Sikkim, Himachal Pradesh, Kerala, Haryana, Uttarakhand, Chhattisgarh, Arunachal Pradesh, Gujarat, Daman & Diu and Chandigarh, have been declared completely ODF.
The surveys conducted by the National Sample Survey Office (NSSO,2016) and the Quality Council of India (QCI, 2017) — on the usage of toilets by individuals who have access to toilets — reported that more than 90 per cent of individuals were using toilets in 2016 and 2017.

Health and Economic Impact of Sanitation
It is a well-established fact that the quality of an individual's health and life is directly related to the quality of hygiene and sanitation. As per a UNICEF report, over 1,00,000 children in India reportedly died annually because of the lack of sanitation.
The Economic Survey cited the pilot study conducted by the Bill & Melinda Gates Foundation (BMGF) in selected ODF and non-ODF districts, it was estimated that households in ODF villages in India have significantly better health indicators.
Below is the comparative data on ODF and non-ODF areas which has been cited by the Economic Survey: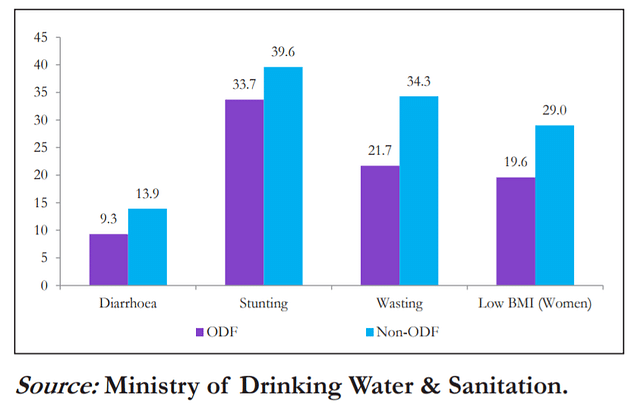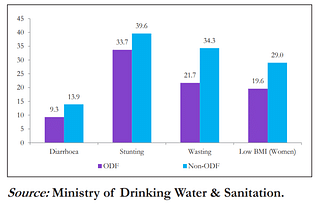 Performance of ODF and non-ODF Districts on Select Health Indicators (as percentage)
Using CAPI (Computer-Assessed Personal Interviewing) technique, the study covered 10 districts — Karnataka (Udupi & Chitradurga), West Bengal (Nadia & Birbhum), Rajasthan (Churu & Alwar), Madhya Pradesh (Harda & Dewas) and Uttar Pradesh (Shamli & Saharanpur) — covering 4,000 households (2,000 ODF and 2,000 non-ODF households) during May 2017 to June 2017.
It was noted that the non-ODF districts reflected higher levels of diarrhoea, stunting, wasting and abnormal BMI owing to behavioural inertia, as compared to ODF areas, which emerged clear winners with evidence of a behavioural shift in individuals due to the more pronounced presence of and proactive work by the village health and sanitation committees.
The table below from the Economic Survey reproduces the data: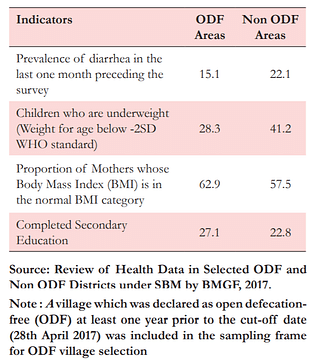 Comparison of ODF & non-ODF Areas (May 15, 2017 to June 22, 2017, as percentage)
Also, when compared it was found that a higher proportion of mothers and children in ODF areas were healthier as against those from non-ODF areas.
The economic benefits of ODF areas cannot, therefore, be ignored. The benefits are significant. According to World Bank estimates, the lack of sanitation facilities has been costing India over 6 per cent of GDP. In a report titled "The Financial and Economic Impact of SBM in India (2017)", the UNICEF had estimated that a household in an ODF village in rural India saves Rs 50,000 every year.
Let us look at the chart used by the Economic Survey to show the economic benefits of toilet use: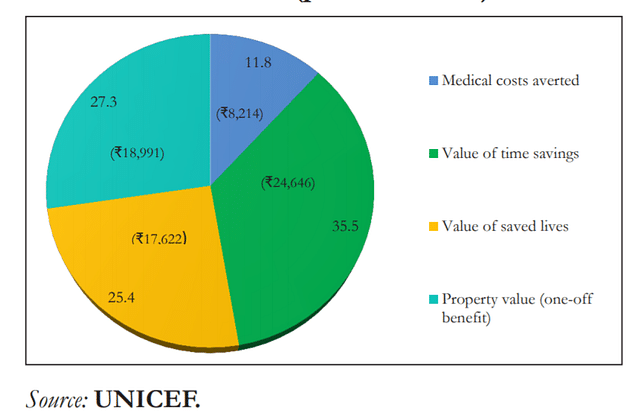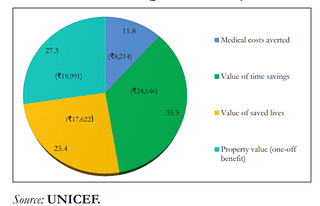 Annual Benefits of 100% Toilet Use (as percentage and in Rs)
The Swachh Bharat Mission, which aims at making India ODF by 2 October 2019, as a fitting tribute to Mahatma Gandhi on his 150th birth anniversary, became a people's movement when citizens across the nation came forward and took an oath to keep their surroundings clean and hygienic. The facts and data shared by the Economic Survey is evidence that it is a battle that is at already, at least, half won.

This article was first published on The True Picture, and has been republished here with permission.