Citizenship Amendment Bill 2019: 20,000 Hindu Bangladeshi Refugees Celebrate 2000 Km Away From What Was Once Home
by
Harsha Bhat
-
Saturday, December 14, 2019 01:36 PM IST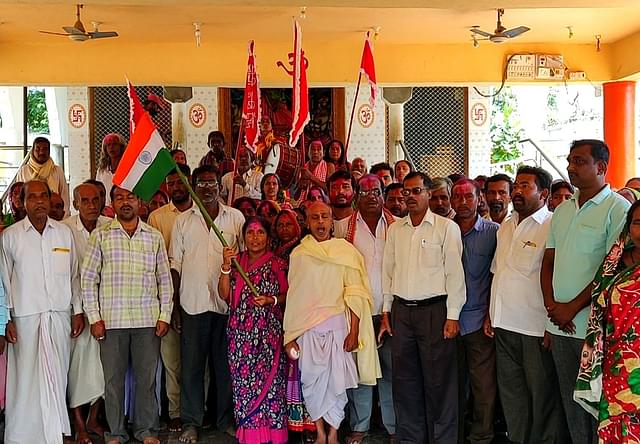 Bangladeshi Hindu refugees in Sindhanur in Karnataka singing the national anthem
Snapshot
It was yet another bill for most and a matter of intellectual debate for many. But for those whose very existence depended on its passing, it was nothing short of a miracle.


Like, for the 10,000-odd Bangladeshi Hindu refugees in a tiny village in Karnataka.

It was a sight to behold. It was a celebration of identity, of finally having a place to call home, of finally being 'Hindu-sthani'.
"We took Bharat to be our mata, but until now we didn't have the right to be called her santaan,"says Lakshmi Mandal.
"But with this Citizenship Amendment Bill, Modi and Amit Shah have finally given us the rights to be called Citizens of India," adds Mandal, as she breaks into a song that she has composed after having heard of the passing of the Bill in the Rajya Sabha on Wednesday (11 December).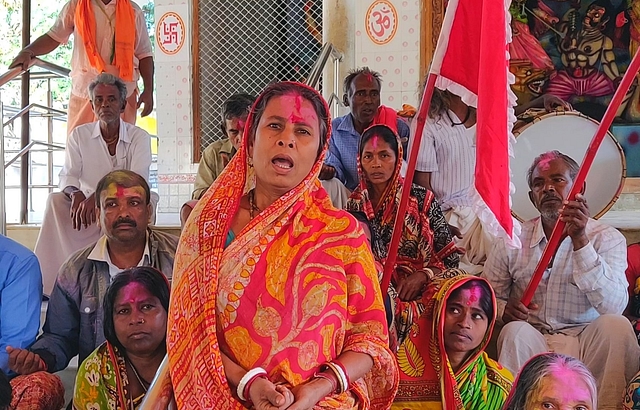 'Bharat Matar Sadinatha karon, Netaji Khudiram Diye silo pran, Bharat Mayer Duiti Santan, Narendra Modi Aar Amit Shah Naam, Pratikarer jonno koresilo pon, naagorikatar aaz koresil daan...Vande Mataram...'
Mandal is one of around 20,000 such Bengali Hindu refugees who live here at the Sindhanur Rehabilitation Camp, around 100 km from Raichur in Karnataka. But her jubilation is for the reason that she is one among around 10,000 who are the 'unsettlers' as they call themselves there. 'Unsettlers' implies those who came and settled down at the rehabilitation camp but have no identity certificate, giving them a sense of belonging.
The Hindu refugees who were initially moved to the rehabilitation project between 1969-70 were granted citizenship along with a 5-acre stretch of land each to till, and provisions to sustain themselves. The number of families was around 700. These are called the 'settlers' who are now half the population.

But another half is the 200-300 refugee families that escaped from Bangladesh in order to save themselves from the Islamic persecution later in the 1970s and 1980s who have had to make do with being second class citizens in a country they sought refuge in.
They can own no piece of land, have no documents to acknowledge their existence nor privileges to enable their life and living. "Even animals and birds have a nationality attached. They belong to some country. But the condition of our people was worse than animals, for they belonged to no country for so may decades," laments Prasen Raptan, whose father moved to India as an official refugee and hence, had no trouble obtaining citizenship.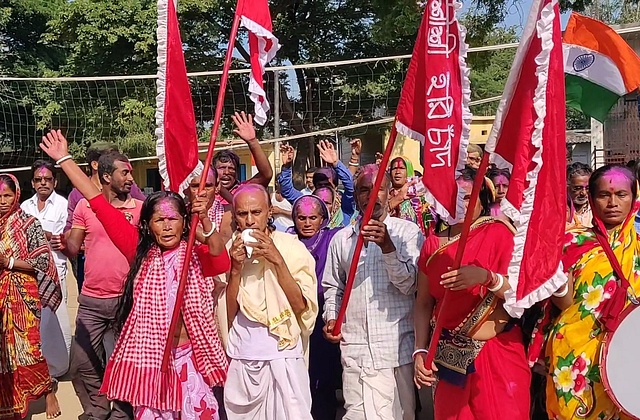 Raptan, who has been fighting for the cause of his fellow once-Bangladeshi brethren and also heads an NGO called Janakalyan that is working for socio-economic development of the refugees, is all smiles today as he took us around all the four camps in which the refugees have been settled — RH2, 3, 4 and 5.

Each block has a Durga Mandir and the sight of the Sindhur sporting foreheads and shaka pola clad wrists distinguish the women from the locals who live outside the camp.
But on Tuesday, the sight in RH2 was almost paralleling the one that the village sees during the biggest Bengali festival of Durga Puja. Gulal was in the air, the conch was being blown, the ulu dhwani was echoing through the bylanes as they hoisted the red and white flags and held a procession with the Tiranga at the forefront.
"We have waited with baited breath the whole day as the debate was on in the Rajya Sabha and it was only after it was passed did we heave a sigh of relief. You wouldn't be able to fathom what it means for us who have waited for almost four decades now," says Raptan.
Majority of these belong to the lower strata of society and hence, were largely illiterate and didn't hold dear that piece of paper that was provided to them at the border, entitling them for relief and provisions.

Moreover, the circumstances under which they escaped from what was once 'Sonar Bangla' as they call it, were not what many of us can fathom. To this day, many of them live in tinned huts, have no roads nor any other basic infrastructure, be it hospitals, postal facilities or even access to drinking water.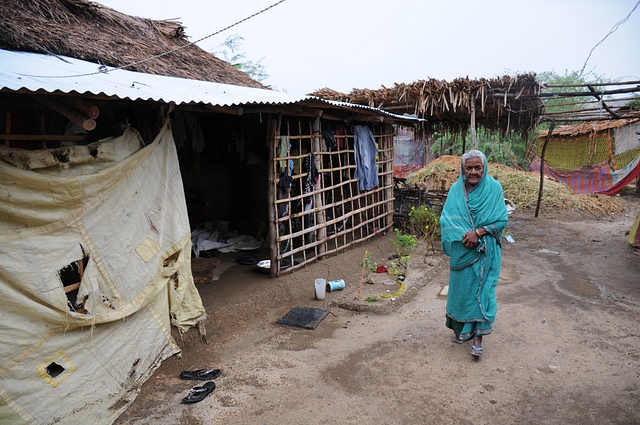 As they are based at the end of the Tungabhadra irrigation project, the canal serves all their needs and they have to make do with the water resources they have managed to build for themselves.

A quest for identity has left them fretting and feeble, as they have marched to the capital, met various leaders time and again seeking a resolution of their issues, but empty promises is all they got.
Which is why, the announcement of the Citizenship Amendment Bill is being hailed as a 'gift from the gods' with the Prime Minister and Home Minister being seen as no less than 'gods' themselves, by these people here.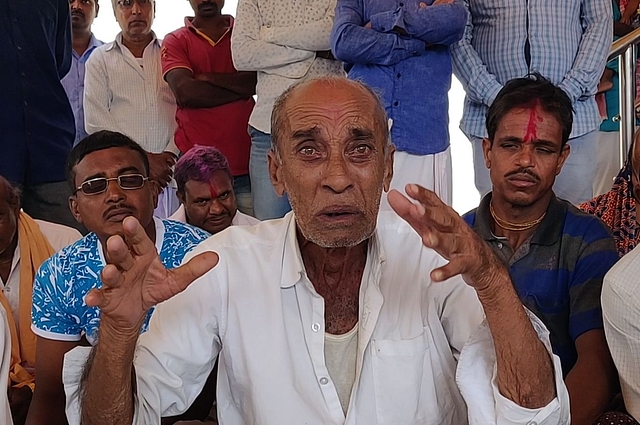 Having met at least a hundred of the refugees across the different camps belonging to different age groups, it was difficult to not be overwhelmed as they recollected the tales of Islamic persecution they faced back in Bangladesh before they fled it for good.
The atrocities that each of them recollect are difficult to imagine. From watching their own nieces being taken away, to having their children snatched, their crops harvested, sisters and mothers raped and killed, the memories are too grave and painful for them to distance themselves from, even after four decades.
"I have vowed never to go back to Bangladesh," says an angry, yet teary eyed septuagenarian Mukunda Biswas, who came to India in 1979, and recounts the tales of the partition with angst and hurt, calling Ayub Khan 'Duryodhan'.
Seated in front of the Durga Mata temple, he says "There was a temple just like this. They broke the idol, they destroyed our temples. They burnt 7-8 villages at a stretch, and mothers were seen running, abandoning their children," recounts Biswas, also asking how one could ever erase those images out of individual memory.
From 727 families that were initially rehabilitated, the number today stands at around 3,500 families, half of whom were 'citizens of nowhere' and had no hope of being either until now. But now, say some of the elders, they would at least die in peace, knowing that their next generation will have a life better than what they had to deal with.
For, a lack of citizenship was not just a case of having no identity, but also meant a struggle for survival.

"Here, we had come fearing for our lives and the trauma of all that we went through and even if we sought drinking water, we would be asked for a proof of our identity. Be it for our children's education or to get basic facilities, a lack of identity haunted us for the past four decades," says Sabita Mandal.
The tales are countless. Tears incessant. Some of them still tremble at the thought of the past. But all that will soon be a history they won't have to reminisce as the citizenship Bill will now ensure they are Indians. Indians just like "you are", they tell me as I try hard to not let my eyes moisten with all that I have witnessed.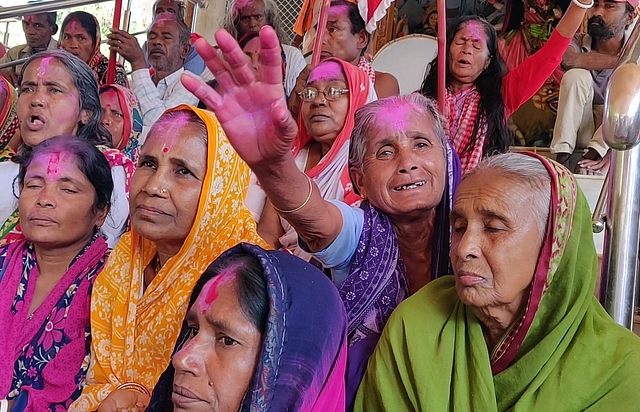 Jyotsna Mahaldar breaks down as she says "Modi is god". What any rational mind would otherwise dismiss as jingoism is to be here taken at face value, for the outburst of emotions signifies the culmination of a battle that has left countless wrinkles on her face.
A face that is today wet with tears but in glee, for Mahaldar, as she shares, had vowed to offer blood off her chest to the deity if Modi came to power. And that she duly did. And today, she sees her prayers as being doubly answered.
If Hindus have a place, it has to be Bharat. And today, we are proud to finally have a chance to be 'Bharatiya Nagarik', says the group that proudly holds the Indian national flag dear and sings the national anthem with pride and consolation. A homecoming of different sorts this one be.
Get Swarajya in your inbox everyday. Subscribe here.
An Appeal...
Dear Reader,
As you are no doubt aware, Swarajya is a media product that is directly dependent on support from its readers in the form of subscriptions. We do not have the muscle and backing of a large media conglomerate nor are we playing for the large advertisement sweep-stake.
Our business model is you and your subscription. And in challenging times like these, we need your support now more than ever.
We deliver over 10 - 15 high quality articles with expert insights and views. From 7AM in the morning to 10PM late night we operate to ensure you, the reader, get to see what is just right.
Becoming a Patron or a subscriber for as little as Rs 1200/year is the best way you can support our efforts.
Become A Patron
Become A Subscriber