New Amendment To Motor Vehicle Bill Can Go A Long Way In Determining How Urban India Commutes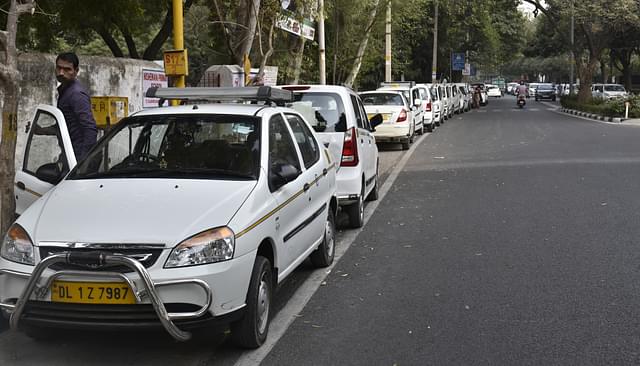 Ride-sharing cabs in Delhi (Sushil Kumar/Hindustan Times via Getty Images)
Snapshot
A new Bill can go a long way in determining how urban India commutes.
The arrival of ride-sharing through mobile apps like Uber and Ola has revolutionised urban mobility and disrupted the traditional set-up of public transport. Such an upheaval has also brought with it a series of conflicts between the service provider and government regulators over the legal status, rights and liabilities of the cab aggregators.
While a regulatory regime is set up with a goal of maximising social welfare, over-regulation of industries entails a risk of giving birth to rent seeking and inefficiency.
According to Nobel laureate George Stigler, when an industry is experiencing disruption (as is the case currently with public transport), the adverse impact on the inefficient players must be viewed as a natural economic process which is the outcome of innovation and can only lead to higher growth. Further, building on his theory of "creative disruption", Stigler argues that a rigid and burdensome regulatory structure can retard all three stages of creative destruction — invention, innovation and diffusion. This is exactly what is happening in the case of ride-sharing mobile apps.
Legal Status Of Cab Aggregators
Road transport is included in the seventh schedule of the Constitution, thus placing it on the concurrent list of subjects. The Motor Vehicles Act, 1988, a central law that regulates road transport, requires specific permits for vehicles, and stipulates various conditions and requirements for holding such permits. In addition, the Act grants state authorities the power to issue rules regulating taxis.
The Lok Sabha, however, recently passed an amendment to the Act, which would recognise the aggregators as a separate business entity and not as taxi operators. Though the Rajya Sabha is yet to pass the Motor Vehicles (Amendment) Bill, 2016, the move has been welcomed by app-based aggregators.
An Uber spokesperson commended the move, saying, "The changes are significant, as they will, for the first time, acknowledge the fundamental reordering of mobility. The Bill defines taxi aggregators, and states that the guidelines for their approval will be determined by the central government."
Another Act that affects the aggregators is the Information Technology Act, 2008, that provides the legal framework for IT companies, including rules regulating e-commerce and cybercrime. Digital cab aggregators currently seem to fall in a regulatory grey area between these two Acts, in the absence of any national law designed specifically for them. As a result of this, cab companies have found themselves in the midst of several legal battles as well as bans in some states.
"Gig Economy" Versus Old School Regulation
An array of new questions is now facing our lawmakers and they appear to be utterly underprepared. Is Uber a taxi operator or a technology company offering its platform to drivers? Are Uber drivers its employees or independent contractors? While banning cab aggregators seems to be the natural response from our bureaucracy, the ride-sharing economy or the "gig" economy is here to stay.
According to a report by RedSeer Management Consulting, Uber and Ola together completed 500 million rides in 2016, which was a fourfold increase from 2015. Even though ride-sharing is only a little over four years old in India (Uber was launched here in 2013), led by technology, it is a fast evolving business where speed of change seem to outpace regulatory governance.
Any regulatory measure is designed to deal with a specific problem at the given time. For example, licenses were introduced with a view to secure customer safety and a medallion-and-colour code to ensure that the customer knew that a car was indeed a licensed taxi. But with new technological developments, the rules of the game have completely changed. In this fast-changing scenario, cab aggregators continue to face a number of issues, especially entry level barriers (cap on commercial vehicles, high licence fees and so on).
Entry barriers and regulations not only impact economic opportunities for drivers but also hinder opportunities to reduce car ownership and thus congestion. This is because people will only give up their cars if they know that there's always a ride minutes away. But when the supply of licences is restricted, the price of a ride will always be higher — and/or waiting times longer. Such supply caps hinder the car pool business model of cab aggregators. Without adequate scale, cab sharing cannot work because there must be enough people taking similar trips at the same time for matches to be made. A few minutes make a real difference, and scale is impossible if the number of vehicles is capped.
Governments around the world have recognised that some regulations may no longer be fit for the purpose they were designed for, and that reforms are necessary to bring regulations at par with fast-paced technology-driven changes. What is needed today is less restrictions and barriers to entry for the benefit of drivers, and sensible ride-sharing regulations that better support safe, reliable, and affordable transport for all.
Towards Better Ride-Sharing Regulations
The Ministry of Road Transport and Highways seems to be waking up the situation. It issued its "Report of the Committee Constituted to Propose Taxi Policy Guideline to Promote Urban Mobility" as non-binding guidelines for states to regulate companies like Uber and Ola, who identify themselves as on-demand information technology-based transportation aggregators. The report acknowledges the economic and productivity losses caused due to congestion on Indian roads and proposes liberalising the regulatory framework for commercial vehicles with the objective of creating a uniform, fair and transparent regime that creates reliable alternatives to car ownership by promoting easy business for cab aggregators.
The report further highlights that there is a growing need for regulations to keep pace with technological solutions and the latter should be embraced by enacting progressive regulations.
Bumpy Ride For Aggregators
Despite the guidelines from the central government and the growing popularity of cab aggregators as a preferred mode of transport across major cities, state rules continue to pose an array of legal and business problems for them. For example:
• Karnataka requires a physical fare meter to be installed in all commercial taxis. Given the fact that technology has now enabled seamless e-receipts and automatic digital payments, the requirement has clearly outlived its utility.
• Karnataka also mandates a physical panic button in the vehicles which are an economic liability and inefficient. Aggregators have in-app features that are more efficient and technologically beneficial than a physical panic button that can easily be tampered with.
• Maharashtra requires 50 per cent of the vehicles to have an engine capacity of over 1400 cc. This requirement creates a barrier for a driver who owns a vehicle below the required capacity, thus limiting his economic opportunities.
• Installation of CCTV cameras have been another sticking point between the aggregators and regulatory authorities. The installation of CCTV cameras in vehicles would be an invasion of passenger privacy and could potentially be misused.
Talking on the issue of safety concerns of the passengers and the regulatory tussle on the issue of CCTVs, an Uber spokesperson commented: "While the suggestion of CCTV has cropped up in the past as well, we would require the Indian legal framework to be equipped to deal with potential privacy violations arising from CCTVs. While passenger safety is a vital consideration, installation of CCTVs will create a host of privacy and (ironically) security concerns. We are working closely with the government on this. Till the time we have consensus on the issue, we are always seeking to improve our safety technologies and processes, and recent examples of the same are installation of panic buttons and real-time ID checks to ensure that the driver using the app matches the account registered with the ride. We believe these, along with other initiatives, will go a long way in keeping our riders and drivers in the city safe and our rides reliable like never before."
Some states — Karnataka, Maharashtra, Rajasthan — have also been playing with the idea of maximum and minimum price prescriptions. This hinders the dynamic price modelling adopted by the cab companies. Dynamic pricing adopted by ride-sharing applications ensures that the demand for transportation matches the supply of cars at all times. As a result, the technology ensures that wait times are always low and transportation is always reliable.
While a number of other such examples of arbitrary and outdated regulations can be found across states, a few examples of good practices also stand apart. The government of Punjab launched its "Apni Gaddi, Apna Rozgar" scheme to generate thousands of economic opportunities in the state by flagging off over 100 uberMOTO bikes.
Moving Ahead
In a report titled "Shaping Policy for the Sharing Economy", the Lee Kuan Yew School of Public Policy, Singapore, argues that ride-sharing platforms — and home-sharing platforms like Airbnb, have proved to be adroit in plugging market gaps that previously existed, and regulators need to recognise the same. A heavy-handed regulatory approach would do more harm than good if these platforms were driven out of business.
For regulators, the situation presents an opportunity for a nuanced policy approach and smart regulation to harness the benefits of the sharing economy, while minimising or managing the downsides. The sharing economy is an innovative model that has disrupted traditional ones, and this is only desirable for a growing economy, since it creates a new market. By being too hasty to clamp down on these new economic activities, one would miss out on its benefits. The regulatory authorities thus need to recognise that the genie is out of the bottle and that while sharing may not be for everyone, a very large number of people can certainly benefit.
The Motor Vehicles (Amendment) Bill, 2016 is a welcome step. The Bill defines aggregators as digital intermediaries or marketplaces which can be used by passengers to connect with a driver for transportation purposes.
The amendment, if passed, will require state governments to issue licences to taxi aggregators as per central government guidelines, which would bring some standardisation to the current picture of every state regulating differently.
The Bill, however, does not specify what the central guidelines will cover. It presents itself as a unique policy window, which, if taken advantage of, can go a long way in determining how urban India commutes.
This article is a part of our special series on urban mobility.
Get Swarajya in your inbox everyday. Subscribe here.
An Appeal...
Dear Reader,
As you are no doubt aware, Swarajya is a media product that is directly dependent on support from its readers in the form of subscriptions. We do not have the muscle and backing of a large media conglomerate nor are we playing for the large advertisement sweep-stake.
Our business model is you and your subscription. And in challenging times like these, we need your support now more than ever.
We deliver over 10 - 15 high quality articles with expert insights and views. From 7AM in the morning to 10PM late night we operate to ensure you, the reader, get to see what is just right.
Becoming a Patron or a subscriber for as little as Rs 1200/year is the best way you can support our efforts.
Become A Patron
Become A Subscriber