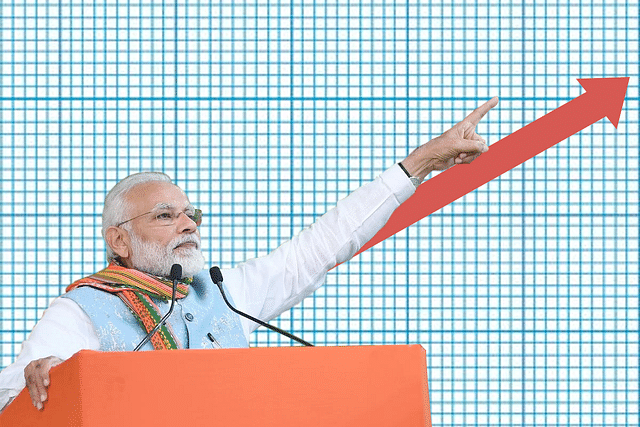 Prime Minister Narendra Modi
Snapshot
India's economy is on course to breach the $5 trillion mark by 2025. What makes it even more exciting is that with the reforms undertaken by Modi sarkar 1 and 2, even $10 trillion is possible within a decade.
The National Democratic Alliance-2 (NDA-2) government, led by Prime Minister Narendra Modi, implemented a set of far-reaching, structural reforms, which have led to macro-economic stability and strong growth.
While today's headlines obsess about the recent slowdown, the long-term economic trends unleashed by NDA-2 will profoundly reshape our country. Note that the Indian economy progressed from Rs 111 lakh crore in financial year (FY) 2014 to Rs 188 lakh crore in FY 2019, growing at a rate of 11 per cent per year.
At this growth rate and assuming that the rupee does not depreciate against the dollar, our gross domestic product (GDP) will reach about Rs 350 lakh crore or $5 trillion by FY 2025. More importantly, the policies now being announced by NDA-3 (through the President's address, the recent Budget speech, and other policy statements) are establishing the framework for continued growth that will take us not just to a $5 trillion economy, but also to a $10 trillion economy in the next decade or so.
The NDA-2 government's reforms have ensured that India is globally competitive in terms of price stability, quality of infrastructure, cost of capital and human capital. The policy framework now being established by the NDA-3 government will lead to an innovation-driven economy that will position India for global leadership.
NDA-2 Structural Reforms Ensure Global Competitiveness
From 2014 to 2019, the NDA-2 government implemented a series of sweeping reforms that surpassed the reform initiatives of previous governments. The first generation of reforms initiated by former prime minister P V Narasimha Rao's government (from 1991 to 1996) eliminated the Licence Raj, reduced tariffs and quantitative controls, ended public monopolies, and opened up capital markets.
The second generation of reforms undertaken by prime minister Atal Bihari Vajpayee's government (from 1998 to 2004) made massive investments in infrastructure, further opened up capital markets, deregulated several industries, streamlined and reduced taxes, and began an ambitious privatisation process.
The third generation of reforms initiated by Prime Minister Modi's government has transformed the Indian economy and made it much more globally competitive. While much of their impact is still working through the economic system, the third generation of reforms have already profoundly reshaped economic behaviour.
NDA-2's reforms extend across every aspect of the economy but can be grouped into five major areas: (1) establishing a transparent, rules-based economy free from crony capitalism; (2) restoring and maintaining macro-economic stability; (3) building a robust social safety net; (4) improving infrastructure to world-class levels; and (5) strengthening the financial system.
A series of powerful initiatives have transformed India's crony capitalism ridden economy into a transparent, rule-based economy.
First, the transparent auctions of natural resources and digital procurement of goods and services have dramatically reduced corruption.
Second, black money in the system has diminished massively through demonetisation, crackdown on cash-based transactions, and growth in digital payments. The new benami, black money, and fugitive economic offender laws have also had an enormous impact on black money usage.
Third, the Insolvency and Bankruptcy Code has changed borrower behaviour and emphasised the primacy of debt over equity. Promoters know that they cannot take depositor money for granted and keep evergreening their loans. Reserve Bank of India's (RBI's) actions on recognition of non-performing assets (NPA) and tightening of underwriting standards have virtually eliminated the possibility of loans being given to cronies.
Fourth, the Real Estate Regulation Act has curbed dubious real estate schemes and prevents the diversion of money from one project to other purposes.
Fifth, the use of Direct Benefits Transfer (DBT) for multiple government schemes has saved over 1.4 lakh crore in leakage.
Finally, nationwide goods and services tax (GST) implementation has forced enterprises to give up on cash-based transactions, keep transparent accounts, and become truly tax compliant. In combination, these path-breaking policies have been a shock therapy for the entire economic system dragging it into the digital twenty-first century world.
India's macro-economic stability was wrecked by the United Progressive Alliance (UPA) governments and has now been re-established by NDA governments through several carefully calibrated steps. Among the most important decisions made by the NDA-2 government was to set up a glide path to bring the fiscal deficit down to 3 per cent or so of GDP.
Coupled with the creation of a Monetary Policy Committee at the RBI and an explicit inflation targeting policy, India has gained the confidence of global investors and analysts for its fiscal and monetary prudence.
As a result, inflation has been brought down below 4 per cent, the rupee has been largely stable ranging from 60 to 70 to the dollar, and foreign investments continue to flood in. A stable macro-economic regime with positive real interest rates has also reassured domestic investors and depositors that their investments will be protected.
A modern welfare state with a robust social safety net has been constructed by the NDA-2 government. Every poor Indian is now guaranteed food, shelter, sanitation, education, basic education and healthcare. Spending on the Food Security Act has been doubled by the NDA-2 government and is now costing over Rs 2 lakh crore per year.
Over 1.5 crore pukka homes have already been built for the rural poor, and the NDA government will provide a pukka home to every family by 2022. Nine plus crore toilets have been built and open defecation is gradually being eliminated — this is an extraordinary social revolution that has been accomplished in barely five years.
Eight crore gas cylinders have been distributed free to provide convenient, clean cooking fuel to poor households. And, every poor Indian is now covered for up to Rs 5 lakh per year per family for acute medical care under the world's largest health care scheme, Ayushman Bharat. Note that there has been a massive ramp-up in welfare spending and delivery, even while the government was curbing the fiscal deficit and following a restrictive monetary policy.
Additional welfare spending has been achieved through a massive increase in the number of tax payers, higher tax rates on petroleum products, and much better tax compliance. Consequently, the tax to GDP ratio is up by almost 2 per cent.
The NDA government is rapidly bringing India's infrastructure up to world-class standards. High quality infrastructure is essential to ease of living and for ensuring global competitiveness. In the past five years, the pace of national highway construction has gone up from 11 km per day to 28 km per day.
A massive highway grid, Bharatmala, is taking shape that will connect India from end to end. Rural road construction has gone up from 102 km per day to 139 km per day.
Railway line construction has gone up to 9.5 km per day. While there was virtually no capital expenditure going into railways prior to NDA-2, in the past five years over Rs 5 lakh crore of capital investment has been poured into Indian Railways, genuinely transforming the railway experience for both passengers and freight.
Metro construction is proceeding rapidly in all major Indian cities, which will reduce congestion and carbon emissions dramatically. The aviation sector has almost doubled in five years in terms of passenger traffic with air freight also growing faster than ever before.
The revolutionary UDAN scheme has grown the number of operational airports from about 70 to over a 100. The aviation system is safer and more resilient; and even the shutdown of the second largest airline (Jet Airways) was absorbed within two-three months with passenger traffic once again starting to grow at double digit rates.
India's financial system has also been progressively strengthened and reformed in the past five years. The RBI has tightened its oversight over banks, payment banks, non-banking financial companies (NBFC), and the digital payment system. Loans are now being made purely on a commercial basis and NPAs are being rigorously identified and monitored.
Wilful defaulters are facing the full consequences of their actions. More than Rs 3 lakh crore is being pumped into the public sector banks to recapitalise them and strengthen their balance sheets. State Bank of India and Bank of Baroda have undertaken major consolidation efforts so that they can compete at a global scale.
The Alternative Investment Fund (AIF) structure has been created to enable venture capital and private equity funds to raise domestic and foreign capital efficiently and base their operations in India. In the past five years, fund-raising and exits by alternative funds have been at three times the level during the UPA years.
Masala bonds, REITs, InvITs, PSU ETFs, SIPs, and other new instruments have taken off. The Employees' Provident Fund Organisation (EPFO) and National Pension Scheme (NPS) are now systematically investing in the equity markets improving market liquidity and reducing volatility.
NDA-3 Policy Framework Establishing An Innovation-Driven Economy
The policy framework being established by NDA-3 government is laying the foundation for an innovation-driven economy that can drive robust growth for decades. There are three noteworthy aspects to this policy framework: (1) major investments in human capital to improve India's skills and capabilities; (2) focus on high-quality educational institutions and research programmes; and (3) massive support for the startup ecosystem.
The NDA-3 government is now pouring as many resources into human capital as it did into physical capital during the NDA-2 government. By 2022, every Indian will have a pukka house, sufficient food, sanitation, drinking water, health care services, clean cooking gas, electricity, mobile phone, all-weather roads, and a bank account.
The PM Kisan Yojana that has been extended to all farmers will now reach over 14 crore farmers, and cost Rs 90,000 crore per year. Each farmer will now get Rs 6,000 per year, which will free up resources for them to improve the quality of life for their families. The National Education Policy is intended to transform the education system and is being implemented along with testing for learning outcomes.
The Atal Innovation Mission with its Tinkering Labs and incubators will inculcate the joy of discovery and learning. A wide array of skill development programmes have been implemented to equip and help young people find employment.
An innovation-driven economy is only possible if our universities are operating at world-class levels. To that end, the Institutions of Eminence programme is providing extraordinary autonomy and substantial resources to our top institutions.
The India Institutes of Management (IIMs) have already been empowered to compete with the world's leading management institutes and are rapidly ascending in global rankings. The Higher Education Financing Agency has been created to enable universities to build-out their campus and research facilities.
A national research foundation is being set up to consolidate and expand long-term research programmes at our universities. Major investments are already underway in space technology, artificial intelligence, electric mobility, 5G, bio-fuels, and other cutting-edge research areas.
The Modi government has been laser-focused on startups through Startup India. Our startup ecosystem is now the third largest in the world and there are over 1,000 startups being founded every year. Startup investments have risen rapidly and are now close to $8 billion per year.
Startups are being provided tax breaks, are eligible for concessional financing, and are being supported by a Rs 10,000 crore fund-of-funds. A steady stream of unicorns such as Flipkart, Oyo Rooms, Ola, Snapdeal, Paytm, Zomato and Quikr are being generated. These innovation-driven companies are growing rapidly and adding lakhs of jobs.
In addition, global tech companies such as Google, Facebook, Microsoft, Amazon, Netflix and Uber are expanding fast thereby building a vast tech ecosystem that will surely keep spawning startups. Importantly, our startup ecosystem is very well-integrated in terms of technology standards, venture funds, and talent with global innovation centres such as Silicon Valley, Cambridge and Israel.
* * *
Our globally competitive, innovation-driven economy will easily reach its growth targets. With GDP at $5 trillion, GDP per capita will be over $3,600 and at $10 trillion, GDP per capita will reach $7,000 (population growth at 1.2 per cent as per UN estimates).
At these levels, India will be among other upper middle income countries such as Thailand ($7,200 in 2018), South Africa ($6,400 in 2018), and Iran ($5,500 in 2018). Our more prosperous states (such as Gujarat, Tamil Nadu and Maharashtra) will reach upper middle income status soon.
India has seen an astonishing reduction in extreme poverty with total number of such people declining by 27 crore from 2006 to 2016, according to the UN. There are probably no more than 7 crore left in extreme poverty in India; with GDP reaching $5 trillion, India will eliminate extreme poverty forever.
Across its two terms, the Modi government will deliver one of humanity's most remarkable achievements. We will have brought peace and prosperity to India's 1.3 billion citizens, lifted everyone out of poverty, and enabled Indians to live dignified lives.
While China's economic achievements are impressive, India has accomplished a similar economic transformation as a vibrant democracy that constitutionally guarantees and protects expansive human rights. Thus the Modi decade is enabling India to realise its true human potential and genuinely positioning it at the forefront of nations.
Get Swarajya in your inbox everyday. Subscribe here.
An Appeal...
Dear Reader,
As you are no doubt aware, Swarajya is a media product that is directly dependent on support from its readers in the form of subscriptions. We do not have the muscle and backing of a large media conglomerate nor are we playing for the large advertisement sweep-stake.
Our business model is you and your subscription. And in challenging times like these, we need your support now more than ever.
We deliver over 10 - 15 high quality articles with expert insights and views. From 7AM in the morning to 10PM late night we operate to ensure you, the reader, get to see what is just right.
Becoming a Patron or a subscriber for as little as Rs 1200/year is the best way you can support our efforts.
Become A Patron
Become A Subscriber