You Know Junaid Khan. Do You Know Devendra Balhara?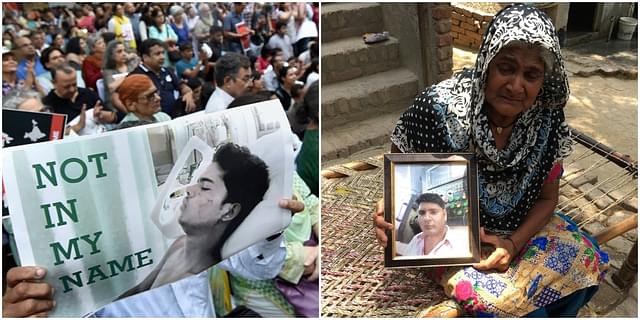 A protest against killing of Junaid Khan, left. Devendra's mother holds a portrait of her son who was killed similarly over a seat dispute, right.
Snapshot
You know Junaid Khan. A year on, media's 'beef' narrative around his murder is discredited. He was killed over seat.

Do you know Devendra Balhara? He was killed over a seat too. But unlike Junaid, he is unknown. Unlike Junaid's, his family didn't get any help.
Do you remember Junaid Khan, the 15-year-old Muslim boy who was stabbed to death on a train last year on Ballabgarh-Mathura route? Of course, you do.
The doyens of old media wouldn't let you forget it. Not because they were pained by the death of an innocent child, but because the victim was from a desirable community, while the perpetrator of the crime, wasn't. That alone mattered and it was good enough for them to prop this incident to the pedestal of national outrage.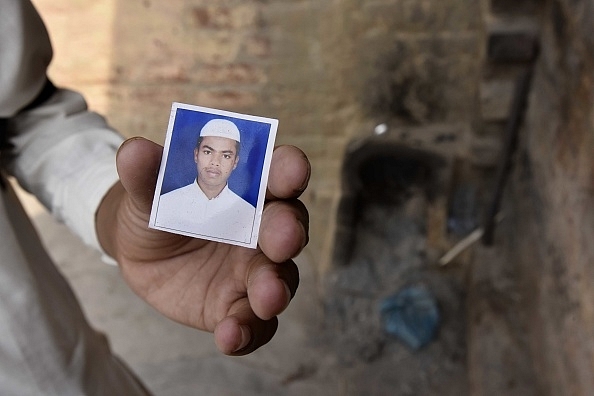 Junaid Khan and his brother had gotten into a scuffle with a braggadocio who asked them to vacate their seats for an old man. Such fights and bickering over 'space' are so commonplace on busy train routes that they have a distinct name - 'seat par ladai' (a fight over seat-sharing). What ensued after this depends on who you ask.
While Hindi dailies described the trigger for the violence as a scuffle over seat-sharing, English daily Hindustan Times put out a report that cited the reason for the scuffle was because Junaid Khan was "carrying beef". Curiously, the report had no mention of 'beef' at all and instead, quoted an unnamed police officer as saying "...they had an argument over meat with a group of co-passengers, which took an ugly turn and they were attacked with knife".
So, here's what happened. Some trigger-happy local reporter decided to imagine the fight wasn't over seat but meat. The copy went to desk for cleaning and editing where the person in-charge decided to spice things up a notch and put "beef" in the headline when the copy only mentioned meat.
The HT modified its earlier report in a few hours, with new byline and content while the slug mentioning 'beef' remained. The revised report blamed "an argument over a seat turned into religious slurs" for the ensuing violence. But the media held on to the 'beef' bit. Follow-up reports by news channels continued with the 'beef' narrative despite initial eye-witnesses offering nothing to support the claim. The police even held a press conference to share their finding that Junaid was not killed for carrying beef but their version was ignored. No amount of clarification would do. The damage had been done.
It was cue for the secular-left outrage brigade (SLOBs) to pounce upon this terrible tragedy and to milk it till the cows come home. They did it to perfection. First came the communists, then joined the politicians, followed by professional activists and so on. Thus began a vilification campaign. Those who usually recoil at the idea of identifying themselves as Hindus readily joined the campaign denouncing the murder, apparently committed for the cause of Hindutva.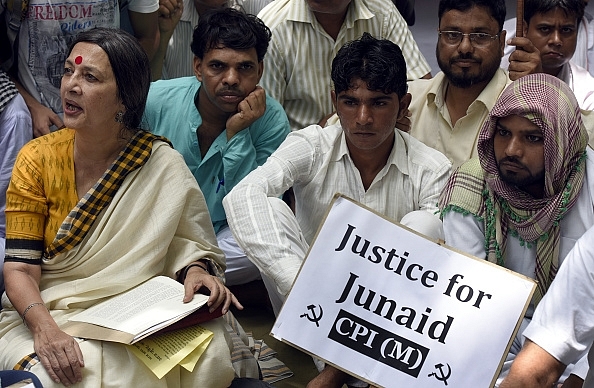 Less than a year later, the lie that Junaid was killed over meat or beef lies in tatters. Last month, while granting bail to one of the accused, the Punjab and Haryana High Court said that the initial quarrel was "only regarding the seat sharing and abuses in the name of castes and nothing more".
What's the virtue of busting the propaganda a year later? There is none. It's just the latest addition to a long list of propaganda wars launched by the establishment (not to be confused with the government in power) based on pure manufactured lies.
The only good to come out of such charged misinformation campaign is that it helps wake the authorities up from slumber and apathy. The family of the victim, at least, gets the monetary donation or compensation, that they would otherwise struggle for.
So did Junaid's. His family did receive a lot of attention which resulted in considerable financial help.
Swarajya travelled to Village Khandawali in Ballabgarh and talked to one of the six brothers of Junaid Khan - Shakir, 24. Junaid Khan's family has escaped the apathy of the Indian state usually reserved for people who die like him on trains. Shakir enumerated in detail all the monetary help they received from various authorities and organisations. "Rajinder Singh Cheema is fighting our case. He is not charging us anything," said Shakir. "We also have help from (CPI-M leader) Brinda Karat."
The railways took suo moto cognisance of the case and sent officials to their doorstep to offer compensation. Shakir said that last month, they received Rs 8 lakh in cheque from the railways. "They also helped us with Rs 25,000 at the time of the incident. That money was used to treat our injuries," he said. As per Shakir, the Communist Party of India (Marxist) gave Rs 10 lakh to the aggrieved family. The District Red Cross too gave Rs 5 lakh. The Haryana Waqf Board helped with Rs 5 lakh and also provided a job to Hashim, one of the brothers, in a mosque. The total compensation to Junaid Khan's kith and kin amounts to more than Rs 28 lakh. Chief Minister Manohar Lal Khattar promised Rs 10 lakh but hasn't delivered it yet.
On that fateful day of 22 June 2017 when Junaid was killed, Shakir too sustained injuries from a knife after he went with his brothers and friends to help a distressed Junaid when the latter called him and told him about the fight. Justice A B Chaudhari observed in his order that the accused assaulted Junaid Khan when he was attacked by Khan's brother and friends. "On the contrary, it is seen that the assault was never made in the beginning, but the same was made when the other boys entered the train," he noted, referring to Shakir and his friends.
Shakir disagreed, and insisted that his brother was killed for being a Muslim. "The judges are wrong. "Ye gaay ka maamla nahi tha. Ye seat ka maamla nahi tha. Ye uske musalmaan hone ka maamla tha" (it wasn't about cow. It wasn't about seat. It was about my brother being a Muslim), he told Swarajya.
The court, on the other hand, observed that "there is neither any evidence of any pre- planning to cause incident deliberately or intentionally or to create disharmony."
The Railways Ministry reported an average of two cases of quarrels per day in trains in a reply to the Lok Sabha last year. A cursory look at news reports, however, shows an alarming four deaths in just six months on the busy Uttar Pradesh-New Delhi-Haryana routes alone last year.
The bottomline is this: It was just another fight over seat, a common occurrence, only this time it turned fatal. If the victim's name wasn't Junaid Khan, and if the usual suspects hadn't injected communal angle where none existed, he would've met the fate of Devendra Balhara.
You know Junaid Khan. But you don't know Devendra Balhara. Allow us to introduce you to him and his family.
A few weeks after Junaid Khan's death, 38-year-old Devendra Balhara was thrown off the Agra-Delhi intercity express by some fellow commuters. Devendra and his friend Lalit were returning to their home in Palwal from work around 10 pm. Incidentally, the incident took place near Ballabgarh, the same place where Junaid Khan was stabbed to death over a similar scuffle over seat-sharing.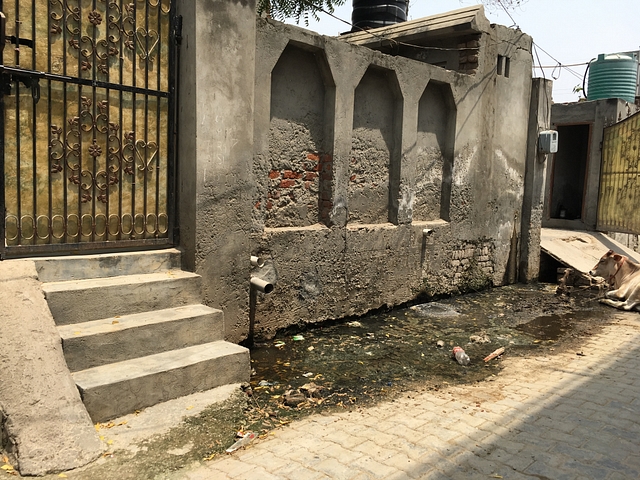 It is after negotiating several narrow lanes blocked with sewage water in the Mohan Nagar colony of Palwal city that one reaches the house of Balhara. The cement walls are not painted, the courtyard has uneven, exposed bricks, the wooden choukhats (frames) await the doors. There is no money to fix these. The only earning member of the house, Devendra, is no more.
"It was a Saturday. My son went for work like any other day. But he never returned," said his mother Lajjawati, recalling the fateful day of 12 August 2017.
Who killed her son? The family read in the newspapers that three youths - Aniket Jaiswal, Mohit and Vipin Gupta, all in early 20s and residents of Delhi - were arrested for the crime that tore her world apart. But Lajjawati isn't sure if they continue to languish in prison or are out on bail. "We don't have the money or resources to fight the case. We have no idea what happened to the perpetrators," she says.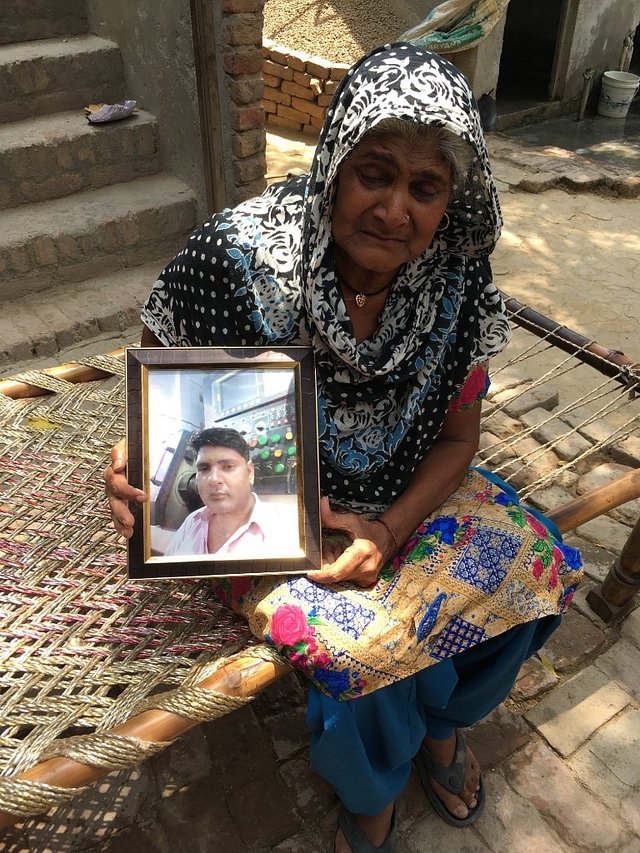 As per initial reports by Hindi dailies, Balhara boarded the train at Ballabgarh station along with his friend Lalit, as they did every day. They had a quarrel with four youths, who insisting on sitting on the floor. It turned ugly, and when the train was running between Asaoti and Palwal, the four accused allegedly threw them off the coach. The passengers informed the railway police who took the victims to a government hospital in Faridabad. Balhara was declared dead on arrival while Lalit was shifted to Delhi and saved.
Devendra is survived by wife Sonia and four children - three daughters and the youngest son.
Sonia was inconsolable. Roopa Devi, Balharas' neighbour, tried to calm her. "Devendra was the most handsome man in our colony. Tall and well-built," said Roopa. "The goons pushed him off the train; if they had fought Devendra, they stood no chance."
Amid tears, Sonia shared that the eldest daughter, 16, recently completed Class X but dropped out of school for lack of money. "Our house runs on my husband's meagre pension (he was in the Army). It's not possible to send her to school anymore," said Lajjawati. Devendra has a younger brother, who lives nearby with his family, and a sister who is married.
"My younger son has to feed his family. Devendra used to make more than Rs 10,000 a month. Apart from the unbearable pain of losing my son, we have landed in a financial mess," says Lajjawati.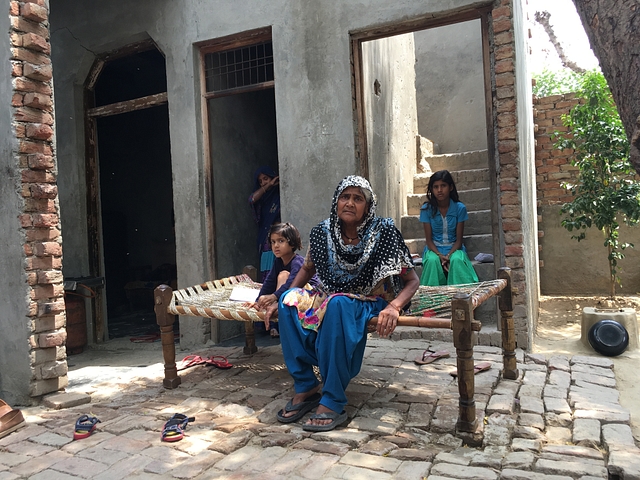 The family says they have been running from pillar to post but have received no help. They have also filed for claim with the railways but never heard from them. The railways award a compensation of Rs 8 lakh in case of death or loss of hand and foot caused in a train accident, under the Railway Accidents and Untoward Incidents (Compensation) Amendment Rules.
They tell us they belong to the Scheduled Caste (SC). Yet, Rahul Gandhi hasn't visited them. The Bharatiya Janata Party leaders who are on dinner hopping spree at Dalit homes haven't paid them a visit. Haryana's Congress state unit president is a Dalit himself. But it's possible he doesn't know they exist. Former chief minister Bhupinder Singh Hooda is holding Dalit panchayats across the state. He hasn't taken note of their plight either. The family has tried reaching out to Hooda's relative and local MLA Karan Singh Dalal, but without success.
"No one reached out to us. No one heard our pleas. We have been simply ignored," said Lajjawati.
Junaid Khan's family got Rs 28 lakh. Good for them. Devendra's family got zilch. Why Because some are working overtime to normalise this "soft bigotry of low expectations".
It is not lost on the residents. Ramesh, a neighbour of Balhara, pleaded with us to help the family by highlighting their plight, take their lament into national limelight. "Junaid lives just 30 kilometres away. Everyone from Delhi visited his family. In Devendra's case, even the local MLA didn't turn up. "Bas alpsankhyak hai isliye?" (All because he is from the minority community?), he said.
The residents of Ballabgarh and Palwal are getting the taste of minorityism, probably for the first time. Let's say "Not In My Name" to that.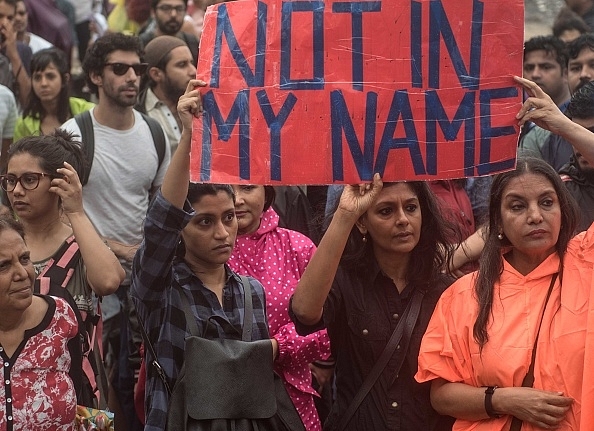 Get Swarajya in your inbox everyday. Subscribe here.
An Appeal...
Dear Reader,
As you are no doubt aware, Swarajya is a media product that is directly dependent on support from its readers in the form of subscriptions. We do not have the muscle and backing of a large media conglomerate nor are we playing for the large advertisement sweep-stake.
Our business model is you and your subscription. And in challenging times like these, we need your support now more than ever.
We deliver over 10 - 15 high quality articles with expert insights and views. From 7AM in the morning to 10PM late night we operate to ensure you, the reader, get to see what is just right.
Becoming a Patron or a subscriber for as little as Rs 1200/year is the best way you can support our efforts.
Become A Patron
Become A Subscriber