Arvind 'Tughlaq' Kejriwal: Why He Is Getting Shriller By The Day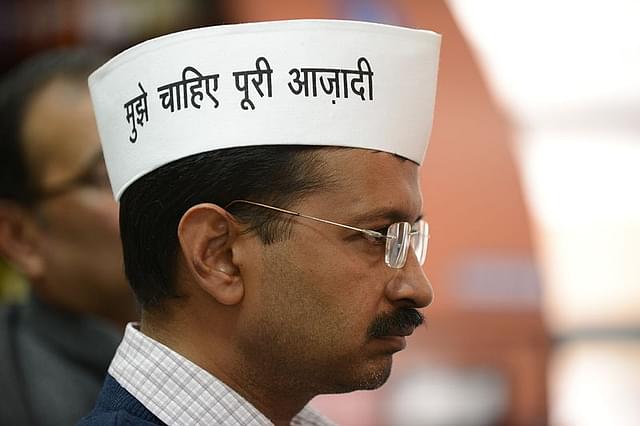 This man has gone over the top. We are talking about Delhi Chief Minister Arvind Kejriwal based on his behaviour over the past month or two. First, the rabble-rouser who cleverly avoided even mild criticism of Narendra Modi at the formative stage of the Aam Aadmi Party, fearing it would alienate the masses, called the Prime Minister a "coward" and "psychopath". Thereafter, the self-styled crusader against corruption trained his guns at Finance Minister Arun Jaitley, following a CBI raid on the office of Rajendra Kumar, the Chief Minister's principal secretary who faced charges of corruption. Recall that a previous attack on Jaitley, where the AAP had accused him of horse trading, did not stick.
Then, Kejriwal does not have the humility to accept that the file on the Delhi District Cricket Association (DDCA) probe did not lead directly to the door of Jaitley. It had not a word against Jaitley. The CM countered that with a quip that a raid on his own premises can at best extract four unaccounted for mufflers. If that was a joke, who is laughing?
Whereas hurling accusations at his political rivals has been part of Kejriwal's strategy, the fact that some of these allegations appear wild suggest frustration. Remember that this man has made his career by always aiming at big targets — rather, the biggest. So he targeted the Congress and then Delhi Chief Minister Sheila Dikshit, till then believed to be invincible. Kejriwal targeted the lady nobody dared touch and turned into an instant celebrity activist, (in)famously waving a stack of papers at a rally organised by Baba Ramdev to tell the audience he had 370-page-long evidence against Dikshit.
When he got a chance to fix her, however, all he could come up with was an FIR on the contract for street lamps worth Rs 90-and-odd crore in the alleged Commonwealth Games scam where a whopping Rs 70,000 crore was spent (or misspent). Kejriwal's cherry-picking was surprising considering that a much-maligned Suresh Kalmadi had access to only Rs 14,000 crore of the whole amount and the rest was under the control of the then Delhi government and the Union Urban Development Ministry under Jaipal Reddy [source: Boria Majumdar's Sellotape Legacy].
And, of course, Kejriwal declared Dikshit as "corrupt" and a facilitator of rapes; no proof required!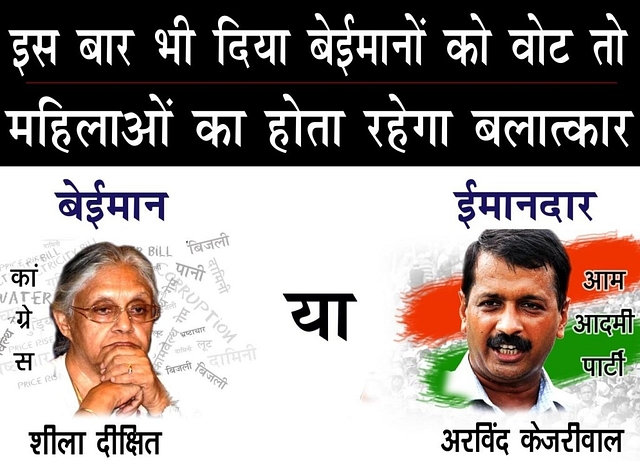 Then, Kejriwal itched for debates — stage by stage. As the wannabe CM, he challenged the sitting CM. After he could snatch away her seat in December 2013, he wanted a debate with the PM in 2014. However, that year as well as in this one, he ignored the challenge of debate thrown at him by all rebels, dissenters and defectors – beginning with Ashwini Upadhyay and ending in Yogendra Yadav and Prashant Bhushan. The strategy is clear: Always target someone higher than you; do not bother to respond to those below your rank.
If Dikshit was one leader you could not question pre-2013, Jaitley was another. One can get away with murder when it comes to uttering any nonsense about the No 1 in the government, Prime Minister Narendra Modi, but few talk critically about No 2. At best, the media says the Finance Minister's reform measures are snail-paced; none dares question his integrity.
In politics, the underdog enjoys public sympathy and it gives vicarious pleasure to the people to see a big man fall. A born politician, Kejriwal knows that well. His choice of Jaitley as the next target is, therefore, clever strategy. Cursing Modi, whom every opposition leader takes the liberty to abuse, was neither innovative nor a crowd-pulling proposition.
What are the sources of Kejriwal's frustration? First, despite all the hype over the AAP as a pan-India alternative to both the BJP and Congress in its first two years, he soon realised its severe limitations. His cheerleaders made him believe in early 2014 that he stood a fighting chance in the Lok Sabha elections, as no psephologist was predicting 282 seats for the BJP and anything around 160-180 for the saffron party would have meant any party with even 50 seats had a chance of making its supreme leader emerge as the prime ministerial candidate of the so-called Third Front. So, Kejriwal went around telling people the AAP was winning 100 seats. We all know he fell flat on his face.
Second, while stealing the Congress' "aam aadmi" rhetoric and socialist clothes to garner most of the Congress votes in Delhi, the people of Uttar Pradesh, Bihar, and West Bengal were too smart to consider his socialism a substitute for that of the Samajwadi Party, the JD(U) or Trinamool Congress. With the Akali Dal's reputation sullied by allegations of drug peddling against Harsimrat Kaur Badal's brother Bikram Singh Majithia, the AAP stood some chance in Punjab. But there too, half his strength of four MPs got reduced when Dharamvira Gandhi and Harinder Singh Khalsa were suspended for their "anti-party activities". Now that the Congress has almost settled the dispute between Captain Amarinder Singh and Partap Singh Bajwa and is looking to regain the state. So, for AAP, Punjab looks like a lost case.
Third, bureaucrats' postings rarely become a political issue. Kejriwal did try to make it one by constantly complaining that the Centre was not sanctioning officers of his choice and accusing Lt Governor Najeeb Jung of playing to the tune of the Union government. The issue subsided when reports revealed that officers who had been deputed all the way from Goa and Pondicherry were cooling their heels in Delhi without the chief minister assigning them any work. The babus also complained that the AAP government had been harassing them. People got the idea that Kejriwal was merely fishing for trouble; he actually had no inclination to focus on performance.
Fourth, if Kejriwal's brand of anti-corruption crusading has run its course, his brand revision as an environmentalist is also failing to take off. The firman that cars with odd-numbered registration plates would be allowed to ply on odd dates and the even-numbered ones would be permitted on even dates makes him nothing short of a mediaeval era Muhammad bin Tughlaq. Delhi Police Commissioner BS Bassi has added to his woes by declaring illegal Delhi Transport Minister Gopal Rai's proposal that his party's volunteers would pitch in as traffic regulators. Dikshit has resurfaced on the scene by questioning how the police can man six-to-eight lanes on busy roads. The media has reported that fake registration plate makers will make a killing in the days for which the Tughlaq-esque edict will be in force. This means that the leader once hailed as a crusader against corruption is now pushing his city towards corruption.
Fifth, no sooner did the AAP claim that Jaitley was complicit in the DDCA scam, one report after another, including the SFIO report that the party's press conference relied heavily upon and the High Court's observation, informed us that the head of Delhi's cricket management body for 13 years had no hand in its irregularities. To begin with, DDCA, which is a registered company and not a government agency, falls under the jurisdiction of the Registrar of Companies and the Union Ministry of Corporate Affairs and not the Delhi government. The city government cannot even institute a probe into the cricket body's functioning as per the Commissions of Inquiry Act.
Finally, unlike the scenario in the AAP's press briefings during its first two years, the latest press conference was greeted by counter-questions from reporters. For one, they did not believe Jaitley, despite questions about his way of functioning, had ever been in the game of amassing ill-gotten wealth.
So how did Kejriwal, his partymen and AAP votaries respond? They cursed the media for not getting them right. And then no less than Kejriwal himself questioned Times Now chief editor Arnab Goswami's salary!
https://twitter.com/ArvindKejriwal/status/679953528127791105
Unlike the Delhi MLAs whose salaries have been hiked by 400 per cent, does Goswami draw his salary from taxpayers' money? No. Does he not pay the taxes due on whatever he earns? Then what is the Delhi Chief Minister's case against him?
With his movement restricted to the capital city-state and no accusation against rivals impressing the experts, Arvind Kejriwal is today an embittered politician, who bag of tricks looks empty. Now if the BJP or the Congress begins picking up issues against AAP that I have written about in the period from December 2013 to now, imagine how he will react. Here are links to some of them:
Do not be surprised if the man's Twitter handle goes ballistic again and again.
Get Swarajya in your inbox everyday. Subscribe here.
An Appeal...
Dear Reader,
As you are no doubt aware, Swarajya is a media product that is directly dependent on support from its readers in the form of subscriptions. We do not have the muscle and backing of a large media conglomerate nor are we playing for the large advertisement sweep-stake.
Our business model is you and your subscription. And in challenging times like these, we need your support now more than ever.
We deliver over 10 - 15 high quality articles with expert insights and views. From 7AM in the morning to 10PM late night we operate to ensure you, the reader, get to see what is just right.
Becoming a Patron or a subscriber for as little as Rs 1200/year is the best way you can support our efforts.
Become A Patron
Become A Subscriber