On a visit to the US, Tapan Ghosh, founder of Hindu Samhati brings the message that rural Bengal has turned so virulently Islamist that Hindus are being pushed out of villages.
Radical Islam is strangling rural West Bengal. Violent incidents related to Islam are becoming so common that it's hard to keep track of them. It's not just in Syria or Nigeria that non-Muslim girls are being raped and converted by ISIS and Boko Haram. Nor is it just in Bangladesh or Pakistan that Hindus are living as second class citizens. In village after village, as the population of Muslims is increasing steeply, Hindus are being forced to flee; their lands are being taken over, their homes are being burnt, their festival processions are being attacked, and their women are being raped mercilessly. The stage is set for a second partition of Bengal and in fact, there is already a demand for "Greater Bangladesh". This was the message delivered by Tapan Ghosh of Hindu Samhati who visited the US this month. This is not something that typical urban Bengalis like to talk about, absorbed as they are in countless "secular" debates. But Ghosh is not your average Bengali. He is founder of Hindu Samhati, an organization that takes up the cause of the dwindling Hindus in West Bengal.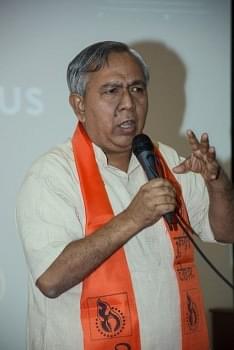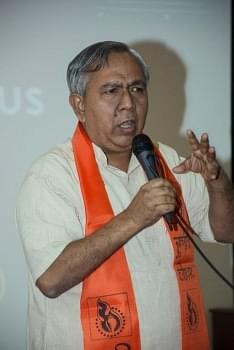 The saddest part of the whole situation, according to Ghosh is that the West Bengal government headed by Chief Minister Mamata Banerjee has abjectly given in to the Islamists. Police stations in rural Bengal rarely register complaints by Hindus against Muslim rapists or attackers for fear of alienating Muslim voters. In April 2013, the West Bengal government sanctioned a monthly salary to all Imams and Muezzins in the state. When this was declared unconstitutional by the High Court, 22 organizations of Imams took to the streets to protest in Kolkata (September 2013). Police chiefs in Bengal have allegedly been instructed to deliver sweets, cash and flowers to Imams by the Mamata government every Eid. "Do you think they carry Diwali gifts for Hindu priests?" asks Ghosh. According to him, this gives a clear message to the police that they are to go soft on Muslims. "Did you know that Mamata Banerjee has nominated Imran Ahmed Hassan, the co-founder of banned terrorist organisation SIMI to the Rajya Sabha?" he questions.
Ghosh cited a large number of cases that he has followed up personally. The case of Tuktuki Mandal, a young girl who was kidnapped has been well highlighted via social media. In Deganga (2010), eight villages were burned down to terrorize Hindus. In the Roopnagar communal violence (May 2012), a horrifying sight of a woman bound in chains was found on the terrace of a rioter's house. Canning (2013), Samudragarh (June 2015), Chakulia…one has to only google communal violence in Bengal to understand that violent incidents are increasing at an alarming rate.
"It is thanks to social media that the stories of Islamic aggression in Bengal are being transmitted to the rest of the world and we are getting so much support from outside Bengal," says Ghosh. "Had we continued to depend on conventional media, no one would have known anything."
It is not as if Kolkata is completely safe from Islamic violence, he reminds. In August this year, the suspicions of the police was aroused when they found a large group of 62 Muslim boys, all very young who were being escorted by one Imam at Sealdah station. The police were told that the kids were being taken to a madrasa in Satara, Maharashtra from a madrasa in Purnia, Bihar. Were the kids being kidnapped, wondered the police and asked for documentation. The Imam could only produce documents for some 40 boys. While the police lodged the children and the Imam in a safe place until they made enquiries about the undocumented children, mobs began to mobilize themselves in large numbers. Nearly two dozen mosques as well as some madrasas in Kolkata seized the occasion to spread pandemonium. Buses and cars were burned, women were harassed, and roads were blockaded. The city's traffic went completely haywire. The protestors raised the cry of "Allahu Akbar" and "Free Yakub Memon" according to many reports.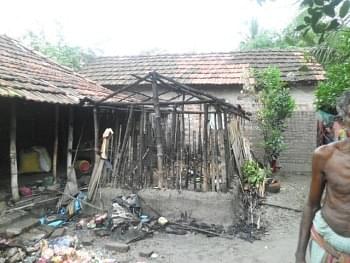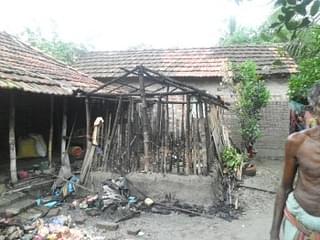 Houses destroyed in Panchagram
"For the propagators of radical Islam, small boys from poor families are a great catch," points out Ghosh. The families can easily be cajoled or paid to give up their boys for Islamic grooming in madrasas. Tell me, why were so many boys being taken to a madrasa in Maharashtra if not to get training in spreading mayhem? And why does the whole community come out in droves to protest like that?"
So stifling is the Islamic ideology taking root in Bengal that all the liberal values it once stood for, such as women's education have been eroded, informs Ghosh. Liberal Muslims are under attack by fundamentalists and are being forced to step back. Take the 2013 case of Nur-e-Alam Chaudhary, a minister who wanted to expand the girls college set up in his mother's name in Rampurhat. Since a mosque stood in the way, he requested for the mosque to be moved away piece by piece, to a location some distance away. His ancestors once owned huge tracts of land there. He also promised to expand the mosque at a later date. Suddenly things went haywire on the day of moving the mosque and a rumor spread that the mosque was being demolished. A big mob came and set fire to the entire girls college! Chaudhury was assaulted and locked in a room for 9 hours. His security officers were assaulted. So much damage has been inflicted that the college can perhaps never be re-started again. Even though the incident is being projected as a land dispute, Ghosh believes that the real reason was to put a stop to the education of women.
Officially, the Muslim population of West Bengal has gone up from 19% at the time of India's partition in 1947 to 27% in 2011. However, in the districts of Murshidabad, Malda and North Dinajpur, Muslims are in majority. Every now and then, Mamta Banerjee dons a hijab and goes to meet the voters she is cultivating. "No sooner does a mosque come up in a village, then it becomes impossible for a Durga Puja procession to pass anywhere near it; the problem becomes compounded when mosques come up right on the main road of a village," says Ghosh.
It is not that the radical Islamic elements were in control even during the 34 years of governance by the Marxist CPI (M) government, reminds Ghosh. However, the extent to which the Mamata Banerjee government is supporting radicals and causing a breakdown of law and order is unprecedented, he says.
Could more awareness/education solve the problem of extreme Islamic ideologies? "Muslims in rural areas do not accept anything said by the media or anyone else," asserts Ghosh. "They only believe what comes from the mouth of the Imam of their local mosque."