Bengalis Need To Know That Language Does Not Bridge Religious Divide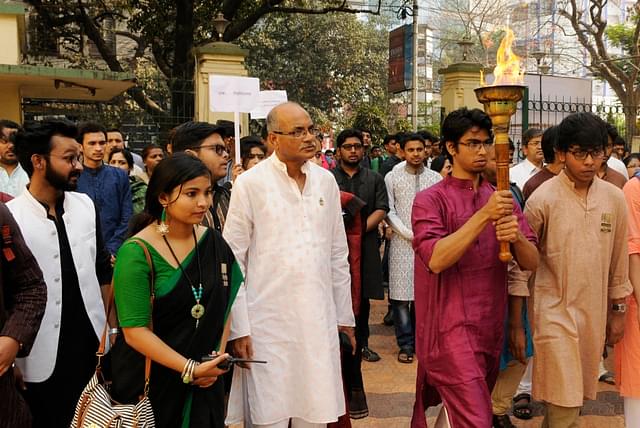 St Xavier's College (Calcutta) Alumni Association along with students from Bangladesh at a torch rally to celebrate the International Mother Language Day in Kolkata. (Samir Jana/Hindustan Times via Getty Images)
Snapshot
It is religion, and not language, that is primary in Bangladesh, as it is in all Muslim-majority countries in the world.


To deny this and claim that Bangladesh's primary identity is that of a Bengali nation would be living in a fool's paradise.
Today (February 21) is International Mother Language Day, and Bengalis like to call it 'Bhasha Divas' or 'Shahid Divas'. This day holds a special place in the hearts of all Bengalis; it was on 21 February 1952, that many students of Dhaka University laid down their lives to protest the imposition of Urdu and denial of official language status to Bengali by the ruling Punjabi elite of Pakistan. To commemorate this and promote all mother languages, the The United Nations Educational, Scientific and Cultural Organization (UNESCO) declared 21 February as International Mother Language Day in 1999.
Bengalis on both sides of the international border enthusiastically celebrate the day through cultural programmes, rallies, meetings and feats and reassert their Bengali identity. But many Bengalis, mostly Hindus, also use this day to falsely proclaim that language triumphs over religion and that Bengali is a monolithic identity that plugs all religious divides. Bangladesh, they assert, was formed on the basis of language and, hence, the Bengalis give precedence to their mother tongue over religion.
Such idealistic and unrealistic assertions are made mostly by Bengali Hindus in Bengal and find halting resonance among a small section of Bengali Muslims across the border. But this whole narrative about the Bengali language and identity being accorded precedence by all Bengalis irrespective of their religious identity is a false one and an artificial construct by communists and pseudo-liberals, who want to whitewash and gloss over the stark reality of Bengali Hindus being systematically driven away from Bangladesh for more than seven decades now.
There are major inherent flaws in the contention that Bengalis, irrespective of their religious identity, are Bengalis first. This assertion is also a sub-text of the larger narrative of Bengal and Bangladesh being one entity that spurs utopian and unrealistic dreams of reunification of the two Bengals (West Bengal and Bangladesh). Had this premise – of the Bengali identity triumphing over religious identity – been true, Bengali Muslims would never have supported Mohammad Ali Jinnah's call for creation of Pakistan (the land of the pure Muslims). Bengali Muslims would not have joined the Muslim League in such large numbers and not supported it so overwhelmingly. Bengali-speaking Muslims would not have aligned with Jinnah and allowed what was then the Muslim-majority province of East Bengal to become East Pakistan. Why, even the great Calcutta killings, the Noakhali genocide and other such massacres of Hindus would not have taken place had this been true. But the stark reality is that Bengali Hindus have always faced persecution from Muslims who only happen to speak in Bengali.
Since 1947, an estimated 1.4 crore Bengali Hindus have been killed, maimed, tortured, raped, rendered homeless and driven away from East Pakistan and then Bangladesh between 1947 and 2017. In 1941, Hindus formed 28 per cent of East Bengal's population. This declined to about 22 per cent after Partition due to mass migration of Hindus. Today, Hindus form just less than 8 per cent of Bangladesh's population. This would not have happened had Bengali Muslims protected their Bengali-speaking Hindu 'brothers and sisters' (to use an oft-repeated term in Bangladesh). Had the Bengali identity being supreme in Bangladesh and triumphed over religious divides, Hindus would not have had to face persecution and being forced to flee Bangladesh.
Even as far as the language is concerned, Bengali Muslims deliberately pepper their Bengali with a number of Urdu terms that makes it distinctive from the Bengali spoken by Hindus. To give just two examples, Bengali Muslims refer to water as paani instead of the Bengali jol and to bathing as gosol instead of the Bengali snan. In attire, too, Bengali Muslims will never wear the Bengali dhoti, preferring the lungi which they consider a Muslim attire and wear it to distinguish themselves from Bengali Hindus. Some urban and liberal Bengali Muslim women who sport bindus are disparagingly called kafir by Bengali Muslims.
Yes, Bangladesh was formed on the basis of language. But it would have remained East Pakistan had the Punjabi elite in West Pakistan not tried to dominate over their brethren in East Pakistan. Had attempts to make Urdu the sole official language of Pakistan not been made, had East Pakistan not been so discriminated against and had the military generals allowed Sheikh Mujibur Rahman to become the Prime Minister after his Awami League swept the 1970 general elections, Bangladesh would not have come into being. Rahman was not allowed to become the prime minister and was thrown into prison instead, thus sparking a widespread uprising that led to East Pakistan breaking away and the formation of Bangladesh.
In fact, Rahman had not wanted the breakup of the Islamic nation of Pakistan till the very last. He was an Islamist and was a leader of the Bengal Muslim League which was at the forefront of the demand for a separate nation for Muslims. Rahman was the right-hand man of Huseyn Shaheed Suhrawardy, also known as the 'butcher of Bengal' because of his role in the great Calcutta killings. He donned the 'secular' mantle later on, but it remains a fact that under his watch, temples continued to be destroyed and Hindus persecuted in Bangladesh.
Had Bengali Muslims accorded primacy to their mother tongue over their religion, they would not have made their country into an Islamic Republic in 1977 and supported the removal of the 'secular' clause from the country's constitution. In 2016, Bangladesh's supreme court upheld Islam as the state religion. This was hailed by an overwhelming majority of Bangladeshi Muslims. Had they been Bengalis first, as Bengali Hindus in Bengal assert, Bangladesh would not have remained an Islamic nation. Bangladesh's primary identity is that of an Islamic nation and Islam pervades everything in Bangladesh. It is religion, and not language, that is primary in Bangladesh, as it is in all Muslim-majority countries in the world. To deny this and claim that Bangladesh's primary identity is that of a Bengali nation would be living in a fool's paradise.
The entire narrative of language being the primary identity and religion being the secondary one for Bengalis is an artificial and grossly false one that had been scripted for political purposes by the left-liberal cabal. This narrative used to and still comes in handy for building vote banks by turning a blind eye to the demographic invasion caused by illegal migration of Bangladeshi Muslims into Bengal. It comes in handy to stop Bengali Hindus from protesting this illegal migration. It comes in handy for whitewashing the persecution of Hindus in East Pakistan and now Bangladesh. And it comes in handy to pose as a 'secular' and make Bengali Hindus feel guilty in standing up for their rights and demanding an end to injustices heaped on them and their persecution, be it in Bangladesh or Bengal.
Get Swarajya in your inbox everyday. Subscribe here.
An Appeal...
Dear Reader,
As you are no doubt aware, Swarajya is a media product that is directly dependent on support from its readers in the form of subscriptions. We do not have the muscle and backing of a large media conglomerate nor are we playing for the large advertisement sweep-stake.
Our business model is you and your subscription. And in challenging times like these, we need your support now more than ever.
We deliver over 10 - 15 high quality articles with expert insights and views. From 7AM in the morning to 10PM late night we operate to ensure you, the reader, get to see what is just right.
Becoming a Patron or a subscriber for as little as Rs 1200/year is the best way you can support our efforts.
Become A Patron
Become A Subscriber