When Parliament passed the Citizenship Amendment Act (CAA) in December last year, many areas in New Delhi and other parts of the country erupted in protests which soon led to violent clashes and ultimately culminated in widespread riots in the North-East district of the national capital.
Many believed that the anger of the protesters was spontaneous and the events precipitated by passing of the CAA were a result of genuine outpouring of resentment against the government.
But investigation by Delhi Police criminal branch has now revealed that there was nothing natural about the anti-CAA movement and the whole campaign was orchestrated by a few actors who worked impressively in tandem to manufacture the environment of anger by whipping communal sentiments of Muslim community with lies and disinformation.
Communalisation Of The Movement
It all started with Sharjeel Imam who has been established as the chief mastermind by the police in its 15,000 pages long chargesheet filed recently. The Citizenship Amendment Bill was cleared for introduction in Parliament by the Union Cabinet on 4 December 2019. Next day, Imam and others created a WhatsApp group 'Muslim Students of JNU'.
Below is a snippet of a chat between Imam and Arshad Warsi, who was part of radical communal group, Students of Jamia (SOJ).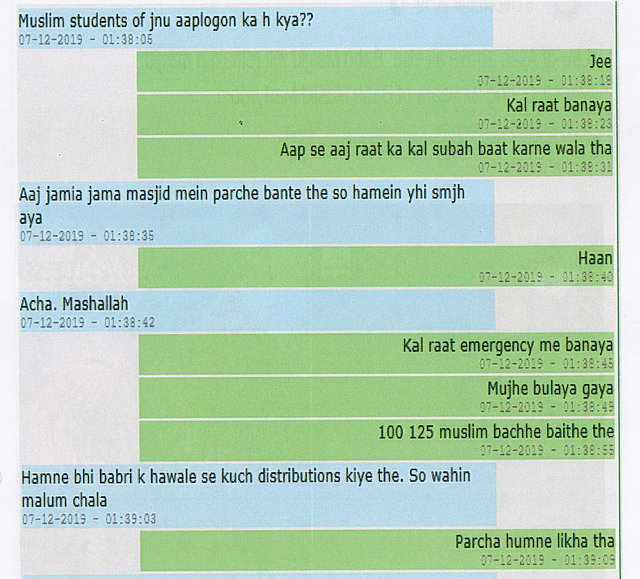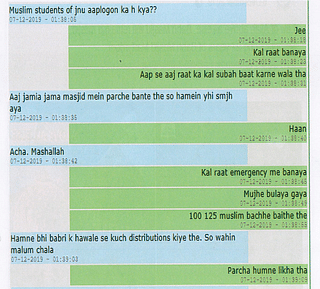 The pamphlet being discussed in the chat was against the Supreme Court's verdict on Ram Janmabhoomi land dispute case delivered in November. "Law of Allah above all else. Babri Masjid will remain a masjid," the pamphlet read.
As admitted by Imam, it was written by him. On 6 December, 8,000 copies of it were distributed in mosques in Delhi, a fact also admitted by Imam in his conversation with Warsi.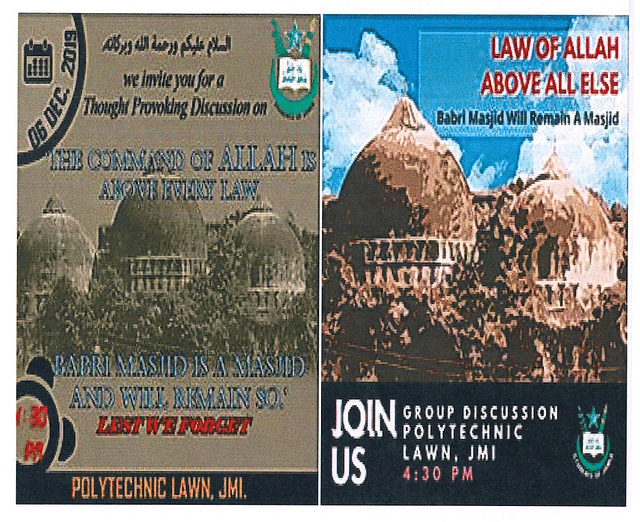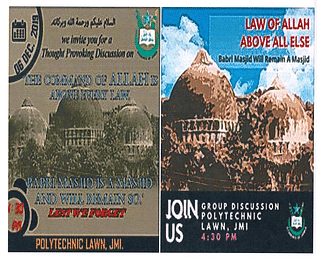 On 7 December, Imam joined the anti-CAA protest at Jantar Mantar which was called by the 'United Against Hate' group run by former JNU student Umar Khalid and a local Muslim leader Abdul Khalid, both of whom are currently accused and in jail for the conspiracy.
Sharjeel Imam mobilised Muslim students of JNU to take them to Jantar Mantar. In his chats with Warsi on the same day, he revealed his strategy of mobilising students of JNU, Jamia, AMU and DU.
At this protest, Umar Khalid introduced Yogendra Yadav to Sharjeel Imam. Further, it was decided that they will meet the next day in Jangpura to further strategise about the action plan.
On 8 December, the meeting took place.
"It was decided in the meeting to execute the earlier agreed conspiracy of Chakka Jaam. It was decided that Sharjeel Imam will mobilise and lead the students of various Universities and colleges in and around Delhi. It was agreed by all in the meeting that teams of United Against Hate, Swaraj Abhiyan, like minded left parties and members of civil society will support him and each other by every means," the chargesheet says.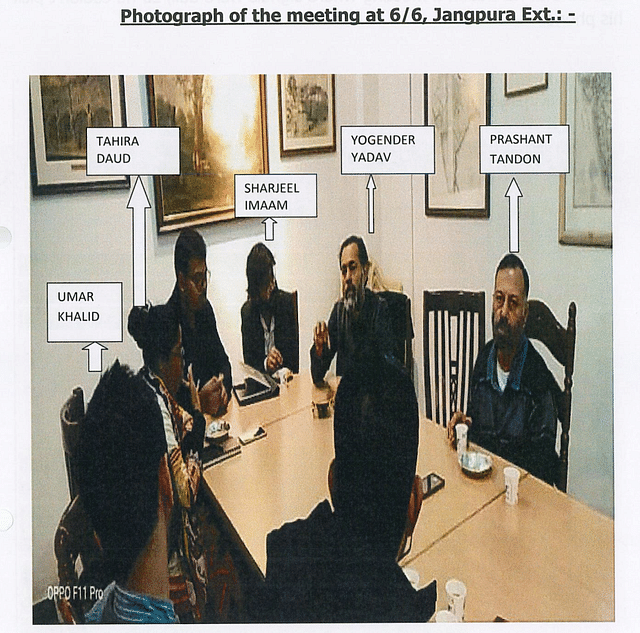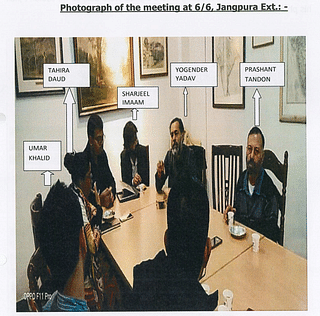 On 10 December, a protest was organised and a core members' meeting of MSJ was held at a dhaba in JNU and attended by members of JNU Muslim group, Jamia students group, Popular Front of India, Pinjra Tod, SDPI and Swaraj Abhiyan.
In the meeting, it was decided that meetings will be held with AIMMA of different mosques through local leaders, Jamia alumni will be contacted to extend support, list of head of maslaks will be created and they will be asked to join the movement, over-secularisation of movement should be avoided because CAA is against Muslims and "we should stick to our own identity".
Imam visited Aligarh Muslim University the next day to mobilise students there.
On 12th, Asif Iqbal Tanha (Student Islamic Organisation of India) who was present in the meeting in JNU, gave a call for the protest march to Parliament on 13 December.
Imam arranged a bus and mobilised Muslims students in JNU to take them to Jamia from where the protest march was going to start.
In one of the chats, the accused are admitting that they know they won't be allowed to reach Parliament and that whenever they are stopped by the police, they should move to any highway and block it.
Below is the pamphlet that was distributed by the accused for the protest march.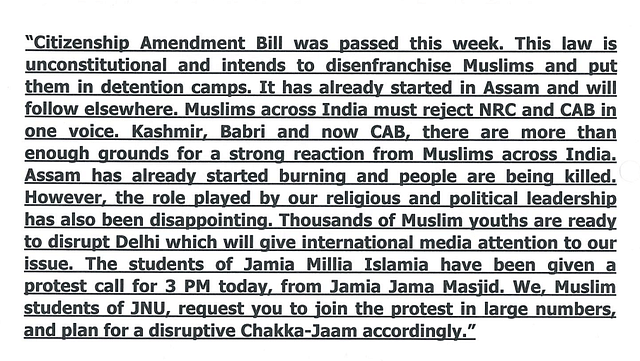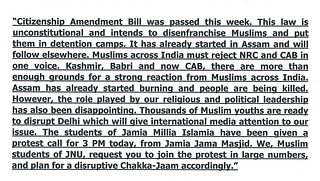 The pamphlet reads, "thousands of Muslim youth are ready to disrupt Delhi which will give international media attention to our issue." It's clear from this that the ultimate goal of initial masterminds was always to create chaos and anarchy in the national capital by blocking roads.
The protest march called by Sharjeel Imam and company turned violent on 13 March and 20 police personnel sustained injuries.
On 15 December, in a meeting at Jamia, it was decided that more organisations of Jamia will be roped in, teams will be sent to Saharanpur and Deoband to reach out to institutions there and meet Bhim Army chief.
A plan to organise a chakka jaam was hatched.
"This is important as there was consensus that a big reaction is possible from Okhla and Jamia but the disorganised protest has made it difficult. Some important road like Mathura road needs to be blocked. The zuhar namaaz will be offered in jamaat ki markaz masjid, and there we will talk to Jamaat senions about our plan (sic)," reads the minutes of the meeting posted on the MSJ WhatsApp group.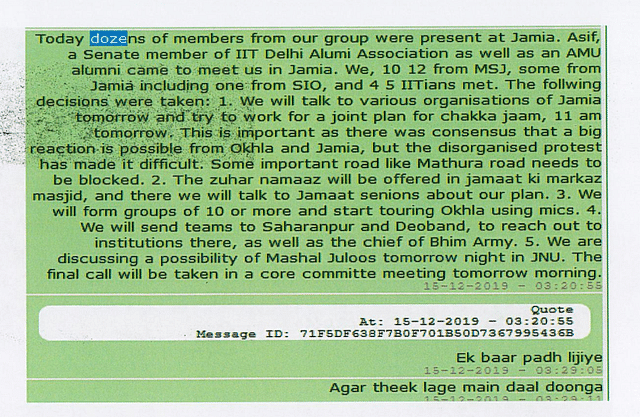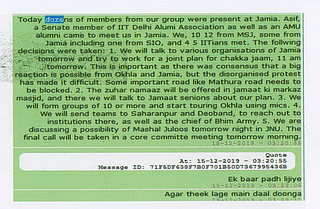 It is pertinent to note that, on the same day, two violent incidents of rioting flared up near Jamia. In the ensuing violence in which protesters used petrol bombs, rods and sticks to attack police, three DTC busses were burnt, eight more were damaged apart from three motorcycles, a police vehicle and other public property. In total, 45 cops were injured.
On the same day, Sharjeel Imam and others masterminded the blockage of Kalindi Kunj Road in Shaheen Bagh.
Below is a conversation of Imam with his brother where the former admits being a mastermind of the Shaheen Bagh highway blockade after Reuters covered the protest.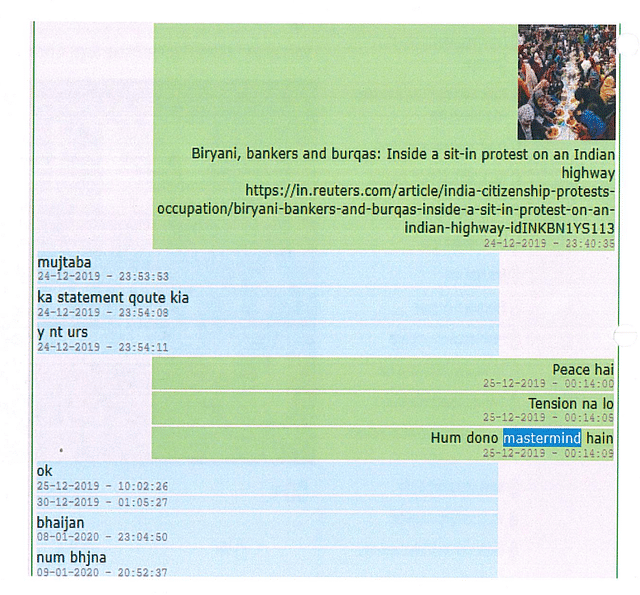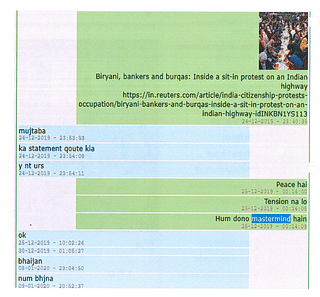 On 17 December, Jamia Coordination Committee (JCC) was constituted (which police has called as the brainchild of Umar Khalid). This was done to rope in different organisations like Student Islamic Organisation, Pinjra Tod, AAJMI, SFI, etc, so that protests can be organised in a coordinated manner.
Below is the portion from the chargesheet which points out the modus operandi employed by JCC in engineering violence.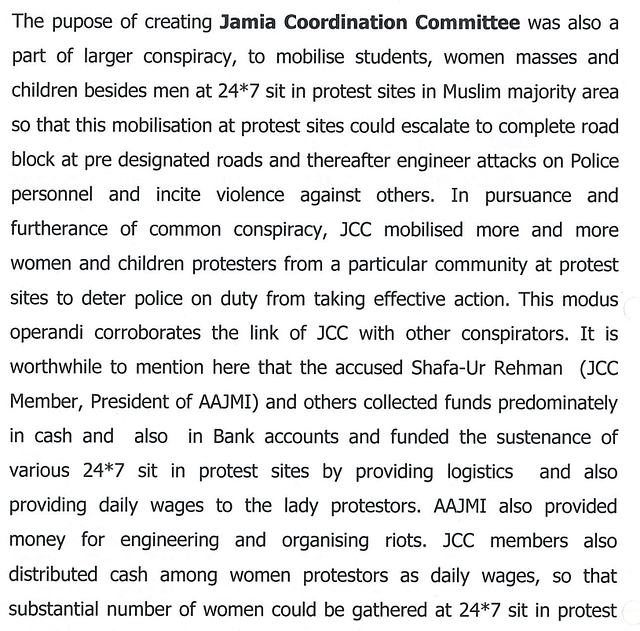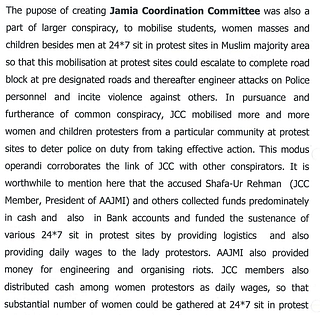 Police has also mentioned in the chargesheet how JCC played a key role in mobilisation of women and children so that the ground for 24x7 sit-in protest sites is created. This was done in collaboration with the imams of local mosques in Delhi.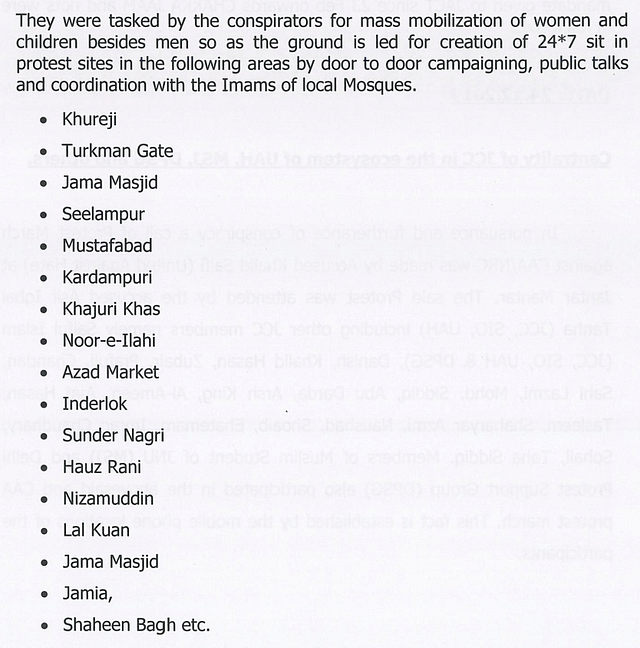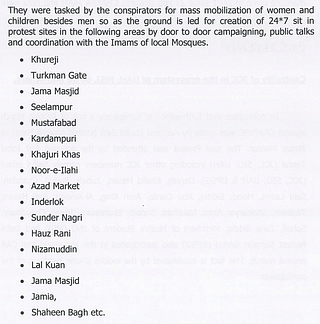 By mid-January, Sharjeel Imam had become the face of anti-CAA protests in Delhi. As established by police, he was the chief architect of illegal takeover of the highway in Shaheen Bagh and by 15 January, he also managed to create permanent sit-in protest sites at Khureji with the help of Khalid Saifi.
In all the activities, Imam was deeply involved whether it is preparing the propaganda material, organising marches, inciting students and local Muslims with his speeches, enrolling radical Islamist organisations or inciting violence and riots in December in which as many as 10 FIRs have been registered.
His main contributions, so far, were:
a) manufacturing the whole anti-CAA movement out of nothing — by roping in Muslim students of JNU, Jamia, AMU and DU. He did this with the help of Umar Khalid and other local Muslim leaders;
b) Communalising the anti-CAA movement. He was very clear from the start that no attempts to secularise the movement should be made and the slogans in the protests should be addressing the Muslim community. 'La Illaha Ill Allah' and Naara-e-Takbir were vigorously employed as main slogans in earlier protests in December;
c) Roping in imams of local mosques and supplying them with propaganda material which he convinced them to use in their daily sermons;
d) Deploying the strategy of permanent sit-in protest sites near mosques in Muslim majority localities;
e) Blocking major highways or important roads in the national capital by making anti-CAA protesters illegally take over those public properties.
But he was soon sidelined. On 16 January, he delivered a communal speech in Aligarh Muslim University, where he gave an open threat to mobilise enough Muslims so as to permanently cut off Assam and the North-East from India by taking over the so-called chicken-neck, a narrow area which links West Bengal to Assam.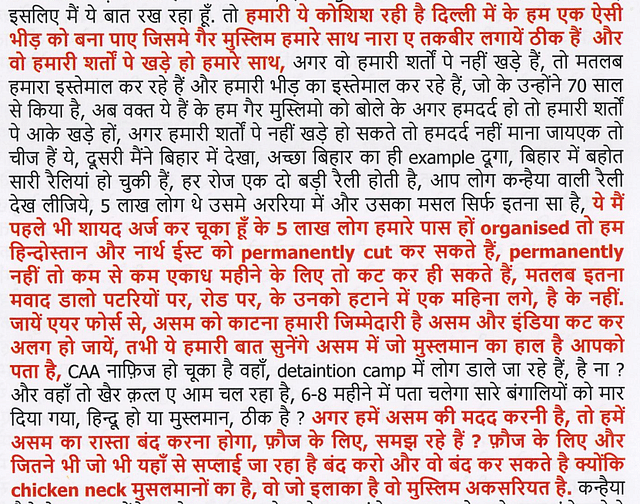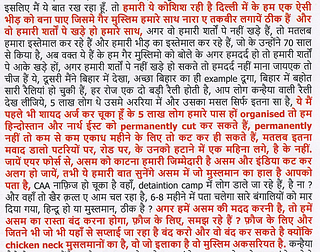 Portion of Sharjeel Imam's speech where he talked about permanently cutting off Assam from India.
On 25 January, Imam was booked by Uttar Pradesh Police for sedition, for this speech. He was then conveniently sidelined.
Secularisation Of The Movement
Due to widespread violence and rioting in Delhi from 13 to 21 December in which Muslim community and its leaders were leading from the front, the movement had acquired a communal colour.
So, on 24 December, after a protest at Jantar Mantar, Yogendra Yadav, Umar Khalid, Rahul Roy and others decided to change strategy and call a meeting of all prominent anti-CAA organisations and individuals to form a group for creating of protest sites in Delhi and sustaining them for a long period of time.
Below is a portion from the chargesheet which explains why the need to change the strategy was felt by these people.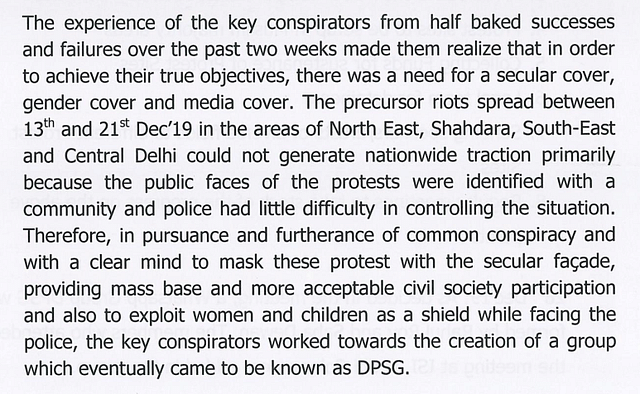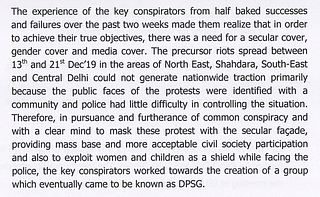 Consequently, they formed Delhi Protests Support Group (DPSG) after a meeting on 26 December in Indian Social Institute (ISI) which was attended by Yogendra Yadav, Harsh Mander, Umar Khalid, Khalid Saifi, Rahul Roy and his wife Saba Dewan among others.
In the meeting, record of which was posted in the DPSG WhatsApp group (accessed fully by the Delhi Police), following points were decided (I am listing the chief points verbatim)
"Identify gaps/windows in mobilisation and think of what can be planned to fill the gaps."
"While spontaneous protests are taking place amongst the muslim community in Old Delhi and Trans Yamuna area, there are parts of Delhi where muslim communities live where hardly any public action is being planned/sustained. For instance - Burari, Tughlakabad Area, Sangam Vihar, Mehrauli, etc."
"There is a need for a mechanism to provide legal assistance on a timely basis as and when needed."
"There is a need to build a mechanism for fund raising so that public action can be financially sustained over a longer period of time."
"There will be a clearing house for dates for protests/public action so that there is minimum overlap and long gaps are identified and planned for. Rahul Roy will take responsibility with the help of some others."
"A meeting will be planned in Delhi in the next two days to plan and coordinate neighbourhood protests in Delhi."
All the points that were discussed above were followed up meticulously.
Subsequently, the group played a key role in not only setting up new sites in Muslim dominated areas (Khureji, Seelampur, Inderlok, Nizamuddin, Dariyaganj, Chand Bagh, Brijipur Pulia to name a few) but also providing funds for sustaining them in addition to planning public protests in various parts of Delhi, and supplying the protesters with a team of lawyers in case they are detained by the police.
Below is a snippet from the DPSG WhatsApp group which shows how a dedicated team of lawyers was always on standby to come to the rescue of protesters. (This is just one page. Police has detailed such chats running over many pages)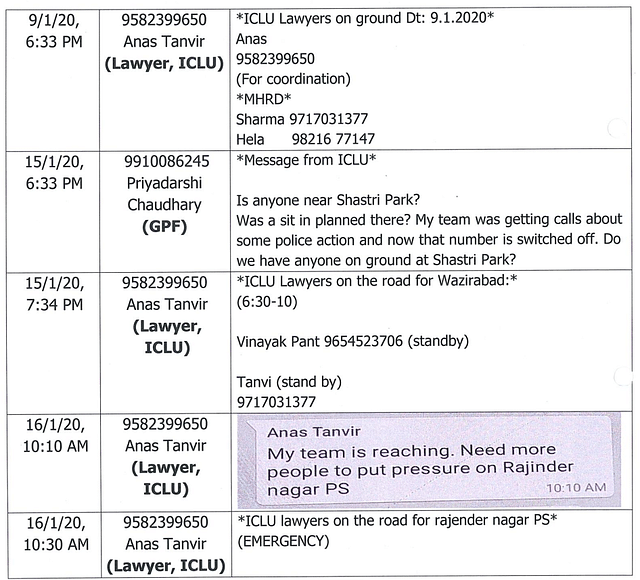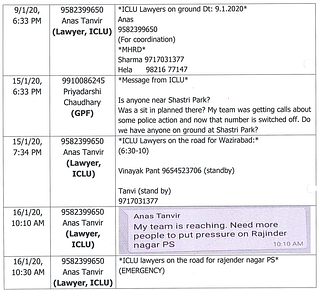 Towards Violence
Delhi Police has documented chats from the DPSG group which shows that some members were getting frustrated as their way of protests and marches was not bearing any fruit. They feared that protests would peter out and were really worried about their sustainability. (As evident from the texts of Rahul Roy, whose wife had created the DPSG group)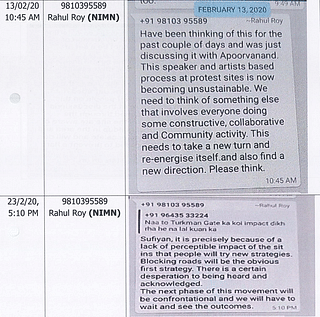 When the schedule of US President Donald Trump's visit to India was announced on 12 February, the organisers decided to change their strategy.
"A meeting of protest site leaders of Chand Bagh, Mustafabad, Kardumpuri and Jafrabad was held in the night intervening of 16/17 Feb'20 at 2:00 AM. In the morning it was decided and agreed that a coordinated blockade of traffic on roads i.e. Chakka Jam will be executed during the visit of USA President Donald Trump by the members of all the protest sites of the North-East Delhi. After Chakka-Jam, all protest site members will instigate and resort to violence and riots (sic)," the chargehsheet says.
Ovais Sultan Khan, a local Muslim from North-East Delhi, objected to this plan saying that locals will suffer if road block happened and they wanted only non-violent protests.
Below is his conversation in the DPSG group where he vowed that he will not let violence happen.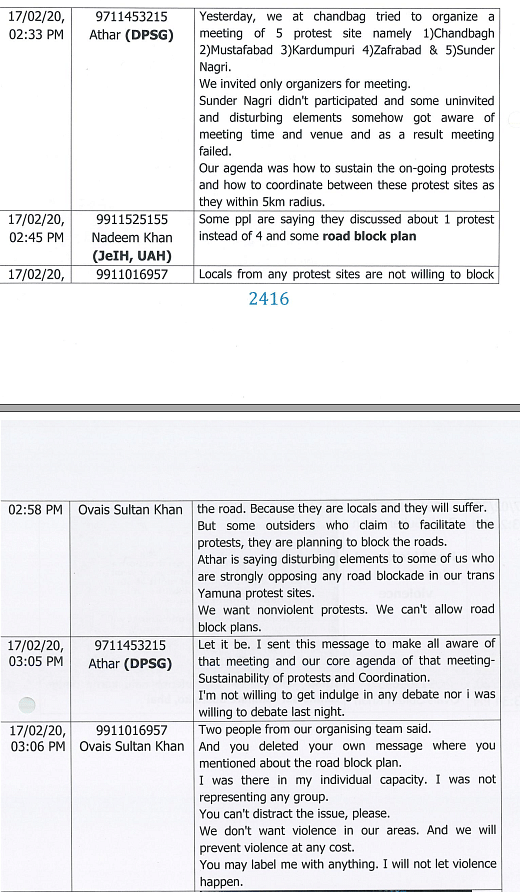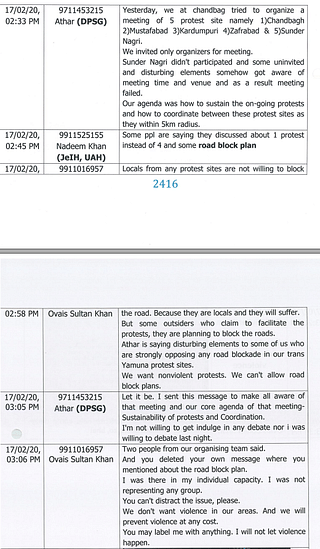 The chargesheet details how the events unfolded in North-East Delhi during Trump's visit exactly as they were planned in the meeting on the intervening night of 16-17 February.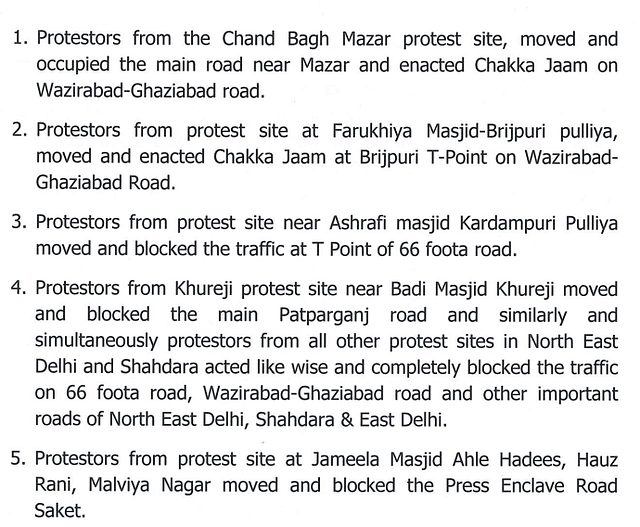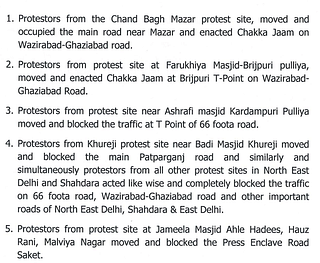 Ovais Sultan, on 22 February when mobilisation of protesters was in full flow, again warns in the WhatsApp group that the organisers are playing with fire.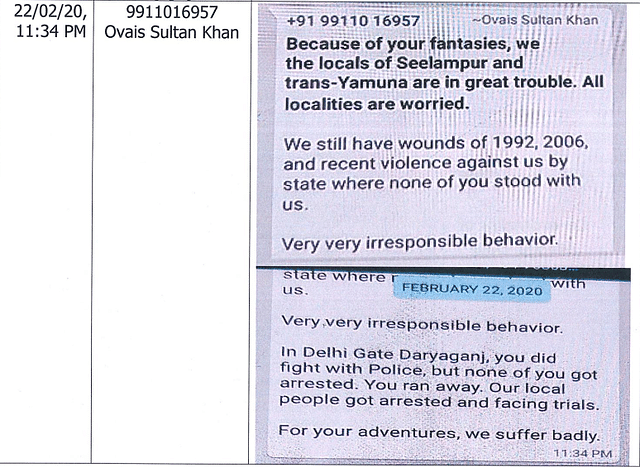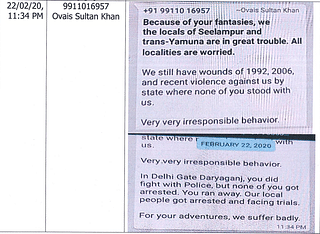 Ovais also highlights the role of Pinjra Tod in instigating the violence in North-East Delhi just before Trump was to land in India.
Another Muslim Abu Sufiyan backs Ovais and asks if there is any difference between Pinjra Tod and Fascists.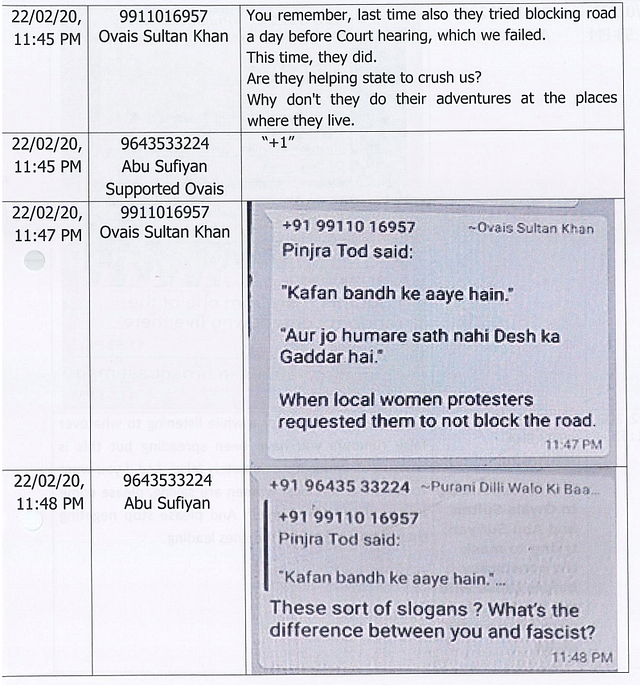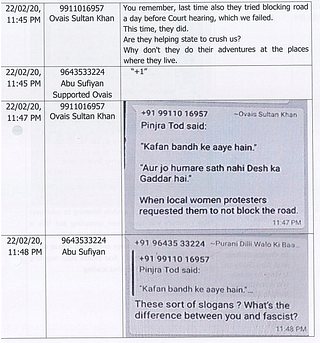 Ovais further accuses Natasha Narwal of Pinjra Tod of distributing packets of mirchi powder to women for attacking police and paramilitary forces.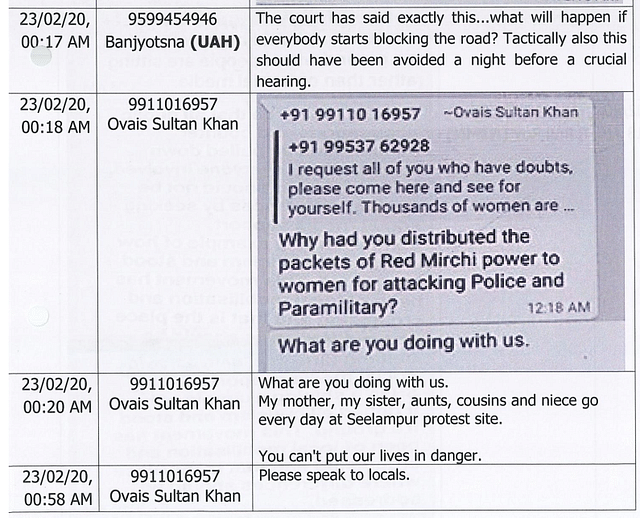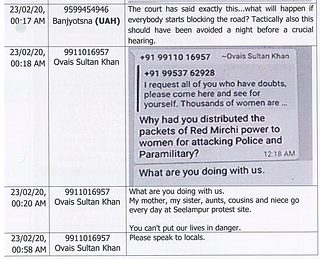 On 24 February, when riots had broken out in full force, lawyer Anas Tanvir also says that this seems like a concerted plan by members of their own side.
He posted this message in the evening at 4.19 pm. He calls on others in the group to condemn those organisations and individuals (anti-CAA protesters) who have instigated violence.


In the chargesheet, police says that after these message of some members threatening to expose the role played by others in inciting violence were posted, a flurry of calls (17 to be precise) were made between top people of the DPSG group.
Subsequently, the group members, in a coordinated manner, decided on the strategy "to blame the law enforcement for the carnage that had resulted in pursuance of their conspiracy." Another fall guy was zeroed in and that was BJP leader Kapil Mishra.
Additionally, police notes that on 25 February, many more members were added to the DPSG group who were not related to the conspiracy. This was done in order to change "their stripes to show themselves as peace lovers by organising rescue and relief work for riot victims", the chargesheet notes.