Fair-Skinned, Anglophone Opinionation Is Not Women's Empowerment: For NDA, It's About Work Based On Ability And Respect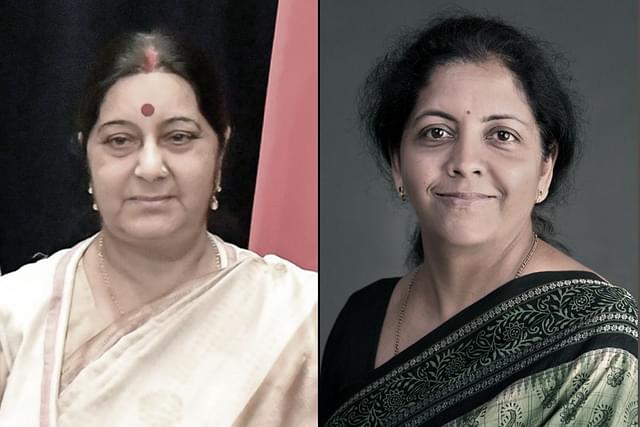 External Affairs Minister Sushma Swaraj and Defence Minister Nirmala Sitharaman
Snapshot
Would you say a government is woman-friendly when it attracts and retains women career politicians from all walks of life? When it treats and rewards them fairly and equitably with male counterparts? When it fights for the rights of the most suppressed voices in society without caring about blowback from supporters and opponents alike?
One of the charges frequently made against any right-of-centre government globally is that to lean Conservative is to legislate and to vote against women's rights. India, under the Narendra Modi-led government in the last five years, has been charged no differently.
When is a government woman-friendly? Is it when fair-skinned, pleasant-looking, Anglophone elite say the right things but do not translate that political correctness into action? Or is it when the battle-scarred sons of the soil actually legislate to make the lives of women, regardless of caste or creed, easier?
Is a government woman-friendly when it attracts and retains women career politicians from all walks of life? When it treats and rewards them fairly and equitably with their male counterparts? When it fights for the rights of the most suppressed voices in society without caring about blowback from supporters and opponents alike?
Bangladesh and Pakistan send 20 per cent and 20.6 per cent women to the parliament respectively; China has 23.6 per cent women holding elected posts, while Nepal is at 29.6 per cent in women representation in their electoral arena.
In India, women constitute only 11.8 per cent (64 of 543) seats in the outgoing Lok Sabha. Of these 64 seats, 32 are from the National Democratic Alliance (NDA). Within the Cabinet, women representation is nearly 23 per cent. And in fact, nine out of 58, i.e. 15.5 per cent of national office bearers in the Bharatiya Janata Party (BJP) are women, two out of 13 or 15.4 per cent Central Election Committee members are women, and there is women representation on the Parliamentary board as well.
There are currently five ministers in the central government, a healthy mix of young and old, experienced women and first-timers. They reflect the long term commitment of Hindutva socio-politics, and largely, all these women office bearers have come up through the rank and file.
NDA Women Stars in the Cabinet
Several influential women leaders have served in various capacities in the current BJP-led government.
Very few leaders can match the swag of Sushma Swaraj. The modestly-dressed matriarch of Indian politics, in her current role as Union Minister of External Affairs, has wielded a firm hand on foreign policy. From airlifting evacuees from war-torn southern Sudan to rescuing evangelists lost to ISIS and nurses trapped in Tikrit, Swaraj has flexed her muscle in every region.
In Vietnam, she declared that relief is just a tweet away, and that is the turnaround time her ministry is now used to. She has single-handedly revamped the entire culture of her Ministry, starting from their quick response time, faster processes, and transparent accountability to the general public, thus empowering an entire nation with just a Twitter account!
Her counterpart in the Defence Ministry is a former spokesperson-turned-Cabinet Minister, the Rajya Sabha MP, Nirmala Sitharaman. The no-nonsense Raksha Mantri (RM) has been seen in all sorts of tough terrains, pushing for greater representation of women in the Forces. In fact, thanks to Sitharaman, there will soon be 20 per cent representation for women in the Military Police. She eventually plans to induct women into combat roles too. Through Sitharaman's push, the Indian Navy is planning to induct women into its sea-going cadre.
During the Republic Day Parade for 2019, the Forces had Major Khushboo leading the woman contingent of Assam Rifles, while Lieutenant Bhavna Kasturi made history by leading the Army Service Corps (ASC) all-male contingent. Women Junior Commissioned Officers (JCOs) and riflemen are already in the paramilitary.
If having a woman as Raksha Mantri during some of the most tumultuous times when the country almost went to war with Pakistan isn't a big win for women empowerment, then what is?
The soft face of the government is Maneka Gandhi, the widow of the Congress (I) enfant terrible Sanjay Gandhi, who was turfed out rather crudely by the Congress (I) party on the death of her husband. Ever since she was inducted into the BJP, she has repaid them with a dignified career. As the Minister of Women and Child Development, she is responsible for formulating and implementing some of the most sought-after schemes for women and children.
Smriti Irani is undoubtedly one of the most recognisable faces in the BJP. Her stature grew manifold when she was chosen by her party to take on the Crown Prince of Indian politics - Rahul Gandhi - in his home turf of Amethi, in 2014.
Irani is no stranger to shockingly scurrilous rumour-mongering and name-calling by politicians from the Opposition. She has never been apologised to, and never been backed by the intimidating Indian feminist intelligentsia for whom she, with her happily married attire and sharp political acumen, represents that creature they bitterly disdain - the entirely self-made Indian woman.
Irani's achievements as the Union Minister of Textiles are well documented, but she will always be better known for her fiery political rhetoric. Irani is taking on Rahul Gandhi again in Amethi for the 2019 elections. Her adoption of the constituency is so deep-rooted that Gandhi has had to seek refuge in a second, 'safe haven' constituency in Wayanad for this election cycle.
Beyond BJP's own women stars, there are those of the allies as well. Harsimrat Kaur Badal, the two-time MP from Bhatinda, has run the Food Processing industry extremely competitively along with another woman, Sadhvi Niranjan Jyoti of BJP as her Minister of State.
Badal's flagship scheme, the Pradhan Mantri Kisan SAMPADA Yojana, aims to create modern infrastructure that supports the supply chain from farm gate to retail outlet. Together, the two ladies have set up 15 mega food parks with 25 more to come. For perspective, only two mega food parks had come up before 2014.
The ministry has also set up 135 cold chains (out of 304 that were approved), and established agro-processing clusters. In the World Food India expo of 2017, Badal signed $13.56 billion worth of MoUs, of which $1.75 billion worth of investment has already come in.
The Minister of State for Health and Family Welfare, Anupriya Patel, is part of the Ministry that runs the Prime Minister's flagship Ayushman Bharat Yojana. A graduate from Delhi's prestigious Lady Shri Ram College, Patel is an independent-minded woman, unafraid to voice her opinion on politics, as well as being capable of cajoling business honchos participating in the UP Investors' Summit to invest in the state.
NDA's Women Stars Outside the Cabinet
Beyond the Cabinet ministers too, there is a long and impressive list of women who have made a mark with their commitment and work.
Uma Bharti has won Lok Sabha elections from various constituencies, been the BJP's first woman chief minister of Madhya Pradesh, and held Union Cabinet ministries as diverse as Water Resources & Ganga Rejuvenation, HRD, Tourism, Youth Affairs & Sports, and Coal & Mines. Never one to hide her firebrand Hindutva leanings, she was at the forefront of the Ram Janmabhoomi movement.
Najma Heptullah was for long a well-recognised face in the BJP. A six-time Rajya Sabha MP, and the current Governor of Manipur, Ms. Heptullah was also the deputy chairman of the Rajya Sabha for 16 years, as well as the Minister for Minority Affairs in the current dispensation.
Sumitra Mahajan features in the LIMCA book of records for being the first Indian woman to represent the same Lok Sabha constituency (Indore) on the same party ticket for eight times in a row. She's the second woman, after Meira Kumar (Congress), to serve as the speaker of the lower house of Parliament. Mahajan also held a range of responsibilities in the Vajpayee government.
Vasundhara Raje is heir to her elegant mother Vijaya Raje Scindia's political legacy. The erstwhile Maharani of Gwalior, Vijaya Raje, spent time in jail during the Emergency and was renowned for her devoutness & dedication to Hindu causes. The charismatic Vasundhara, on the other hand, came up through the ranks. Like the doughty ladies before her, she fought and won Lok Sabha elections from Jhalrapatan five times, proving that her ascent was backed by the will of the people.
Vasundaha Raje's best known legacy will be the exemplary Bhamashah scheme. It was introduced in her first term as Chief Minister of Rajasthan in 2008, and immediately consigned to the dustbin by her successor Ashok Gehlot. She revived this social welfare program focusing on healthcare and public services delivery in her second innings.
With over 47 crore transactions worth more than Rs 21,000 crore, and benefiting six crore residents, the Bhamashah Yojana was the biggest Direct Benefit Transfer (DBT) Scheme of the nation until the Modi government brought in a range of other services under DBT. The Bhamashah scheme was directed specifically at the women of Rajasthan.
Raje introduced mid-day meal schemes for mothers, insurance schemes, transportation vouchers for girl students and skills training for women workers. On the back of her consistent batting for women, she won the Best Chief Minister of the Year Award in 2017.
It is perhaps more emblematic of our society that both of her re-elections were dogged by rumours about her private life, including scurrilous photos doctored and run by her rivals, which managed to overshadow all her developmental work.
Many BJP old-timers, who rose through the ranks to gain power and prominence, came off the back of social achievement. Take the case of Anandiben Patel, the lady chosen to replace Narendra Modi as the chief minister of Gujarat in 2014. From leading bird-flu prevention campaigns to Lok Darbars and Shala Praveshotsav celebrating school enrolment as the Education Minister, to bringing in substantial investment and infrastructure to Patan, she did it all with very little fanfare.
Even the Governors chosen by the NDA administration, come with impressive credentials. Kiran Bedi, the Lieutenant Governor of Puducherry, is loved by the citizenry for her zest to take up projects to better their lives. From continuous inspection of government departments, initiating and implementing swachh campaigns to save lakes, to taking rounds of the territory to address citizen concerns, the irrepressible Bedi is at the forefront of role-modeling how a progressive, empowered woman should be leading by example.
BJP Women Power in State and Local Bodies
BJP promoting women for top jobs is not an one-off happening. The representation and empowerment the party has brought to women even at state and local bodies level is exemplary.
Varanasi got its first woman Mayor in 1995 with BJP's Saroj Singh. In Indore, BJP MLA Malini Gaud's exemplary work has won it the title of India's cleanest city since 2017. Gaud frequently quotes RSS chief Mohan Bhagwat, when asked about her administrative abilities, "A good homemaker is uniquely placed to be a capable administrator".
In Lucknow, a woman mayor was appointed for the first time in a hundred years, when the BJP's Sanyukta Bhatia won the Lucknow Nagar Nigam Elections in 2017. Similarly, Preety Agarwal was elected unopposed as the mayor of North Delhi. Asha Lakra has been the mayor of Ranchi, Jharkhand's state capital, since 2014. The mayor of Patna, Sita Sahu, the first woman mayor of the city, has been working on making Patna clean and green by managing trash, sewage, and public greenery.
The spokesperson bench strength of the BJP in the run-up to the 2014 Elections, was enviable, especially in the sheer number of articulate, firm and clear-headed women who ruled the debates. Armed with facts and tremendous self-belief, several of them went on to hold official positions later.
Take Meenakshi Lekhi, the only woman MP from Delhi, who outperformed all her colleagues with her spirited performance in the House, chalking up 141 debates and 436 questions, a mix of national and state issues. She's utilised her Member of Parliament Local Area Development (MPLAD) funds judiciously, starting with the infrastructure at the New Delhi Railway station to healthcare, care of the differently-abled, care of her adopted village, and even pet care.
Much maligned, though one of the first celebrities to be associated with the BJP, is the glamorous Shaina NC. A well-known designer in her own right, she is the Maharashtra BJP treasurer and a member of the national executive council. Shaina's relentless social presence, recruiting stars to give visibility to the government's pet causes, is an asset. Nupur Sharma, a leader who came through the student politics ranks, has been a vocal spokesperson in Delhi politics.
Women Empowerment in Haryana
Beyond the long list of BJP's women achievers, the one single story about women welfare – one of empowerment and social transformation – comes from the state of Haryana.
Over the last few decades Haryana was making a dark name for itself among all states due to its abysmal sex ratio, the lowest in the country. In the 2011 Census, Jhajjar, Rewari and Kurukshetra had recorded the lowest sex ratio in the country, at 781, 780 and 743, respectively.
The Prime Minister started a Selfie with Girl Child campaign, encouraging fathers to post pictures with their daughters as symbols of pride and prosperity. It caught the Haryanvi imagination. Tying in with the scale of Beti Bachao, Beti Padhao campaign to save the girl child and educate her, the state started showing signs of recovery. With the strict adherence to the Pre-Conception and Pre-Natal Diagnostic Techniques Act acting as a stick, the state has shown tremendous turnaround.
Haryana's sex ratio has gone from 832 girls for every 1,000 boys in 2012 to 924 by 31 December 2018, and 943 in the new year. Karnal leads the state with a ratio of 979 versus 797 in 2012. By the end of 2018, Rewari, Jhajjar and Kurukshetra's ratios had gone to 904, 911, and 942, respectively. Though it had been the worst performer in 2011, Kurukshetra improved by 99 points!
In Conclusion
In symbolism and in action, this right-of-centre government in India has been the most women-friendly in the history of the country. This government has done more than any other government to empower women and take concrete steps towards eliminating discrimination and inequality. If stereotypes need breaking, this government has been as good as any in doing so.
Get Swarajya in your inbox everyday. Subscribe here.
An Appeal...
Dear Reader,
As you are no doubt aware, Swarajya is a media product that is directly dependent on support from its readers in the form of subscriptions. We do not have the muscle and backing of a large media conglomerate nor are we playing for the large advertisement sweep-stake.
Our business model is you and your subscription. And in challenging times like these, we need your support now more than ever.
We deliver over 10 - 15 high quality articles with expert insights and views. From 7AM in the morning to 10PM late night we operate to ensure you, the reader, get to see what is just right.
Becoming a Patron or a subscriber for as little as Rs 1200/year is the best way you can support our efforts.
Become A Patron
Become A Subscriber