Reporting on the Noida namaz row, a portal recently quoted some members of the Muslim community as saying that they "just need a piece of ground where they can gather as a community, spread their prayer mats and offer Friday congregational prayers in peace".
At a glance, it doesn't seem much of a demand. But in practice, this is how elaborate it gets: from as early as 10 am or 11 am, carpets and chairs begin to be brought into the park, along with at least two water tankers. Other arrangements like loudspeakers are made. The namazis — an estimated 1,000-1,500 of them — begin arriving from 1 pm on foot, in cars and on two-wheelers; the vehicles are parked inside the ground. By 1.30 pm, the namaz starts. It is organised in batches, each session lasting around 15-20 minutes.
A security guard posted in the building right opposite the park told Swarajya, "it doesn't stop at that. A biryani seller also parks his thela [cart] here. It's obviously good business for him. But this means the whole thing goes on till 3 pm to 4 pm at least. A lot of mess is left behind."
The entire exercise repeats every Friday, without any prior permission from the government, and on a land that belongs to Noida Development Authority located right in the middle of an industrial hub.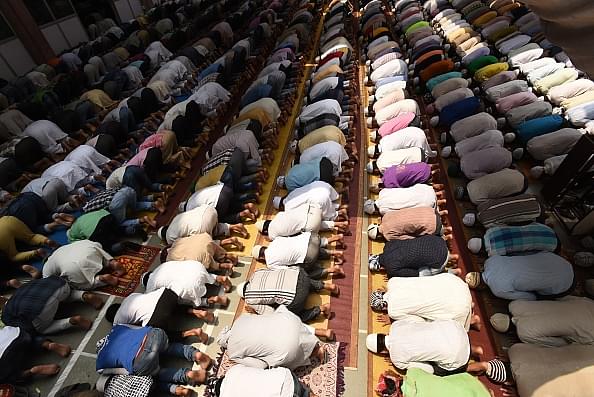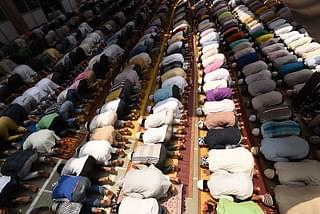 Muslims offering <i>namaz</i> at sector 8 Masjid, on 23 June 2017 in Noida. Picture for representation
Last week, the local Sector 58 police station sent a notice to 23 firms and factories, asking them to stop their Muslim employees from congregating in the park for group prayers as no such permission has been given by the city magistrate.
Station House Officer (SHO) Pankaj Rai told Swarajya that he acted after a group of residents from nearby Bishanpura village and some companies objected to the gathering. "It came to our notice that what used to be a group of 15-20 people suddenly swelled to 500-600 in a matter of two weeks. It suggested that outsiders were also coming here. So we stepped in," he said.
Backing the notice, Gautam Budh Nagar's District Magistrate B N Singh told Swarajya that it was found that a professional body was being engaged for the arrangements, and mikes and loudspeakers were being used.
All this is in clear violation of a 2009 Supreme Court order that prohibits religious constructions in public places without permission, he said.
But a section of the media dubbed the notice as "controversial" for allegedly "singling out Muslims". Opposition parties immediately latched on to it. Former Uttar Pradesh chief minister Mayawati called the notice "arbitrary and highly irresponsible" and some other opposition leaders accused Noida Police of helping the ruling Bharatiya Janata Party (BJP) to polarise people before the polls.
Senior officials like Gautam Budh Nagar Senior Superintendent of Police (SSP) Ajay Pal Sharma had to step in to clarify that the order wasn't discriminatory and pertains to all religions.
The controversy settled down only after it emerged that local authorities in nearby Greater Noida Sector 37 also stopped a week-long Hindu religious event to be held without permission at a Greater Noida Authority park this week.
After Notice, No Prayers Held On The Ground
On 28 December, the first Friday after the notice, the administration ensured that no prayers were organised in the Sector 58 park. There was heavy police presence and the ground was kept waterlogged with maintenance work. Most of the namazis went to adjacent parks and nearby mosques, though some had turned up in the morning to gauge the situation.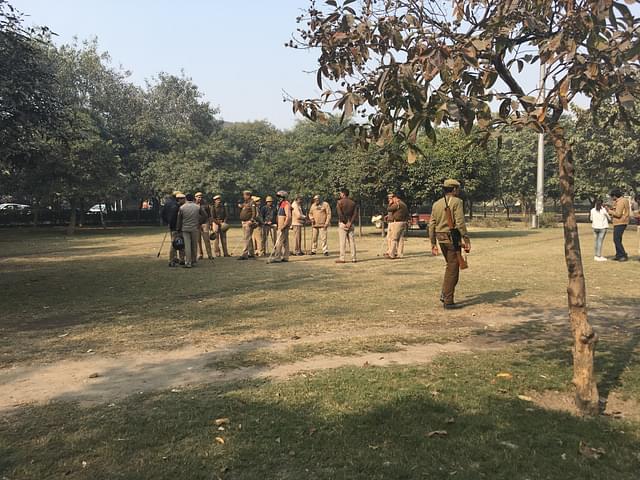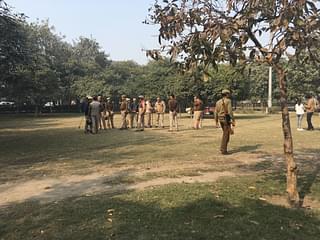 Amid heavy police presence, Friday congregation was not allowed in Sector 58 Noida park.
During namaz hours, only the mediapersons and cops could be seen in the area.
Around 3 pm, we met Mohammad Shabbir, who was returning from a mosque at Labour Chowk in Sector 62. The 52-year-old, who said he belonged to West Bengal and had been working in a garment factory for five years, said, "it took me one hour to go and come back from there. This park was quite convenient."
Shabbir said he respected law and understood the action taken by the police, but was irked at Hindu outfits "insulting them". "Did you see the video where a Bajrang Dal member is asking a Muslim group things like where are they from and why they pray here? I was in that group," he said. "I wanted to ask him what authority he had to question and insult us like this. But who can argue with these folks," he said.
Delhi-bred Wajahad Khan, 27, was walking in the park for a short break from work. Building manager of a corporate firm located opposite to the park, Khan said the police notice did not affect him as he never offered "Jumme ki namaaz" anyway.
"Jumma means gathering. We believe that on Fridays, unless we read namaz in a gathering, the prayers go waste. A maulvi [cleric] must read the khudbah [Islamic sermon] that is around 8-10 pages long and takes about 15 minutes," he explained.
Khan said he agrees that such congregations often cause inconvenience.
"They occupy public roads and bring traffic to a halt. I don't like it," he said. "Even here, they bring tankers and loudspeakers. When I started working here a year ago, they were 200-250. Now they are easily more than a thousand."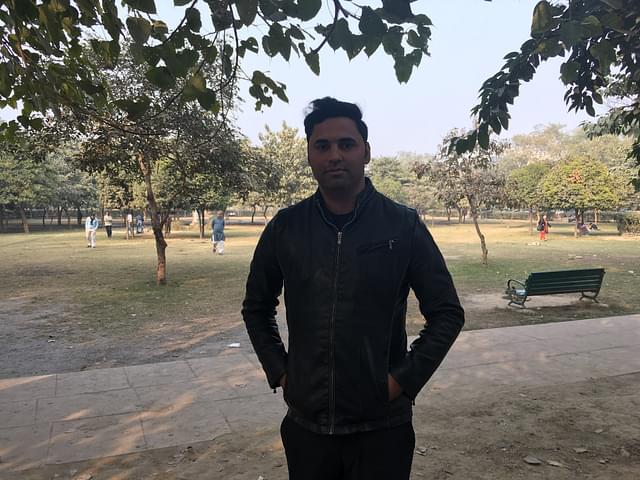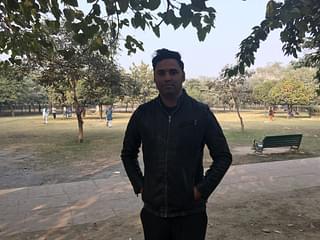 However, Khan complained of discrimination, saying the authorities are soft on the likes of Bajrang Dal "who create ruckus on the streets and get away with it".
Echoing a similar sentiment, caretaker of a mosque in the adjoining Khora village, said the authorities must also stop morning shakhas organised by Rashtriya Swayamsevak Sangh. On the ongoing issue, he said, "many of the Sector 58 namazis came here today. But this mosque is small and cannot accommodate all of them. What's so wrong in giving them space once in a week?"
On the other hand, Mahesh Kumar, a resident of Bishanpura village, who was also walking in the park, said he was relieved with police action. "As a child I used to come to this park to play. But had this been allowed to go on, the park would have soon turned into a mosque complex," he said. Kumar said the park was "hijacked" every Friday, leaving no space for the general public, and that too by "outsiders".
"Everybody knows most of them are Bangladeshis. This area has hardly any native Muslims. And only some of the factory employees are from Uttar Pradesh and Bihar," he said.
Residents Fear Encroachments "In The Name Of Friday Prayers"
Like Kumar, several residents in the Bishanpura village told Swarajya that they feared that the Sector 58 park would be "taken over by Muslims in the name of Friday prayers".
To justify their fears, they give several examples from their vicinity. These names are also cited in a 26 December letter by a Noida Vishwa Hindu Parishad (VHP) functionary to the district magistrate, asking for removal of encroachments.
These include "an illegal mosque in Gejha village, a street between Sector 8 and 9 that is used for Friday congregations, an under construction illegal mosque in Chhaprauli-Mangrauli villages, an under construction illegal mosque in Sector 78, an illegal mazar [tomb] at Sector 39 Shashikant Chowk, illegal mazars in Sector 99 and Sector 54 Khargosh Park, and a huge plot of land in Sector 62 green belt, where a big tomb has been constructed illegally".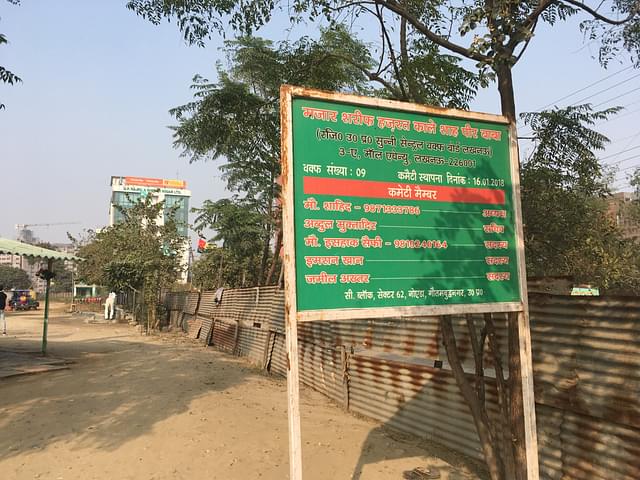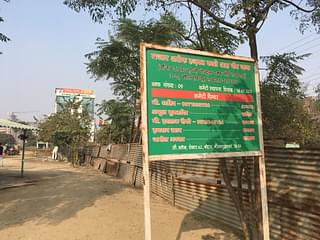 A board declaring the shrine to be a property of Uttar Pradesh Sunni Central Waqf Board.
A Bishanpura resident from the Jaatav community, requesting anonymity, said the Sector 62 tomb is particularly a bone of contention between the Jaatav and Muslim communities as that plot earlier housed a small shrine revered by the Jaatavs. "They [Muslims] simply hijacked the plot. In 2014, the two communities came to blows. But the then Samajwadi dispensation sided with them," he said.
Caretaker of the shrine, Mohammad Ishaq Saifi, however, said the plot was no more a Noida Authority land and was now a property of Uttar Pradesh Sunni Central Waqf Board.
Locals dismiss the claim.
When questioned on the land ownership of this and other structures, Gautam Budh Nagar's District Magistrate B N Singh said, "I do not know. Let us not rake up more issues, please. I am not interested in those structures right now."
Singh said he is focusing on the issue at hand, which is the Sector 58 park, and the media should help resolve it first.