A Hindu woman in Bhopal district of Madhya Pradesh has filed a police case against a Muslim colleague of trapping her in a relationship by hiding his religious identity, and forcing her to convert to Islam.
The woman has alleged repeated physical assaults, fraud and insults hurled at her religious identity in her complaint.
Physiotherapist Priya Soni told this correspondent that she discovered much later in their relationship that Nehal Khan, a co-worker, had concealed his religious identity and ideology from her in order to trap her. She says he is a vociferous supporter of India's complete conversion to his religion.
Besides her, Priya's colleague Mamta has also filed a police case against a co-worker named Sahil, who Nehal had hired. Sahil, alias Riyaz Iliyas Khan, has been accused by Mamta of molestation. Both Nehal and Sahil are currently behind bars.
In a video statement recently circulated on social media, Priya shared her story, where she also alleged that Nehal fraudulently transferred the ownership of two hospitals she had bought, to his name.
Below is the entire case, where Swarajya has reproduced contents of the two police cases, along with a detailed conversation with Priya.
What The FIRs Say...
Against Nehal Khan:
The first information report (number 331/2022) in the case was registered at Ashoka Garden Police Station on 18 May. The complainant, Priya Soni, resident of Lala Lajpat Rai Colony of Punjabi Bagh area, gave a written complaint against Nehal Khan for forcing her to convert on the pretext of marriage.
She told the police that she fell in love and married a man named Deepak Soni in 2018, but they separated within a month due to family issues. Then she started working at the general hospital at Depot Square, where she met Nehal.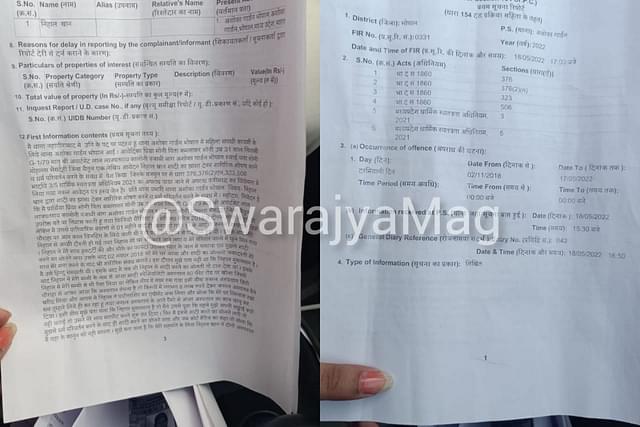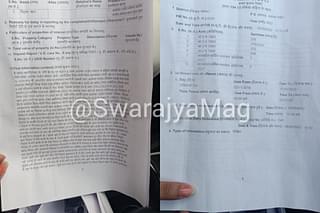 The FIR registered at Ashoka Garden Police Station.
They became good friends. Nehal started visiting her home and built a rapport with her parents. Soon their friendship blossomed into romance. On 2 November 2018, Nehal came home and consummated their relationship. Till then, she was unaware of his true religious identity. He told her they would get married at some point of time, but would evade questions whenever she brought up the subject.
Later, Nehal opened a multi-speciality hospital at Ashoka Garden and named it after Priya's mother, Asha. The hospital ran into losses, and he even borrowed money from Asha.
When there was a sale offer from the Depot Square general hospital, Priya paid Rs 8 lakh and bought the hospital, with the remaining payment arranged in installments. Nehal became her partner without paying a single penny. He claimed he was doing everything for Priya. When the general hospital started making profits, he invested that money in the Asha Hospital.
A few days later, when Priya found out Nehal was a Muslim, she asked him why he had hid this from her. He said he wasn't sure that she would love him back if he had revealed his identity earlier. In days to come, he became violent and even assaulted her on one occasion.
He said that she would have to convert to Islam if she wanted them to get married. When she suggested that they should have a court marriage, he said, "I don't believe in the law of this country".
She also found out that Nehal had transferred all the property documents to his name without her knowledge.
In May, when Priya asked Nehal to take strong action against one Sahil for molesting a staff member, he supported the accused, saying he would always support another Muslim. During the argument, Nehal again assaulted Priya and tried strangulating her. He asked her to stay quiet or face damage to her face. Before taking her car and leaving, he reiterated his condition for her to accept Islam for "nikah". He even threatened to kill her parents.
Priya further told the police that Nehal had a physical relationship with her earlier on the pretext of marriage. He had been pressurising her to convert ever since she found the truth.
Against Sahil alias Riyaz Iliyas Khan
A first information report (number 288/2022) was registered at TT Nagar Police Station on 17 May on a complaint by Mamta Bhilala, a BSc nursing student who works at Asha Hospital as a nurse.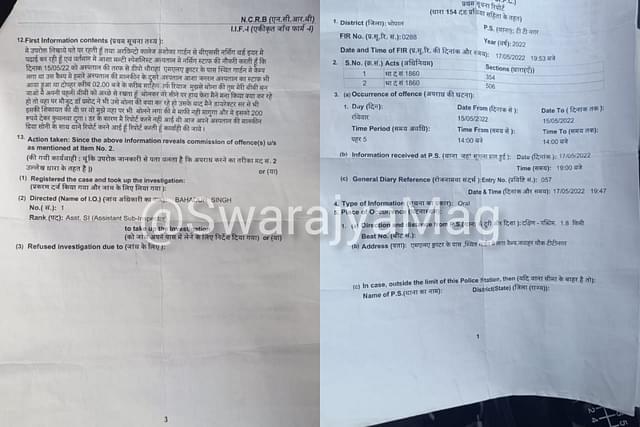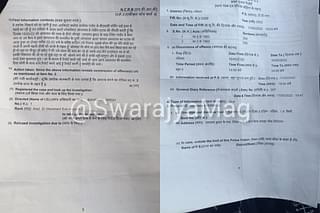 FIR against Sahil at TT Nagar Police Station.
The complaint says that on 15 May, Asha Hospital and the General Hospital held a medical camp in a garden near the MLA quarters. Around 2 pm, Sahil approached Mamta, touched her breasts and said, "Be my wife. I have looked after my first wife very well." When she rebuffed him, he started insulting her. She complained to Nehal, the hospital director, but her complaint fell on deaf ears; Sahil refused to apologise and even threatened her by saying he could crush her by merely hiring a vehicle for Rs 200. Mamta was initially terrified, but once Priya came out in her support, the two women went to the police station, the complaint says.
What The Police Say
This correspondent called Divyansh Shrivastava, Town Inspector at Ashoka Garden, to inquire about the development in the case. He said the police started searching for the accused after the victim registered a complaint. On 19 May, Priya recorded her statement in front of the local court under section 164 of the CrPC.
Nehal was caught from the Gandhi Nagar area on 20 May after the police tracked his mobile location and raided all the places he used to visit. He has been booked under various sections of the IPC, including 376 (rape), 376(2)(n) (rape), 323 (voluntarily causing hurt) and 506 (criminal intimidation) with sections 3 & 5 of the Madhya Pradesh Freedom of Religion Act, 2021.
Asked if charges for forging and illegally making documents have been invoked against Nehal, Shrivastava said, "The investigation is going on, and the later trial will reveal the facts." He disconnected the call.
Meanwhile, the in-charge at the TT Nagar Police Station informed that Sahil was arrested the very next day after the complaint got registered. He has been booked under IPC section 354 (assault or using criminal force) and 506 (criminal intimidation).
What Priya Told Swarajya
About Mamta
This correspondent called Priya Soni on 19 May, a day after she registered her case at Ashoka Garden Police Station against Nehal. A video clip of her sharing her plight was shared widely on social media platforms that day.
To add to her miseries, the person who recorded Priya's video statement, despite assuring her that he would not reveal her identity, shared it with public without blurring her name and face. Understandably, Priya was struggling to trust people who were approaching her. After a little inquiry about this correspondent, she however shared all her woes.
She said that Mamta works at her clinic. While their hospitals were conducting a big health camp, Sahil, a worker at the hospital appointed by Nehal, misbehaved with Mamta. Mamta complained to Nehal, but he didn't take any action against Sahil.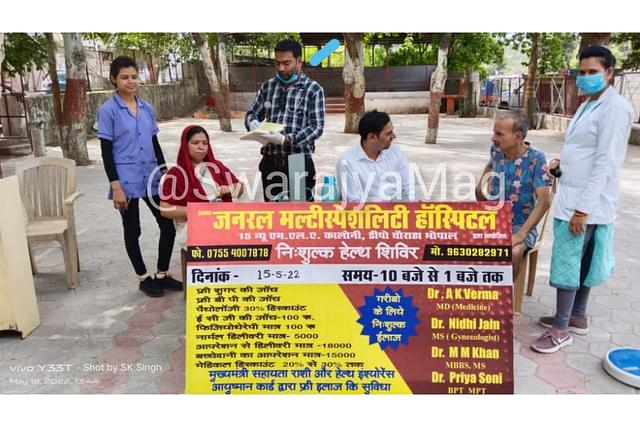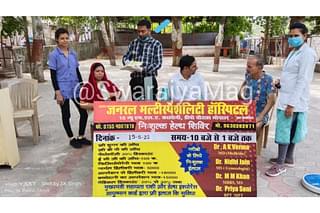 Picture from the camp, the man in check shirt is Nehal.
The next day, Priya found out about the incident when the hospital staff discussed it. She summoned Sahil and Mamta immediately to her cabin and ordered him to apologise to the nurse, but he bluntly refused. Although angry at this attitude, Priya repeated her instructions, but Sahil bluntly asked her to discuss the matter with Nehal.
When Nehal came in, he said it was not a big issue and asked why Priya was getting into it. Priya said it was a big issue for her and insisted that Sahil must apologise to Mamta. Nehal said Sahil was not wrong, and he would support him as he was Muslim. He said his religion taught him to support every man from his "qaum".
Priya was shocked. She said, "If this is what your religion teaches, I will support Mamta as my religion teaches respect for women."
In front of Nehal, Sahil said he would crush Mamta by a vehicle by spending just Rs 200. He said he did not fear court and police, as they were in his pocket. He said Priya would not even get Mamta's dead body if she tried being "over-smart" with him. Nehal did nothing while Sahil kept threatening the two women.
Priya left office in anger.
About Nehal
Priya said that Nehal enrolled for MBBS at Ram Krishna Dharmarth Foundation University in Bhopal. He never completed his degree, but added MBBS (Bachelor of Medicine, Bachelor of Surgery) and MS (Master of Surgery) to his name, she said. He is a general doctor but performs surgeries in the absence of a supervising surgeon. While his Facebook profile says he is a MD (medical director) and a general physician.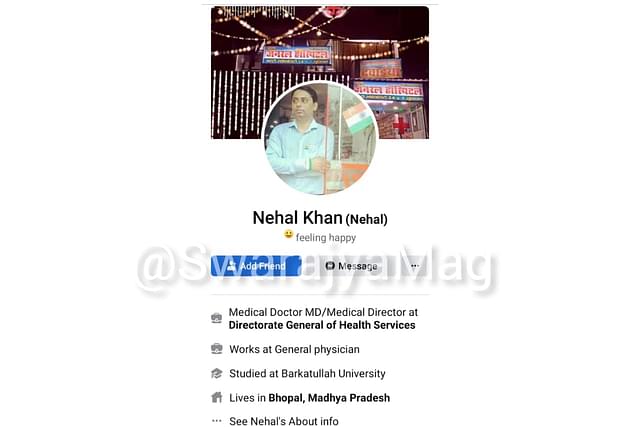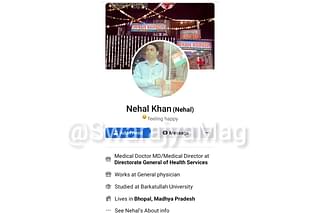 Nehal's Facebook profile.
Priya, who hails from Betul district, completed her BPT (Bachelor of Physiotherapy) and MPT (Master of Physiotherapy) from Peoples University, Bhopal. She started working part-time at the general hospital at Depot Square after completing her education. Nehal worked at the same hospital and came from the Banda district in Uttar Pradesh.
Priya lived in an apartment in the Punjabi Bagh area and drove a car. She comes from a well-to-do family. Her mother is a government servant, while her father runs a business.
The hospital owners wanted to sell it as they were in losses. Priya, who was doing well for herself, decided to buy the hospital. Using her savings and some amount borrowed from her mother, she raised the initial fund of Rs 8 lakh for the transaction.
She began running the hospital's operations. Nehal was a resident doctor and so he used to live in the hospital itself. Soon their friendship turned into romance. Priya knew his name was Nehal, but he never revealed his surname. She introduced Nehal to her family members too.
Soon Nehal started driving Priya around in her car, and the car keys would remain mostly with him. Nehal did not have a place to live. He began to "pamper" her, telling her she was a "princess". He asked her to leave all chores to him. Priya felt relieved to be with him.
On 2 November 2018, Nehal did not just drop Priya home but also come inside the house. After locking the door, he started kissing and undressing her. Although she was reluctant, Nehal wouldn't stop. They had sex. Priya says he forced himself on her and she was not able to stop him.
Priya was upset the following day, so Nehal soothed her, saying he loved her a lot and would marry her soon. He said he could not live without her. Priya felt better. The frequency of such nights increased, and he mostly stayed back at her apartment. They went everywhere together, and Priya believed they were happily in love.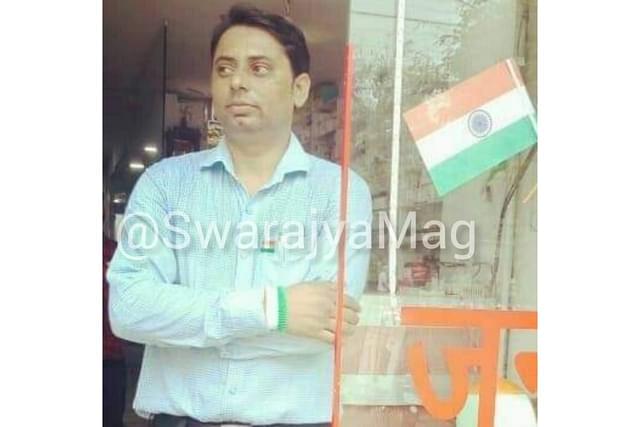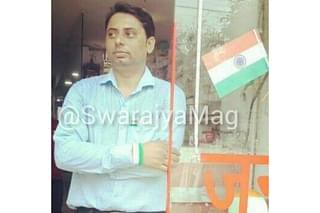 One day while making love, she found Nehal was circumcised, says Priya. "I suspected he might be Muslim. I confronted him, and he said yes he was," she told this correspondent.
Nehal said, "If I had told my full name, you would have never loved me this way." Priya was angry with him for keeping her in the dark about his identity. He promised her that his religion would never be an obstacle in their relationship, and she would have complete freedom to follow her religion.
Priya said Nehal lived like a Hindu with her. He visited temples with her and followed all rituals and festivals. It was difficult to believe that he was Muslim. Nehal started living in with Priya, and he even put a nuptial chain around her neck to make her think that he would legally marry her someday.
When their general hospital earned profits, Nehal decided to use that money to start a new branch at Ashoka Garden called Asha Multi-Speciality Hospital. Nehal borrowed money from Priya's mother before opening the new unit. She stopped going to the general hospital when this branch opened.
Priya also said that Nehal was at his best behaviour with Priya's parents. He took care of them and used to call them once a week to check on them. All of Priya's documentation, paperwork regarding the hospital and money matters were looked after by Nehal. She would be asked to sign a few business agreements every now and then. Later, she discovered that he had used those signatures to transfer all the property documents to his name. The hospitals at Depot Square and Ashoka Garden now belong to Nehal, she told this correspondent.
As days passed, Priya noticed a change in Nehal's behaviour. He did not allow her to talk to anyone in the hospital, including the women staff. He never paid her a salary, and she had to manage her expenses using the fee from her outdoor patient appointments. He used to say, "Tell me what you need, and I will bring it to you."
Now he started beating her even over minor differences.
Whenever she used to worship Hindu deities, he would call it a "nautanki". He said he never understood why Hindus worshipped Rama, as he was just a king who ruled Ayodhya. "How can he be a God when he was a normal king?" or "Your lord Krishna was a rapist who married hundreds of women."
Nehal claimed that Hindus are present only in India, where they can follow this "baseless culture". He said Islam is a progressive religion and argued that there was a reason behind everything a Muslim does. Muslims were all around the world. "What is there in Hindu culture? People in India have gone mad to follow this 'nautanki'," Nehal told her.
He used to say, "tum log raah se bhatak gaye ho, but-parasti karte ho, Islam hi sacchai par chalne wala dharm hai [You people are misguided, you worship idols. Islam is the only true religion]."
Nehal started forcing Priya to convert to Islam. He told her, "Convert right away. Soon when this Modi-Yogi government loses power, the Taliban will take over this country and everyone in India will convert to Islam." Priya confronted him by saying, "How will they come to our country? How can you say this being a citizen of this country? Does this mean you support terrorism?"
To which he replied, "Jab nadaan bacche rah se bhatak jaate hain to jese maa-baap unhe sahi raasta dikhate hain, waise hi Taliban sab ko sahi raasta dikhaega [The way parents show the right track when gullible children deviate from their path, the same way Taliban will show the right way to everyone in this country]."
When they used to have dinner or lunch at home, he played "dawah" videos of various clerics, including the video of Zakir Naik, where he claims that anyone listening to his one-minute video would convert to Islam before the video gets over. Nehal never forced Priya to cook or eat meat, but he tried to break her faith in Hinduism and accept Islam, she says.
Following the health camp incident, when Priya told Nehal that she would go to the police against Sahil, he choked her throat and said, "zyada hoshiyari ki to maar dalunga, waise bhi tere paas ab kuch bhi nahi hai. Sab kuch maine apne naam par karliya hai [If you try to be clever, I will kill you. In any case, you have nothing. I have transferred everything to my name]."
After their fight, he called Sahil to apologise to Mamta in the office the next day to end the matter and not involve the police. Sahil came and said sorry with an attitude that indicated he was far from sincere in his apology.
Sahil told her, "Hindu ladkiyon ke saath yahi karna chahiye, unki yahi aukaat hai [This is what we should do to Hindu girls, this is what they deserve]."
When Priya threatened him with police action, an argument ensued, and Nehal slapped Priya.
She left the office. Nehal slept in the hospital that night.
The next day, Priya went to the hospital in her car and asked Mamta to join her at the police station. They reported against Sahil Khan.
About Sahil
Priya said that Sahil was an 'IT expert'; he used to prepare documents for Nehal. Priya asked for his identity documents, for hospital records, several times, but he never presented them. He ignored Priya's orders, and Nehal protected him. He was hired by Nehal.
Sahil also used to take Priya's car without her permission. Both Sahil and Nehal hail from Banda district. Sahil was a married man but was living alone in Bhopal.
When Nehal learnt that Priya got Mamta to file a complaint against Sahil, he beat her again. Priya couldn't take it anymore and filed a complaint against Nehal the next day — the same day Sahil was arrested. Nehal took all his documents and fled in Priya's car.
After Priya's complaint, her mother and other relatives were upset as they feared that this news would ruin the family's reputation. Priya was already a divorced woman in her 30s, living out of wedlock with a man. To make things worse, when Priya revealed Nehal's true identity and the ordeal he put her through, her mother fell so ill that she had to be admitted to the hospital, Priya told this correspondent.
Priya felt that although she was used to enduring humiliation from Nehal, just to have a man in her life, his unabashed support for Sahil's misdeed was the straw that broke the camel's back. Priya says she mustered a lot of courage to fight back at this stage.
She said, "So what if my name has been in the headlines, or I have been called an idiot by many? I will never let another woman face the same trauma and cheating by someone like Nehal or Sahil," Priya told this correspondent.
Since the police cases, Mamta has been staying with Priya.