Here's Decoding The Fuss And Drama Over Controversial Bengal Politician Mukul Roy's Sudden Flight To Delhi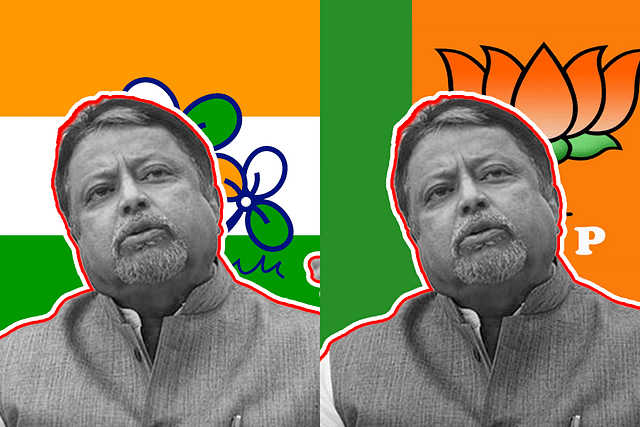 Controversial Bengal politician Mukul Roy.
Snapshot
The Trinamool's fear stems from the fact that Mukul Roy knows a lot about the party.

If he speaks out, it could do incalculable harm to the party and also spell danger for the party's top leadership.
Senior Bengal politician Mukul Roy's sudden flight to New Delhi on Monday evening has created a political storm in the state.
His son — Trinamool leader Subhrangshu Roy — filed a 'missing person' complaint with the police, which has sent a team to New Delhi to trace the veteran politician.
Subhrangshu Roy claimed his father was ailing and not in a "right frame of mind", and that he had been forcibly taken away to New Delhi by "a political party".
But soon after landing in Delhi on late Monday evening, Mukul Roy told reporters he had been ailing but is fine now, and wants to be in active politics. He also reiterated that he is still with the Bharatiya Janata Party (BJP) and wants to meet party president J P Nadda and Union Home Minister Amit Shah.
That, however, has not put to rest the political controversy and wild speculation that Mukul Roy's sudden flight to Delhi has triggered.
And that's primarily because Mukul Roy is a controversial and crafty politician. The political games that he plays are complex and nuanced, and it is difficult to say what his real motives are.
To understand Mukul Roy, a peek into his past is necessary.
His Early Political Career
Mukul Roy started his political career with the Youth Congress when Mamata Banerjee was a rising activist of the outfit which is the youth wing of the Congress.
He grew close to Banerjee and co-founded the Trinamool Congress along with her in December 1997.
His networking skills and proximity to national-level politicians brought him very close to the Trinamool chief and he soon became one of her most trusted aides. Mukul Roy became part of the very close coterie around Banerjee.
Banerjee made him a Rajya Sabha MP in April 2006 and also the national general secretary of the party (a post held by Abhishek Banerjee at present) that same year.
Mukul Roy became Minister of State for Shipping in the UPA II government led by Manmohan Singh in 2009. After Banerjee resigned as Railway Minister in May 2011 to become the Bengal chief minister, she recommended Mukul Roy's name as a junior minister (Minister of State) in the Railway Ministry.
Prime Minister Manmohan Singh accepted Banerjee's recommendation and while he retained the Railway portfolio, Roy was made the MoS for Railways.
But Roy incurred Manmohan Singh's displeasure when he refused to visit the site of derailment of an express train in lower Assam on 11 July 2011. Roy's refusal was spurred by Banerjee who wanted to snub Manmohan Singh.
Manmohan Singh put his foot down and sacked Roy, replacing him with Trinamool's Dinesh Trivedi in July 2011. But Trivedi incurred Banerjee's wrath when he hiked passenger and freight fares in the 2012 Railway Budget.
Banerjee demanded Trivedi's replacement with her loyalist Mukul Roy. Manmohan Singh had to comply. Roy became Railway Minister on 20 March 2012 and immediately reversed the fare hike.
He resigned from the cabinet in September 2012 when Banerjee walked out of the UPA.
Mukul Roy continued to be very influential in the Trinamool Congress and was acknowledged for his superb organisational skills. He commanded a large following among Trinamool functionaires, many of whom he appointed to various posts in the party.
Roy also controlled the party's purse strings and was privy to a treasure trove of very confidential information about the party and its top leadership.
Fallout With Banerjee
Mukul Roy started drifting away from Banerjee from 2015 over the Saradha scam and the Narada sting operation. Roy's name figured in both the Narada operation and Saradha scam.
But while many senior Trinamool leaders were arrested and incarcerated by the Central Bureau of Investigation (CBI) which started investigating the chit fund scams, Mukul Roy did not face any coercive action.
Roy was interrogated by the CBI for about four hours on 30 January 2015, but was let off. This made Banerjee suspicious and she told her trusted colleagues to find out why Roy was let off when other senior Trinamool leaders were arrested by the CBI after their interrogation.
Banerjee suspected that Roy had cut a deal with the CBI and turned approver. She publicly stated: "I really don't know what the CBI has asked Mukul. But his body language makes me feel that he is under tremendous pressure from the CBI. Some people are now saying that Mukul has named Abhisekh (Banerjee's nephew) during his interrogation".
Banerjee started distancing herself from Mukul Roy and excluding him from her inner circle. She cut him off from the party's decision-making process. Roy was completely sidelined within the party.
Mukul Roy, considered to be a master strategist, was not involved in the Trinamool's poll campaign and poll management for the 2016 assembly elections. His loyalists were also sidelined by a suspicious Banerjee who felt that they would sabotage the party's electoral prospects.
Roy realised that he had no future in the Trinamool Congress and by early 2017, he started getting in touch with senior leaders of the BJP.
Roy also started speaking against the Trinamool and its leadership and then resigned from the party's working committee in late September, 2017. He also said he would resign from the primary membership of the party. The Trinamool then suspended him from the party for six years for "anti-party activities".
Roy Joins BJP
By then, it became clear that he would join the BJP. He did so formally on 3 November 2017 in the presence of Union minister Ravi Shankar Prasad, BJP general secretary Kailash Vijayvarghiya and BJP Rajya Sabha MP Swapan Dasgupta.
The central leadership of the BJP gave him a lot of responsibilities for Bengal. He was made a key member of the BJP's election campaign and management machinery for the 2019 Lok Sabha polls.
Roy leveraged his vast network of loyalists and well-wishers within the Trinamool for the benefit of the BJP. Roy played a crucial role in ensuring the BJP's handsome victory in 18 of the 42 Lok Sabha seats in Bengal.
He was given more and more responsibilities within the state unit of the party and grew very close to the BJP central leadership. A section of party old-timers in Bengal, however, remained suspicious of Roy.
Roy played a major part in engineering defections from the Trinamool to the BJP in the run-up to the 2021 assembly polls. The BJP invested huge resources in Bengal and created a big hype that it would unseat the Trinamool from power.
But ultimately, the BJP failed in its mission and the Trinamool posted a spectacular victory.
Many within the BJP, and especially senior leaders of the RSS, blamed Mukul Roy for the BJP's defeat. They felt that Roy had misled the BJP central leadership and sabotaged the party's prospects by ensuring the entry of tainted Trinamool functionaries into the BJP.
Return To Trinamool
Within a month of declaration of the results of the 2021 assembly polls in May, Mukul Roy along with his son rejoined the Trinamool in the presence of Mamata Banerjee and Abhishek Banerjee.
But Mukul Roy was kept at arm's length by Mamata Banerjee who never really forgave him for his 'disloyalty'.
Roy did not formally resign from the BJP and continued to call himself a BJP MLA. But it was clear to all that he had left the BJP.
What Roy Is Saying Now
Roy told a Bengali news channel on Tuesday (18 April) evening: "I am a BJP MLA and want to meet Amit Shah and national president of my party, Shri J P Nadda. That's why I have come to Delhi".
Mukul Roy also had a word of advice for his son Subhrangshu, who is now the vice-chairman of the Trinamool-run Kanchrapara Municipality in North 24 Parganas district adjoining Kolkata: "Subhrangshu should join the BJP. He will be better off in the BJP".
Roy also said he had quarrelled with his son (Subhrangshu) and that's why he came to Delhi out of his own free will.
"I have been with and shall remain with the BJP. I went to the Trinamool Bhawan (in June 2021) in a fit of eccentricity. I was not mentally fit and people took advantage of me and took me to the Trinamool Bhawan that day," said Mukul Roy.
Mukul Roy claimed on Tuesday that he had spoken to Amit Shah.
Monday's Drama At Kolkata Airport
Mukul Roy, accompanied by BJP functionaries Piyush Kanodia and Bhagirath Mahato, reached Kolkata airport around 6 pm on Monday. They drove to the airport in Mahato's vehicle.
Kanodia did not enter the departure terminal, but Mahato and his driver Raju Roy escorted Mukul Roy to Delhi.
Subhrangshu came to know of his father's departure only after Mukul Roy had reached Kolkata airport. Subhrangshu rushed to the airport around the time his father was boarding the aircraft.
Subhrangshu searched for his father and then requested the airport authorities to take Mukul Roy off the aircraft. But the aircraft had already taken off for Delhi. Mukul Roy landed in Delhi around 10 pm.
Subhrangshu then filed a 'missing person' complaint with the Bidhannagar Police. The police acted promptly and scanned CCTV footage of the airport to identify Kanodia and Mahato who had taken Mukul Roy to the airport.
Kanodia was interrogated for nearly 12 hours by the police on Tuesday. The police have also asked the airlines for the identity of the person who paid for Mukul Roy's ticket.
The Bidhannagar Police team which went to Delhi on Tuesday morning met Mukul Roy that same afternoon. Mukul Roy dismissed his son's allegation that he had been abducted and taken to Delhi against his will.
The police team also made Mukul Roy speak to his son. Subhrangshu asked his father if he had gone to Delhi of his own free will and very consciously. Mukul Roy replied in the affirmative twice.
The police team then left Mukul Roy's hotel.
What Subhrangshu Said
"I learnt that a non-Bengali person visited my father and gave him Rs 50,000. My father did not have a single penny on him. So how did he book the air ticket to Delhi?" said Subhrangshu.
He also said: "My father is not mentally fit and has undergone neurosurgery. He is suffering from Parkinson's disease, dementia, cirrhosis of liver, high blood pressure, high blood sugar and had to wear adult diapers before surgery".
"It is immoral to misguide an ailing person. A political party took advantage of my father's illness and took him to Delhi without his knowledge. I think it is reprehensible to do politics with an ailing person. All this is being done deliberately to malign the image of the Trinamool and our leader Abhishek Banerjee," said Subhrangshu.
Why The Trinamool Is Uneasy
Though the Trinamool did not officially want to comment on Mukul Roy's sudden departure for Delhi, it is very uneasy with this development.
Trinamool's chief spokesperson Kunal Ghosh said: "Our party has nothing to comment on why and where Mukul Roy has gone. It's more of their family matter. Mukul Roy is an illusionist. There are 14 criminal cases against him".
But Trinamool leaders admitted in private that they are apprehensive about Mukul Roy's departure for Delhi and his plan to meet top BJP leaders.
"They (the BJP) must have been planning this for some time. It did not happen all of a sudden. Panchayat polls are around the corner and then the Lok Sabha polls. Probes by central agencies into various scams are at a crucial stage and a few more functionaries of our party are likely to be arrested. Mukul Roy's sudden departure to Delhi makes us anxious that something major is in the offing," a senior Trinamool leader who was a Rajya Sabha MP told Swarajya.
The Trinamool's fear stems from the fact that Mukul Roy knows a lot about the Trinamool. Having been very close to Mamata Banerjee and having controlled the party's purse strings for a number of years, revelations by him can do incalculable harm to the party and also spell danger for the party's top leadership.
The next few days will reveal what Mukul Roy's precise plans are. But one thing is certain: politics in Bengal has entered another important and interesting phase.
Get Swarajya in your inbox everyday. Subscribe here.
An Appeal...
Dear Reader,
As you are no doubt aware, Swarajya is a media product that is directly dependent on support from its readers in the form of subscriptions. We do not have the muscle and backing of a large media conglomerate nor are we playing for the large advertisement sweep-stake.
Our business model is you and your subscription. And in challenging times like these, we need your support now more than ever.
We deliver over 10 - 15 high quality articles with expert insights and views. From 7AM in the morning to 10PM late night we operate to ensure you, the reader, get to see what is just right.
Becoming a Patron or a subscriber for as little as Rs 1200/year is the best way you can support our efforts.
Become A Patron
Become A Subscriber