HR&CE Department Milks Tamil Nadu Temples Dry Despite Devotees Pouring Cash Aplenty
Representational image: A prominent temple in Tamil Nadu (Richard Mortel/Wikimedia Commons)
Snapshot
The Hindu Religious and Charitable Endowments Department may be drawing in more money from temples than is mandated by law.

This means that though temples are earning adequately, they are still being left with less money than required to spend on temple rituals and festivities.

Here's a ground report.
A few months ago, a close circuit television (CCTV) system was installed at a temple in central Chennai. The system was installed on instructions from the police after a woman devotee's gold chain was snatched inside the temple premises. The temple is under the control of the Hindu Religious and Charitable Endowments (HR&CE) Department, which should have installed it in the first place.
The CCTV system, costing nearly Rs 50,000, was installed with donations from a devotee and not the HR&CE department. "Police chide temple priests why cameras have not been installed in the temple and not anyone from the HR&CE department in the event of any theft. So, a priest used his influence with one of the devotees to get the CCTV system installed as the HR&CE department had been asking him to make some arrangement," says an employee of the temple, who doesn't want even the place of worship to be identified.
"We are under pressure from the HR&CE Department officials to get donors to even replace an electric bulb. Sometimes, I feel like leaving this job and running away," says a priest of a nearby temple. The issue here is that the temple, whose earnings are estimated to be Rs 50 lakh a year, isn't short of funds, but doesn't get them even for buying essential things or spending on important occasions.
The Bharatiya Janata Party (BJP) national secretary H Raja, who formed the Hindu Temples Reclaim Movement in February this year, says temples face problems as the HR&CE Department swipes clean of their incomes. "According to Section 92 of HR&CE Act, only 18 per cent of a temple's income can be drawn by the Department to the Consolidated Fund of the State. In addition, if the temple's income is over Rs 5 lakh per annum, another 4 per cent can be availed of for auditing, while for ones whose income is less than Rs 5 lakh, the Department can take 1.5 per cent. The state government cannot take even a single paisa more than this," Raja told Swarajya.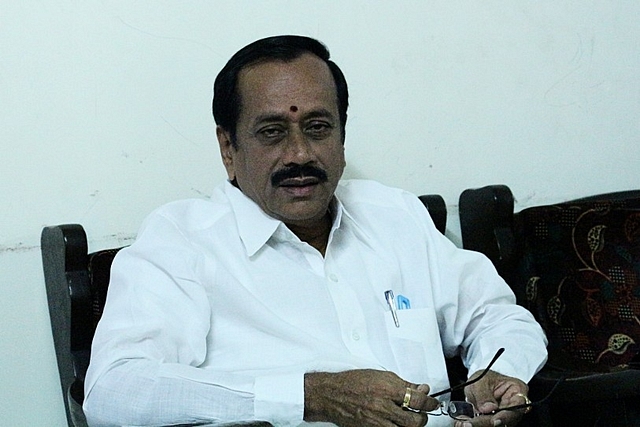 Asked if provisions of Section 92 of HR&CE Act is being implemented properly, the unanimous response from various temple employees is "no". One temple employee said that in the place of worship he worked, the HR&CE Department was seeking 35 per cent of even payments made for poojas by devotees.
"There are many festivities in temples that can be held for a week or 10 days or a fortnight. For such festivities, the cost is Rs 10,000 for conducting rituals on a single occasion each day. When we find someone coming forward to donate the cost, HR&CE officials ask us to give Rs 3,500 from that. What can we do with Rs 6,500 when we have to get flowers, pooja materials, clothes for the deity and cook prasadams for devotees?" the employee wonders.
Maintenance of a temple, salaries for its staff, and payment of the electricity charges are met from the income. Other expenses are, however, met only with donations from devotees. A trustee of a temple in north Chennai says that though the HR&CE Department doesn't give any fund for events like kumbhabhishekam (consecration), the staff point to the rule book on expenses for each event in a temple.
"For example in our temple, the expense for kumbabishekam is around Rs 10 lakh. But the HR&CE staff say we can spend only Rs 25,000. That amount will not be enough to even buy flowers for a single day on the occasion. Why should the department try to put spokes when it is not giving a single paisa for such events," the trustee wonders.
Raja says executive officers or higher-up HR&CE officials demand air-conditioners and desktop computers for their offices from the temple's income. "In some cases, luxury vehicles are demanded," he says.
"There are some famous temples in Chennai city where the priests are asked by HR&CE higher-ups to get luxury motor vehicles for them from corporate houses or businessmen. The vehicles are donated to the temples, but are utilised for the officials' personal use," says an employee of a temple near Anna Nagar.
Another employee of a temple under HR&CE control nearby said: "There are cases where individuals are employed by the temple as low cadre employee, but drive vehicles for the temple's executive officer or their higher-ups. In such cases, we can't ask the employee why he isn't doing any job at the temple at all."
In cases where the HR&CE Department has to provide oils for lighting lamps and making prasadams in temples, the allocation is meagre. For example, the Department allocates 15 kg rice a month for an ancient Vishnu temple in a complex that includes a Shiva temple too. Both temples have together been allocated a tin of 15 kg oil a month for lighting lamps. "One tin will not even last a day if all lamps are lit. That's why we ask some of the devotees to give us oil than lighting lamps on their own in the stand outside," says the temple's employee.
"The rice is also inadequate. At the beginning, we asked for Rs 1,000 to employ a cook for preparing prasadams. But the request was rejected saying it's not their outlook whether we cook prasadams from the rice or just handed over raw rice to devotees," says the employee.
The problem of temples being starved of funds is more acute for ones whose incomes are meagre. "In these temples, there is no guarantee that the money put in the hundis go to the Consolidated Fund of the State. There have been occasions when the inspector or the first line worker, who opens these hundis, committing irregularities," says the trustee of the temple in north Chennai.
But for devotees donating money for most of the festivities, a majority of the temples would be struggling to conduct them. For example, a brahmotsavam at a temple in Tamil Nadu is mainly done with donors coming forward to sponsor each day's expenditure. "Funds of temples from the hundis are rarely used for this," says the temple employee in central Chennai, adding that on top of these, some of the HR&CE staff enter devotees' donations for temple pooja or ceremony as expenses by the Department on the temple.
Then, properties rented out by temples to help them sustain on their own aren't fetching the market rate. "If a temple trustee insists on a market rate, the people who have rented the properties can create problems. Once, these lessees, who also donate liberally, stoned a temple procession in the heart of Chennai because the temple trustees demanding a higher rent," says a trustee of a Vishnu temple in south Chennai.
Raja says the Madurai branch of the Madras High Court had laid out clear guidelines on the rent for temple properties in its judgement on 12 February this year. "Not a single directive of the judgement has been implemented yet," says the BJP leader.
A policy note of the HR&CE Department tabled in the Tamil Nadu Assembly is silent on its earnings and expenditure from temples. However, the note says donations from devotees helped in conducting some of the temple events or even renovate them.
The note says 65,735 devotees benefit daily from the Annadhanam scheme at 754 temples. Each day, a sum of Rs 16.43 lakh is being spent. In order to ensure that at least one pooja is held at temples with meagre income a day, the state government has given a grant of Rs 59.48 crore besides allocating Rs 30 crore from the funds of affluent temples to hold these poojas (Oru Kala Pooja).
Nearly 12,750 temples have benefited from the scheme to ensure at least one pooja a day, the policy note said, adding that Rs 127.45 crore has been deposited for 12,745 temples under the scheme. Each temple will have a corpus of Rs 1 lakh for the pooja scheme.
The note said that during 2017-2018, financial assistance was given to 89 temples, totalling Rs 1.197 crore from the Common Good Fund. In the last seven years, over Rs 400 crore has been sanctioned from the Temple Funds, created from the surplus money in affluent temples, for various works in 1,174 temples, with Rs 117.24 crore being sanctioned for 226 temples in 2017-18.
The policy note says the Department is in the process of fixing fair rent for temple buildings and sites used for commercial and residential purposes.
An HR&CE Department staff, who does not want to be identified, said the money put in hundis of temples like the famous Parathasarathy temple at Triplicane is put in a corpus fund that is used to meet expenses of other temples. A similar thing is being done at Palani Dhandayuthapani temple, too.
An email sent by Swarajya to the HR&CE Department on various temple issues is yet to get any response. We will be adding their response here.
After liquor, Tamil Nadu government gets its highest income from temples, according to some temple trustees. But no one is aware of what is happening to the devotees' financial offerings and how these offerings are being utilised. "In between this confusion, some of the HR&CE Department employees are committing irregularities. The end result is, temples suffer despite copious offering from devotees," says the trustee of the temple in north Chennai.
Get Swarajya in your inbox everyday. Subscribe here.
An Appeal...
Dear Reader,
As you are no doubt aware, Swarajya is a media product that is directly dependent on support from its readers in the form of subscriptions. We do not have the muscle and backing of a large media conglomerate nor are we playing for the large advertisement sweep-stake.
Our business model is you and your subscription. And in challenging times like these, we need your support now more than ever.
We deliver over 10 - 15 high quality articles with expert insights and views. From 7AM in the morning to 10PM late night we operate to ensure you, the reader, get to see what is just right.
Becoming a Patron or a subscriber for as little as Rs 1200/year is the best way you can support our efforts.
Become A Patron
Become A Subscriber