Long Read: NRC Across India Is What We Need To Stem The Tide Of Illegal Immigration From Bangladesh
People in Assam protest against the settlement of illegal immigrants in the state. (Daily Sokal)
Snapshot
An NRC in any one state is of little consequence because Bangladeshis are present virtually all across India.

In its obsession with Pakistan and the need to secure support from a Muslim majority nation in this fight, India has ignored the dangers from non-stop illegal immigration from Bangladesh.
The Supreme Court-monitored National Register of Citizens (NRC) found 19 lakh individuals whose names are to be excluded. Whilst the nation is focused on Assam, where a lot of the migrants may be Hindus fleeing persecution in Bangladesh, what we forget is that illegal immigrants are present across the country.
According to a July 2004 Economic Times report, the then Union Minister of State for Home Prakash Jaiswal told the Rajya Sabha that there were 1.2 crore Bangladeshis living in India — Assam 50 lakh, West Bengal 57 lakh, Bihar 4.79 lakh, Delhi 3.75 lakh, Tripura 3.25 lakh, Nagaland 59,500, Meghalaya 30,000 and Maharashtra 20,000. Later Jaiswal went back on his statement.
About seven years ago, a naval officer and friend, now retired, was patrolling off the Porbander coast when he heard Bengali being spoken in an Indian fishing vessel. Being a Bengali himself he instantly knew they were Bangladeshis, based on the dialect. Whilst driving to the Siachen Base Camp in 2016, this author met Bengali speaking labourers who refused to give their names.
Here are some reports of the Bangladeshi presence in many states.
According to this 2013 Business Standard report, Kerala Home Minister Thiruvanchoor Radhakrishnan is quoted as saying, "we welcome workers from other states, but the illegal infiltration of Bangladeshis is a cause for concern".
Sudipto Mondal recently wrote in Federal.com, "The Bengalis have their own names for the clusters in Thubarahalli in Bengaluru. The 'Bangladeshi side' is called 'Kaali Khaata' (Bengali slang for waste recycling) because garbage segregation is their main occupation. The 'Indian side' is called Laal Maati (red earth) where most are employed in the construction sector."
A long-time resident of Gurgaon and a Bengali told this author, "Almost all part-time domestic help in Gurgaon condos are Bengali-speaking Muslims. Plus all car washing guys, dog walkers, etc (Note: very few Haryanvis will willingly do these jobs). The number of these people is so high that emergency instructions in our condo's elevators are in English, Hindi and Bengali. They claim to be Indians but all have homes/addresses in North Bengal border districts like Murshidabad and Malda, where Bangladeshi migrants have been settling for decades. All of them have proper documents. They live in close-knit ethnic enclaves and keep bringing in and sponsoring new people. Most of the women use Hindu work names. But, at least to trusted employers, they don't hide their Muslim identity."
A retired Pune-based colonel told this author that his car cleaner, a Bengali Muslim, returned to West Bengal every time elections were held there. What he was unaware of was this reality: when an illegal immigrant is given papers, part of the deal is that he has to vote for the political party that helped him get those valid documents.
When repair work started in this writer's brother's building in Mumbai, one of the labour contractors introduced himself as Robin Gupta. With time they got to know he was Bangladeshi. When this author visited Shirdi in 2015 he met with farmers who complained that Bangladeshis had distorted the labour market by working for less.
There is no evidence in the public domain that the Bangladesh government is supporting such illegal infiltration. But it is not acknowledging or stopping such infiltration either.
This article comprehensively reviews the issues involved: Why did Bengali Muslims move to Assam? Was the 2019 NRC Assam's first? Additionally, the issue of Bangladeshis in Nagaland, population trends in the border districts of West Bengal, and the deeper purpose behind illegal immigration, etc. It does not look at solutions to the infiltration problem.
Bengali Muslim Migration Into Assam: Why Did Migration Start?
Assam was annexed by the British and made part of the Bengal presidency in 1826. When the British partitioned Bengal in 1905, Assam became a part of Muslim-dominated East Bengal. In 1911, the partition of Bengal was annulled and Assam again became a separate province.
A retired Intelligence Bureau officer, R Upadhyay, wrote in Southasianalysis.org, "The All India Muslim League, in its founding conference at Dacca on December 25-26, 1906, hatched a conspiracy to increase the Muslim population in Assam for improving its strength in the region. Census Superintendent CS Mullan, in his Census report of 1931, validated this political conspiracy of AIML."
The British developed the tea industry in Assam. They imported Bihari labour. To meet the growing demand for food they encouraged Muslim peasants from East Bengal to work on 'virgin land' in Lower Assam.
Note that the Assam government, formed in 1921, with the support of the Assam Mohammeden Association, supported migration from East Bengal in the name of its 'grow more campaign'. Lord Wavell described the settlements as: "Grow more Muslims, rather than grow more food". (Edavelth Nalaamveetil Rammohan, Frontier in Flames, page 19).
Veer Savarkar was one of the first national leaders to see the danger. Early in the 1940s, as Vaibhav Purandare writes in his recent biography Savarkar: The True Story of The Father of Hindutva, "The big worry he had was about Hindu-majority Assam. He perceived a demographic threat there as a result of what he termed 'the massive influx of Muslims' from other, mostly eastern, provinces, and asked local Hindus to be on the alert and thwart its 'deliberate Islamisation'." (Page 281)
The subsequent growth in Muslim population made the Muslim League want Assam to be included in East Pakistan. In 1946, Assam and West Bengal were grouped together. In fact, Mr Moinul Haque Chowdhary, the Private Secretary of Jinnah, who, after Independence, became a minister in Assam and later in Delhi, told Jinnah that he would "present Assam to him on a silver platter". Lokapriya Gopinath Bordoloi rebelled against the Congress high command, supported by Mahatma Gandhi, and so the League plans failed.
Zulfikar Ali Bhutto, in his book, Myth of Independence, wrote, "It would be wrong to think that Kashmir is the only dispute that divides India and Pakistan. One at least is nearly as important as the Kashmir dispute, that of Assam and some districts of India adjacent to East Pakistan. To these, Pakistan has very good claims. East Pakistan must include Assam to be financially and economically strong."
Even a pro-India leader like Sheikh Mujibur Rahman, who would go on to become the first prime minister of Bangladesh, wrote in his book, Eastern Pakistan: Its Population and Economics, "Because Eastern Pakistan must have sufficient land for its expansion and because Assam has abundant forests and mineral resources, coal, petroleum, etc, Eastern Pakistan must include Assam to be financially and economically strong".
Bangladesh is a densely populated country. It seeks to reduce its population growth through migration.
Leading intellectuals in Bangladesh have been making out a case for "lebensraum" (living space) for their country.
Former Governor of Assam Lt Gen S K Sinha wrote to the President of India in his 1998 "Report on Illegal Infiltration into Assam" and said, "Mr Abdul Momin, former Foreign Secretary and Bangladesh's first Ambassador to China, wrote in 1991, 'The runaway population growth in Bangladesh resulting in suffocating density of population in a territorially small country presents a nightmarish picture. If we in Bangladesh ingratiate ourselves with the hill tribes within our borders, our bulging population might find a welcome in adjacent land inhabited by kindred peoples'."
From the above statements, the existence and reason for infiltration into Assam are clear. The deeper intent has been to merge Assam with modern day Bangladesh, so the country has economic resources and a larger landmass.
Let us now look at population by religion and growth rates.
Table 1: Assam population percentage — Indian Religions vs Muslims

We can see that the percentage of Muslims in Assam has steadily grown from 24.6 per cent to 34.2 per cent in 2011. Let us now review the community-wise growth rates in Table 2.
Table 2 - Community wise growth rate in Assam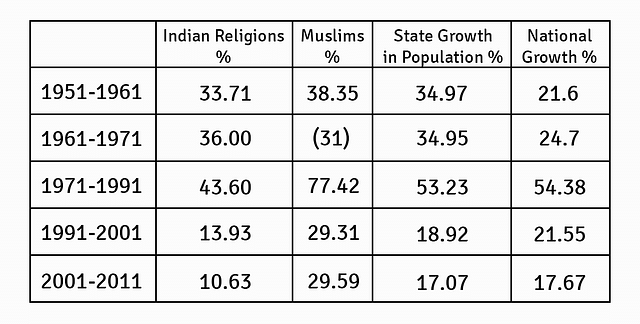 Note that between 1951 and 1971, Assam's population increased by about 35 per cent in each decade against a national average of 22 per cent and 25 per cent. Paper 1 of the Census Report in 1963 says that at least 2.2 lakh illegal immigrants appear to have settled down in Assam between 1961 and 1971.
From 1951 to 1971, the population growth rates for the state were in sync with major religions. The gap started after the 1971 Bangladesh War for Liberation and increased thereafter. Thus, while the population of Assam grew at 17.07 per cent in 2011 and 18.92 per cent in 2001, the Muslim population grew at about 29 per cent and Indian religions at 10.6 per cent and 13.9 per cent respectively. Can the higher percentage of Muslim population growth be explained by high fertility rates alone?
Kaushik Deka wrote in DailyO: "The 1971 Census revealed an increase of 8,20,000 Muslims in Assam - 4,24,000 more than what could be accounted through natural increase. Between 2001 and 2011, India's Muslims grew from 13.4 percent to 14.2 percent - while in Assam, they grew from 30.9 percent to 34.2 percent. In all 14 of Assam's 27 districts have shown higher population growth than the state's average of 17 percent, with Muslims as a majority in nine of them. Just one statistic - voter numbers in Assam - grew by more than 50 percent in less than a decade, from 5,701,805 in 1970 to 8,537,493 in 1979. This triggered the Assam Agitation, against illegal infiltrators."
Note that the 1951 Census is constrained by virtue of the Jawaharlal Nehru-Liaquat Ali Pact of 1951 under which immigrant Muslims who had left Assam for East Pakistan and returned due to the pact were not part of the 1951 Census. Thus, the Muslim population of 1951 was understated.
Is The Current NRC Assam's First?
No. According to Kaushik, the main reason why NRC was prepared in 1951 was that, "The illegal immigration from Bangladesh - previously known as East Bengal or East Pakistan - has afflicted Assam from colonial times. In 1881, Muslims accounted for a mere 9 percent - but increased to 19 percent in 1931 and 23 percent in 1941. The 1951 census estimated the number of migrants from East Bengal at around 1 million to 1.5 million, between one-tenth to one-sixth of the state's population."
Let us now look at district-wise population trends in the Muslim-majority districts.
Table 3 - Percentage Population in Muslim majority districts (Census figures)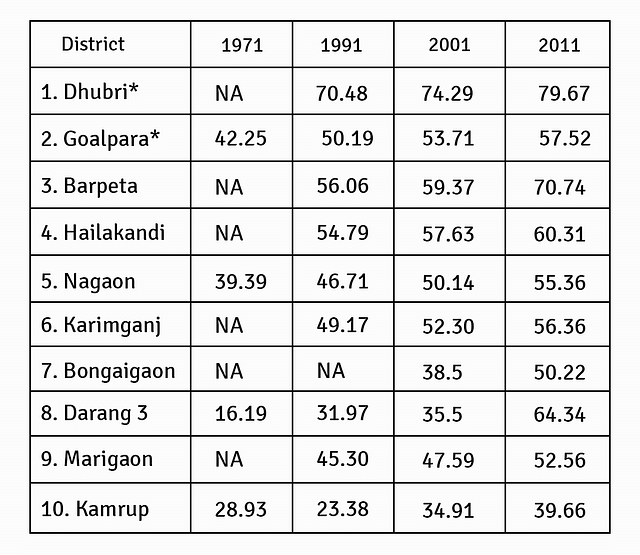 According to the 2011 census, nine of Assam's 27 districts have become Muslim majority.
It would be worth mentioning the role played by former president Fakhruddin Ali Ahmed (Lok Sabha constituency Barpeta) in encouraging infiltration. Long-time Assam Hindu residents will tell you that post-Independence, Ahmed started getting East Pakistani Muslims into Assam in large numbers and building a vote bank.
Veteran journalist Kuldip Nayar's last article 'Immigrants or Vote Banks?' for Lokmat Times, Nagpur, confirmed this. He wrote, "Fakhruddin Ali Ahmed, then a top Congress leader from Assam, once admitted that for the sake of votes, the Muslims from neighbouring East Pakistan, now Bangladesh, were brought into Assam." (Source, Sheila Bhatt tweet. Full article can be read here)
Shekhar Gupta wrote for India Today in 1986, "Broadly the Congress(I) was unable to decide what its constituency was, the traditional Ali-Coolie-Bengali (a term coined by former Congress President DK Barooah for the party's stronghold among the Muslims, tea labourers and Bengali immigrants) or the ethnic Assamese." Needless to say Ali meant Bangladeshi Muslims.
Yet politicians are in denial mode. "On 10 April, 1992, Shri Hiteshwar Saikia, the then Chief Minister of Assam stated that there were three million Bangladeshi illegal migrants in Assam but, two days later, he did a volte face and said there were no illegal immigrants in Assam."
Cause Of The Bodo Bangladeshi Conflict
The Bodo-Muslim problem is mainly due to clash over the land occupied by Bangladeshi Muslim immigrants.
Upadhyay wrote: "Against the backdrop of various reports on the problem of Muslim immigrants and its link with the Bodo agitation, the government at the centre, after a series of talks, created the Bodoland Territorial Council in February 2003 with Bodo Territorial Autonomous District (BTAD) under its jurisdiction."
"The creation of BTAD under the provision of the sixth schedule of the Indian constitution, by carving out areas from eight existing districts, was however strongly resisted by the Muslim settlers in the area who had migrated to this region from erstwhile eastern Bengal as it prohibited the non-tribal to buy land there."
It took an Assamese to empathise with Bodo pain. M P Bezbaruah wrote in The Times of India in 2012: "The Bodos in refugee camps must be feeling aggrieved that the nation does not understand their anguish in being refugees in their own beloved land that has nourished them for hundreds of years. They were one of the earliest settlers in the region. The 'great Bodo people' were spread over the entire Brahmaputra and north Bengal and East Bengal."
Infiltration Into Nagaland
Bangladeshi Muslims have infiltrated into Christian majority Nagaland too.
According to this 2016 Outlook article, the Dimapur area alone is believed to have more than 100,000 illegal migrants. During a 2014 visit, this author got to know of Bangladeshi men marrying Naga girls belonging to the Sema (Sumis) tribe in large numbers. Changed demographics and these marriages contributed to social tensions.
R N Ravi, a former Intelligence Bureau official and now Governor of Nagaland, wrote in Rediff.com in 2014 that the local labour force is streaming out of the region looking for jobs in peninsular India, creating a vacuum that makes it easier for the Bangladeshis to fill in.
He added: "An empirical research conducted in the eight colonies of settlers that emerged in the last two decades at Lahorijan in Karbi Anglong district of Assam, adjoining Dimapur in Nagaland, has revealed some startling facts. Lahorijan is in close proximity to Dimapur town. It is littered with sprawling unauthorised colonies of Muslim settlers. However, at least 26 percent among the settlers were found to be illegal migrants from Bangladesh who arrived after 1990 and continued to stream in, at a higher pace, in the last decade. The assessed population of the eight colonies that were subject to the survey was over one lakh."
What About West Bengal?
Here is a brief history of infiltration in West Bengal. The politician who started it was Congress leader and former Union Minister A B A Ghani Khan Choudhury, who was king of Malda for over three decades till his death in 2006. No one could ever defeat him in any election, and to be fair, he worked wonders for his constituency and was loved by all. The Communist Party of India (Marxist) of CPI-M took the cue from him and continued his strategy in other border areas.
According to this 2011 India Today article, "There is a virtual East Bengal in West Bengal. Immigrants, both Hindus and Muslims, have come from across the border and settled in districts which share borders with Bangladesh and have slowly penetrated into other districts," says historian Amalendu De.
The national growth rate of population during 1951-61 was 21.6 per cent, but in West Bengal it was 32.8 per cent.
"The higher increase in population in the border districts of West Bengal reflects the magnitude of cross-border migration from Bangladesh. Districts such as Malda, Murshidabad, Nadia, North and South 24 Parganas show a population growth rate that is higher than the overall population growth rate of the state," writes Jyoti Parimal Sarkar in her study "Bangladeshi Migration to West Bengal: A Cause for Concern".
While Hindus migrated to escape persecution Muslims did so to improve livelihoods, for reasons explained later.
Table 4 gives the trend of Hindu-Muslim population percentages in West Bengal .
Table 4: West Bengal percentage of population Indian Religions vs Muslims

We can see that the percentage of Muslims in West Bengal has steadily grown from 20.4 per cent in 1971 to 27.01 per cent. Table 5 has community-wise growth rates.
Table 5: Community-wise growth rate in West Bengal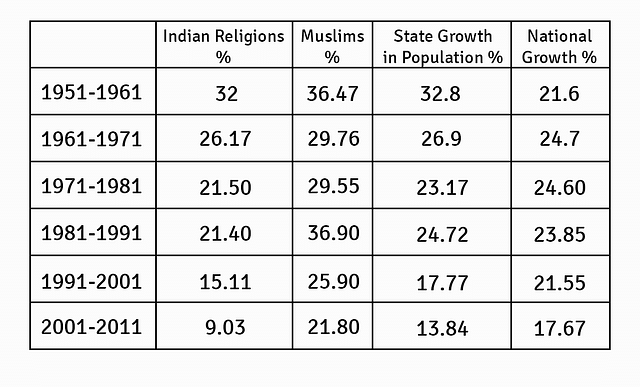 A common thread from the above table is that the percentage increase in the population of Muslims, starting 1951, was higher than the national, state and Indian religions' growth rates. Infiltration is a strong contender for such an increase. The 2001 Census Report states that there are more than 30 lakh immigrants in West Bengal, of which 98 per cent are from Bangladesh.
A comparison of population numbers with voters' list might throw up interesting insights. Example: are Bangladeshis in Gurgaon registered as voters in Haryana or West Bengal?
A long-time Gurgaon resident and Bengali told this author: "I am 90 percent sure they are all registered as voters in West Bengal. When the Aadhaar people came to our condo to collect data for cards, all the people that I saw had West Bengal papers. From what I've seen in 15 years in Gurgaon, it works like this: For the first five years after they've got their papers, they take leave during elections and go home to vote - not much for Lok Sabha, (for) the electorate is too large for the parties to count if all of them have returned to vote or not, but certainly for panchayat and municipal elections, because it is these lower-level politicians who have facilitated their getting papers. After five years, they stop going, because they feel safe and know they can't be thrown out. But it could be that, in the 2021 assembly elections, if Mamata Banerjee feels really threatened, they may be asked to come down and vote."
Let us now review Muslim population in the border districts of West Bengal.
Table 6: Percentage of Muslim population in border districts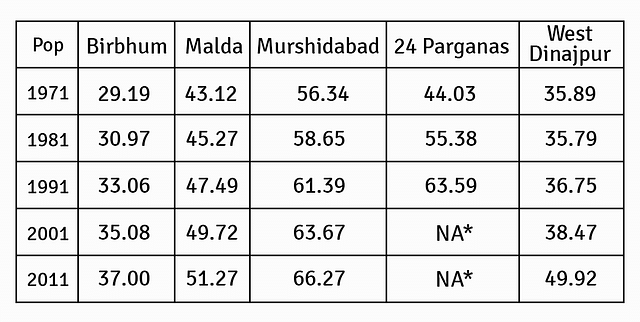 If there were no Bangladeshis in West Bengal, why would the Trinamool Congress engage Bangladeshi actor Ferdous to campaign for its Lok Sabha candidate from Raiganj in North Dinajpur district in April 2019?
With such a large percentage of Muslims in border towns it might be difficult to ascertain whether one is in West Bengal or Bangladesh. This facilitates cow smuggling, which according to a 2012 report in The Daily Star (Dhaka) is worth $500 million per annum. Those who oppose could be killed. For example, a BSF man near the border, according to this September 2017 Times of India report datelined Barasat and another BSF jawan in 2011, according to this report in The Telegraph.
Was Not The Problem Arising From Infiltration Highlighted Earlier?
It has been highlighted for decades but vote bank politics and secularism overruled national interest.
Upadhyay wrote: "BK Nehru, the Governor of Assam between 1968 and 1973, condemned the infiltration as vote bank politics by the Congress" (Pioneer, 15 September, 2005)."
As mentioned before, former governor of Assam, Lt Gen S K Sinha, sent a report on illegal migration into Assam to the President of India in 1998.
Writing in the Indian Express, Arun Shourie said: "As early as in 1996, the present Governor of Uttar Pradesh, TV Rajeswar, had forecast the rise of a ''third Islamic State'' in the sub-continent. Bangladeshi Muslim immigrants into parts of Assam and North Bengal, he wrote, pose a grave danger to national as well as regional security."
In 2005, Mamata Banerjee had said in the Lok Sabha that, "infiltration into Bengal has become a disaster" and "Bangladeshi nationals were on the voting list."
Does Infiltration Impact Law And Order And Indian Culture In Any Way?
Yes. Appointed in 2017, a committee headed by former Chief Election Commissioner H S Brahma said: "The identity of as many as 18 Xatras in Assam - a Vaishnavite monastery, which are cultural hubs in Assam - is under threat, following large-scale encroachment by illegal Bangladeshi migrants."
Kaushik also wrote: "Take, for instance, Hatigaon area in Guwahati. Surrounded by Bangla-speaking immigrants, Hatigaon records the highest number of thefts and robbery in the city. Often, the perpetrators are traced to Chars - sandbars of the Brahmaputra river - in lower Assam, which are largely the settlements of immigrants from Bangladesh. This doesn't, however, mean that all Chars are a hub of criminals."
They have contributed to crime in West Bengal. Bangladeshis were convicted in the 2014 Burdwan blasts case. In 2015, a 71-year-old nun was raped in West Bengal. A local court held a Bangladeshi citizen guilty of raping her.
Vicky Nanjappa wrote in Rediff.com in 2012, "T Nasir, an accused in the serial blasts in Bengaluru, had told his interrogators that he had managed to cross the Indo-Bangladesh border with much ease." An officer in Kochi told rediff.com that the influx into Kerala is rising steadily. "We have carried out many arrests in the past couple of years. They come down from north-eastern states and from northern India through Karnataka and make their way into Kerala. In Kerala, it has however been found that these persons do not come in search of jobs, but for illegal activities. During investigation, some were found to be in possession of fake currency while others had drugs on them. We strongly suspect that terrorists are using these persons to undertake ground work and also to help pass on funds for such operations."
"The problem has been biggest in Thrissur and Ernakulam districts, where these persons enter and take up jobs in small scale industries," he says. Is this problem because the percentage of Hindus in Thrissur is 58.42 per cent (Muslims 17.42 per cent) and in Ernakulam 49.99 per cent (Muslims 15.67 per cent) as per the 2011 census.
So How Do Bangladeshis Enter India?
Many ways, here are some.
Indrani Ray wrote in Rediff.com in 2014, "Taki in West Bengal's North 24 Parganas district is the last Indian outpost on the border with Bangladesh. It is one of the hotspots for Bangladeshi infiltration into India. It is alleged that in 2011, more than 100,000 Bangladeshis had sneaked into India on Dashami (the last day of Durga Puja) amid the milieu of bisarjan (immersion) on the India, Bangladesh banks of the Icchamati."
According to this 2014 India Today report, a tout is quoted as saying: "Earlier, immigrants had to pay Rs 1,000 to Rs 2,000 per person for each document in West Bengal. We now charge anywhere between Rs 5,000 to Rs 10,000 per document per person."
According to this Assam Tribune report, "touts exist on both sides of the Meghalaya border. For a fee of Rs 1,000-1,500 per person, touts help Bangladeshis cross over at a vulnerable portion of the border."
Many times Bangladeshis enter India on valid documents and stay back. According to this 2012 Assam Tribune report, 80,000 Bangladeshis went missing in three years.
Just one example of how easy it is to cross over from Bangladesh into Assam. The town of Karimganj is separated from the rest of Sylhet in Bangladesh by the river Kushiyara, which at this point is about 100-150 metres wide at the maximum. In fact, one road next to the river is one of the poshest areas of the town. At night, anyone can just take a boat from Bangladesh and come over. And the dialect (Sylheti) is the same on both sides of the river (except for very minor variations, which can be easily taken care of. Example: Hindus say "jal" for water, and Muslims say "paani"). So you just merge into the population.
Is It Possible To Show That Population Growth In Bangladesh Proves Infiltration Into India?
At the outset I had stated that leading intellectuals in Bangladesh have made a case for 'lebensraum' (living space), and so the export of population is a distinct possibility.
This 2011 India Today article states, "A United Nations review says that Bangladesh should have had a population of 118 million in 1991, but the National Census reported only 108 million citizens. According to Bangladesh's Census Report, the country had a population growth of over 2.4 per cent. It saw a decrease of more than six million voters within four years in the 1995 electoral rolls. These missing voters and the increased number of voters during this period, plus a disfranchised 20 lakh voters have infiltrated into India, says Dr Buddhadeb Ghosh, programme coordinator, Indian Statistical Institute, Kolkata."
How Does Infiltration Help?
Bangladeshis change demographics, are a dedicated vote bank and provide relatively cheap labour.
Considering that Bangladeshis are found virtually all over India it would reasonable to assume that their entry and place of settlement is taking place in an organised manner just as the Rohingyas reached Jammu, Mewat, Hyderabad and New Delhi from the West Bengal border.
Sunanda K Datta-Ray shared insights in the Business Standard in 2015: "My sister, a qualified gynaecologist, who used to head the Red Cross in Hyderabad, told me several decades ago of Muslim women in bustees and villages rejecting her family planning campaign with the blunt retort that she should address only the more numerous Hindu community until the two groups had reached numerical parity. Perhaps illegal immigration from Bangladesh helps!"
Some argue that if Nepalis are allowed why not Bangladeshis? The 1950 India-Nepal Friendship Treaty allows Nepalis to work and stay in India. India has no such treaty with Bangladesh.
But why do Muslims wish to increase their population in India this way?
The answer lies in what former foreign secretary J N Dixit wrote in Anatomy of a Flawed Inheritance, "The partition of the sub-continent, in a manner, has its roots in Islamic ethos. It goes back to the Prophet's journey from Mecca to Madina in 622 AD in the face of persecution and harassment, known as Hezira. The concept of Hezira is generally acknowledged as a norm, to the effect that Muslims do not live in tyranny or oppression from peoples of other faiths. They must remake their lives in order to practice their faith. Where Islam is not dominant, it is Dar-ul-Harb. It is necessary to move to Dar-ul-Islam. This was the sub-conscious logic underpinning the demand for Pakistan by Chaudhury Rahmat Ali of Cambridge, later on endorsed by Allama Iqbal and concretised by Jinnah."
It is because Dr B R Ambedkar understood this that he said that the only way to make Hindustan a composite state is to arrange for an exchange of population.
Therefore, is the intent to make Assam and West Bengal Dar-ul-Islam or are the high fertility rates of Muslims due to high illiteracy rates, as claimed by former Assam chief minister Tarun Gogoi in 2012?
Note that in Buddhist majority countries such as Sri Lanka, Myanmar and Thailand, Muslims are in conflict with the Buddhists.
India Is A Secular Country, So What If Population Of Muslims Increases?
Let us look at Afghanistan, Khyber Pakhtunkhwa (Pakistan's North West Frontier Province), Pakistan, Bangladesh, Kashmir Valley and West Bengal, where Muslims dominate today.
Raghavendra Singh wrote in India's Lost Frontier, "In the 7th century, the kingdoms of Kabul and Zabul were politically and culturally part of India, being Indian in language, literature and religion. It was not until 870 AD that both Kabul and Zabul were conquered by Yakub-ibn-Layth, founder of the Saffarid dynasty who ultimately became the ruler of Persia. Kabul may have regained independence to form part of the Hindu Shahaiya kingdom. The two kingdoms carried out a heroic resistance against the Arab for more than two hundred years before they ceased to belong to India either politically or culturally."
The region became Muslim majority. See the condition of Afghanistan today.
Another example is the North West Frontier Province period before 1947. Since Muslims were in a majority, Hindus were expelled, or there was a voluntary exodus from the tribal territory without parallel.
Dr Ambedkar wrote in Thoughts on Pakistan about Hindus of Khyber Pakhtunkwa. In Kohat, Khyber Pakhtunkwa, Hindus had to evacuate the city during the riots of 1924 (Pg 160). In 1927, the Afridis and Shinwaris were called upon to expel all the Hindus living in the neighbourhood of the Khyber Pass (Pg 166). The Muslim League used Islam to arouse fears in the tribal people such that the referendum in North West Frontier Province in 1947 went in their favour.
Post-Afghanistan, another part of India became Muslim majority Pakistan. Be it 9/11/ or 26/11, it is the source. It "provides home to 130 UN-designated terrorists and 25 terror entities listed by the United Nations."
Trinamool Congress Member of Parliament Derek O'Brien's story tells you the state of non-Muslims in Pakistan. He visited his cousins in Karachi in 1984 only to find they had converted to Islam because the pressure of being a non-Muslim in Pakistan was too much. (Source: India Today). This 2019 New York Times article speaks about the hard times Pakistani Hindus face.
Let us now move to the Muslim majority Bangladesh. The population of followers of Indian religions has continuously fallen and symbolises their plight. It was 23 per cent in 1951, 14 per cent in 1974, 11 per cent in 1991, 10 per cent in 2001 and 9.3 per cent in 2011. Due to continued discrimination and harassment, very large numbers of Bengali Hindus and Buddhist Chakmas have fled to India.
Atrocities against Hindus and attacks on temples in Bangladesh are common. This, for example, is a 2016 New York Times report. In smaller cities and towns (not so much in Dhaka), harassment is a part of daily life. Married Hindu women take care not to wear sindoor in their hair or wear the mangalsutra or shakha (a bracelet that is the Bengali symbol of marriage) in public.
Hindus and Buddhists in India's Muslim majority state of Jammu and Kashmir are victims of discrimination and violence that does not need elaboration.
Last month, an India Today report said in its headline: "300 Hindu families unable to perform Durga puja in Bengal's Kanglapahari village after opposition by 25 Muslim families."
The conclusion points in one direction: When Muslims become dominant in an area or region, it becomes difficult for non-Muslims to live normal lives. This is not about all Muslims, but we cannot ignore the larger realities.
Maharshi Aurobindo said in 1940, "The Mahomedans, they want to rule India". Strategic affairs expert Brahma Chellaney wrote in Hindustan Times, "Pakistan will not stop nurturing terrorists as a force multiplier in its low-intensity asymmetric war, whose ultimate goal supposedly is Ghazwa-e-Hind, or the holy conquest of India."
Another aspect that has got missed is that north-eastern India is central to India's security. These states share borders with Myanmar, China, Bhutan and Bangladesh and are India's gateway to south-east Asia. The region is fertile and rich in natural resources like oil. It is an amazing combination of culture, language and dress and an example of 'unity in diversity'. Changed demographics, because of immigration from Bangladesh, will affect India adversely.
Why Must India Prevent Illegal Infiltration Of Muslims?
India is the only home of Indic religions and faith systems comprising Hindu, Buddhist, Jain and Sikh traditions. These traditions survive because India continues to be dominated by them in most areas. An increase in Muslim populations due to infiltration will change this because of the inherent nature of Islam, as outlined by Dixit above.
Maharishi Aurobindo said 1909, "When it is said that India shall be great, it is the Sanatan Dharma that shall be great."
India was divided on the basis of religion in 1947. Muslims who chose to stay in Pakistan (East and West) cannot return to India just because it offers better opportunities than the home country their forefathers chose to live in.
Bangladeshi infiltration is a national problem that successive governments have contributed to and allowed to accumulate for decades. It has numerous dimensions and requires an integrated approach that can only be taken by a democratically-elected government. Courts should not add to its complexity by getting involved. They have done so by allowing Rohingyas to stay in India. An NRC in any one state is of little consequence because Bangladeshis are present virtually all across India.
In its obsession with Pakistan and the need to secure support from a Muslim majority nation in this fight, India has ignored the dangers from non-stop illegal immigration from Bangladesh.
Get Swarajya in your inbox everyday. Subscribe here.
An Appeal...
Dear Reader,
As you are no doubt aware, Swarajya is a media product that is directly dependent on support from its readers in the form of subscriptions. We do not have the muscle and backing of a large media conglomerate nor are we playing for the large advertisement sweep-stake.
Our business model is you and your subscription. And in challenging times like these, we need your support now more than ever.
We deliver over 10 - 15 high quality articles with expert insights and views. From 7AM in the morning to 10PM late night we operate to ensure you, the reader, get to see what is just right.
Becoming a Patron or a subscriber for as little as Rs 1200/year is the best way you can support our efforts.
Become A Patron
Become A Subscriber