Electricity was one of the most sensitive issues in run-up to the 2017 assembly elections in Uttar Pradesh. The state's electricity distribution companies (DISCOMs) were persistently performing poorly, registering large annual losses. Amid the rhetoric flowing in from all sides, one thing that was clear was the need for major reforms in the power sector.

Over the last one year, the Yogi Adityanath government's push for major tariff hikes and reductions in power theft has drawn appreciation. However, the consensus is that the state government has miles to go before it can turn around the loss-making DISCOMs and deliver on its promise of uninterrupted power supply.
As the government completes its first year in office, Swarajya brings to you an exclusive interview with Power Minister Shrikant Sharma in which he talks about his achievements, the challenges he faced when he took office and the issues he plans to address in the next few years.
Excerpts:

When you assumed office in March 2017, what was the power situation of Uttar Pradesh like? What were your biggest challenges?
The Bharatiya Janata Party (BJP) came to power in Uttar Pradesh after 15 years. When I assumed office, the power department was in ICU (Intensive Care Unit), moribund. In the last one year, our government has tried to bring the department back on track. There was no roster in the department. Or if there was one, it was only on paper. We have prepared an action plan to provide 24-hour power to district headquarters, 20 hours to tehsils and 18 hours to all villages in the state.

The previous state government had not signed the 'Power For All' agreement with the Central government. It should have been signed back in 2014. After I took office, the state government signed the agreement with the Centre on Babasaheb Bhimrao Ambedkar's birth anniversary (14 April 2017).

Prevalence of corruption was another important challenge that we faced after coming to power. Consumers were being harassed. We brought in a transparent system to rid the power department of corruption. To make the system more consumer-friendly, we have introduced a toll-free helpline number (1912) and have been able to resolve over five lakh complaints through this arrangement alone. The government also brought in a scheme to recover dues from consumers, both urban and rural, by providing them with the option of easy instalments. All measures are being taken in line with the motto upbhogta devo bhava (consumer is equivalent to god).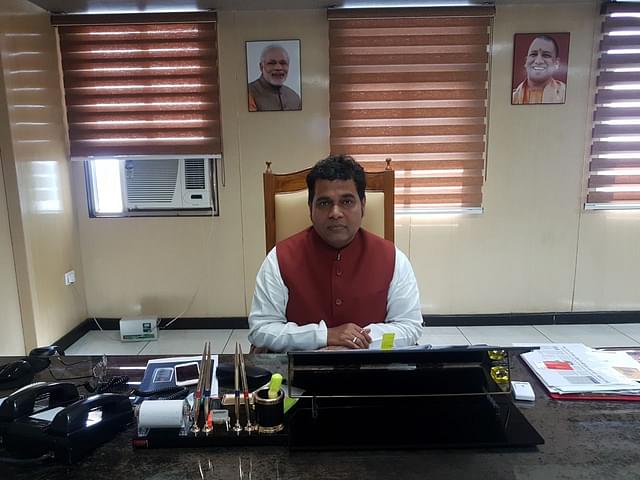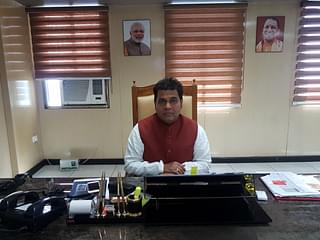 Sharma in his office in Lucknow's Shakti Bhawan.
You've said that the government is working to provide 24-hour power to district headquarters, 20 hours to tehsils and 18 hours to all villages in the state. What progress has the government made on this front in the last one year?

We have been successful in implementing our action plan of providing 24-hour power to district headquarters, 20 hours to tehsils and Bundelkhand, and 18 hours to all villages. There were some problems in few parts of the state because of the poor shape of the distribution network, but we have been able to bring change in time. Demand for power has gone up to 180,61 mega watt (MW) in 2017-18 from 15,500 MW in 2016-17. We have the generation capacity of 10,500 MW in the state. To meet the growing demand, we are taking power from the central pool. Power import has been increased from 8,100 MW to 10,500 MW. We are also working to make sure that the roster is implemented successfully in the coming summer months.
As you have also noted, the consumption of electricity in the state has grown. By some accounts, Uttar Pradesh is seeing the fastest growth in consumption. However, the existing infrastructure is not sufficient to deal with this growth. What are steps taken by the government to improve the transmission and distribution infrastructure?
We have set up 36 new substations, including one of 765 kilovolt (kV), seven of 400 kV, eight of 220 kV and 20 of 132 kV. A large number of 33/11 kV substations have also been built or upgraded. We have changed around 250,000 damaged transformers in the state, installed 14,365 new ones and increased the capacity of 10,631. For tubewell connections, we are building 349 new feeders with separate lines. The government has increased grid capacity from 18,500 MW to 21,000 MW. To reduce the load on 11 kV feeders, we have laid new 11 kV lines of length totalling around 10,000 kilometres so far. The government is constantly trying to do better.
Uttar Pradesh is the country's most power deficit state after Jammu and Kashmir. The peak shortage was reported to be around 11 per cent between April 2017 and January 2018. What steps have been taken to increase the state's power generation capacity?

As you can see, I have charts in my office showing our capacity and demand over the next few years. We have sufficient resources to meet the demand of 19,956 MW in 2018, 21,352 MW in 2019, 22,012 MW in 2020, 23,332 MW in 2021 and 24,652 MW in 2024. We currently have the generation capacity of 10,500 MW in the state and can take power from the central poll. This time, we have bought power at a low rate of Rs 3.80 per unit.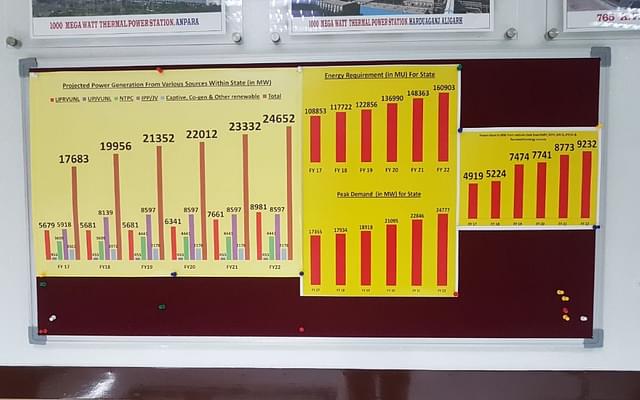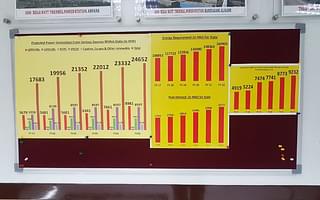 A chart in Sharma's office showing projected power generation from sources within the state between FY17 and FY22.
Uttar Pradesh's DISCOMs have been persistently performing poorly, registering large annual losses. What reforms has the government implemented or is looking at to improve their performance?
We have a scheme called UDAY (Ujwal DISCOM Assurance Yojana), under which we are working to overcome losses in DISCOMs. We are moving towards a system of 100 per cent metering. For this, the government has signed a contract with Energy Efficiency Services Limited for one crore prepaid meters and around 440,000 smart meters. Efforts are also being made to stop power theft and make sure that consumers pay bills on time. We are also conducting an extensive energy audit on all the feeders in the state and are concentrating on reducing line losses.
The government, you said, is working to prevent power theft. However, by some accounts, there are over 60 lakh illegal connections in the state. Power theft is one of the biggest contributors to losses that the DISCOMs are reeling under. How has the government responded to this?
To prevent power theft, we have increased the number of vigilance teams in the state from 38 to 88. There is at least one team in every district now. Some large districts have up to two or three vigilance teams. Police stations are being set up throughout the state to focus on this issue. The government has decided that everyone who informs the authorities about power theft on connections above 5 kV would be rewarded a part of the 10 per cent compounding fee and their identity will not be disclosed. Provisions have also been made for rewarding vigilance teams which act against power theft.
Under the previous government, the net loss of Uttar Pradesh's DISCOMs rose despite the state's participation in UDAY. What steps has this government taken to reverse the trend?
Under UDAY, the state has to bring down losses below 15 per cent by March 2019. We are currently buying power at Rs 6.74 per unit. We provide the first 100 units to consumers in villages and cities at around Rs 3 per unit and for agriculture at around Rs 1.15. Revenue generation from these sources is low. A large campaign is being run to recover dues and get consumers to pay bills.
We have installed prepaid meters in government departments in 16 districts to make sure that their dues do not rise any further. These departments have dues totalling Rs 10,000 crore. The government is trying to put in place a system to recover all dues by March 2019 through instalments.

What progress has the government initiated on household electrification under Prime Minister Modi's Sahaj Bijli Har Ghar Yojana (Saubhagya)? Has your ministry set a target for itself?
Around 16,271 Saubhagya camps have been organised in the state. Around 713,436 connections have been distributed until 5 March 2018. Out of this, at least 291,839 connections have been given to BPL (below poverty line) families. We have set the target of distributing 1.6 crore connections by December 2018.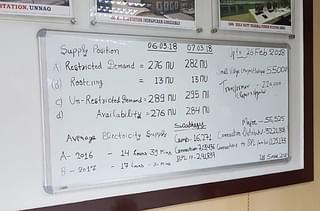 A white board in Sharma's office carrying details of progress made under Saubhagya and information related to supply position.
In June 2017, the government cancelled power purchase agreements (PPAs) with seven power projects with a cumulative capacity of 7,040 MW. Don't you think that the decision to not honour agreements will adversely affect new investment in the sector?

Giving consumers cheap electricity is the government's priority. We are signing agreements with firms providing power at a reasonable price. In the future, we will follow the bidding model to sign agreements. In the past, only PPAs were signed and infrastructure was not developed.
Other BJP-ruled states, like Rajasthan and Maharashtra, have roped in private players to operate and maintain their distribution networks and provide other facilities? Is your government looking at that model?
In the past, a lot of irregularities had been found in the delivery of services such as billing. We are bringing in companies based on their track record for efficient billing and other services. Giving our consumers the best services is our priority.
The Narendra Modi government has been pushing for the adoption of renewable sources of energy. What is the state government doing on this front?
The government is committed to working on this. It is sad that sufficient work has not been done in this sector in the past. A number of agreements were signed at the recently held Investors Summit. An agreement has also been signed with Rajasthan. We have set the target of producing 10,500 MW solar energy by 2022. Solar Parks will be set up in Bundelkhand and other parts of the state. We have joined the Prime Minister Narendra Modi's initiative.

Moving to politics, what do you make of the BJP's sweep in the North-East. Will this have any bearing on results in Rajasthan and Madhya Pradesh?

The entire nation today is standing with Prime Minister Narendra Modi, whether a small election or a large one. The people feel that they have a government which is working to safeguard their interests. The BJP's victory in Tripura is historic. It is an ideological victory for the party. The communists, who had for long believed in violence and killings, have been rejected by the people of the state. The BJP's call for development has led the party to victory in the North-East. This is what will take us to victory in Rajasthan, Madhya Pradesh and Chhattisgarh.