Prathama: President Droupadi Murmu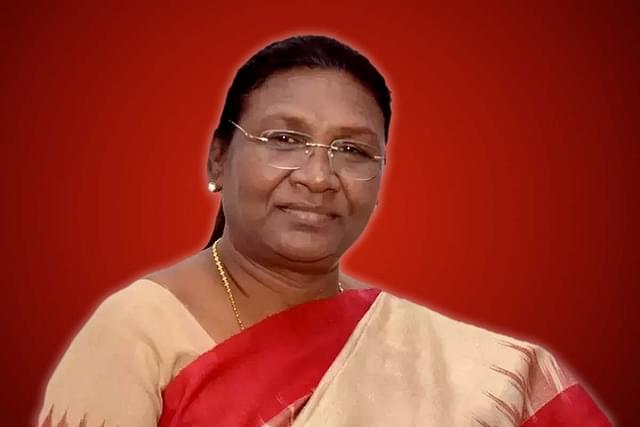 President Droupadi Murmu.
Snapshot
Here are some facets from President Droupadi Murmu's early life that you may not have heard of before.
President Droupadi Murmu is the 'Prathama', the one who is destined to be the first. The first tribal woman to hold the country's highest office, Murmu's elevation is the celebration of our democracy in more than one way; but beyond that, it is the journey of her perseverance against all odds, starting from Odisha and ending at Raisina Hill that warrants an elaborate mention.
Murmu's journey is a tale of firsts. She happens to be the first woman to step out of her tribal village of Uperbeda, Kusuma Block, in the tribal-dominated Mayurbhanj district of Odisha, for her education at a high school and later at Ramadevi Women's University in Bhubaneshwar.
Even though several prominent figures, like Girish Murmu, Biseswar Tudu, and Sudam Marandi, to name a few, emerged from the tribal-dominated Mayurbhanj district, she happens to be the only woman from her community to leave a mark in Odisha's political sphere. She is also the first woman Governor of Jharkhand and the first female tribal leader to serve as a governor in any Indian state.
Murmu was born to Biranchi Narayan Tudu and Singo Tudu on 20 April, 1958. Her father was the 'sardar' of Uperbeda village, and the title was bestowed upon him by the then King of the Kingdom of Mayurbhanj, Pratap Chandra Bhanjadeo. He used to work as a 'tax collector' for the king, which used to fetch some commission; besides, they had some ancestral land to be tilled by the family.
Even so, the young Droupadi Murmu grew up with limited resources as her father didn't have enough money to buy new books for school, due to which she got battered hand-me-downs which used to have torn pages from being used by multiple students.
In her several interviews across the years, Murmu elaborated on her childhood. As a child, she used to paste the torn pages together with glue made from cooked flour and water. She did not have the option to study at night as their village didn't have electricity and the rationed kerosene supply made her family ask her to confine her studies during the day to avoid excessive usage of resources.
The Mayurbhanj region is a tribal-dominated area. In the 1960s, few from the tribal community were pursuing education or life outside their tribal villages, which had existed for centuries. Even if there was some opportunity, luxuries associated with modern life were absent, and simple village life was the norm.
Thus, even if she did not have something as basic as shoes to wear as a child, she was happy and content running around barefoot with all the other kids of her age.
The Santhali community has the tradition of naming a girl child after her grandmother and a boy child after his grandfather to ensure that the ancient Adivasi names wouldn't be lost with time. Murmu's original name was a traditional Santhali name after her grandmother. But when she went to study at the village school, the teachers who hailed from other non-tribal regions found her name unpronounceable and changed it to a more traditional name, Droupadi.
Surrounded by lush greenery and imposing hills, the soothing tranquillity of her home town couldn't douse out the fire which was simmering within her to prove her mettle and make something of her life. Her academic excellence in the Class VII annual examination was the rope which pulled her out of a life away from abject poverty and dismal lack of modern resources in her village.
In an interview, she narrated how her paternal grandmother, whom she used to call 'nani', who hailed from the town of Chakradharpur in present-day Jharkhand, and could speak both Hindi and English at a time when people from her community didn't know anything about the modern world, encouraged her to pursue higher education at the 'rajadhani' Bhubaneshwar.
Her school teacher Basudev Behera suggested Kuntala Kumari Sabat government women's hostel for tribal girls at Bhubaneshwar, where she could live safely and study further.
Help came in the form of Kartik Majhi, a minister in the cabinet of then chief minister Rajendra Narayan Singh Deo. Majhi belonged to Mayurbhanj and was a distant relative of Murmu's father.
Murmu met him with her father, showed him her certificates, and expressed her desire to study at Bhubaneshwar. Murmu needed the caste certificate to help her receive a stipend for the rest of her educational expenses. Majhi helped them get the certificates and hosted the father-daughter duo at his government quarters at Bhubaneshwar until she secured a place at the hostel.
Around the final years of her graduation, the state government introduced special recruitment, especially for people from tribal communities. Thus, Murmu appeared for an entrance test for the job of junior assistant at the state secretariat and joined the state irrigation department, where she worked from 1979-83. She used to get Rs 255 as salary from which she used to send the major portion to her father as she knew how hard her father worked to provide for his family.
After getting married to a bank officer, Shyamcharan Murmu, she had to leave her job because her in-laws wanted their daughter-in-law to be home and take care of her children, as she confessed in an interview.
Murmu has had a tragic personal life, and the first blow of a series of untimely losses of loved ones came when her older daughter succumbed to fever when she was three years old. She was blessed with two sons, Lakshman and Sipun, and a daughter Itishree in the following years.
Murmu wanted to pursue her dream of creating a better world evoked by her 'nani' since she was a child.
To fulfil her resolve to use education as a tool to bring change to women, she joined the Shree Aurobindo Integral Education Centre at Rairangpur in 1994 as an honorary teacher.
She served selflessly without taking any salary and became quite popular amongst the children and was praised by the guardians for being an excellent teacher. They were happy that due to her superior teaching skills, they didn't have to send their kids for separate tuition classes as they had to for other subjects. Her sincerity was appreciated by the school staff as well as the parents.
She started partaking in social work while teaching at the school and became popular amongst the people in her locality as the women from her community started getting inspired by her life and realised that they would be able to lead successful lives as led by their Murmu didi.
Majhi, who had helped her previously, noticed her dedication and selfless services. Close associates of Majhi kept encouraging her to join politics. Where Murmu hailed from, politics was not considered a good profession for women as it entailed several responsibilities like travelling to distant places alone, meeting and engaging with strangers, and so forth.
When her husband was transferred to Baidaposhi in Rairangpur, the family shifted there. Baidaposhi comes under ward number two of Raigangpur Notified Area Council (NAC).
In the 1997 NAC elections, this ward number two was reserved for tribal women. As the Bharatiya Janta Party (BJP) wanted a highly educated tribal lady for the job, the then chairman, Raj Kishor Das pitched her name for being the vice chairman. She agreed to the job when she felt assured that she would receive help and guidance in this new responsibility. She was responsible for the sanitation department and was to take care of the 15 wards in this new assignment.
Murmu got to know the people from these wards and worked in the areas where no work was done for years. She was to visit the wards and needed to travel extensively. Her husband, true to his word, would remain a rock behind her and bought her a Maruti 800 car in which she was able to visit all the places.
She ensured the implementation of systematic garbage disposal systems and cleaning of the drains. In her own words, she was after the 'Swachh Bharat Mission' long before Prime Minister Narendra Modi started the campaign. Her dedication and sincerity made her popular amongst the residents, especially women. They encouraged her to run for the MLA elections.
Even when her term was five years from 1997, she was given the party ticket in the 2000 general elections for her excellent work. She was given the portfolio of minister for transport and commerce from 2000-02 and then of the minister for fisheries and animal husbandry from 2002-04, in the the Orissa Cabinet.
In an interview, she recalled that when she first joined as the minister for transport and commerce, she knew little about running the ministry, but she kept debunking the prejudices and myths people usually attach to her for being a tribal woman from a small village. With her spirit to learn and adapt to the alien world of the political maze, she tried to quickly bring her plans into action.
Focussing on the revenue generation and reduction of corruption as the minister, she learnt that the ministry for transport was supposed to generate huge revenue for the state government but was mired with corruption and indiscipline.
Murmu called the officers of her department and chalked out a plan with them to increase revenue and reduce tax evasion in various RTO offices.
There were 18 RTO offices and 23 check gates throughout Odisha from where the various levels of officers collected tax. She kept a constant vigil on the progress of her plans with an assessment every three months and introduced the system of quarterly review meetings where the officers had to provide reports of their work.
When the ship was helmed by the strict 'didi', it brought about desirable changes and the increase in tax collection was appreciated by then Chief Minister Naveen Patnaik, their alliance partner, and her parent party BJP.
In 2004 she was re-elected as the MLA of BJP from the Rairangpur constituency. She served as the district president of BJP in Mayurbhanj and state lresident of BJP Scheduled Tribe Morcha from 2006-09. As MLA, she used to participate in all the debates and discussions at the state assembly.
She received the questions regarding her constituency 14 days before the sessions and thoroughly researched and wrote the drafts for the following sessions without help. The jury members in Odisha Legislative Assembly were from various parties like Congress, BJP and BJD, and they together selected Murmu for the Nilkantha Das award for best MLA in 2007. With this, she became the first tribal woman to receive the award.
While being a member of the legislative assembly, Murmu concentrated on getting official recognition for her mother tongue Santhali. Murmu presented a book named 'Santhal, the base of World Languages by Parimala Candra Mitra in 1988 to the then prime minister Atal Bihari Vajpayee.
Vajpayee could relate to Murmu's proposal personally because he shared a similar loving emotion towards his mother tongue Hindi and became the first politician to have given a speech at UN General Assembly in the Hindi language in 1977. He was surprised that O l Chiki, or the Santhali alphabet, did not have any vowel signs.
He agreed readily to the official recognition, and on 22 December 2003, the language was placed in the 8th Schedule of the Indian Constitution and became an official language of India. In celebrations, Chief Minister Naveen Patnaik appreciated the efforts of Murmu in the Odisha Assembly and thanked her for making a long-standing demand of the Santhali community a reality.
After a series of staggering personal losses in the early 2010s, Murmu went on to become the governor of Jharkhand.
She became the first tribal lady to become the governor of Jharkhand. As a governor, Murmu kept defying the unwritten rules followed by her predecessors and didn't confine herself to the luxuries which the post of governor entailed. Rather, she started travelling extensively to all 24 districts of Jharkhand and learned about the people and their problems.
She started her quarterly meeting and assessment culture in Jharkhand, which she had tried and tested formerly while serving as the minister of transport and commerce in the Odisha government.
She started having regular meetings with the vice-chancellors of the various universities, as was expected of her as the chancellor. She held meetings with the chief secretary, finance secretary, and joint secretaries and discussed the desired changes in the respective fields.
In 2016, the ruling BJP government in Jharkhand brought amendments to the Chhotanagpur Tenancy Act (CNT) and Santhal Pargana Tenancy Act (SPT), originally passed in 1908 to protect the land rights of the tribal population in Jharkhand. The Raghubar Das-led BJP government aimed to provide rights to the tribal people to make commercial use of their lands while ensuring that land ownership does not change.
When the amendments were sent to Murmu, she asked the government to clarify how the amendments would benefit the tribals, and returned the amendments.
The nineteenth-century tribal poet Bhima Bhoi, while observing the immense web of tragedies in which people remain entangled, had written 'Praninka aarata dukha apramita, dekhu dekhu k ba sahu, mo jibana pachhe narke padithau, jagata uddhara hau' which means the poet is hoping for redemption of the universe in exchange for his happiness.
Murmu might be able to relate to the emotions which shine through in these lines. Her critics might think that she wouldn't live up to the expectations of her fellow citizens, but the way she has lived her life so far only serves as a testament to a woman's perseverance and her journey where she has taken every step against the raging storms.
She has done what no one had expected, not even her, and has created history. Droupadi Didi has become Madam President, from Odisha, for India.
Get Swarajya in your inbox everyday. Subscribe here.
An Appeal...
Dear Reader,
As you are no doubt aware, Swarajya is a media product that is directly dependent on support from its readers in the form of subscriptions. We do not have the muscle and backing of a large media conglomerate nor are we playing for the large advertisement sweep-stake.
Our business model is you and your subscription. And in challenging times like these, we need your support now more than ever.
We deliver over 10 - 15 high quality articles with expert insights and views. From 7AM in the morning to 10PM late night we operate to ensure you, the reader, get to see what is just right.
Becoming a Patron or a subscriber for as little as Rs 1200/year is the best way you can support our efforts.
Become A Patron
Become A Subscriber