Investigative agencies have evidence of links between Trinamool Congress politicians and the massive Saradha chit fund scam. Now it seems that Chief Minister Mamata Banerjee might also have been involved.
He began from scratch and made his riches almost as fast as Robert Vadra, within a span of just four years. In this period, Saradha group head Sudipta Sen saw investments in his companies rise by a mindboggling 6,000%, according to the Serious Fraud Investigation Office (SFIO).
The Saradha chit fund scam could be worth tens of thousands of crores.
This Ponzi scheme could not have survived for so long without political patronage. The duration of Saradha's ascendance coincided with the political change West Bengal was witnessing, with the 34-year-old Left Front government about to give way to the Trinamool Congress (TMC). The SFIO has gathered statistics that show Saradha's rise in investment is directly proportional to the rise of the TMC in state politics. Till the Ponzi scandal was exposed, the upward rise was unhindered.
Central agencies have identified at least 92 Saradha firms floated between January 13 and January 24, 2011, with a minimum start-up capital of Rs 63,000. Interestingly, all these firms went into the red in 2012.
TMC and Saradha Rose Together
The SFIO, which was under the Union Ministry of Corporate Affairs, recently submitted its 550-page report to the ministry. The report shows Saradha making windfall gains beginning 2009-10; the profits soared exponentially in the next two years. Remember, the CPI(M)-led Left Front had received its first electoral setback in a drubbing in the panchayat elections of 2008.
In the 2009 Lok Sabha elections, the Left lost 26 of the 42 seats in the state. On 22 May 2009, Mamata Banerjee was made the Union Railways Minister. TMC finally overpowered the Left Front in the 2011 Assembly elections. And in 2012, Sen borrowed about Rs 734 crore from the market when the TMC government was a year old.
When Banerjee assumed office as Chief Minister, officialdom was roped in to add credibility to Saradha's investment propositions. The SFIO report says that, by offering jobs to retired police officers like the state's former Director General (Armed Police) Rajat Majumdar and highlighting its association with state Transport Minister Madan Mitra and Kolkata Police Commissioner Surajit Kar Purkayastha, Saradha tried to showcase its schemes as trustworthy investment opportunities. Lakhs of clueless investors, impressed by the big names, handed over their hard-earned money to Sudipta Sen.
Majumdar's name cropped up after suspended TMC Rajya Sabha MP Kunal Ghosh, now behind bars for alleged involvement in the scam, accused the former Indian Police Service officer of swindling crores of rupees when organising a cultural programme in Las Vegas in 2012. Majumdar, who worked as a security advisor to the Saradha group, had joined TMC and served as the party's poll observer for Birbhum district in the 2013 panchayat election.
Journalist-turned-TMC MP Ghosh, who is currently hospitalised after allegedly attempting suicide on 14 November in jail, demanded the next day, "Those who are roaming scot-free and still not apprehended in the Saradha case, should be arrested."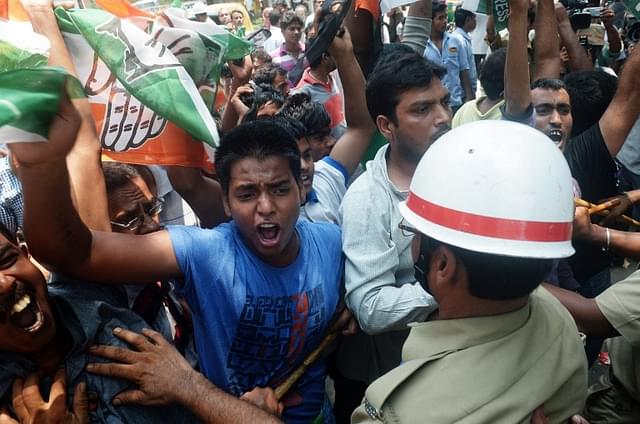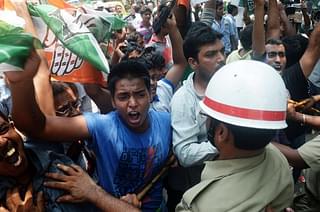 Protests against the arrested Chairman of Saradha group, Sudipta Sen.
Within two hours of his arrest in November last year, Ghosh, in a Facebook post, had named 12 people who, he said, could help the police unravel the scam. In that list of 12, there are names of at least four TMC MPs as well as of the Chief Minister. Ghosh had started speaking against the party leadership much before his arrest, and was suspended from the party a couple of months before he was arrested.
State minister Madan Mitra, who got himself hospitalised on being summoned by the CBI (with an impressively long list of ailments including chronic obstructive pulmonary disease, ischemic heart disease, diabetes, sleep disorder, depression and tumours in his back), has been released by the SSKM Hospital where the attending doctors found him fit enough to face the world. Sources of this columnist in the TMC say that none other than the Chief Minister was advising him while he was in hospital on how he should answer the CBI's questions.
This is not surprising. TMC leaders have been in a huddle for several months now to plan and make sure they speak in one voice before the investigating agencies. Feuding factional leaders of the party have begun sharing stage with one another as a mark of solidarity. MPs Mukul Roy and Subhendu Adhikari, for example, have closed ranks, appearing in rallies in suburban areas of Bengal.
Those not acquainted with Bengal politics may recall the term mandwali (compromise) used in Bollywood films depicting gangsters in scenes where the police takes advantage of gang rivalries. This is a mandwali between TMC factions under the aegis of their supremo, wary of intra-party rivalries making the lives of investigating agencies and political rivals easier.
The Saradha group also roped in a segment of the Kolkata market long known for money laundering—football clubs. Officials of the Kingfisher East Bengal Football Club, McDowell's Mohun Bagan Athletic Club, Kalighat Milan Sangha Football Club and Bhowanipore Sporting are being questioned by the CBI. Bank accounts of the top clubs have been frozen; some of their top officials are behind bars.
The first football official to be arrested by the CBI was East Bengal executive committee member Debabrata Sarkar. Behind bars since August, Sarkar stands accused of extorting crores of rupees from Sen by assuring him protection from market regulator SEBI and the RBI.
Srinjoy Bose, Mohun Bagan's assistant general secretary, was called for interrogation on 21 November; his replies obviously did not satisfy the CBI, and so he was detained. He is the second TMC MP in Rajya Sabha to go behind bars for alleged involvement in the scam after Ghosh. Like Sarkar, he has also been charged with extorting money from Sen.
So, while Sen was raising humungous sums of money from hapless investors, he himself was being blackmailed by others, including these two football czars!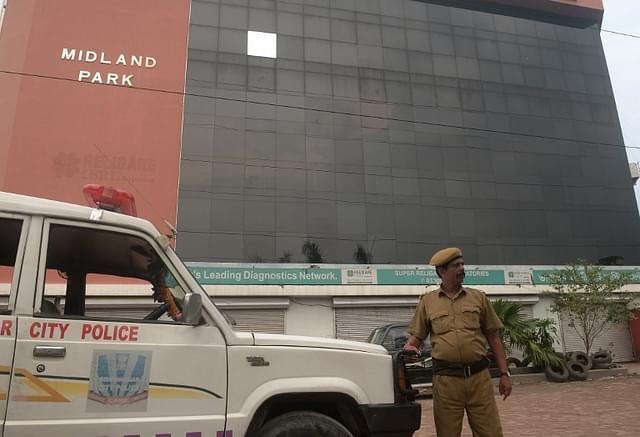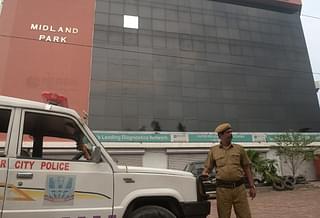 A policeman stands guard outside the closed head office of the Saradha group in Kolkata.
The scam also spread its tentacles outside the state. Evidence of the scandal's reach surfaced when, on 18 September, former Assam Director General of Police Shankar Barua, whose premises were searched by the CBI in connection with the scam in August, allegedly committed suicide to save himself from public ignominy.
An employee of Saradha's media house in Assam had alleged in 2013 that Barua had provided 'protection' to them in the state, which was arranged by Assamese singer and filmmaker Sadananda Gogoi on behalf of the group. Local cops were involved, too.
Himanta Biswa Sarma, the Health and Education Minister of Assam, may have profited personally from the Ponzi scheme. Sen said he paid Rs 25 crore to Manoranjana Singh, wife of former Congress MP from Assam and Union Cabinet Minister Matang Singh, and Rs 3 crore to her father K.N. Gupta to buy shares in a television channel—allegedly at an inflated price. The actual amount paid could be almost double of what is being claimed.
The CBI has even interrogated Nalini Chidambaram, senior advocate and wife of former Union Finance Minister P. Chidambaram after she was named by Sen. However, the culpable appear to be concentrated in eastern India in general and West Bengal in particular.
The most damning indictment of West Bengal's ruling party came from the eyewitness accounts of Sen's driver Arvind Singh Chauhan and TMC M Mukul Roy's former aide Asif Khan who had accompanied their respective bosses and other TMC leaders for years, and had seen them striking deals for the chit fund group.
According to the SFIO, the Saradha group had collected a total sum of Rs 2,131 crore from West Bengal, out of which almost Rs 2,000 crore were collected after Banerjee became Chief Minister. The Enforcement Directorate (ED) and CBI are therefore now looking at the scandal from a political angle as well. They expect a 'bigger picture' to emerge soon. "We believe the Saradha group first helped in the rise of TMC in Bengal. When the party came to power, it returned the favour by helping Saradha's businesses swell," said a source in the CBI.
So far, TMC was claiming that Saradha's rise happened under the CPI(M), but the SFIO report points at the possibility of a TMC-Saradha quid pro quo. The CPI(M), emboldened by the leak of this report in certain regional newspapers, is now issuing open statements against the ruling party. "Trinamool (Congress) had sent a message to Saradha—'If we come to power, your business will boom'," claims Sujan Chakraborty, CPI(M)'s district-level president from 24 Parganas.
The BJP, emerging in Bengal fast as the bigger challenger of the ruling party than a receding CPI(M), is not far behind. Jayprakash Majumdar of the party recalls, "In 2009, Madan Mitra had praised the Saradha group by saying 'bindu-bindu theke sindhu' (Bengali equivalent of 'many a drop make an ocean'). That exposed Trinamool Congress's role in the rise of Saradha."
Reacting to the TMC's 'black umbrella' spectacle inside Parliament on 25 November (several TMC MPs unfurled black umbrellas inside the Lok Sabha and disrupted House proceedings, protesting against 'government inaction' on getting black money stashed away on foreign shores, back to India), said, "Today, it is not possible to talk of the Saradha scam and not talk of the ruling party in West Bengal. So the people who earned black money are now holding black umbrellas. It's a classic case of pot calling the kettle black."
Mamata's Saradha Connections
Dragging the Bengal Chief Minister into the thick of things, Thakur said, "Kunal Ghosh says he is small fry. The real money has been earned by big politicians. TMC should answer why Sudipta Sen bought Mamata's painting for Rs 1.86 crore. Saradha's newspaper was made compulsory in school and college libraries. The government is clearly involved in it."
Thakur then went on to connect TMC with terror. "Black money is often diverted to terrorism. Saradha too is one such example." Quoting media reports, he said, "One of your MPs has been found to be connected with Students' Islamic Movement of India and Jamaat-e-Islami. He has been found to be involved in sending (Saradha) money to Bangladesh from where it was funnelled to terror groups."
Abdul Mannan of the Congress, who was instrumental in bringing the case to the CBI by exerting constant pressure on the state government, is, however, not satisfied with the SFIO report. He believes Saradha collected no less than Rs 30,000 crore from Bengal alone. He wants the CBI to dig deeper for more skeletons in the TMC cupboard.
Citing Ghosh's letter from jail, a CBI officer said there was a meeting held in Delo in north Bengal, where Sen and the Chief Minister were present. Sen had, in that meeting, assured Banerjee that he would exert his influence on the media to promote her as a potential prime ministerial candidate. In turn, the Chief Minister used to refer to media houses run by the Saradha group as if they were TMC mouthpieces, the officer said under the condition of anonymity. Indeed, the state government had issued a directive to libraries run by it that they store no papers other than those published by Saradha.
Additionally, Saradha gained credibility when the Chief Minister inaugurated the state's ambulance service in front of the state secretariat Writers' Building using ambulances of the Saradha group. Several joint initiatives of the West Bengal government and Saradha group in the health sector were also announced.
Clearly, if the CBI follows its investigation in the scam to its logical conclusion, it could reach the doorstep of West Bengal's volatile Chief Minister.