The recent nationwide lockdown, though necessary, proved to be tough for a large section of people as earnings took a major hit. Small-scale artists and performers have not been immune to it.
Folk artists across the country perform at small and big stages - from a village nukkad to global events. However, the COVID-19 pandemic put a halt to such events from March onwards. While most of the artists have had no work and income for over four months now, some are managing with thin savings.
Many, however, have got timely help through an initiative.
Malini Awasthi, a popular folk singer and Padma Shri recipient, along with some noted personalities, began a campaign in April to reach out to such artists and support them financially.
She named the campaign 'Save the roots'.
Swarajya spoke to Awasthi about her fund-raising campaign, which has helped over 300 artists already.
Awasthi says the idea for the initiative came after she talked to some artists who were struggling after the lockdown was announced. Most artists, she says, do not earn round the year as there are specific seasons when shows are conducted, and March-April is one such time due to festivals such as Holi and Navratri.
This season, however, was a dampener.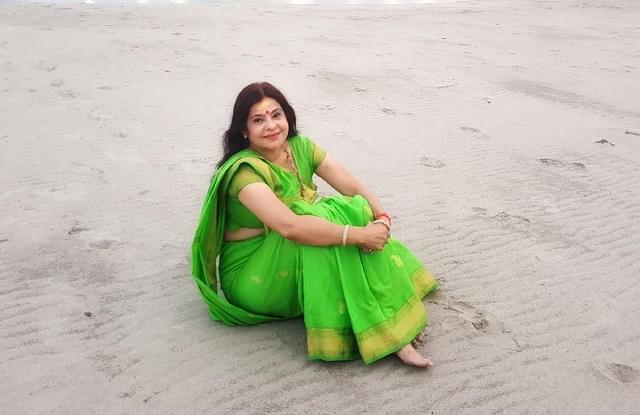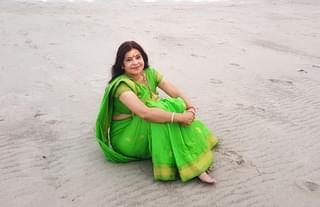 "After speaking to some artists from various places and listening to their hardships, I wrote a post on Facebook and Twitter announcing that I was donating Rs 1 Lakh to help ten artists. I appealed to others who were capable of doing the same," she says.
The small idea swelled into a campaign when radio jockey (RJ) Raunac, popular as his radio character 'Baua', saw her tweet and offered to take it further. The two began a crowdfunding campaign on a website.
Awasthi says the campaign has raised around Rs 30 lakh so far, with which she has been able to help 320 small-scale artists across the country. Beneficiaries include folk singers, folk dancers, and even puppeteers and orchestra performers.
Meena Sahu, a Pandwani folk singer from Chattisgarh, is one such. Sahu told Swarajya over the phone that she would routinely perform within her state and outside of it but, after the lockdown, she has not got a chance for even one performance.
Sahu said she suffered a heart attack a year ago, which slowed her down and hit her income significantly. "Given my financial constraints, my doctor has not charged me for medication for two months as he is aware that I can't afford it," she said.
The help from the campaign, she said, came to her just when she wanted it the most. Sahu and her six teammates received Rs 20,000.
Awasthi says she created the list of beneficiaries with the help of her friends in the industry. When word spread, many artists approached her themselves.
"We carried out a basic check by seeing their documents and calling up references," she says, adding that she roped in five volunteers for the job.
She learnt about Sahu when an organiser of folk shows showed Awasthi a video of her singing about problems during the pandemic.
To boost the campaign, Raunac and Awasthi, along with their team, organised an online music concert on 23 April.
Named 'Save the roots concert', the event had a lineup of artists from various fields including Bollywood singers Daler Mehandi and Kailash Kher; notable dancer-choreographer Pandit Birju Maharaj; and Hindi poet Kumar Vishwas.
After giving short performances, the artists appealed to the viewers to donate for the cause and spread the word. The event also saw performances by several folk and regional artists.
Awasthi says she is happy with the response.
"Some contributed small amounts such as Rs 130 and Rs 109, which perhaps means they could not afford much but still chose to help the cause," she says.
The campaign recently stopped accepting donations, but would resume shortly. The team is busy distributing the amount raised so far. The aim is to help at least a thousand artists across the country, says Awasthi.
The campaign can be accessed here.
A team member, Rahul Choudhary, told Swarajya that there were various hurdles in sending money to people as many did not have a bank account. In fact, many are still in the process of opening one.
Awasthi says several beneficiary artists sent their performance videos to her, which she subsequently posted on the Facebook page of 'Save The Roots Concert'.
She says she did this to aware people of various indigenous art forms and also to maintain transparency. The videos can be watched here.
While many beneficiaries include artists from big states such as Uttar Pradesh (UP), Madhya Pradesh (MP), Rajasthan, Jharkhand and Maharashtra, at least 65 are from north-eastern states such as Meghalaya, Arunachal Pradesh and Assam, says Choudhary.
Not only lesser-known artists, but also those who have received wide recognition and prestigious awards have been suffering economically amid the pandemic, which has made public gatherings a kind of sin.
Rajasthani folk singer Ustaad Anwar Khan 'Manganiyar', who was this year conferred the Padma Shri - India's fourth highest civilian award - is also among the beneficiaries. Awasthi says she had approached Khan to perform at the concert, for which he agreed, but she later learnt that he and his team also needed monetary help.
Khan, who is 60 and hails from Jaisalmer district, is a professional Manganiyar artist and a leading vocalist of folk, sufi, and traditional Rajasthani music. Khan told Swarajya that he has performed with Awasthi at various occasions in the past.
"Ghayal ka dard ghayal hi jaane (only a wounded can feel the pain of another wounded)," Khan said, implying that Awasthi, being in the industry, understands the plight of other artists well.
Performers of several natak mandalis (drama groups) and Ram-Leela groups, and Kathputli (puppet) artists who travel to villages to perform and earn their bread and butter, are part of beneficiaries.
Awasthi also raises concerns about small-scale artists in big cities such as Mumbai, who survive through daily recordings, voice-overs, background singing and dancing - all of which have completely stopped.
One such performer in Mumbai, who has been helped by the campaign, told Swarajya that he knows of at least 14 people like him who have died of a heart attack during the lockdown while a couple of them have even committed suicide.
Santosh Kumar is a drum player at an orchestra. He and ten of his acquaintances have received Rs 5,000 each from Awasthi's side. They contacted her through Facebook.
Awasthi says she hopes some big artists too come forward for the cause.
"Forget about the government, it is a matter of shame for us artists if any fellow artist suffers like this," she says.