Singur Verdict: No Real Cause For Cheer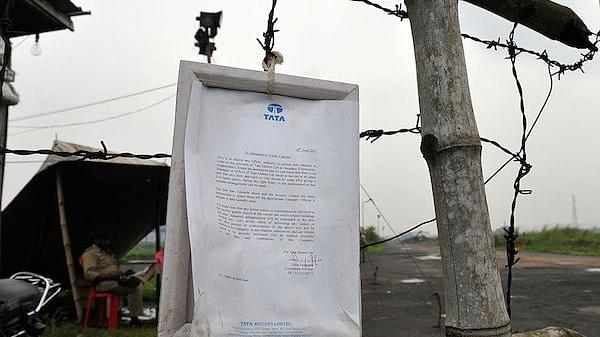 Photo: DIBYANGSHU SARKAR/AFP/Getty Images
Snapshot
Post the Supreme Court verdict on the Singur land case, the complications involving returning the land to the farmers and the pandora's box that the verdict has already opened has started staring Mamata Banerjee straight in the face.
The Trinamool Congress may have designated Friday (2 September) as "Singur Victory Day", but the Supreme Court (SC) verdict returning the 1000-odd acres of land at Singur to farmers could turn out to be a classic case of pyrrhic victory.

For Trinamool Congress supremo Mamata Banerjee, the SC verdict is a vindication of her stand that land for the Tata Nano car plant at Singur had been acquired by force by the Buddhadeb Bhattacharjee-led Left Front government in 2006. In that sense, it is a "victory" for her. But, post-verdict, the enormity of the complications involving return of the land, and the pandora's box that the verdict has already opened, has started staring her straight in the face.
The fertile, multi-crop land at Singur that was acquired by the Left Front government from willing and unwilling farmers— the latter (2200) were much fewer in numbers than the former (11,000)— is no longer cultivable. Almost 80 percent of the land has been filled up with sand and stone chips, industrial sheds, roads, power substations and other structures have come on at least 60 percent of that land. Of what use will all that land be to the farmers?
Mamata Banerjee has promised that the land that would be returned to the farmers of Singur, within 12 weeks as ordered by the Supreme Court, would be turned cultivable. But that is easier said than done. Agricultural experts say that it would take more than a year, and a huge amount of money, to make the land at Singur cultivable once again.
According to a senior professor of the Agricultural Chemistry and Soil Science department of the state-run Bidhan Chandra Krishi Viswavidyalaya, once all the foreign materials (stone chips, sand and other materials) have been completely removed, a 15 inch layer of fertile soil has to be dumped on the land. After that, fertilisers have to be spread over that area and the land should be left to lie for at least one year to rejuvenate itself.
"Dismantling all the structures that have come up on the land, breaking the concrete roads and clearing away all the sand and building materials will easily take at least six months and, that too, if it is done on a war footing. Almost three feet of sand and gravel was dumped on the land that was acquired and removing all that would be a herculean task," said a senior officer of the West Bengal Industrial Development Corporation (WBIDC) that had leased out the land to Tata Motors.
And then there is the matter of the huge cost involved in making the land cultivable. The WBIDC officer, who did not want to be named, said that as per rough and conservative estimates, at least Rs 13 lakh per acre will have to be spent on removing materials and then re-filling the land with soil to make it cultivable. That amounts to Rs 130 crore.
Dismantling the industrial sheds and other structures, breaking down roads and removing all that debris will cost another Rs three lakh an acre. Even if such structures have come up on 20 percent of the total land (or on 200 acres), it would add another Rs six crore to the cost.
The total— Rs 136 crore (and this is a conservative estimate)— is quite a sum of money for a cash-strapped state like West Bengal. And there is also the question of public propriety: why should the taxpayer bear the burden of making the land cultivable for the benefit of the few hundred families of land-losers? Why should money from the state exchequer go towards making good a mistake committed by the Left Front government?
Bengal's bureaucrats also fear that Tata Motors may now demand compensation from the state government. Section V of the lease deed signed between Tata Motors and WBIDC in March 2007 states: "If a court or any other authority holds/declares that the land acquisition has not been in accordance with the provisions of law or gives any adverse order which prevents the development/use if the said land by the lessee, then the lessor (WBIDC) shall indemnify and compensate the lessee (Tata Motors) for any losses as may be suffered."
Tata Motors has already states it suffered a loss of Rs 1400 crore on account of not being able to operationalise the car plant at Singur and being forced to shift it away to Sanand in Gujarat. In the last fiscal, the company wrote off Rs 309.99 crore from its balance sheets on account of Singur.
Since the Supreme Court has deemed that the state government (under Buddhadeb Bhattacharjee) erred in acquiring the land and did not follow the due process of law while doing so, Tata Motors can easily claim that it had to suffer for no fault on its part and the indemnity clause in its lease agreement with WBIDC should be invoked.
If a court upholds that plea— and that may well turn out to be the case since Tata Motors' plea is justified— the Mamata Banerjee government may well have to fork out Rs 1400 crore to Tata Motors. Thus, the 31 August Supreme Court verdict that is being celebrated would leave Bengal poorer by a whopping Rs 1536 crore, or about 5.5 percent of the state's plan expenditure!
There are other repercussions as well.
Justice V. Gopala Gowda upheld the Mamata Banerjee government's contention (Justice Arun Mishra disagreed) that acquiring land under Part II of the 1894 Land Acquisition Act by stating it was for a public purpose, when the land was actually being acquired for a private enterprise, was wrong.
Huge chunks of land for industrial and technology parks and hubs as well as for private enterprises and townships were acquired by the erstwhile Left Front government under Part II of the Act. If that acquisition is deemed to be improper and illegal and the land has to be returned to the original land owners, Bengal would be facing a crisis of gigantic proportions.
The SC verdict and Mamata's prompt promise to return land at Singur in a cultivable state to land-losers triggered a spirited protest in Burdwan, about 50 kilometers away. About 10.5 acres of farmland at Alisha village in Burdwan district had been acquired under Part II of the 1894 Act by the Left Front government in 2007 from 65 families for an IT hub. The families were paid Rs nine lakh per acre.
But the IT hub never came up and the land was sitting idle till Mamata Banerjee got to know of the vacant land, recently, and declared that a "Mishti hub" (sweetmeat and confectioneries hub) would come up there. On Thursday (1 September), while Mamata Banerjee was in Singur, the land-losers at Alisha started an agitation demanding that since their land was acquired under the disputed Part II and since it had been sitting idle, the land should be returned to them. Mamata Banerjee promptly ordered her officials to find some other land for the "mishti hub".
Emboldened by her action and the SC verdict, land-losers in many parts of Bengal whose lands were acquired, often forcibly, by the Left Front under Part II of the 1894 Act and where lands have been lying fallow have started demanding that their lands be returned to them. This is sure to put the Mamata Banerjee government in a tight spot since returning all that land that is now lying unutilised and fallow would mean a total depletion of the land bank that it has been dangling to woo investors.
"If all the land that has been acquired under Part II and is lying unutilised now is to be returned, Bengal will be left with no land for industries," said a senior bureaucrat of the State Industries department.
The Supreme Court verdict has also brought the focus back very sharply on Mamata Banerjee's agitation against land acquisition for industry and the consequent anti-industry image that sits as an albatross around her neck. Mamata has been trying very hard to shed that image, but not with very successfully. The latest developments have re-affirmed her irresponsibly populist and anti-industry image, and that is not good news for investment-starved Bengal.
Get Swarajya in your inbox everyday. Subscribe here.
An Appeal...
Dear Reader,
As you are no doubt aware, Swarajya is a media product that is directly dependent on support from its readers in the form of subscriptions. We do not have the muscle and backing of a large media conglomerate nor are we playing for the large advertisement sweep-stake.
Our business model is you and your subscription. And in challenging times like these, we need your support now more than ever.
We deliver over 10 - 15 high quality articles with expert insights and views. From 7AM in the morning to 10PM late night we operate to ensure you, the reader, get to see what is just right.
Becoming a Patron or a subscriber for as little as Rs 1200/year is the best way you can support our efforts.
Become A Patron
Become A Subscriber