What Will It Take For BJP To Lose In Uttar Pradesh—And Will It?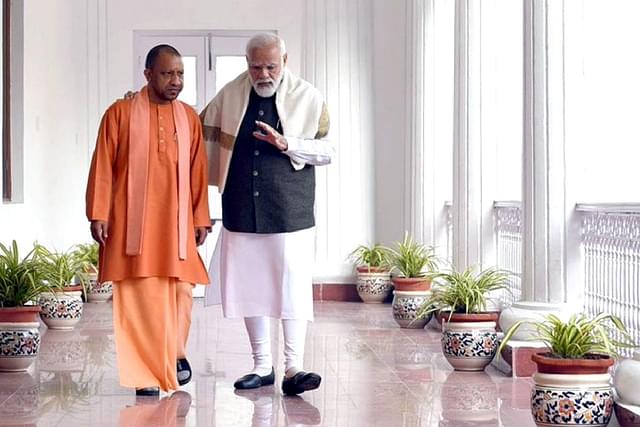 Prime Minister Narendra Modi with UP Chief Minister Yogi Adityanath.
Snapshot
Why a BJP loss and SP victory in 'Uttar Pradesh 2022' looks improbable.
Before we get to answering the question posed in the headline, there is one inference that can be drawn from the question itself: this is an election for the BJP to lose and as of today, it is winning it.
Now, what will it take for that scenario to be reversed?
Let's start with the obvious arithmetic.
Keeping seat counts aside for a while, for the BJP to lose in UP, naturally the SP would have to come close to, equal, or exceed the former in vote share.
What numbers exactly are we talking?
As things stand, the SP needs to exceed the 37 per cent vote share mark and the BJP needs to fall below the 40 per cent mark for Akhilesh Yadav to have a real chance of a second term as chief minister (explanations for numbers given below).
In one sentence, that is what it will take for the BJP to lose in UP. But will it?
Let's first see how a possible BJP fall to below the 40 per cent mark can play out.
As I see it, there are four factors which can either prevent a BJP majority in UP or reduce the scale of its victory: one, standard anti-incumbency; two, dissidents getting out of hand; three, BJP voters being indifferent on polling day while non-BJP voters queue up; and four, BSP losing vote share and almost all of it going to SP.
Note that no single one of these reasons can prevent a BJP majority. At least three of them need to play out together to put the BJP in trouble.
1. Anti-incumbency
For the BJP to go below the 40 per cent mark, it has to lose at least 11 percentage points from its 2019 vote share of 50 per cent; 51 if we include its ally Apna Dal.
Assuming that an anti-incumbency has set in to the extent that BJP is losing 11 points from its previous vote share numbers, the slide then wouldn't stop at just 11. Then this is serious anti-incumbency staring the party in Uttar Pradesh. In fact, then it wouldn't even be anti-incumbency but unpopularity.
In my interactions, conversations and readings on the ground, I am not seeing such a sentiment.
But wait. Why are we counting from 2019? Wasn't that a Lok Sabha election? Is it because that was the most recent poll? Shouldn't we count from 2017—when the BJP and allies won approximately 41.7 per cent of the votes? Shouldn't an assembly election be compared to an assembly election to keep it an apples-to-apples comparison?
Not in this case; and that is because like 2014, '17 and '19, 2022 is a Narendra Modi election in Uttar Pradesh. Ergo, rather than comparing assembly to assembly election, it is prudent to compare the forthcoming poll that BJP is fighting under his leadership to the last one it fought under it. And he is leading the campaign actively this time too. If anyone had any doubts about it, the Kashi Vishwanath corridor event put that to rest.
Modi is still the most popular leader in Uttar Pradesh, leave alone the most popular in UP BJP, and it's not just because he is an MP from the state. No.
The electorate of UP, right from 2014, never seemed to consider him an 'outsider'. Modi in Uttar Pradesh is the same thing as Modi in Gujarat. That is not rhetoric but just an expression of the ground sentiments as apparent since 2014.
Think about it. Who was the leader of UP BJP in the decade before 2014? When Vasundhara Raje was still winning Rajasthan; Raman Singh was winning in Chhattisgarh; Khanduri and Nishank were winning in Uttarakhand; Shivraj Singh Chouhan was winning in Madhya Pradesh and BS Yediyurappa in Karnataka, the BJP was virtually getting hammered in Uttar Pradesh. Enter Modi in 2014, and the party has swept the state in all the three elections since.
Till the time PM Modi is active in politics, it won't matter if it's a Vidhan Sabha or a Lok Sabha election in Uttar Pradesh, or if a leader like Yogi Adityanath has emerged—in varying degrees of course, but both assembly and general elections will be a virtual referendum on Narendra Modi.
So, coming back to our vote share numbers. The BJP and allies got 51 per cent of the votes in UP in 2019. If that number falls to or below 39 per cent in 2022, it would imply that Prime Minister Narendra Modi's popularity has taken a serious beating in Uttar Pradesh. Not only that, it would mean it's at its lowest since 2014.
If my reading from the ground is correct, I am seeing no such erosion in the PM's popularity. While all of it may not translate into vote share for his party (local and state-specific factors will count in the weeks to come), it's still enough to keep the BJP vote share above the 40 per cent mark.
(I would venture so far as to say that even if BJP wins a majority in Uttar Pradesh but its vote share falls below 40 per cent, it would mean that while the party's UP fortress has not been conquered, it has certainly been breached, and that it is up for grabs in 2024).
2. Dissidents getting out of hand
There will likely be two kinds of dissidents this time for the BJP in Uttar Pradesh. One, those who are denied a ticket; and two, those sitting MLAs who are given a ticket but don't really put their back into the larger effort of the party, due to the experience of the last five years.
The one charge that has stuck with the Yogi Adityanath administration is that it's driven almost entirely by bureaucracy and elected representatives of the party find themselves cut out of the loop.
Such murmurs grew loudest during the second wave of the coronavirus last year, when stories of local health department officials not answering calls of MLAs and ministers abound.
For a large section of the population in UP, both urban and rural, the local MLA or MP is legislature, executive, judiciary, and 'agony aunt' rolled into one. If this MLA finds himself cut off from levers of government, it directly impacts his political capital.
The total number of both kinds of dissidents could easily be in triple digits.
The question is: can these potential micro-conflicts sully the macro forecast for the party?
At the time of writing it looks unlikely. The BJP is a cadre-based party, and since 2014 especially, the top leadership has almost always been able to enforce party discipline upon the Uttar Pradesh unit.
To be sure, the party is walking into a storm. But it should be able to weather it in its time.
3. BJP voters being indifferent on polling day
'There's Modi, there's Yogi, and there's momentum behind the BJP. Do I really need to go out to vote for them? This one's already in the bag. What difference will one vote make?'
Imagine if this became a state-wide sentiment and good section of the BJP voter stayed at home or went on vacation on polling day while the non-BJP parties mobilised their last vote.
Again, the election machinery of the BJP should be able to prevent a drastic enactment of this scenario. One of the reasons for its sweep in 2017 is said to be the network and efforts of the panna pramukhs. There is nothing to suggest that the party is going easy on that front this time.
The other thing to be careful about in this context is the timing—timing the peak of voter enthusiasm and the party's own 'buzz'. There is a world of difference between a charged-up atmosphere a night before polling and one a fortnight before it.
All things considered, voter indifference is a threat for the BJP, but it's difficult to see it alter the election results, as it is difficult to see the BJP not planning for it in advance.
4. BSP losing vote share to SP
What happens if the BJP manages to avoid any serious damage from the above threats and holds on to its vote share well, but the BSP collapses and all the vote that it loses goes to the SP? Can that unseat Yogi?
In this situation, the final numbers in UP may be decided by two questions:

1. How much vote share will the BSP lose?

2. Out of the voters moving away from BSP, are the Hindu voters, on average, anti-SP or anti-BJP?

As Swarajya columnist Venu Gopal Narayanan , this election in UP is going to be bipolar. It is likely that this time the BJP and SP alliances account for close to 80 per cent of the total votes polled. That leaves the BSP, Congress, Independents, and Others accounting for the rest.
In the previous decade and the one before that, you could trust the BSP to garner around 25 per cent of the votes polled, on average, be it Vidhan Sabha or Lok Sabha. In 2017, it got 22.4. However, this time, it looks set to lose at least a fourth to half of that vote share.
Given that estimate, let us try and arrive at the 'best-case scenario' number for the SP alliance and see if that can prevent a BJP majority.
To begin with, we take SP's 2017 vote share. 2019 is out of the question since it was in alliance with the BSP then, and even so, its vote share was lower than in 2017. Also, 2012 was a decade ago, and more importantly, in a pre-Modi era. So 2017 it is, when the SP got 22 per cent of the vote share.
Assuming BSP loses half its votes and it vote share comes down to 11 per cent from 22 and ALL of the difference gets added to SP, the latter gets to 33 per cent. (Both SP and BSP got approximately 22 per cent of the votes in 2017).
Let's make it even better. The Congress looks set to perform worse than it did in 2017 when it got 6 per cent of the total votes. It wouldn't be a surprise to see that number fall to three this time. Add the difference of three to SP and we are at 36.
(In fact, the three vote share percentage points added in this case are more real than hypothetical. The SP was in alliance with the Congress in 2017 and had fought only 311 seats out of 403. Had it contested the balance 92 also, its vote share would likely be 2-3 points more than 22 per cent).
Let's make it even sweeter for the Saifai clan. The RLD and SBSP vote shares (both part of SP alliance now) from 2017 add to 2.5. Add it to 36, and you have the SP alliance at 38.5 per cent vote share.
Even at this, garnish this fantastical number with the balance of the other small parties, regardless of whether they are in alliance with SP or not, and we have the SP grouping at 40 per cent of the total vote share.
Even in this impossible scenario, unless you introduce a loss brought about by anti-incumbency and other factors, the BJP and its current allies' vote share comes around to 41.6 per cent, based on 2017 numbers.
Now from this thought experiment, let's try and make a reasonable estimate as to what it may take for the SP to trump the BJP in the real world, and see if that appears possible or not.
First of all, remember that in the above exercise, we have assumed that:
a) the BSP loses 50 per cent of its vote share from 2017, and
b) the votes it loses go to the SP.
While b) could well be true for the minority community vote, it is extremely unlikely that all the Hindus who switch from BSP vote en block for the SP this time.
Secondly, we have seen in 2019 that a consolidation under the SP results in a counter-consolidation under the BJP, effectively nullifying the gains made by the former. Interestingly, the 40 per cent vote share worked out for the SP above is almost equal to its contested vote share in 2019—38.8. Let's go with 39. Contested vote share means the average vote share of the party in the seats it actually fought in.
The SP had fought on 37 out of 80 Lok Sabha seats in the state in '19. If we map the 2019 Lok Sabha results assembly-wise, then those 37 parliamentary constituencies translate to 186 assembly segments. Out of these 186, the SP, at an average vote share of around 39 per cent, and in a formal alliance with the BSP, won only 40. 40/186. The BJP's average vote share in these 186 seats came to 51.9, almost 52 per cent.
Or take this paragraph from this Swarajya piece for instance:
For example, the SP+ registered a positive vote swing of 10 to 15 per cent in 79 [assembly] constituencies [in 2019], meaning that it profited from junking the Congress and tying up with the BSP. But it won only nine of those 79 (11 per cent), meaning also, that even such a strong positive swing was insufficient to counter vote consolidations under the BJP banner. In comparison, the BJP+ registered a 10-15 per cent vote swing in 96 seats, and won 72 of those (or 75 per cent).
Realistically, the SP enters the 2022 contest with around 25-27 per cent of the vote share. And I still maintain that the BJP enters with what it got in 2019—51 per cent. From here, the SP can only gain votes, and the BJP can only lose or maintain its vote share.
Hence, for the Samajwadi Party to win from here, and for the BJP to lose, Akhilesh Yadav has to ensure the following:

1. A campaign led by Narendra Modi and Yogi Adityanath fails and fails such that the BJP loses at least one-fourth of its 2019 vote share. At least. Effectively, Akhilesh Yadav has to make Narendra Modi unpopular in Uttar Pradesh.
2. Each and every vote leaving the BSP and Congress comes to SP or its allies, apart from every vote leaving the BJP.

The second objective, even if achieved by some miracle, will amount to nothing unless the first one is realised. Unless the BJP drastically loses vote share—the kind of losses we see in an anti-incumbency wave—the SP does not stand a chance.
In conclusion, that's what it will take for the BJP to lose in UP. But will it?

With deference to the unpredictability of Indian politics, I don't think so.
(A note of thanks to Shri Venu Gopal Narayanan for compiling, processing, and sharing the previous election numbers).
Get Swarajya in your inbox everyday. Subscribe here.
An Appeal...
Dear Reader,
As you are no doubt aware, Swarajya is a media product that is directly dependent on support from its readers in the form of subscriptions. We do not have the muscle and backing of a large media conglomerate nor are we playing for the large advertisement sweep-stake.
Our business model is you and your subscription. And in challenging times like these, we need your support now more than ever.
We deliver over 10 - 15 high quality articles with expert insights and views. From 7AM in the morning to 10PM late night we operate to ensure you, the reader, get to see what is just right.
Becoming a Patron or a subscriber for as little as Rs 1200/year is the best way you can support our efforts.
Become A Patron
Become A Subscriber