When Hitchens Had A Kanhaiya Moment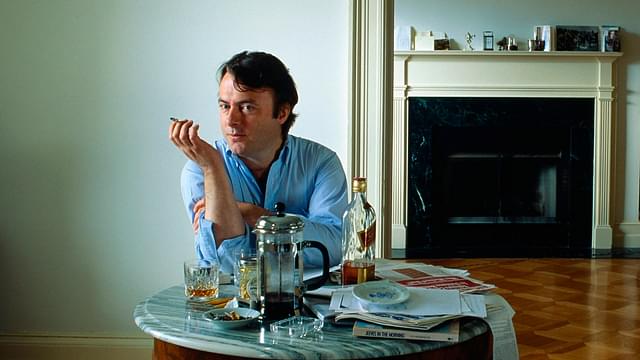 Christopher Hitchens
Snapshot
One needs a single word to summarise budding politico Kanhaiya Kumar's address to his peers (and to a nation forced to hear): facile.

The only reason Kanhaiya Kumar and his lot attended an event that celebrated Afzal Guru is because, true to his Marxist credo, he had little regard for human lives (or feelings) that were not useful in furthering his cause.
In his autobiography Hitch 22: A Memoir, the brilliant polemicist Christopher Hitchens talks about the time when he was 'a tourist of the revolution'. The epithet is pejorative, meant to ridicule the idealistic crowd from the 1960s that went across the world in search of "socialist fatherlands". Hitchens himself does not agree with the phrase; after all he did belong to the generation of les soixantes-huitards (or the '68-ers), Marxist and internationalist to boot, fervently wanting to "lean the uttermost of my slight weight onto the fulcrum".

Horrified at the excesses of Stalinism, he becomes part of a political organisation called the International Socialists. His efforts to find answers within the Left for that kind of excess (and alternatives to Soviet-style socialism) leads to a stint in a special camp for 'internationalists' in Havana, sometime in 1968.
Dreams of utopian existence don't last too long. Once the warm afterglow of hobnobbing with socialists from other countries and planting coffee seedlings settles down, Hitchens finds himself bumping against invisible walls. His passport is confiscated by the Cuban 'comrades', to be returned only on the day of his return. He tries to go on a hike but is stopped at the camp gate: he is "not free to move at all". Though the participants at the camp are privileged enough to hear the young Fidel Castro speak (the speeches are several hours long, often lasting the better part of the day), there is no clarity on the party line regarding the "increasingly public quarrel between Prague and Moscow".
Of course, the most telling part of his experience is during the interaction with Cuban film director Santiago Alvarez, following the latter's talk at the camp. Cuba has "official policies on the aesthetic", and Hitchens asks Alvarez how an artist manages to cope with that. Alvarez states that artistic and intellectual liberty remained "untrammelled" but concedes the impossibility (and undesirability) of attacking or satirising the "Leader of the Revolution". Hitchens's reaction, that "if the most salient figure in the state and society was immune from critical comment", then surely the rest was mere detail, leads to his being branded a "counter-revolutionary" by the Cubans. Hitchens notes that he might have taken umbrage, were it not for the fact that the Cubans' reaction was a classic case of "cliché in action".
The detailed recounting of the experiences of a young revolutionary in the late 1960s is because of the parallels it excites in our times. Our discourse, too, over a month now, has centred around young 'revolutionaries' and their dilemmas. The debate has been shrill and near difficult to avoid, charges flying quick and abundant from those stationed on either side of the debate. While the 'revolutionaries' in question have been arrested on charges of sedition -- Kanhaiya Kumar the JNUSU president freed on interim bail after 19 days while his peers Anirban and Umar Khalid remain in judicial custody -- the discussion has veered around how effective the colonial-era sedition law is in countering such campus antics, the role of universities in promoting free-thinking, dissent and critical analyses versus the reality that rights, as enshrined in our Constitution, have riders attached to these, both as "reasonable restrictions" under Part III and duties expected of a citizen under Part IV.
Say one were to leave aside the intellectual hair-splitting over the nature of freedom allowed to citizens as well as the more technical discussion of which clips inserted into the video were fake or not, one would be left with two primary pieces of evidence: the campus event organised on 9 February to commemorate Afzal Guru's hanging (without going into the specifics of who raised what slogan), and the speech delivered by Kanhaiya Kumar after he was released from prison.
The latter was proclaimed as fiery and passionate, the sort of rousing speech given by a returning hero, indicative of the fact that he had a "way with words" and "fire in his belly" though in a delightful deconstruction here Kanhaiya Kumar is asked whether he was indeed free to raise every kind of slogan, a delightful dig at the lack of internal democracy within Leftist organisations where discipline is prioritised over dissent.
One needs a single word to summarise budding politico Kanhaiya Kumar's address to his peers (and to a nation forced to hear): facile.
From cheap sophistry (his much-attacked call for azaadi tweaked to become 'freedom in India') to peddling of hackneyed electoral slogans (asking for freedom from corruption and starvation without ever spelling out how), what was frightful was not that his powerful voice might be silenced by the machinery of the State but how compromised dissent sounded like in our intellectually challenged times.
To go back and borrow that apt phrase from Hitchens, the speech was "cliché in action", a mindless regurgitation of mainstream political discourse. It had as much substance as a child playing 'house', creating a world of make-believe as one awaits acceptance into the adult world. No wonder then, established political outfits on the Left pounced on it, tweeting it vigorously, reassured no doubt that future leaders seemed so eager to toe the line and attack a common foe, that all one needed to do was peddle old rhetoric through new mouths to keep the status-quo safe and make sure all is right with the world.
This leaves us with the 9 February event, which created the first burst of shock and outrage, the sheer insensitivity and basic lack of decency shown then being now cleverly packaged as 'youthful dissent' and 'free spirit of enquiry'. The only reason Kanhaiya Kumar and his lot attended an event that celebrated Afzal Guru is because, true to his Marxist credo, he had little regard for human lives (or feelings) that were not useful in furthering his cause. The only reason he is now course-correcting, clarifying that Guru is not his icon (and getting away with it) is because he had underestimated the kind of revulsion his callousness would generate. Here again, if one were to look for a single word that summed up his attitude, one would have to settle on "petty".
It's instructive to note how Hitchens wraps up his recounting of his youthful brush with revolution. Back from Havana and into the campus politics of Oxford, he nixes an opportunity to formally debate with Michael Stewart, then Foreign Secretary. Raging about the morality of the war in Indo-China, Hitchens delivers a "fairly fierce" speech, then insults the guest and goes to sit with a pre-arranged student mob.
When Stewart rises to speak, organised yelling drowns out his voice and since the incident of forcibly aborting an Oxford Union debate is unprecedented, it receives wide publicity (and condemnation) in the mainstream press. Hitchens recollects justifying the act by appealing to "a higher cause and nobler purpose" (justice for the Cambodians, in that case, and greater publicity about the injustice they were facing). And yet, despite the high-decibel explanation, then as well as years later, Hitchens recalls the feeling of having done something "shabby". He recalls a line from DH Lawrence's poem Snake, and probably it would serve all of us well to remember it:
"And I have something to expiate: A pettiness."
Get Swarajya in your inbox everyday. Subscribe here.
An Appeal...
Dear Reader,
As you are no doubt aware, Swarajya is a media product that is directly dependent on support from its readers in the form of subscriptions. We do not have the muscle and backing of a large media conglomerate nor are we playing for the large advertisement sweep-stake.
Our business model is you and your subscription. And in challenging times like these, we need your support now more than ever.
We deliver over 10 - 15 high quality articles with expert insights and views. From 7AM in the morning to 10PM late night we operate to ensure you, the reader, get to see what is just right.
Becoming a Patron or a subscriber for as little as Rs 1200/year is the best way you can support our efforts.
Become A Patron
Become A Subscriber