Why Bengali Outrage Over Actor Paresh Rawal's Remarks Reeks Of Double Standards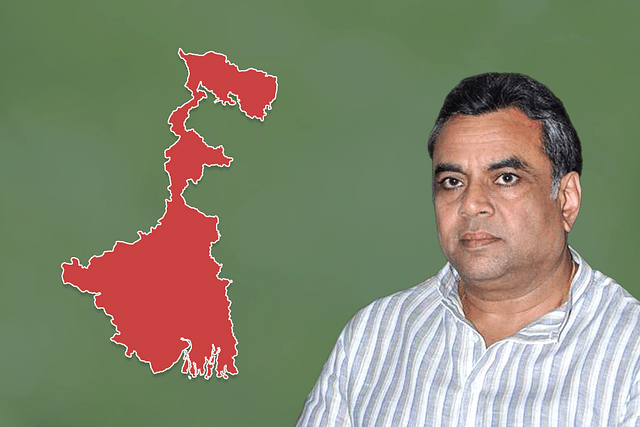 Actor Paresh Rawal at the centre of a row.
Snapshot
Bad-mouthing Gujarat, a state that provides livelihood to lakhs of Bengalis, and then taking offence at a faux pas by a Gujarati politician, reek of hypocrisy.
Actor Paresh Rawal has been summoned by Kolkata Police for some remarks he made on Bengalis while addressing an election rally in Gujarat last week.
The remarks by former Bharatiya Janata Party (BJP) member of Parliament (MP) Rawal caused widespread outrage among Bengalis and both the Trinamool Congress and the Communist Party of India Marxist or CPI(M) tried to use it as a stick to beat the BJP with.
Senior Trinamool leaders, including Lok Sabha MP Mahua Moitra, condemned Rawal and held out his remarks as another instance of Bengali-baiting by the BJP.
CPI(M) politburo member and former Lok Sabha MP Mohammed Salim even filed a complaint at the Taltala Police Station in Kolkata. Salim, in his complaint, alleged that the actor made the remarks deliberately to provoke riots and trigger communal disharmony.
"Such speech on public domain has been made to provoke riots and destroy harmony between Bengali community and other communities across the country, and cause public mischief," Salim wrote in his complaint.
The police, predictably, promptly accepted the complaint and issued summons to Rawal on Tuesday (6 December). Rawal has been asked to be present at the Taltala Police Station on next Monday (12 December).
'Bangla Pokkho', an organisation claiming to protect rights of Bengalis and which is suspected to have close links with the Trinamool, held a demonstration against Rawal and vowed to disrupt the screening of all films featuring the actor in Bengal.
Many other Bengalis were outraged and vented their ire against Rawal on social media. For the better part of the (last) week, social media, especially Twitter, was replete with angry comments against Rawal and also many posts eulogising Bengalis and their (past) achievements.
What Rawal said:
Rawal, while speaking at a BJP election rally at Valsad in Gujarat, was trying to counter the opposition campaign on rising prices of LPG cylinders.
Rawal, who had won the Ahmedabad East Lok Sabha seat in 2014, had said: "Gas cylinders have become expensive, but their prices will come down. People will get employment too. But what will happen if Rohingya migrants and Bangladeshis start living around you, like in Delhi? What will you do with your gas cylinders? Cook fish for Bengalis?"
Rawal was indirectly addressing criticism about rising LPG prices by Aam Aadmi Party (AAP) convenor and Delhi Chief Minister Aravind Kejriwal. Kejriwal is often accused of giving a free pass to illegal Muslim migrants from Bangladesh and Rohingyas, and settling them in the slums of Delhi. These illegal settlers are said to be a valuable vote bank of the AAP.
What Rawal had meant was that AAP's patronage of illegal Bangladeshi migrants and Rohingyas was a far more serious issue than prices of LPG cylinders. He was telling the voters of Gujarat that supporting AAP would amount to opening the doors to a huge influx of illegal Bangladeshi migrants and Rohingyas into Gujarat just as what has happened in Delhi under the AAP regime.
Rawal's mistake was that he used the term 'Bengalis' when he should have actually said: "What will you do with your gas cylinders? Cook fish for Bangladeshis and Rohigyas?"
But even so, Rawal was not technically wrong. Bangladeshis speak in Bangla and are known as Bengalis. Rohingyas, too, speak a dialect of Bangla that is very close to the dialect of Chittagong province of Bangladesh. Chittagong adjoins the Rakhine province of Myanmar from where lakhs of Rohingyas have fled.
The term 'Bengalis' does not denote only Bengali-speaking people of Bengal, but also Bangladeshis and even Roingyas. So Rawal was not technically wrong. But his remarks were taken as an affront by Bengalis of Bengal.
Rawal's Apology
After the outrage triggered by his remarks, the former MP was quick to issue a clarification and apologise.
Rawal said: "Of course fish is not the issue as Gujaratis do cook and eat fish. But let me clarify that by Bengali, I meant illegal Bangladeshi and Rohingya (migrants). But still if I have hurt anyone's feelings and sentiments, I do apologise".
That clarification and apology should have been enough to assuage any hurt sentiments and set the record straight. But most Bengalis were not willing to let go, especially since it suited their political agenda.
Why Outrage Over Rawal's Remarks Smacks Of Hypocrisy
Bengalis, at least large sections of the community, are often viewed as parochial and supremacist, at least culturally. Many Bengalis proudly proclaim the superiority of the community in fields of arts, culture and academics.
In recent years, Gujarat and Gujaratis have become the subjects of ridicule and disdain by many Bengalis, including politicians of the ruling dispensation as well as the Left. That's because the state has become a BJP stronghold.
The hatred for Gujarat and Gujaratis is best exemplified by a highly objectionable and parochial line in a famous song by renowned Bengali singer and lyricist Nachiketa Chakraborty. The song, titled Tumi Ashbe Bolei, is popular in Bengal and is considered to be an ode to Goddess Durga.
The fifth stanza of the original song says: "tumi ashbe bolei desh ta ekhono Gujarat hoe jaini". Its English translation: "This country has not become a Gujarat because you (Devi Durga) are coming". The 'coming' here is a reference to Goddess Durga's annual journey from Mount Kailash to her maternal home (earth).
This journey and the celebratory expectancy of devi's coming to earth forms the run-up to Durga Puja, and is often referred to as 'Agomoni' or advent.
This song by Nachiketa is very famous and no Bengali has ever had any quarrel with the highly objectionable and defamatory reference to Gujarat. All hell would have broken loose if a song with its lyrics deriding Bengal in a similar manner would have been written or sung.
What is more, Nachiketa sang a portion of this song, and ended it emphatically with the abhorrent line (tumi ashbe bolei desh ta ekhono Gujarat hoye jaini), at a public function in front of chief minister Mamata Banerjee on 22 September this year (watch this recording of the event).
Nachiketa was present on stage along with many Trinamool leaders and top police officers. He was invited by the chief minister to sing a song. And when he ended the song with those loathsome lines, he was loudly cheered by people present on the occasion.
Neither the Chief Minister, nor anyone else present there, so much as raised an eyebrow when Nachiketa sang those lines deriding and abusing Gujarat.
Late last month, Trinamool MLA Sabitri Mitra publicly condemned Gujarat and Gujaratis by stating that they had no contribution to the country's freedom struggle.
She said at a public meeting: "Gujarat played no role (in the country's freedom movement). They supplied arms to the British to keep the country under foreign rule. But today, Gujaratis are becoming prime ministers and shouting 'Bharat mata ki jai'. Do they have the right to shout 'Bharat mata ki jai'? Only those who fought in the freedom movement have the right to shout this slogan. We have the right to raise the slogan Bharat mata ki jai. The BJP has no such right" (see the recording of her speech in this tweet).
Mitra went on to heap abuses on Prime Minister Narendra Modi and Home Minister Amit Shah. She called them 'Duryodhan' and 'Dushasan' (two ignoble characters from the Mahabharata) "whose only job is to go around disrobing women".
But Trinamool chairperson Mamata Banerjee or any of her colleagues and, for that matter, any other Bengali, ever felt the need to counter Mitra. Not even when BJP MLAs vociferously objected and raised a din inside the state assembly. Mitra, emboldened by the silence of her party leadership asserted that she stood by whatever she had said.
Forget the shameless falsification of history by Mitra, even her derogatory remarks against the Prime Minister and Union Home Minister did not elicit any condemnation.
Had any non-Bengali ever uttered falsehoods about Bengal's contribution to the freedom struggle, all hell would have broken loose in Bengal.
But Bengalis feel it is their birthright to abuse and deride other communities, look down on them, coin pejoratives for other communities (eg, Ude for Oriyas, khotta for people from Bihar and Uttar Pradesh and mero for Marwaris) and falsify history to belittle other states and fellow-Indians from those states.
It is high time Bengalis introspect and admit the parochialism and supremacist mindset that has got so deeply ingrained among a large section of members of the community. This attitude is responsible for many of the ills afflicting Bengal today.
And it is also time to acknowledge that tens of thousands of job-seekers from Bengal migrate to prosperous Gujarat every year. Lakhs of Bengalis find employment in businesses owned by the enterprising Gujaratis. It thus does not behove Bengal's politicians to deride Gujaratis.
Bengalis must acknowledge that Gujarat is much more prosperous and developed than Bengal, which lags behind most other Indian states in many development and economic indices.
Bad-mouthing Gujarat, a state that provides livelihood to lakhs of Bengalis, and then taking offence at a faux pas by a Gujarati politician, reek of hypocrisy.
Get Swarajya in your inbox everyday. Subscribe here.
An Appeal...
Dear Reader,
As you are no doubt aware, Swarajya is a media product that is directly dependent on support from its readers in the form of subscriptions. We do not have the muscle and backing of a large media conglomerate nor are we playing for the large advertisement sweep-stake.
Our business model is you and your subscription. And in challenging times like these, we need your support now more than ever.
We deliver over 10 - 15 high quality articles with expert insights and views. From 7AM in the morning to 10PM late night we operate to ensure you, the reader, get to see what is just right.
Becoming a Patron or a subscriber for as little as Rs 1200/year is the best way you can support our efforts.
Become A Patron
Become A Subscriber