Why Gau Rakshaks In Alwar Are Giving Up On Gau Raksha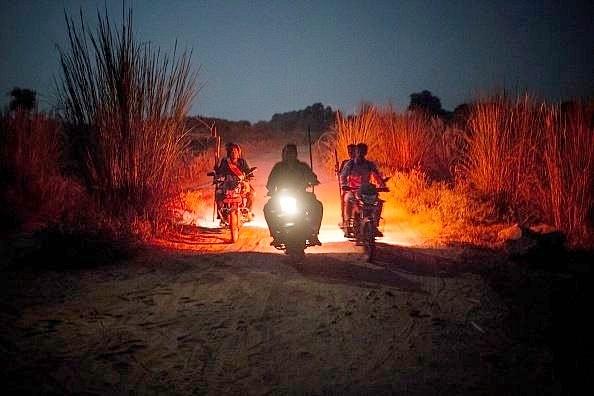 Gau rakshaks. Picture for representation
Snapshot
A ground report from Alwar - a district whose reputation has been tainted by media's projection of it as the hub of cow-related lynching episodes.
Gaurakshaks in Rajasthan's Alwar district are broken men. Their spirits are shattered like never before. Earlier, the cow vanguards didn't think twice before standing up to even the gun-toting cow smugglers despite all the threats. They had all the cojones in the world to go up against this unorganised criminal enterprise as long as the battle was purely limited to offering resistance. But it is no more about that. The fight is now highly asymmetric with an unprecedented vilification campaign unleashed on the folksy villagers, uninitiated in the propaganda of psychological warfare.
"Dilli media" is a a big villain in their eyes so much so that when we visited village Lalawandi in Ramgarh tehsil, where Rakbar Khan was apprehended from, residents simply refused to talk to us. There was no point telling anything to "liars who hear something here and write exactly opposite after going back." They are incensed with the media for launching a broadside against them. One of the villagers narrated how a news channel team came to shoot a documentary in November and when it was published, it termed all of them rowdies and hoodlums. "They told us to carry whatever weapons we possess and we did. They asked us to raise slogans and we did. We helped them shoot the documentary. We took them everywhere and risked our lives intercepting vehicles illegally taking cows. But they went back and called us 'gundey'. This is how you media people repay us," one of them complained.
Then there are double standards which outrage them no end. There have been 800-plus cases in just last three years against cow traffickers in Alwar alone and two incidents of lynchings. Still Alwar has been projected as some sort of a hub for cow-related lynchings rather than a den for beef mafia that it evidently is going by police statistics.
If it's about the graveness of the crime, then why hasn't an incident like Govindgarh generated the same shock and disgust?
It happened less than 10 days after Rakbar Khan's death.
It was Shyam Singh, head of a Sikh group in Govindgarh, who saw it first. Blood leaking continuously from a pipe of a house in his neighbourhood, located in Ambedkar colony on Badbada road, evoked his suspicion. He promptly informed the local police station and some villagers. When they threw open the door of the house, it was a crime scene, a sight that scandalised one and all.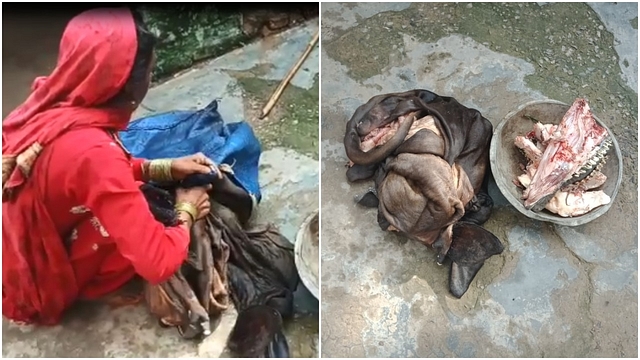 Three women were briskly chopping meat and packing it into plastic bags while remains of a slaughtered cow lay nearby. The police recovered a total of 221 cow hides from the house. A team of doctors arrived and confirmed the meat was beef and of a freshly slaughtered cow. They said the cow hides looked not more than a month old.
In this mostly Hindu-populated village where cow is revered as a deity and its slaughter is banned under state laws inviting upto 10 years in jail, the revelation sent shock waves. It's the brazenness that hit the villagers hard. "It is the only Muslim family in a colony of Hindus, in a village full of Hindus. The act is so brazen it's unbelievable," Lakhan Solanki, one of the witnesses who is also a Vishwa Hindu Parishad (VHP) functionary, told Swarajya.
Ravikant, another resident, voiced the irony, "Let alone living in the terror of gau rakshaks as media claims, they don't even fear the law."
"They keep denying Rakbar was a smuggler. They keep denying cow slaughter is carried out defiantly in the state. This incident is enough to shut them all," he said.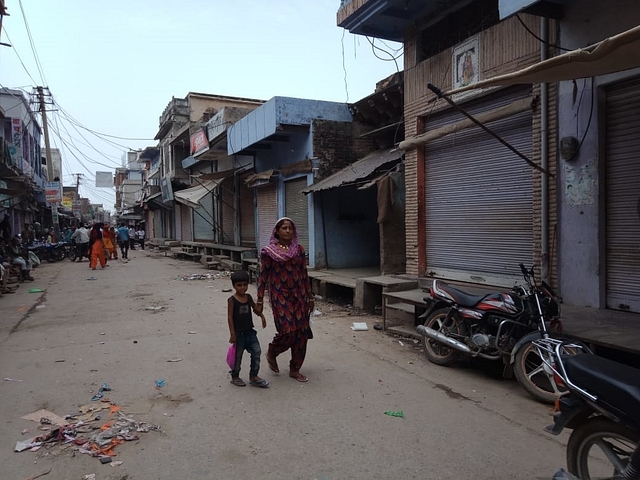 He was referring to Mewat-resident Rakbar Khan who was caught by villagers taking cows in the dead of the night through the fields in the nearby Lalawandi village in the same Ramgarh tehsil, some 30 kilometres away. Khan, 31, later died in police custody on the same night. As per the post-mortem, it was due to shock caused by his injuries as a result of thrashing.
While the Rakbar Khan case rightly invited national disgust with admonition by national media celebrities via articles and television debates for days, Govindgarh case died a slow death in local Hindi dailies and was conveniently ignored in the national press.
The three women, Akbari Qureshi (48), Sajeena Qureshi (23) and Bhoori Qureshi (22) were taken to the police station and a first information report (FIR) was registered the same day on July 30. The FIR (a copy of which is with Swarajya) records the women's statement that Bhoori's husband Shakeel and one Sattar slaughtered the cows around 6 am and the meat was to be delivered to the nearby Meo villages. They were all booked under section 3,4 and 8 of the Rajasthan Bovine Animal (Prohibition of Slaughter and Regulation of Temporary Migration or Export) Act, 1995. The sections relate to slaughter of cow and transportation of the cows for slaughter, offenses that can put the convicts behind bars for 10 years.
The villagers are unhappy with the police. Eye-witnesses say they saw the register recovered from the house by the police which had a list of 165 names who were probably their regular customers. The locals accuse the police of letting them go after taking bribes. As per state laws, possession and sale of beef is prohibited and punishable with upto five years in jail. They also accused station house officer Dara Singh Meena (who has since been transferred) of laxity in making the arrests. "It was only after we made inquiries about the absconding men every single day that they were arrested two weeks later," said Solanki.
The incident sparked villagers' fury who closed the market for a day in protest, prompting a visit by the Bharatiya Janata Party (BJP) legislator Gyan Dev Ahuja, who represents the Ramgarh constituency. His visit, however, only aided in intensifying their revulsion. Videos show Ahuja sprinkling Gangajal and offering flowers in front of the sealed house, amid chants of 'Bharat mata ki jai' and 'Gau mata ki jai' by his followers. He also made a bizarre promise that a temple would be constructed at the site. "For god's sake, we don't want a temple there. We want justice. We want culprits to be punished. We want that so no more cow slaughter happens," a VHP member said on the condition of anonymity. "But all we got was drama."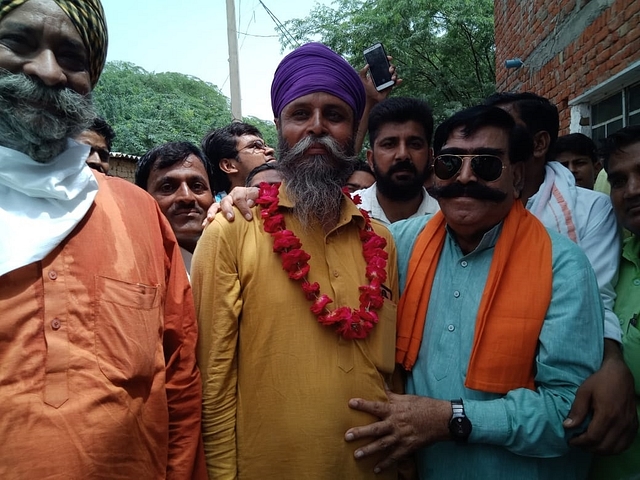 All the five accused are out on bail. More than two months have passed but the chargesheet in the case has not yet been filed. The villagers are demoralised. They are organising regular protests against the state administration in Govindgarh. However, besides bad press, nothing much has come out of them. "If the so-called Hindu government is not serious about cow protection, do we have any hope of gau-raksha left?" said the VHP member.
It's not just the Govindgarh case that has sapped their spirits. Take the Manakpur village which lies on the Ramgarh-Govindgarh road. On November 10, three cow traffickers were passing by Manakpur in a pick-up truck full of cattle when a group of villagers intercepted them. Both groups exchanged fire in which one of the smugglers, Umar Khan, 35, died while another, Tahir, received injuries. The third one, Javed, managed to flee.
It was later revealed that Tahir had six cases registered against him for cow smuggling in Bharatpur and Dausa districts and Umar had one in Govindgarh. Tahir and Javed were subsequently arrested and they admitted that they were all carrying firearms.
A case of murder was filed by Khan's family against the villagers, the gau-rakshaks, who had fired at him. The police arrested eight people. When Swarajya visited the house of one of the accused, 24-year-old Dashrath Gurjar, this week, it was vacant. A neighbour, who spoke on the condition of anonymity, told us, "We have always given the smugglers a tough fight. Earlier, we would stop them and they would flee, leaving their vehicles and cattle on the spot. Then they started using fireguns and so did we" he said.
But if a person lost his life - even if he was a criminal - then what's wrong in booking the accused for his murder? The neighbour said that "gunshots were fired from both sides and it was only a matter of chance that villagers survived and the smuggler died. It could have been the other way round."
Asked why the villagers should even get into a scuffle with the smugglers and not stop at being police informers, he said the police have failed them and cow protection was their "dharma".
He said after the November incident in which his neighbour was charged with murder and spent months in jail, they have stopped confronting cow smugglers lest the police should book them also. "Nobody dares to touch the smugglers even if their own cattle is stolen," he said. They operate freely on this route now, he told us.
Kulwant Singh, 50, a Sikh farmer in Lalawandi village, gave up all of it years ago. In 2010, he confronted a group of cow smugglers passing through Lalawandi chowk after they untied and stole his buffalo. "It was well after midnight and I had been sleeping. I quickly started my motorcycle and chased them. They fired at me. Thankfully, they missed the shot but seconds later, they tried to run over me. I lost my balance and fell down. The motorcycle dragged on for about 200 metres."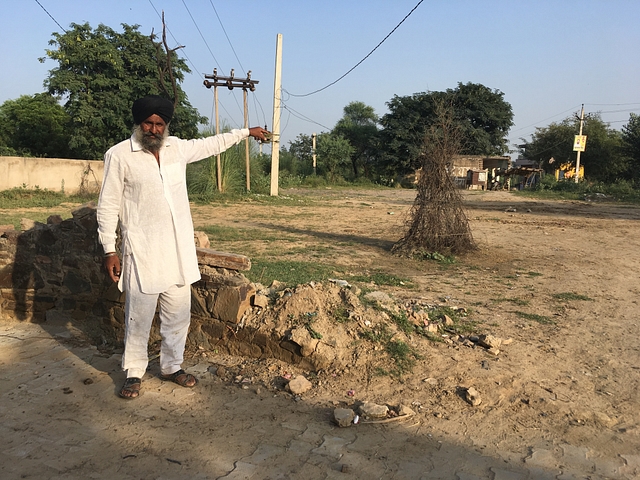 "I came face to face with death that night. I sustained wounds on my hand but luckily, I survived. It's been many years but to this day, I do not step out of the house after eight in the evening," Singh told Swarajya.
As Singh narrated his story, a group of 10-15 villagers huddled around. They joked that had he died, his bust would have been installed at the chowk proudly proclaiming he was a gau rakshak. Singh laughed but disagreed. "It's not a good word anymore. The times have changed," he said.
Om Prakash Rajput, 60, who has been running a tea stall at the chowk for several decades, said the Lalawandi chowk that connects Laxmangarh to Mewat is where a lot of vehicles ferrying smuggled cows pass through, and as long as he remembers, villagers have been putting up a brave front.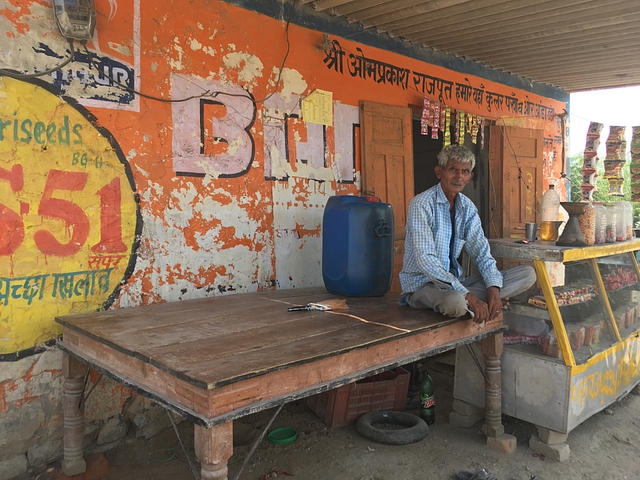 He said that when the smugglers first started using vehicles to smuggle cows, villagers began to place wooden boards with nails on their way. "The trick worked for some time. But they grew deadly. Now they carry all sorts of firearms," he said. Rajput said that such is the terror of the armed smugglers now, that other than gau rakshaks, no other villager ventures out after midnight even if they have an important errand to run. "They [smugglers] fire at anyone thinking they are gau rakshaks," he said.
Pandit Jeevanlal Sharma, a retired teacher, said his village Lalawandi is where the smugglers have always faced the stiffest challenge. "Ours has the highest proportion of Hindus as compared to surrounding villages," he offered in explanation.
Rakbar Khan and his aide Aslam were caught illegally carrying cows on the night of July 21 in Lalawandi. Three village youngsters are facing murder charges for his death.
It's different from other cases for various reasons.
First, unlike Manakpur where a smuggler was killed on the spot in a scuffle with gau rakshaks, Akbar alias Rakbar was alive and upright when he was handed over to the police. This was revealed in photographs released by Naval Kishore Sharma, a VHP functionary in Ramgarh. After the villagers caught the smugglers, they called up Sharma who routinely informs the police about such cases. Sharma told Swarajya that he informed the Ramgarh police about the case and, on their request, accompanied them to Lalawandi as a newly transferred cop Mohan Singh wasn't familiar with the route. Sharma clicked the photographs in the police vehicle when he, cops, Akbar (Aslam had fled), and Lalawandi residents Paramjit, Naresh and Dharmender were all on their way to Ramgarh police station. Hours later, Akbar was found dead in the police station.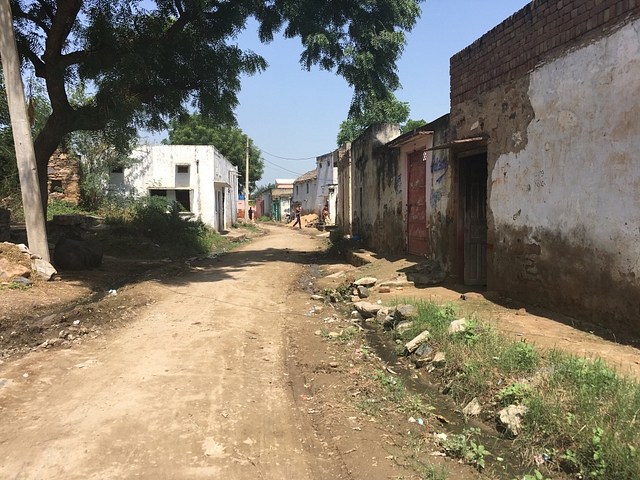 Sharma squarely blames the police for excesses as Akbar died in their custody. The police, on the other hand, have made Lalawandi residents Paramjit, Naresh and Dharmendra as key accused in their chargesheet filed earlier this month. They have been charged for murder under sections 302, 341, 323 and 34 of the Indian Penal Code; the charge-sheet says Akbar died after being beaten up by them. It was Dharmender's fields through which Akbar and Aslam were taking cows, and the family and villagers had laid a trap to nab the thieves after repeatedly noticing footprints and damaged crops in their field.
Second, the police have failed to book Akbar and his aide under the Bovine act for transporting cows for slaughter. When Swarajya visited Ramgarh police station, officers said no such complaint has come to them. However, Sharma told Swarajya that the police have simply refused to lodge the FIR despite him visiting the police station four times.
Akbar had been previously chargesheeted for cow trafficking in 2014. The FIR in the case, filed on 24 December 2014 (seen by Swarajya in the Naugawa police station), says Akbar and one Arif were taking two non-milch cows on foot through Naugawa around 3.30 am without any documents and for purposes of slaughter and were booked under sections 5,8 of the RBA.
We travelled to Rakbar's village in Kolgaon in Haryana. Ilyas, the eldest of Rakbar's five siblings, said his brother was killed for being a Muslim. When asked about charges of smuggling on Akbar from 2014, he said it wasn't true and there was no case on Rakbar.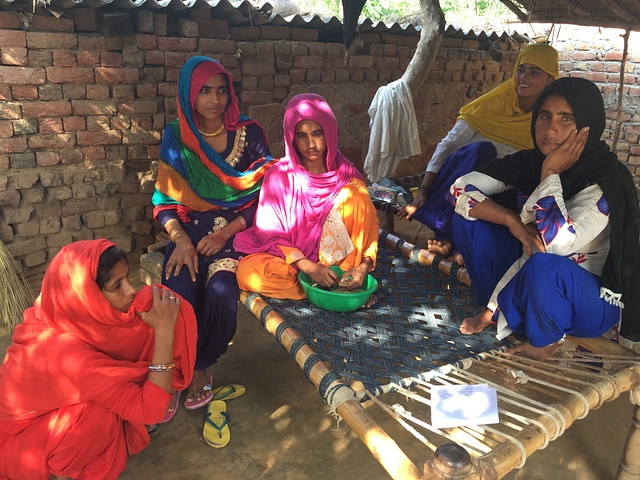 "My brother was a dairy farmer. Look around. We have so many buffaloes and cows, Rakbar alone had 5-6 cows," said Ilyas. When we enquired why he was found with non-milch cows, the family members denied they were non-milch cows. "He was bringing cows for rearing," Rakbar's uncle Multan said.
But Kapoor Jain, manager of the Shri Digambar Jain Sudhasagar Gaushala on Alwar road, told Swarajya that there was no question of Abkar taking the cows for milk as alleged by his family. "They were non-milch cows," he said, showing the photographs. "I was at my home when I got a call around 3:12 am. I alerted my staff at the gaushala. An entry is made of the cows at 3:26 am," he said. He said the gaushala has about 350 cows, most of them rescued from smugglers.
Jain said that since the Rakbar episode, his gaushala has not received any cow. "Clearly, no one is rescuing them anymore. Though we know for sure that smuggling hasn't ceased."
Akbar's aide Aslam's claim that they had bought the cows from an address in Ladpur village was also found to be false. Residents of that address told the media that they neither possessed any cows nor had sold any cow in the past three days as alleged.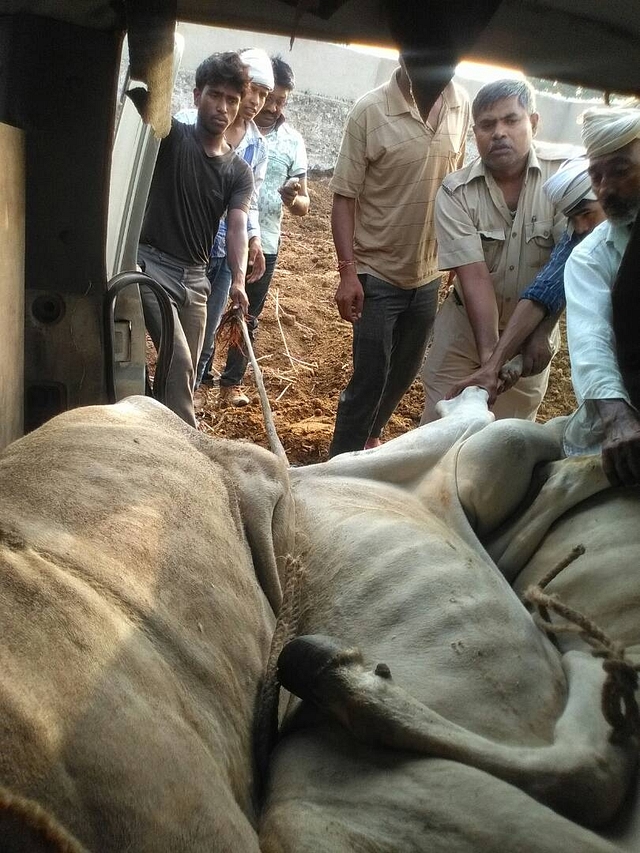 A police officer in Naugawa station, requesting anonymity, told Swarajya that it was "obvious" that they were taking cows for slaughter. "I have been dealing with such crimes for decades. No dairy farmer takes cows in the night, without valid documents, discreetly through fields instead of paved roads," he said.
The officer said that the Naugawa police station alone registers 10-15 cow smuggling cases every year. "The conviction rate remains abysmally low. Bail is easy. So there are a lot of repeat offenders," he said. As per Superintendent of Police (Alwar) Rajendra Singh, some 500 cow smugglers have been found to be repeat offenders in the district.
On our way to Govindgarh, we encountered an actual dairy farmer who was transporting a milch cow on Thursday (27 September) afternoon. On our request, he stopped and showed a standard document that is need to transport cows legally. It had a letterhead of a village gram panchayat and signed by the sarpanch. The letter mentioned the farmer's name, number of cows being transported and the destination. When asked if he transports cows in the night, the farmer told Swarajya that only smugglers do that and they never have such a document.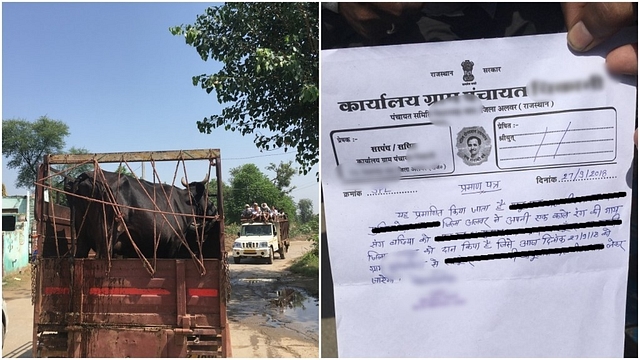 Even if Akbar was a smuggler, it does not lessen the gravity of his death. But villagers are furious at his labelling as a dairy farmer by the media. "It is this wrong portrayal that made Haryana government give Rs 8 lakh to his family. Does the Haryana government give compensation to all the thieves who die while stealing or all those who die in police custody?" asks Naval Sharma.
"If Akbar was taking those cows for milk, why has the police not returned his cows to his family and kept them at the gaushala?" he said. Sharma said almost every family in rural Alwar has buffloes or cows and it's no different among Meos. "We know for a fact that some Meos slaughter cows even if they themselves possess cattle," he said.
Be it Govindgarh, Ramgarh or Manakpur, one can discern the pattern that gau-rakshaks are giving up on cow protection.
The reason gau-rakshaks mushroomed in areas such as Alwar is because cow theft and smuggling is rampant here. They usually limit themselves to acting as useful informers playing a critical role in law enforcement, something they are forced to play given weak police presence that has allowed cow smugglers a free run and facilitated them to operate with impunity under the cover of darkness. In Alwar police chief Rajendra Singh's own words, gau rakshaks help the police.
In rural hinterland where criminals torment villagers and police penetration is low, it's not uncommon for the villagers to form temporary vigilance bands to keep a watch in the night with members of each family taking turns and roam the streets so that others can sleep peacefully. But such groups are disbanded as soon as the threat of criminals subside. The reason cow protection groups have not only sustained for so long but in fact multiplied over the years speak volumes of the proliferation in activities of cow mafia. Gaurakshaks are not the problem but only a response, however unpalatable. They will go away if the problem they came together to fight is tackled by the state. Far from addressing the root cause, the recent campaign has solely focussed on vilifying gau-rakshaks.
It's not just the media that gau-rakshaks are mad at. The government has put a heavy indirect tax on cow protection, they feel, by hounding gau-rakshaks and rewarding gau-bhakshaks with cash bounties. They also allege that Rashtriya Swayamsevak Sangh, with whom, most of these gau-rakshaks are associated, has abandoned them. Sunil, a youngster in Govindgarh and a Sangh member, refuted the claim saying the allegation isn't true. But his friends in VHP immediately shouted him down. "What has Sangh done? Have they even provided a lawyer? We have spent lakhs from our own pocket. Sangh hasn't given even a paisa," Lakhan Solanki said. "From Gram Pradhan to Pradhan Mantri, a Hindu party is ruling the country, but the cause of cow protection has suffered to a great extent," he said.
Get Swarajya in your inbox everyday. Subscribe here.
An Appeal...
Dear Reader,
As you are no doubt aware, Swarajya is a media product that is directly dependent on support from its readers in the form of subscriptions. We do not have the muscle and backing of a large media conglomerate nor are we playing for the large advertisement sweep-stake.
Our business model is you and your subscription. And in challenging times like these, we need your support now more than ever.
We deliver over 10 - 15 high quality articles with expert insights and views. From 7AM in the morning to 10PM late night we operate to ensure you, the reader, get to see what is just right.
Becoming a Patron or a subscriber for as little as Rs 1200/year is the best way you can support our efforts.
Become A Patron
Become A Subscriber