Why Mayawati's New Threat To Convert To Buddhism Is Fraught With Political Risks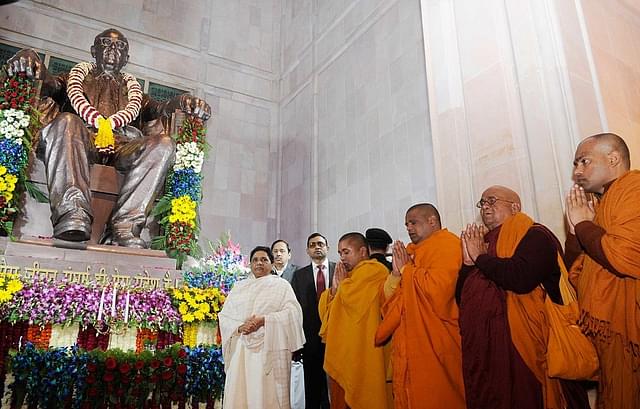 Mayawati paying tributes at the Ambedkar memorial in Lucknow. (Deepak Gupta/Hindustan Times via GettyImages)
Snapshot
Mayawati's new threat to convert to Buddhism may not be executable as it may tantamount to political hara-kiri.
Bahujan Samaj Party (BSP) chief Mayawati is at it again. During an election rally in poll-bound Maharashtra, she said that she would convert to Buddhism at an 'appropriate time'.
Citing Dr B R Ambedkar's decision to convert to Buddhism, she said: "before his death, Babasaheb converted his religion. Now, you would be thinking that when Behenji would follow the path of Babasaheb and convert to Buddhism. My answer is, I will take diksha of Buddhism religion but at the appropriate time. People in large numbers will convert their religion with me."
A very unique feature of many Hindu households is a prominent display of wall calenders and decorated pieces of Hindu deities along with Lord Buddha, Lord Mahavir and Guru Govind Singh representing Buddhism, Jainism and Sikhism respectively. Despite giving them different religious names, the Hindu ethos has equal reverence for all of them.
It is this public psychology that is the integrating fibre in our otherwise diverse and heterogeneous social fabric. It is in this background that one could look at the possible political consequences of Mayawati's threat to renounce Hinduism and get converted to Buddhism.
Mayawati is already on the horns of a dilemma and caught between the devil and the deep sea; between her original identity politics and recent forays into inclusive politics. The politics of identity gave Mayawati hold over a Dalit base, though partially. She could not rise above petty politics, remained focused on Jatavs/Chamar sub-caste but neglected homogenisation of wider Dalit communities that include 66 ati-dalits sub-castes.
However, that gave her some clout over Dalits in the early 1990s but not enough to come to power. When, however, she moved on from identity to inclusive politics in the twenty-first century, she hit the bull's eye and got absolute majority in Uttar Pradesh and formed her government in 2007.
But, Mayawati committed serious faults after her majority win in UP. Instead of carrying forward her winning strategy hinged on inclusive politics, she frittered away her time in casteist governance, lopsided development, minting money and unproductive monument building.
To add to her misery, she nursed ambition for a role at national level at the instigation of the so called third front. The consequences were disastrous for her and BSP as the party not only lost power in UP but also its social base as most Dalits drifted towards BJP, which registered resounding win in UP during 2014 Lok Sabha polls and 2017 assembly elections.
Mayawati made a substantial shift in her social engineering strategy by transiting from Dalit-Brahmin coalition to Dalit-Muslim coalition, which too remained a non-starter and Muslim support to BSP remained exactly at the previous level, ie 18 per cent in 2017 assembly polls in UP.
Though Mayawati expelled her strong Muslim face Naseemuddin as punishment for the failure of Dalit-Muslim coalition, yet she has not lost hope of refurbished Dalit-Muslim coalition in future. It is in this light that her threat to quit Hindu faith may be an attractive proposition that may bring a few Muslims to her side. But, Mayawati has again failed to calculate the cost of her threat.
One, she has presumed, perhaps falsely, that her U-turn to new identity and new social engineering may work in future. But, situations and affiliations in modern times change so fast that by the time one becomes conscious, the strategy becomes obsolete. Why should Dalits now return to Mayawati? She must ask this question to herself.
By winning all 19 reserved seats for Lok Sabha in UP in 2014 and 75 of 85 reserved assembly seats in 2017, BJP has made huge inroads into 66 ati-dalit communities and even among Jatavs/Chamars. As BJP government is in place both at the Centre and in UP, Dalits think that such large contingent of MPs and MLAs of BJP could help them and, hence, they do not see any reason to go back to Mayawati.
Two, Mayawati's conversion to Buddhism threat may not be executable as it may tantamount to political hara-kiri. The reason is that during conversion, 22 oaths have to be taken and many are abjectly against Hinduism. Some of the oaths read as follows:
I shall have no faith in Brahma, Vishnu and Mahesh… Rama and Krishna …'Gauri', Ganapati and other gods and goddesses of Hindus… I shall not allow any ceremonies to be performed by Brahmins… I renounce Hinduism which is harmful for humanity and impedes the advancement and development of humanity because it is based on inequality.
We can well imagine how these oaths will impact both Dalits and non-Dalit Hindu segments of the society.
Many Dalits are fighting and steadily winning battles for parity with upper caste Hindus, temple entry, performance of Hindu rites and aspirations for 'sanskritisation'. How will they respond to Mayawati? Will they go with her? In fact, Mayawati would be at her wits end as both Congress and BJP would be too happy to take up Dalit cause and win them over branding Mayawati as escapist who left them in the lurch.
She would cease to be a Dalit leader as the entire concept of 'Dalit' exists only within the framework of 'Hinduism'. That may give Congress a historic opportunity to reclaim its estranged Dalit base that was once an integral part of its rainbow coalition under popular Dalit leader Jagjivan Ram. A large segment of Dalits has already shifted to BJP and if the remaining moves to Congress, the future of Mayawati would be sealed and her identity politics may see the burial.
How non-Dalit Hindus – the upper castes and the other backward classes – will respond to Mayawati? Both social segments derive their cultural tradition and religiosity from Lord Rama and Lord Krishna, Brahma, Vishnu and Mahesh – which Mayawati will have to renounce while converting to Buddhism.
Isn't it strange that in a land of Lord Rama and Lord Krishna and our Ganga-Jamuni Sanskriti, where Muslims are so respectful of Hindu deities and Hindus have great faith in Muslim shrines like Ajmer Sharif and several other dargaahs, Mayawati is attempting a very narrow and sectarian card just for the sake of a few votes! How will she counter the Dalai Lama factor, a Buddhist monk, who is hugely revered by the Hindus in India and is a household name?
Mayawati's many erratic decisions are symptoms of deeper vacuum: the absence of a mentor or adviser. So long as Kanshi Ram was there, she was seeking guidance for futuristic strategies. After his departure, she lost that cover. Dr B R Ambedkar is too old an icon and may inspire Dalits the same way as Mahatma Gandhi inspires many Indians politically!
The kind of strict administrator image that Mayawati commands with a sizable section of the people in incongruous with her reckless political decisions. Identity politics is now a thing of the past. A lot of water has flowed down the Ganges since the 1990s. Modern politics must operate on inclusion.
If Mayawati does not understand this, she may be back to pavilion soon disappointing her many Dalit and non-Dalit admirers.
A part of this article was first published on the Swarajya website on 30 October 2017.
Get Swarajya in your inbox everyday. Subscribe here.
An Appeal...
Dear Reader,
As you are no doubt aware, Swarajya is a media product that is directly dependent on support from its readers in the form of subscriptions. We do not have the muscle and backing of a large media conglomerate nor are we playing for the large advertisement sweep-stake.
Our business model is you and your subscription. And in challenging times like these, we need your support now more than ever.
We deliver over 10 - 15 high quality articles with expert insights and views. From 7AM in the morning to 10PM late night we operate to ensure you, the reader, get to see what is just right.
Becoming a Patron or a subscriber for as little as Rs 1200/year is the best way you can support our efforts.
Become A Patron
Become A Subscriber