Ajjamma Cafe is a popular eatery in Udupi. Located opposite to Mahatma Gandhi Memorial (MGM) College, it is where students often have lunch and hang out.
A decade ago, the eatery was much in news for a social initiative where students renovated the crumbling structure to help its octogenarian owner Kamala Mendon, lovingly called Ajjamma (grandmother).
Even when students had little to no money in their pockets, their Ajjamma would still serve some meals, dose or omelettes, with a broad smile on her face.
Last year, the famed eatery was a site of heated hijab-related demonstrations and discussions. To be more precise, it was the spot where 'saffron shawl' protesters gathered.
They were students who wore saffron shawls or scarfs to protest demands of selective permission of fellow Muslim women students to sport the hijab.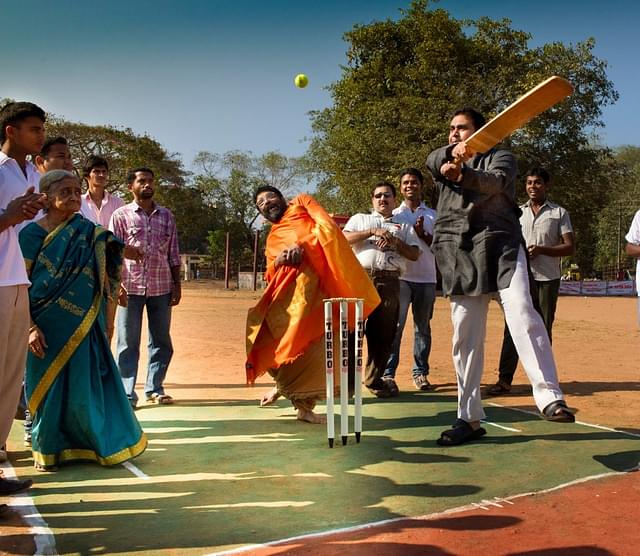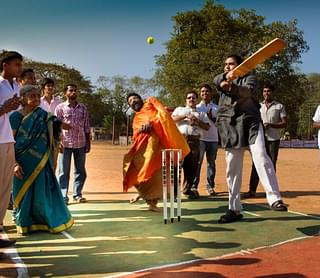 Second from left: Ajjamma watches on as former minister Pramod Madhwaraj attempts his hand at batting in a local cricket tournament in Udupi. (Picture courtesy: Astromohan)
Last week when this correspondent visited the cafe, the chatter revolved around food and politics, but hijab was absent from the conversations.
Asked about the saffron versus hijab row that played out here last year, a student, Manohar*, said, "Yes, some media people came here, had their fun and went away soon. Some students also got their five minutes of fame. But everything is back to normal now," he said. "Thank god".
Manohar's sentiment was shared by his friends, who looked somewhat embarrassed by the question.
I went on to meet students from four different colleges there, who narrated their experience of the hijab protests and how they saw it.
Udipi, The City Of Temples
The temple of town of Udupi lies sandwiched between the beaches and the hills in Karnataka. Udupi is an hour's drive from Agumbe where R K Narayan's Malgudi Days was shot.
For anyone outside of Karnataka, the name may ring a bell because of a visit to a south Indian restaurant. The 'Udupi' prefix extends a certain degree of authenticity to every 'pure vegetarian' restaurant.
But over the last few decades, there has been a migration of bhattaru (cooks) from Udupi to major cities like Bangalore and Bombay.
I came across a piece written in 1976 May edition of Swarajya about Udupi by Rahman Azer titled 'In and around Udipi – the city of temples'. Nearly after half a century, the temple town has preserved its cultural sanctity.
Udupi is home to the Sri Krishna Mutt which was established by Jagadguru Sri Madvacharya. As a result, there are plenty of temples and educational institutions (many which are administered by the mutts). Udupi's people are welcoming, warm and religious.
Some of the best names in Kannada literature, cinema and education come from the coast, especially Udupi. As a result, the social indices are high and the students end up topping the board exams very frequently. (It is a matter of pride here).
Those who are familiar with Karavali Karnataka will also know that there is an underlying Hindutva sentiment in the region.
There are many reasons why such an undercurrent prevails. One among them can be attributed to historical invasions from foreign powers and constant exchanges with alien cultures.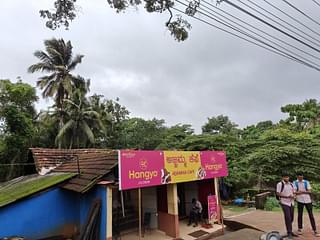 Ajjamma cafe, a popular place for lunch, opposite MGM college in Udupi.
'Getting To Wear What I Want To Is A Freedom I Aspire To Have Some Day'
Shazia*, a student from the pre-university college where the controversy erupted, tells Swarajya that she feels uncomfortable sporting the hijab, but has to do so, since her family mandates it.
She tells me that she felt elated when triple talaq was criminalised. Initially, when approached, Shazia was apprehensive to speak to us.
She tells Swarajya that the students who are speaking to the media are being closely monitored by their friends, families and those associated with the Campus Front of India (CFI).
College authorities have earlier stated that the CFI has been instrumental in instigating the students and their parents to push for hijab to be allowed in educational institutions. In another instance, CFI also opposed the worship of Bharat Mata in Mangaluru University.
Students have been warned with threats of suspension from their educational institutions, should they engage with the media or take part in any more protests on either side.
But once I promised Shazia and the other students that this will be done strictly anonymously, they hesitantly agreed. It took them time to get comfortable and open up.
"I feel angry when I see women supporting these medieval practices themselves. They use any argument to justify the stifling of our freedoms. People do not understand the psyche of Muslim girls who attend schools and colleges. Basically, we are ostracised if we wear hijab. We get stares from our Hindu friends who feel that we enjoy more privileges being the minority community", Shazia says.
Personally, she says that she is in support of a uniform wear for all the students, irrespective of their faith.
Today, the Muslim community produces some of the best scientists, engineers, doctors and actors and are becoming successful in almost every field. But, women in the average Muslim households have to go through the same ordeal as before, she says.
"Honestly, getting to wear what I want is a freedom that I aspire to have someday", Shazia tells me, while asking me for a reassurance that her name shall not be revealed anywhere and no photographs published.
Shazia was accompanied by two of her friends. While I was just about to leave from the cafe where we met, she turns around and says, "Everyone needs to first change their thinking, anna. Women should be given the same freedom that men enjoy. That is when they will grow without any fear", she said. Nodding in agreement, I left the cafe to go towards auto rickshaw which was waiting for me outside.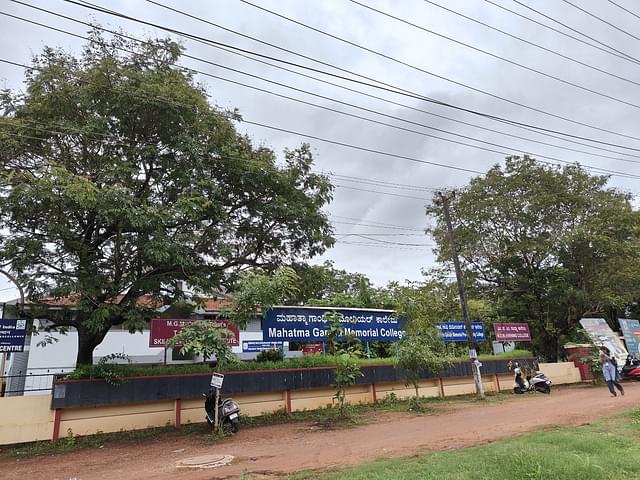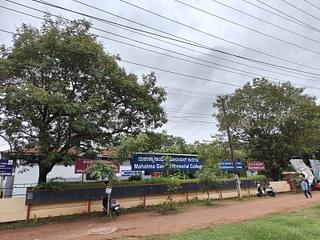 Mahatma Gandhi Memorial College in Udupi, which was one among the institutions that got mired in the controversy.
'All We Ask For, Is Equality Before The Law'
A student from a nearby law college, Vasudeva*, emphasised on the judgement delivered by the Supreme Court of India (the verdict by Justice Hemant Gupta in particular) which basically stated that the burden of secularism rests on the shoulders of all the citizens of India equally.
He questions the double-standards of a few misguided Muslim students who went to the media and raised the issue at first.
"How is it double-standards?", I asked, following up on his statement.
"They say that the nation went against their Islamic beliefs. But the truth can be found in their religious book Qur'an which is ambiguous about the definition of hijab. All this was done to establish a sense of supremacy of Islam over Hinduism", he said, appearing quite miffed.
The issue was contained because of the quick legal response by the judiciary, he says. Now, students are back to wearing uniforms like everyone else, he adds.
"I hope the resistance Udupi's people showed provided some hope for everyone else. We need to fight for equality before the law", Vasudeva tells Swarajya.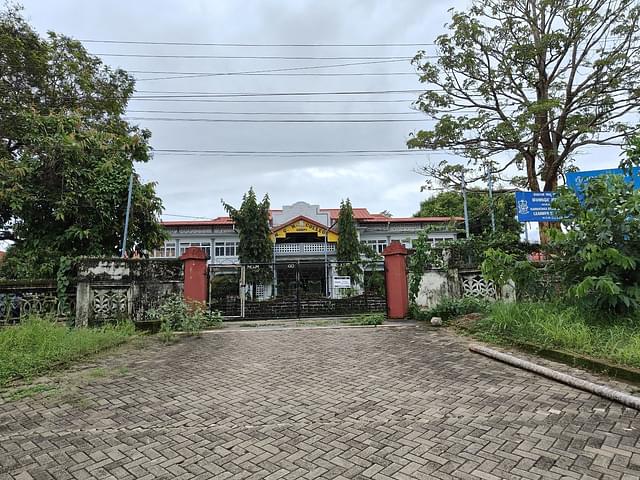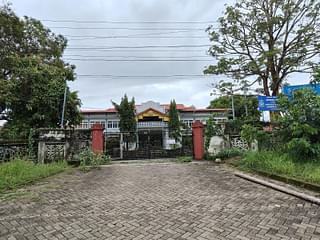 'Enough Is Enough. Let Us Move On'
While interacting with several students from the educational institutions in Udupi, the common sentiment was that the lot were tired of being pulled into the 'hijab versus saffron shawl' war. The students tell me that they did what they had to. They resisted, put up a fight, but now, they want to move on.
Srivatsa*, a student from an engineering college in Udupi tells Swarajya that sporting the hijab (or any other communal clothes) with the school/college uniform creates a sense of separation among the students.
"Equality must be restored in educational institutions. We hope that the government considers this today. This is why the calls for Uniform Civil Code must grow stronger. I hope it is implemented soon. I just want to live like everyone else and have the same duties and rights as citizens of India", he says.
He adds that the hijab issue has brought a 'bad name' for the city in the media, and wishes that its original image is restored.
Can the Congress reverse the decision?
Zeba Zoariah, a law graduate, says that the patriarchs in Muslim families fear that a woman being educated threatens them in a certain way, since they believe that she gets distracted from the principles of Islam. Critical thoughts, she says, can lead to women questioning the core tenets of Islam.
"The basic fear of losing religious demography leads to such imposition of strict control. It is important for people to challenge tenets of their own religion. If you are being truly liberal, you must then provide an opportunity for people to think using reasoning. Muslim women too, must have the liberty to educate themselves and freely express their thoughts using reasoning and logic", she adds.
Speaking about the legality of 'lifting the ban', Zeba says that the apex court's verdict was a split one, so they have referred it to a higher bench of the Supreme Court.
Till then, the verdict won't be binding. "In such a case, when they (GoK) challenge the Karnataka High Court's judgement, they can seek a stay on its operation; this temporarily negating the ban till the SC passes another verdict on it, or upholds the earlier decision", Zeba says.
Speaking to Swarajya, Udupi MLA Yashpal Suvarna said that there should not be any discrimination between students in educational institutes. Compared to the other districts, he says that Udupi has a higher enrolment rate (admission rate) in government schools and colleges, which is a good sign of how things are in the region.
He said that the whole issue was a media instigated controversy with the help of a few fundamentalist forces, and that Udupi's glory and good name will continue to shine despite their efforts to tarnish Udupi's name.
*Names of the students have been changed to protect their identity. While some students spoke to Swarajya's Sharan Setty in Udupi, the rest sent their opinions via electronic communication. These students have been strictly informed by the college authorities to not interact with the media, and have been threatened with suspension if they are caught doing so.
Read more: Quranic verses about veiling and ambiguities in definition of hijab