Daughter-In-Law Booked Under Scheduled Castes Atrocity Act After She Files Case Against Husband And In-Laws For Fraud And Assault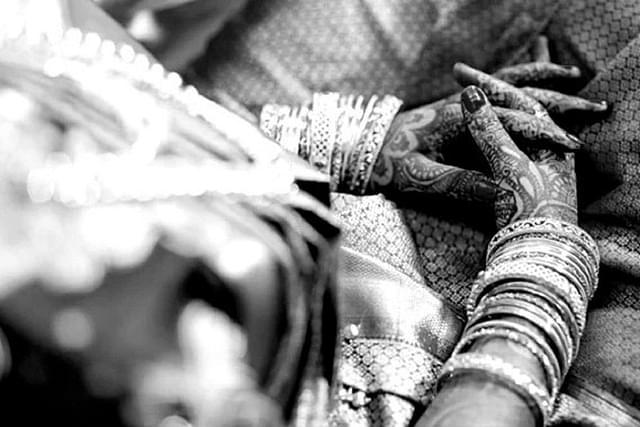 Picture for representation.
Snapshot
The woman claims that the false complaint against her could affect her career. She also fears imminent arrest.
In an unusual case, a woman has been booked under the Scheduled Castes and Scheduled Tribes (Prevention of Atrocities) Act on a complaint by her father-in-law after she filed police cases for assault and fraud against him and other members of her husband's family.
This correspondent has accessed the first information report (FIR) filed against the woman on 12 December 2022 in New Delhi. When contacted, she denied the accusations against her, saying she has been a victim of a "false case".
She said that a police case filed by her in 2019 against her father-in-law and other members of her husband's family for assault, along with another case filed against her husband for cheating, is pending in the Gurugram district court.
Surprisingly, the case against her was filed 20 days after a senior police officer said in writing that they had not found any evidence of caste abuse by her.
The woman, who is a central government employee and is from a general caste of Hindus, says the police case against her could be a hindrance in the way of her due promotion in the department. She also fears imminent arrest.
In this report, this correspondent is giving details of the case filed by her father-in-law, details of the police cases she filed against him and other family members, details of the letter by police saying a case under SC atrocity act is not made out against her, details of another case pending against her father-in-law for allegedly forging documents to obtain a "fake" Scheduled Caste certificate, and her statement given to Swarajya in detail.
This correspondent is not giving the woman's name to protect her identity, and mentioning her name in the report as 'Meenakshi'.
SC Man Files FIR Against Daughter-In-Law For Caste Abuse
The FIR was filed at Mukherjee Nagar Police Station of North West Delhi on 12 December 2022 (number 1094/2022), on the complaint of Ashok Kumar, aged 60. The date of the alleged offence is mentioned as 4 August 2019.
This is what Ashok Kumar's statement in the FIR says:
That he is giving a complaint against Meenakshi Khurana and other members of her family regarding "caste abuse, mental harassment, caste atrocity and physical assault".
That he is a senior citizen belonging to the Julaha caste which comes under Scheduled Castes. His son Yatin married Meenakshi, who is from a general caste, with the consent of both families.
From the onset, Meenakshi's attitude towards his family was indifferent and uncooperative. She often used to pick up fights over petty issues. Within three-four months of her marriage, she left them and went to her parents' house.
That on 4 August 2019, she and her family members came to his house, where they "aggressively entered" his bedroom and started thrashing him. They hurled abuses at him, calling him "choora and chamar".
They repeatedly used casteist slurs against him, calling him "bhangi and chamar". They said, "ye saala chamar hai aur isey tariqe se samjhana padega" and "tum jaise caste ke logon ko humane apni beti de kar ahsaan kiya hai".
That Meenakshi called him "neech" and said that he belonged "to an inferior caste and should be treated like dirt".
Ashok Kumar's statement further says that he is submitting footage from the CCTV camera installed in the living room as proof, and naming two people as eye-witnesses for him — a neighbour named P D Sharma and his brother-in-law Rajesh Munjal.
Besides this, he is also sharing screenshot of a text message circulated by Meenakshi on a WhatsApp group named 'Royal Boutique' of which Ashok Kumar's wife is a member, where Meenakshi called him "uncivilised, drunkard, indecent, etc".
Based on this complaint, the police invoked Section 3(1)(r)(s) of the Scheduled Castes and Scheduled Tribes (Prevention of Atrocities) Act 1989 in the case.
Twenty Days Earlier, Police Said In Writing That No Case Was Made Against Meenakshi
On 23 November 2022, Additional Deputy Commissioner of Police, North West Delhi, wrote to the National Commission for Scheduled Castes (NCSC), saying they did not find by evidence of caste abuse by her.
The officer was responding to a notice by the commission that asked for an action taken report (ATR) on a complaint given by Ashok Kumar in 2021.
The police officer's letter, accessed by Swarajya and attached below, says that in the enquiry, it was revealed that "the copy of WhatsApp chat dated 02.12.2019 provided by the complainant have been perused, in which [Meenakshi] Khurana used the words 'My uncivilised father-in-law Ashok Kumar', which is not caste related remarks".
The letter further says that the photographs and CCTV footage of the house on 4 August 2019 were analysed, but no physical assault was seen. The footage also had no audio recording and hence no exchanged words of arguments could be heard.
The letter adds, "The footage or alleged incident occurred in the house of complainant which is also not a public place. Also only family members of the complainant and family members of complainant's daughter-in-law are seen present in the house and no other public person is seen in the footage… legal opinion from legal Consultant of Sub Division Model Town has also obtained wherein Legal Consultant opined that 'in the given facts and circumstances of the case and law led down by the Apex Court vide judgement dated 18.08.2008 in Criminal appeal No 1287 of 2008, I am of the opinion that the provisions of Scheduled Castes and Scheduled Tribes (Prevention of Atrocities) Act 1989 are not attracted in the present matter'."
The letter concludes, "The enquiry revealed that the present complaint is counterblast to the cases filed by Smt. [Meenakshi] Khurana against [Ashok Kumar] and his family members… the allegations leveled by the complainant could not be substantiated."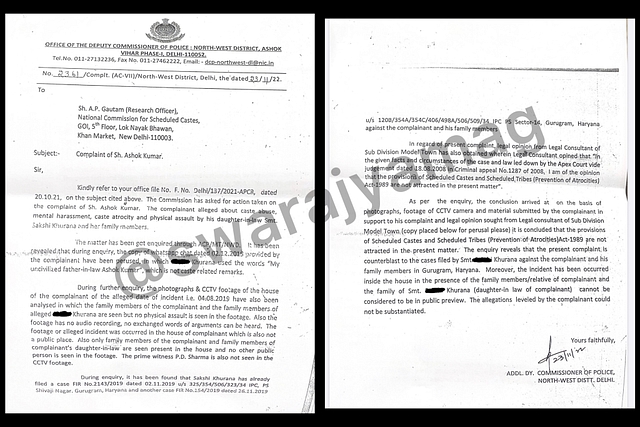 What The Woman Told Swarajya
Meenakshi told this correspondent that she got married to Yatin Kumar on 8 March 2019 in an arranged marriage. The family found the match on a matrimonial website.
Yatin's profile on the website mentioned his surname as 'Arora' while Meenakshi's family uses Khurana as their surname, both being Punjabi Hindu castes (screenshot of his profile on matrimonial website attached below).
Meenakshi was employed in the Customs Department and Yatin worked in the Ministry of External Affairs.
On the wedding card, the groom's name was written as 'Yatin' while the names of his father and mother were written as 'Ashok Bajaj' and 'Anjana Bajaj' (attached below).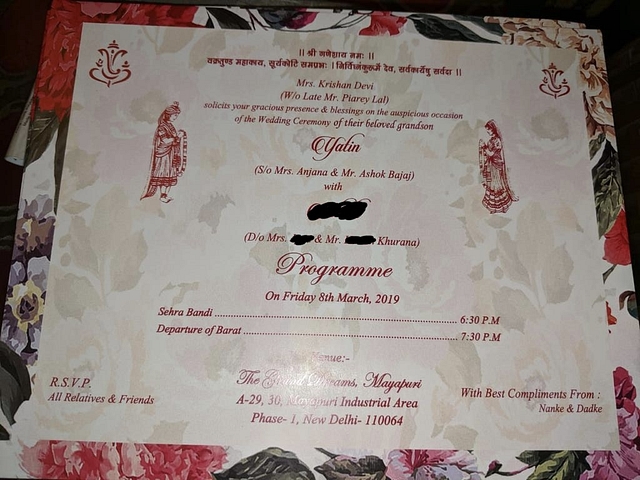 Meenakshi says her father-in-law would consume alcohol routinely, and his behaviour towards her often left her unsettled.
"I never had any problems with my husband, but I had problems with my father-in-law in the initial days itself. He would show up in my washroom on the pretext of needing to talk to me. Once, he pointed to a dustbin where I had disposed of my sanitary pads, and asked me what that was. I felt humiliated," she says.
When Meenakshi told this to her husband, he said that she was talking like an illiterate village woman.
Meenakshi is from Gurugram city of Haryana, which is adjoining New Delhi, whereas her husband's family lives in Mukherjee Nagar.
In June 2019, the family told her to go to her parents' home for a few days as they needed to go out of town to a relative.
However, her husband did not come to pick her up, saying that she needed to improve her behaviour towards his father before returning to his house.
The relations worsened and, in August, Meenakshi gave a complaint to the women cell of Gurugram Police saying she was facing harassment from her in-laws and they were not allowing her to go back to her husband after marriage.
The district court appointed a mediator to resolve the matrimonial dispute. However, despite several sittings, no conclusion was in sight.
While she maintained she did not want to live with her father-in-law, he was adamant that he would not allow his son to live independently of him.
She says that in November, during such a sitting in the court, her father-in-law and other members of her husband's family beat her up. She filed a police case against them for assault.
Swarajya accessed this FIR from Haryana Police's website (number 2143/2019). It was filed at Shivaji Nagar Police Station in Gurugram on 2 November 2019.
Meenakshi's statement recorded in the FIR (slightly edited by Swarajya for clarity) is attached below.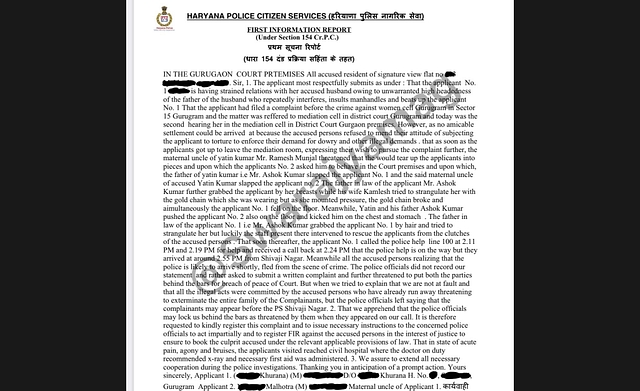 It says:
"I am having strained relations with my husband owing to unwarranted high-headedness of his father who frequently interferes, insults, manhandles and beats me. Before this FIR, I had filed a complaint with the women cell in Sector 15 of Gurugram and the matter was referred to mediation cell in district court of Gurugram.
"However, no amicable settlement could be arrived at because my husband and his family members refused to mend their attitude of subjecting me to torture to enforce their demand for dowry and other illegal demands. As soon as we got up to leave the mediation room, expressing our wish to pursue the complaint further, the maternal uncle of my husband, named Ramesh Munjal, threatened that he would tear me into pieces.
"When I asked him to behave in the court premises, my father-in-law slapped me. He further grabbed me by my breasts while his wife Kamlesh tried to strangulate me with the gold chain she was wearing. But as she mounted pressure, the gold chain broke. I fell on the floor.
"Yatin and his father Ashok Kumar pushed me to the floor and kicked me on my chest and stomach. The staff present there intervened to rescue me. I then called the police helpline 100 at 2.11 pm and 2.19 pm for help. I received a call back at 2.24 pm that the police help was on the way. The police arrived at around 2.55 pm from Shivaji Nagar. My husband and his family had fled by then."
Based on this statement, the police booked Ashok Kumar, Kamlesh, Yatin Kumar and Ramesh Munjal under IPC sections 323 (causing hurt), 34 (crime done with common intention) and 506 (criminal intimidation).
Meenakshi says that no arrests were made after this case. She continued to stay at her parents' house. The same month, she learnt that her husband might leave India for three years for a foreign posting.
Meenakshi sent a letter to the Ministry of External Affairs to inform them about the FIR against their employee. "I marked the letter to Mr Jaishankar [Minister of External Affairs] too," she says.
It was then that she learnt that her husband's family belongs to a Scheduled Caste, she says. "When I went to the Ministry's office with my complaint, there, an official checked the records and told me that my husband and his father were marked in the SC category," she says.
Meenakshi found it hard to believe. "All their relatives are Munjal, Arora or Bajaj. Then how come they are SC?" she says.
Doubtful of the claim, she gave a complaint to NCSC in January 2020, asking them to verify her father-in-law's SC status.
Meenakshi says that acting on her complaint, the commission sent a notice to the Sub-Divisional Magistrate (SDM), Revenue Department, Delhi government, to check the records of Ashok Kumar.
The SDM responded that Ashok Kumar's name is indeed entered in the department's records in the SC category. "This was all the verification that they did," she says.
Meenakshi appealed to the commission against this verification, requesting a thorough probe. Three years later, hearings in the commission continue.
In her last correspondence with the Commission in July this year (a copy of which is with Swarajya), Meenakshi gave a list of six of her father-in-law's "blood relatives", saying they are all from general caste and use "Arora", "Nayyar" or "Bajaj" as surnames.
She alleged that "Ashok Kumar has submitted fabricated and forged documents to obtain the status of SC to get the benefit of reservation for himself."
She told this correspondent, "I pointed to several loopholes in the SDM's reply. A response from the commission on my questions is awaited."
She says she simultaneously also gave a complaint to the Mukherjee Nagar Police Station, alleging that her father-in-law had obtained an SC certificate by fraudulent means, but the complaint did not get converted into an FIR.
However, another complaint given to Sector-14 Police Station of Gurugram did get converted into FIR (number 198/2022 filed on 16 June, 2022). This FIR was filed under IPC section 406 (criminal breach of trust) and 420 (cheating), on her complaint against her husband. No arrest was made after this.
Amid this, the FIR against her this week has left her shocked. Asked how the police filed the FIR against her despite earlier concluding that no case was made out against her, she said she had learnt that an official from the NCSC put pressure on the police.
Meenakshi is stressed about her future.
"Except for the first three-four months of my marriage, I have stayed at my parents' house. My marriage is close to being over. I have a government job to fall back on, but this FIR could come in the way of my promotion, which is due. I also fear imminent arrest, which would ruin my reputation," she says.
Get Swarajya in your inbox everyday. Subscribe here.
An Appeal...
Dear Reader,
As you are no doubt aware, Swarajya is a media product that is directly dependent on support from its readers in the form of subscriptions. We do not have the muscle and backing of a large media conglomerate nor are we playing for the large advertisement sweep-stake.
Our business model is you and your subscription. And in challenging times like these, we need your support now more than ever.
We deliver over 10 - 15 high quality articles with expert insights and views. From 7AM in the morning to 10PM late night we operate to ensure you, the reader, get to see what is just right.
Becoming a Patron or a subscriber for as little as Rs 1200/year is the best way you can support our efforts.
Become A Patron
Become A Subscriber