Fact-checkers, Journalists Spread Lie That A Hindu Man Faked Muslim Identity To Make Objectionable Comments On Aaftab-Shraddha Case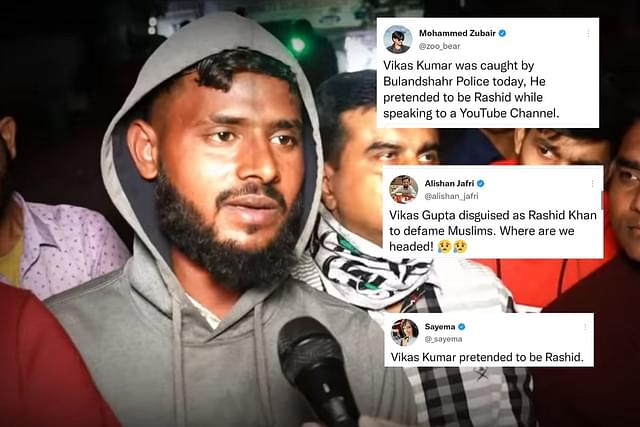 Vikas alias Rashid Khan.
Snapshot
Fact-checkers and media have got their narrative all wrong in 'Vikas alias Rashid' episode over the Shraddha murder case.
Two weeks ago, a by a YouTube channel named 'Janta Darbar' went viral on social media where a man who introduced himself as 'Rashid Khan from Bulandshahr' was seen saying that what Aaftab Ameen Poonawalla did to Shraddha Walkar was an outcome of rage.
The man admitted in front of the camera that he did not quite know the details of the case, but picked up some bits while the YouTube reporter was asking questions to the crowd.
The title of the video is (translated), "This man's thoughts on Aaftab who chopped Shraddha into pieces will leave you shaken".
This video had garnered about 14 lakh views by the time of writing this report.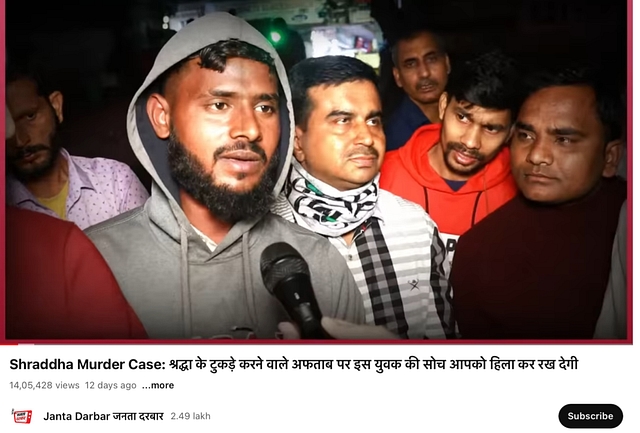 The Aaftab-Shraddha case
On 11 November, the Delhi Police arrested Aaftab, 27, for murdering live-in partner Shraddha, 26.
, Aaftab killed Shraddha in a premeditated murder on 18 May by strangling her, in Mehrauli area of the capital city.
To dispose of the body, he bought a large refrigerator, chopped Shraddha's body into 35 pieces and stored them in plastic bags. Over the next two weeks, he threw away the pieces in the nearby jungle in the nights.
The murder came to light when Shraddha's father Vikas Madan Walkar learnt from one of her friends that she had been unreachable over phone for several weeks, and filed a missing person complaint in Vasai (west) police station of Palghar district in Maharashtra.
Both Aaftab and Shraddha lived in Vasai with their families when they came in contact with each other.
They first moved in together in Vasai, much to the disapproval of her family that objected to Aaftab's Muslim identity, before shifting to New Delhi a month before Shraddha's murder.
Video Went Viral, Another YouTuber Approached The Man
The video went viral on Twitter besides other platforms, where several users, journalists and media platforms shared the man's statement. They highlighted his name 'Rashid Khan' in their tweets and headlines.
A week later, a reporter from another YouTube channel went to the same spot and found 'Rashid Khan' again.
In the video, another man is seen arguing with 'Khan', accusing him of saying objectionable things on the camera a week earlier. "I heard you talk on 15 [November] right here, where you talked about chopping a body like a buffalo," the man says to 'Khan'.
The reporter then turns the mike towards 'Khan', who introduces himself as 'Vikas Kumar' this time. He says, "Yes, I am Vikas Kumar. I look like a Mohammedan due to my beard, but I am Hindu. You can see my Aadhaar card if you have any doubt."
He is now more measured in what he speaks to the reporter, and says that Aaftab must be chopped into pieces just liked he chopped Shraddha, so justice is done.
Despite the man now introducing himself as 'Vikas Kumar', the verified YouTube channel, named 'TNN World', wrote the title of the video as (translated), "This Muslim's thoughts on Aaftab who killed Shraddha will make your blood boil."
Going a step further, the channel wrote this as the video's description (translated): "A Muslim man posed as a Hindu to make objectionable comment in front of our camera even as the entire country is angry at the Shraddha murder case."
This video had garnered about 1.92 lakh views by the time of writing this report.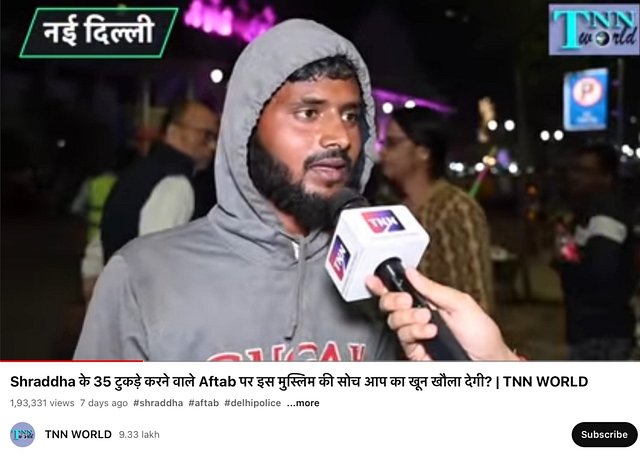 FIR Filed Against Him In Bulandshahr, Uttar Pradesh
Bulandshahr resident Ravindra Sharma gave a complaint to the Sikandrabad Police Station against 'Rashid', based on which a first information report (FIR) was filed against him on 25 November under IPC Section 295A (deliberately outraging sentiments). The FIR number is 1041/2022.
The complaint says that a statement given to a YouTube channel by a Bulandshahr resident named Rashid, who belongs to a special community, suggests that he may be associated with a terrorist organisation, and his statement had caused huge unrest among the Hindu community of Bulandshahr.
He must be arrested to prevent social tension, the complaint concludes.
Police Statement On The Arrest
The same day of the FIR, the official Twitter account of Bulandshahr Police by Bulandshahr Senior Superintendent of Police Shlok Kumar.
The officer says (translated):
"Two days ago, a video came to light on social media where a man who introduced himself as Rashid was seen making objectionable comments. Sikandrabad police was deployed to catch the man, and he was arrested today. He has told his name as Vikas. Based on his statement, we have filed a case against him and are taking suitable action. It has also come to light that there are five criminal cases filed against him at various police stations for theft and illegal arms. He is being sent to judicial custody."
News channels posted another video of policemen talking to Vikas alias Rashid after arresting him, where they are seen asking him why he called himself Rashid. He replies, "They all call me Rashid-Rashid."
Claims After Police's Statement
After this statement by the police chief, many journalists and influencers on Twitter ran with the claim that 'Rashid had turned out to be Vikas Kumar'. They claimed that Vikas 'faked' his identity to 'defame Muslims'.
Self-proclaimed 'fact-checking' website Altnews jumped to the conclusion that Vikas "faked" his identity.
Altnews's controversial co-founder Mohammed Zubair, wrote that Vikas "pretended" to be Rashid.
Readers may remember that Zubair has had several police cases filed against him including over an incident where he circulated a muted video of a Muslim man's beard being chopped off by some men with the false claim that the perpetrators were all Hindus and the act was carried out due to religious hate.
Radio host Sayema Rahman too wrote, "Vikas Kumar pretended to be Rashid".
Alishan Jafri, who writes for controversial news portal The Wire, which recently withheld or pulled down several news reports after being caught using fabricated material, wrote, "Vikas Kumar disguised as Rashid Khan to defame Muslims. Where are we headed!"
See the screenshots below: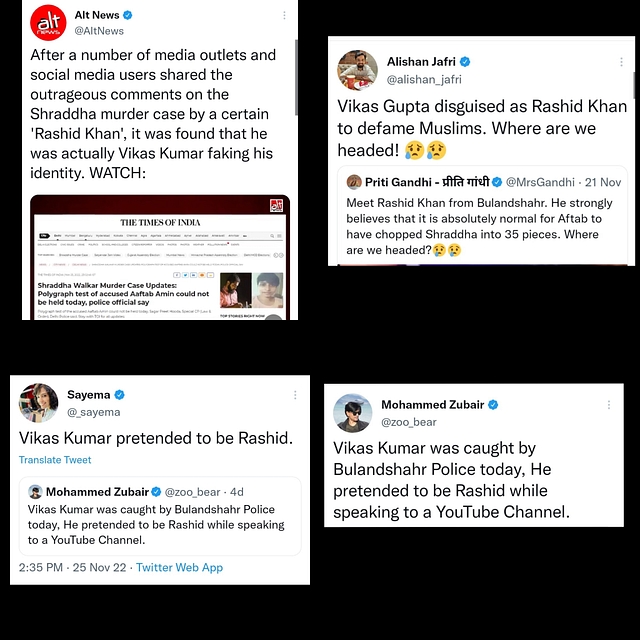 The Ground Reality
This correspondent visited the man's house in Maulabad village of Sikandrabad block of Bulandshahr district, which falls in the western part of Uttar Pradesh and is about one-and-a-half hour's drive from New Delhi.
The village is all-Hindu with majority residents from Jaatav jaati, which comes under Scheduled Castes. As I neared the man's house, several neighbours gathered at the spot.
Vikas Kumar is one of the three sons of Chokheram and Anita, who too are from the Jaatav jaati.
Asked why their son gave his name as Rashid on camera, Chokeram says it's been several years that villagers have been calling him by that name.
Asked why, Chokheram says he does not know many details as he works at a restaurant in Bulandshahr city, where he lives in a room provided by his employer, and hence visits his home only occasionally.
Neighbours throw more light on the matter. "It's been three years since we have been calling him Rashid," a man says, who declines to give his name over fear of another controversy. "He used to spend time with Mohammedan boys from the adjoining village. They started calling him Rashid and this is how this name got popular for him."
The man explains that specifically speaking, Vikas was given the name Rashid because he got his wrist severed from his arm in a freak accident about three-four years ago. "Vikas's Muslim friends from an adjoining village named him Rashid Khan after a much older man from their community, who too has lost part of his arm."
"The name became popular. We all picked it up," another neighbour says, and denies that Vikas pretended to be anything in front of the camera that he was not. "Whenever he visited this village, we all used to call him Rashid," he says.
Vikas's mother Anita too repeats the story that his Muslim schoolmates named him after a Rashid Khan from their community.
Asked if Vikas may have converted to Islam under influence of his Muslim friends, Chokheram says he would not know that, since the family is hardly in touch with their son.
"As far as we are concerned, he can stay in jail for five years or more. We do not care. We do not have anything to do with him," he says.
Asked why, Chokheram says that instead of earning an honest living like him, Vikas has involved himself with a group that sells stolen motorcycles.
"For the past three-four months, he has been living separately. He once visited us, on the 29th of last month [October], as there was a death in the family. He turned up at our door at 2 am. I scolded him for coming to the house so late. The next morning, I gave him a fifty rupee note and asked him to get his beard cut. I told him to come to the house after that to help with the work. But he disappeared and we never saw him again," says Chokheram.
"I have paid for his bail several times. At an age when he should be supporting the family, he only takes money from us," he adds.
Vikas's elder brother works and lives in another village in Bulandshahr, whereas his younger brother is still in school.
When this correspondent visited Vikas alias Rashid's house, the youngest son was still in his school uniform. He said, "I am not in touch with my brother. I do not know anything about him. We never talk."
The family says that they, like most villagers, do not have video-supporting mobile phones and hence were not aware of the viral video till a policeman showed up at their door a few days ago.
Anita says, "We were shocked to see what he had to say. We told the police we do not endorse such thoughts. We also told the police that we are not going to pay for his bail this time. We cannot spend our hard-earned money on that."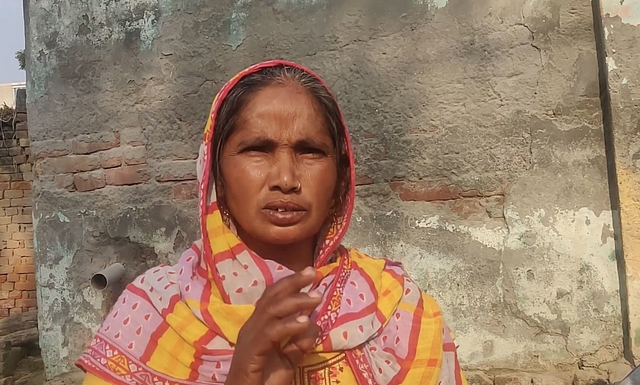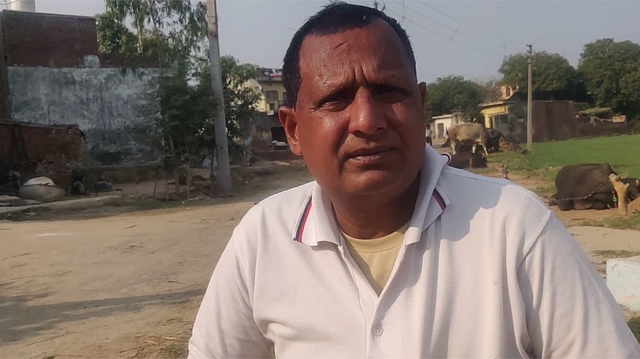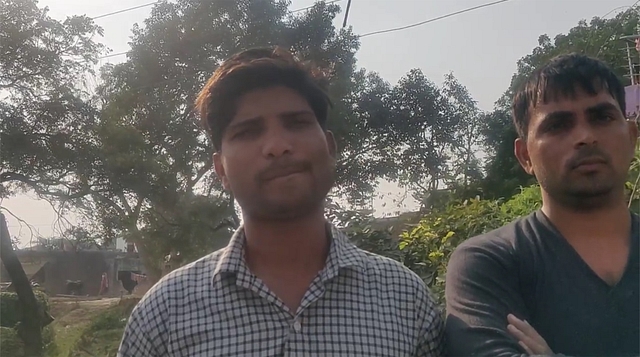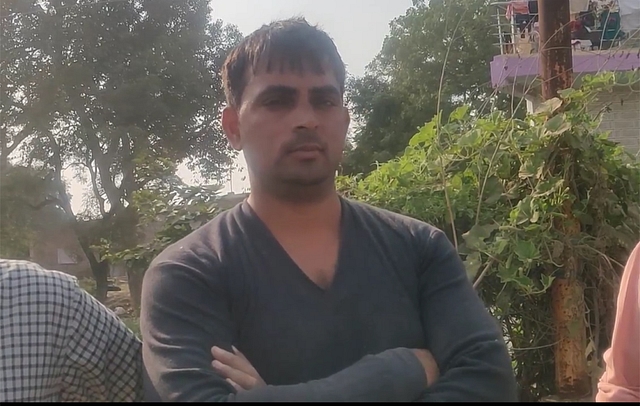 Conclusion
As revealed from the ground report, the claims that Vikas "pretended" to be Rashid or "faked" his religious identity to "defame Muslims" are outright false. The name that Vikas used in his first conversation with a YouTube channel was the name he is most popularly known by.
It appears that those who sensationally claimed that Vikas "pretended" to be Muslim, were making desperate attempts to somehow counter the 'love jihad' pattern where men from the Muslim community are repeatedly accused of posing as Hindus to trap Hindu women in relationships for their conversion through nikah or marriage.
The initial claims about Vikas alias Rashid that "he is a Muslim justifying a Hindu woman's murder carried out by a Muslim" are also incorrect, as there is no conclusive word on the faith he is currently practising.
Also, even if it is established that he has changed his religious beliefs from Hinduism under influence, his statements to the YouTube channels nowhere suggested that he was defending the perpetrator because he was Muslim.
Throughout his rather tactless statements, Vikas alias Rashid kept talking about extreme rage and alcohol taking over the mind of a person before committing of a heinous crime.
Dawah Activities In UP
It is pertinent to mention here that the Uttar Pradesh's anti-terrorism squad (ATS) busted a Dawah (Islamic conversion) centre operating in New Delhi last year that was being run by west UP residents, one of whom had converted to Islam from Hinduism in his youth.
The ATS followed this up by the arrest of a high-profile Islamic cleric named Kalim Siddiqui, who they described as the "Khalifa or Ali Mian of Dawah activities" (kingpin of Islamic conversion activities).
With the arrests, the police released testimonies by several Hindu men on how they were converted to Islam through deceit, lure of money or fear of hellfire.
The testimonies included statement of a man from Jaatav jaati named Memchand, who said that Siddiqui's group targets Hindus from Scheduled Castes, who are offered money and land in lieu of converting to Islam.
He said he accepted the offer, but was "tortured" later and forced to attend Tablighi Jamaats (Watch the video ).
Get Swarajya in your inbox everyday. Subscribe here.
An Appeal...
Dear Reader,
As you are no doubt aware, Swarajya is a media product that is directly dependent on support from its readers in the form of subscriptions. We do not have the muscle and backing of a large media conglomerate nor are we playing for the large advertisement sweep-stake.
Our business model is you and your subscription. And in challenging times like these, we need your support now more than ever.
We deliver over 10 - 15 high quality articles with expert insights and views. From 7AM in the morning to 10PM late night we operate to ensure you, the reader, get to see what is just right.
Becoming a Patron or a subscriber for as little as Rs 1200/year is the best way you can support our efforts.
Become A Patron
Become A Subscriber