Several Hindu activists accuse the police of intimidation, harassment.

They say that they faced cases against them even when the BJP was in power. But today, the difference is that even if a person was involved in a minor case, they are declared as 'rowdy-sheeters'.
Mangaluru/Udupi:
Every morning, Balachandra and other 'boys' of the Bajrang Dal meet over breakfast to discuss their daily agenda at a makeshift office located a few minutes away from the famous Kadri Manjunatha temple.
At a distance, one can spot the Vishva Hindu Parishad's saffron flag waving on top of a building.
The building is surrounded by moss-laden walls and guarded by indie dogs.
Balachandra Attavara, 28, is one among the three Bajrang Dal activists from Mangaluru who has been slapped with a notice from the police seeking an explanation against externment (gadiparu, as it is locally known).
Externment refers to an act of prohibiting convicted persons from residing in a specified area or a locality for a particular period of time.
The police here believe that the three, including Balachandra, can potentially disturb communal harmony in the district of Dakshina Kannada.
Balachandra is one among 13 persons who face externment.
Background
After bouncing back to power in Karnataka, the Congress government went on to establish an 'anti-communal wing' (ACW) - a special police team that looks into religious radicalism, moral policing among other issues in the region.
According to Karnataka's Home Minister G. Parameshwara, the team will be headed by the Assistant Commissioner of Police (ACP), Crime Branch.
The ACW aims to monitor communal cases and keep a track of offenders who make communal speeches that trigger clashes between communities.
According to the Commissioner of Police for Dakshina Kannada Kuldeep Jain, the ACW team is headed by an inspector-rank officer who will be monitored by the CCB ACP head.
The inspector-rank officer has a team of six people and they are working round the clock to understand the situation and ensure that the team is actively on the lookout for activities involving hate-speech, moral policing.
"I have issued strict instructions to maintain social harmony… Very strict action should be taken (against those involved in communal incidents). And moral policing should not be allowed at any cost," HM Parameshwar was quoted as saying, according to a by The Indian Express.
Exiled From Home: Hindu Activists Face Externment
While the police state that Balachandra has been charged with five criminal cases so far, the latter denies that they are of any serious nature. Balachandra, like the others, had to submit an undertaking to the police promising to stay away from criminal activities.
The police have ordered the externment of 62 persons in 2023 alone.
According to Jain, 987 people have submitted the undertaking that they will not get involved in any criminal activity.
Many activists like Balachandra have been made to sign a bond against a certain sum of money. Activists in the region have been accusing the Congress of playing vindictive politics by targeting activists belonging specifically to the Hindu faith.
Around 60 people have been 'banished' to different districts in the state. Those persons who breached the undertaking have faced a penalty and have been sent to judicial custody.
In 2022 however, the Supreme Court of India had observed that the order of externment is "an extraordinary measure" which restricts one's fundamental right to move freely within the country.
While some say that the establishment of the anti-communal wing in Karnataka is good move to check communal violence, others fear that it may be used as a tool to silence the voices of Hindu activists.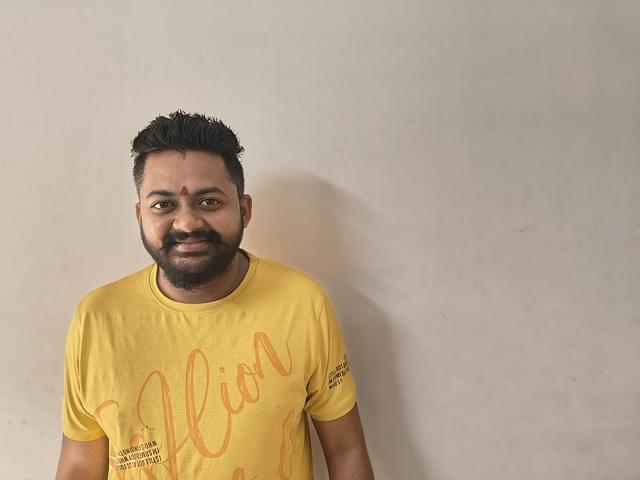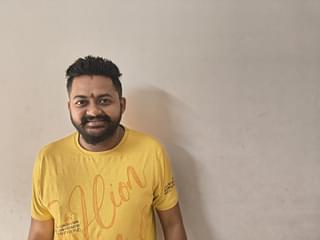 Bajrang Dal's Balachandra Attavara faces externment for allegedly disturbing communal harmony.
Police Overreach?
Balachandra and Puneeth Attavara, speaking to Swarajya, defend the actions of the accused and state that they have not been involved in any major criminal activity that demands externment.
"They (police) come to our houses in the middle of the night around 1 or 2 AM. They click our pictures and ask us to call our parents. They have visited my house two times now. They impose a 'gadiparu' (externment) occasionally on us. This causes mental harassment to me and my family", he says.
But he also admits that some of the police personnel are very proactive in responding to their concerns. "The rest don't care", he adds.
"The police impose externment on us during festival times (and vice-versa on Muslims). We cannot enter a certain locality during those times and have to stay away for the sake of communal harmony, they say. This has become a seasonal thing for us. But none of us have any serious charges against us. Even if it exists, they are minor offences that they accuse us of committing", Balachandra tells Swarajya.
Bajrang Dal leaders like Sharan Pumpwell have also made claims that there are no existing criminal cases against the accused. The police later responded stating that the conditional bonds were violated as the accused got involved in criminal activity once again.
All four of them - Puneeth, Balachandra, Sharan Pumpwell and Shrikanth Shetty tell Swarajya that they are not new to facing intimidation and harassment by the state machinery.
They say that they faced cases against them even when the BJP was in power. But today, the difference is this: even if a person was involved in a minor case, they are declared as rowdy-sheeters, they allege.
According to them, the police ask for their Aadhaar card, residential address and drop by in the middle of the night to their homes where they click pictures of them in the presence of their families and neighbours as an attempt to shame them.
According to him, earlier, the police would not harass and strip them of a dignity to live. Today, despite making appeals to the commissioner, things are back to square one, he says.
In the recent case involving the alleged recording of college girls in Udupi, a local activist had also accused the police of intimidation.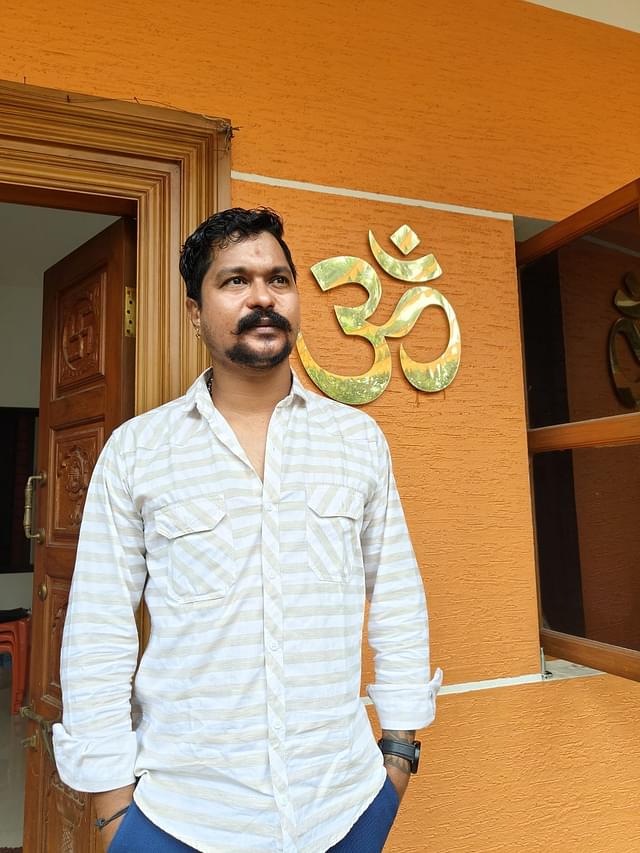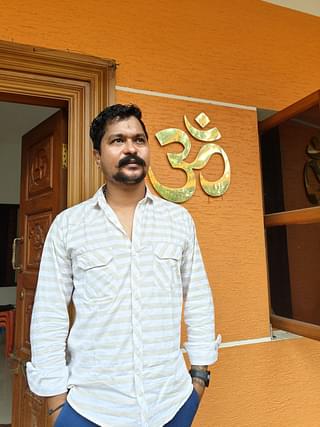 Bajrang Dal's Puneeth Attavar.
Defining 'Moral Policing'
Bhaskar Rao, a retired IPS officer who served as the Commissioner of Police for Bengaluru city spoke to Swarajya.
"What is the definition of moral policing? The government needs to clarify this first. Moral policing is wrong, and should not be done, but the government must also ensure equal justice to all communities. No one community should be targeted", he said, questioning the Congress government in the state.
When asked about the definition of moral policing, Jain responded by saying that the more important issue here is to look at these matters from the perspective of certain individuals trying to take law into their own hands.
"People need to be vigil, yes, but only to an extent where they can call the police on 112 for further action to be necessitated. No one has exclusive rights to take matters into their own hands," he added.
Jain adds that the police no longer waits for a video to be brought to their notice. "Such preemptive measures are proving to be helpful in curbing hate-speech and vigilantism", he says.
The police further tell Swarajya that they possess data of those individuals who have tried to dislodge communal harmony in the city over the last decade.
"These individuals will be properly monitored so that all those cases end up in conviction. If you don't monitor it, they may get acquitted", Kuldeep Jain adds.
On being asked on a hypothetical possibility of the police getting their conclusions wrong, Jain says that they will reassess the case, do their homework and reconsider their decision.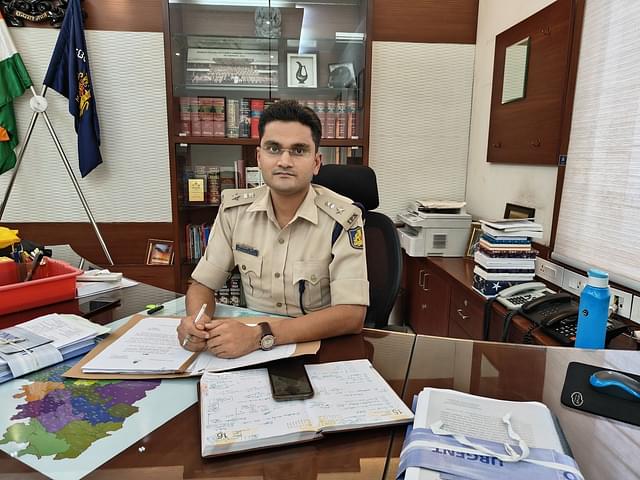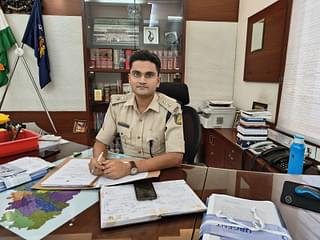 Mangaluru's top cop Kuldeep Kumar R. Jain is an IPS officer of the 2011 batch. (Photo taken by Sharan Setty/Swarajya).
Activists Fear Persecution, Remember Siddaramaiah's First Term As CM
Among the many other incidents that lead to communal tensions in the region, illegal transportation and slaughter of cattle is one of them.
According to local activists like Shrikanth Shetty, there are illegal slaughter houses present in areas such as Ullal, Ucchila, Mukka and Kudroli. Sharan Pumpwell, in a statement to Deccan Chronicle, had mentioned that there is only one legally permitted slaughter house in Kudroli, but Mangaluru has over 300 beef stalls.
It is not limited to illegal cow slaughter alone.
In 2018, columnist Santhosh Thammaiah was arrested in the middle of the night by the then Siddaramaiah government for writing against the government.
Shetty also recalls the incident when the Congress government in the state charged the President's gallantry medal winner constable Naveen G Naik with murder. Naik was a member of the Anti Naxal Force in Karnataka and had fired at a member of the minority community for not stopping the vehicle carrying cattle in the middle of the night in 2014.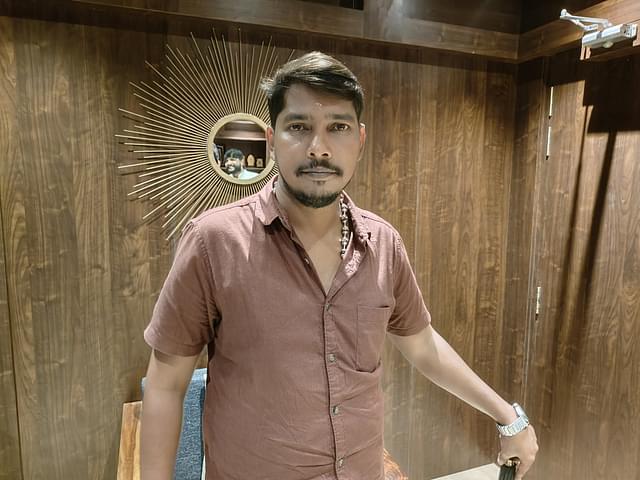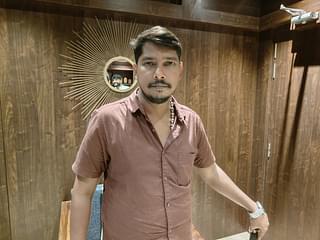 Shrikanth Shetty, a former journalist and an activist in Udupi is one among many who accuse the Congress of vindictive politics against Hindu activists.
Furthermore, Shetty points at vigilante groups like 'Team Garuda-900' as an example to show the extent to which criminal activities are carried out to hurt the Hindu faith.
According to local reports, 'Team Garuda-900' is a gang based in the coast consisting of repeat offenders. They engage in robberies, cattle theft, illegal transportation of cattle and assault. They have even created an Instagram page where they post videos of cattle being harmed.
According to Shetty, members of this gang use cars which can move at good speeds to transport the cattle during late nights and early mornings.
"We get alerted by boys who sell newspapers and milk in the morning, as they are the only ones awake at that time of the hour", he says.
Dharma Rakshane Will Continue
"They file cases of extortion against us, but that is not true. We are ideologically committed people. We do intervene when it is most required, but eventually call the police and report any incident we come across", Puneeth says.
"We do not care whether the BJP or the Congress is in power. Our work will continue. It is a good thing that the anti-communal wing is formed. But I hope that there is no bias against a particular community", he adds.
"Our dharma rakshane will continue", he says.
Congress Tried To Ban VHP In 1992, It Didn't Work
During the election season in Karnataka, a few Congress leaders then made statements calling for a ban on the Bajrang Dal in the state.
"Following the aftermath of the Babri Masjid demolition, the then Congress government had imposed a ban on Bajrang Dal in 1992. Soon, they had to withdraw it. I don't think a ban is possible today", Puneeth says, referring to the ban of 1992.
He says that the Congress needs to remember that they returned to power not with the help of the Muslim voters alone, but a segment of the Hindu population who also voted for them.
"While they are free to appease a certain community for their own electoral benefit, I hope they remember the sentiments Hindus carry when it comes to issues such as love jihad, cow smuggling and protection of Hindu temples", he says.