Lagrange Point 2, James Webb Space Telescope's Observational Post In Space, Explained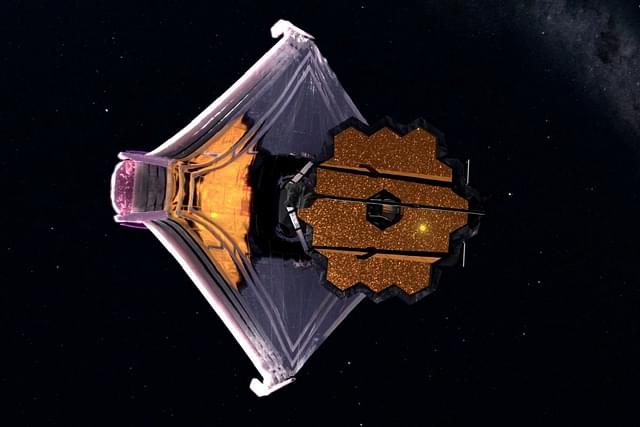 Photo: NASA Webb Telescope/Twitter
Snapshot
The James Webb Space Telescope has been parked in space where it was planned to be.

This is a special gravitational parking spot that will enable Webb to do the ambitious science it aims for.
Things are going according to plan for the world's largest and most complex and powerful space telescope ever built.
The James Webb Space Telescope, which took off on Christmas Day from the European spaceport in French Guiana on board the Ariane 5 rocket, safely arrived at its destination in space, called the Sun-Earth Lagrange Point 2, or L2, on 24 January.
The journey from Earth to L2 took an expected 30 days, following a tight sequence of telescope deployments in space unlike anything attempted before.
Webb was placed in orbit around L2 after a mid-course correction burn that involved onboard thruster fire lasting 297 seconds. There wasn't much of a correction required, though. "A mere walking pace", as described officially, of 1.6 metres per second was added to Webb's speed to place it in the preferred orbit around L2.
For this course-correction, as for earlier ones, Webb used up less fuel than expected, leaving plenty in the tank for other operations over its lifetime, chiefly keeping Webb in the proper orbit and counteracting the effects of solar radiation pressure on Webb's sunshield.
Because of the precise launch of Webb and the low fuel consumption so far, the space telescope is already projected to live well beyond its planned 10-year mission life.
Going around L2, Webb is about 15 lakh kilometres from Earth. For comparison, the Hubble Space Telescope, whose successor is Webb, resides in a low-Earth orbit at a height of only about 547 kilometres from Earth.
Bill Nelson, administrator of the National Aeronautics and Space Administration (NASA), congratulated the team and "welcome home!" after Webb's arrival at L2.
Why L2? NASA : "Webb's orbit will allow it a wide view of the cosmos at any given moment, as well as the opportunity for its telescope optics and scientific instruments to get cold enough to function and perform optimal science."
Since Webb is an infrared telescope — and infrared radiation is associated with heat — it is necessary that Webb remains cold, unimaginably so, in order to carry out scientific observations, especially if it has to have any chance of picking up very faint signals from far out in space.
For Webb, the required temperature figure is about 40 Kelvin (-233 degrees Celsius). But thanks to the L2 location and the tennis-court-sized sunshield to block heat, Webb will be able to stay that cold.
What Is Lagrange Point 2?
Named after the Italian-born mathematician and astronomer Joseph-Louis Lagrange, the Lagrange point is a spot in space where gravity from the Sun and Earth balance the orbital motion of a satellite. A spacecraft at this point stays in a relative to the Sun and Earth.
Lagrange arrived at this "point" by solving what is called the "three-body problem," wherein three objects orbit each other while also remaining in the same place relative to each other.
He found that there are five solutions to the problem and, therefore, five Lagrange points in all, and L2, where Webb will settle down for its life of science, is one of them.
Not all Lagrange points are alike, however. L2 is among the three unstable Lagrange points L1, L2, and L3. The L4 and L5 points are considered stable Lagrange points.
"The L1 and L2 points are unstable on a time scale of approximately 23 days, which requires satellites orbiting these positions to undergo regular course and attitude corrections," .
To remain in its orbit, therefore, Webb will require adjustments, leveraging thruster fire, about once every three weeks.
L2 is not a fixed point, but follows Earth around the Sun. Webb is not occupying the prized L2 spot, but is rather circling it and, importantly, facing away from the Sun.
Seen from the Sun, the L2 spot is hidden behind Earth. The Earth will always be between the Sun and Webb, which will help keep the space telescope cold as well as aid easy talking between Earth and the telescope.
Webb will orbit L2 once every 180 days (approximately six months). Thanks to its location, it will be able to observe 24 hours a day — that is, after its science observations begin months later.
Perhaps, the only downside of Webb being this far away from Earth is that astronaut servicing will not be possible in case problems arise on the telescope.
Hubble, being much closer to the Earth, benefited from five astronaut servicing missions undertaken to perform repairs, which has helped it live long and productively.
However, L2 is by no means unfamiliar to scientists. The European Space Agency's Gaia space observatory and the Russian-German X-ray observatory Spektr-RG are presently in the L2 vicinity.
In the past, the Herschel Space Observatory and the Planck spacecraft of the European Space Agency and NASA's Wilkinson Microwave Anisotropy Probe were among the missions associated with the highly favourable L2 position.
Future space missions eyeing L2 are NASA's Nancy Grace Roman Space Telescope and the European Space Agency's Plato and Ariel missions.
All these satellites will be in different orbits around L2, so there won't be any danger of them colliding.
L2 is about four times further away from the Earth than the Moon ever gets, so Mars and anything beyond that, to the most distant reaches of the universe, is fair game for observation.
This also means that Webb can't point towards the Sun — for its own health and safety — and so Venus and Mercury are not on its radar.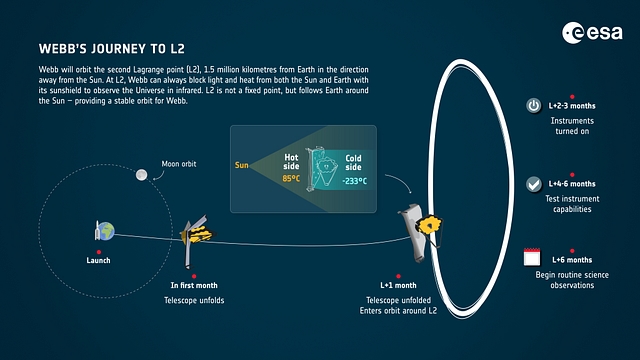 What Next?
"Now we just continue to cool down in order for our instruments and fine steering mirror to function at optimal capacity. They need to reach a set temperature range. And then we'll also be aligning our primary mirror before moving on to the instrument package," Scarlin Hernandez, Webb Flight Systems Engineer at the Space Telescope Science Institute, on NASA Science Live.
The Space Telescope Science Institute is where Webb's mission operations centre is located. It will also be the digital repository for all the data coming in from Webb.
Webb's 18 hexagonal mirror segments will have to come together as part of the mirror alignment process over the next four to five months. This will be necessary to get all the pieces operating as one huge mirror pointing in one direction for the purpose of wide cosmic coverage. However, mirror alignment will be a regular feature of Webb's life.
The first science images are expected to be recorded and relayed back to Earth in about five months, after the completion of the commissioning process. This would be the month of June or thereabouts.
"The first year of JWST science observations has already been planned, and we will be looking at things in the universe ranging from objects within our own solar system, all the way out to searching for the very first galaxies to be born after the Big Bang and everything in time and space in between," Dr Amber Straughn, Deputy Project Scientist for Webb Science Communications at NASA's Goddard Space Flight Center, said on NASA Science Live.
Webb will essentially look back at 13.5 billion years of cosmic history. The telescope will allow scientists to directly observe the first stars and galaxies forming in the early universe.
Data taken from Webb will shed light on the workings of black holes in the early universe — especially their formation and evolution and how, if at all, they contributed to the making of the universe over time.
Additionally, questions of the lifecycle of stars, galaxies, formation and evolution of planetary systems (including our solar system), and exoplanets as well as of possible life-producing ingredients that may be found, say, in the atmospheres of exoplanets, will be explored.
Four piggyback instruments will help out with this work — near-infrared spectrograph (NIRSpec), mid-infrared instrument (MIRI), near-infrared camera (NIRCam), and near-infrared imager and slitless spectrograph (NIRISS) with the fine guidance sensor (FGS).
The James Webb Space Telescope project is being implemented as a collaboration between Nasa, the European Space Agency, and the Canadian Space Agency.
Get Swarajya in your inbox everyday. Subscribe here.
An Appeal...
Dear Reader,
As you are no doubt aware, Swarajya is a media product that is directly dependent on support from its readers in the form of subscriptions. We do not have the muscle and backing of a large media conglomerate nor are we playing for the large advertisement sweep-stake.
Our business model is you and your subscription. And in challenging times like these, we need your support now more than ever.
We deliver over 10 - 15 high quality articles with expert insights and views. From 7AM in the morning to 10PM late night we operate to ensure you, the reader, get to see what is just right.
Becoming a Patron or a subscriber for as little as Rs 1200/year is the best way you can support our efforts.
Become A Patron
Become A Subscriber