Ignore Dawkins, But Bring Back Evolution And Periodic Table To Lower Grades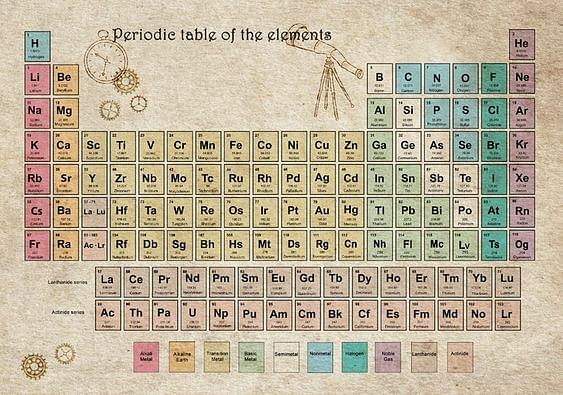 Periodic Table
Snapshot
Schools following NCERT curriculum will now teach Evolution and Periodic Table not before grade 11.

This decision deprives younger students of a basic understanding of the beauty of the physical universe and nature, and the marvellous way in which the human mind works.
According to reports, the NCERT will now teach Evolution and the Periodic Table of elements, both, in grade XI.
This is, to say the least, disappointing.
The Periodic Table is one of the marvels of modern scientific heritage. It is a common human civilizational achievement.
If anything, the present Indian government has even more reasons to teach Periodic Table at a pre-XI standard because it also has a Sanskrit connection.
But even leaving that aside, the Periodic Table is a testimony to the organising genius of human intelligence.
The very fact that varied elements share common atomic structure and the diversity of elements is because of variations in their atomic numbers is a wonderful truth that will trigger the young minds.
The periodicity in periodic table is a concept that can transcend chemistry and trigger thoughts and visions in the minds of children when they pursue diverse domains, from music to linguistics.
In fact, Dr Subhash Kak, one of the science advisors to the Prime Minister, has pointed out, based on the work of linguist Paul Kiparsky, the parallels between Paninian approach to sound and Mendeleev's approach to arrangement of elements.
Kak quotes Kiparsky:
Just as Panini broke the phonetic parallelism of sounds when the simplicity of the system required it, e.g. putting the velar to the right of the labial in the nasal row, so Mendeleev gave priority to isomorphism over atomic weights when they conflicted, e.g. putting beryllium in the magnesium family because it patterns with it even though by atomic weight it seemed to belong with nitrogen and phosphorus. In both cases, the periodicities they discovered would later be explained by a theory of the internal structure of the elements.
British physicist and science communicator Dr Ben Still also points out this fact in his popular book on the Periodic Table:
The choice of Sanskrit is most likely a dedication to the ancient Indian scholars who developed the language. While the grammarians based Sanskrit on a two-dimensional pattenr of basic sound made by our mouths, Mendeleev constructed his table from a two-dimensional pattern of repeating chemical properties.
Depriving students in grades lower than XI of this great accomplishment of human intelligence—in which the knowledge system of their own ancestors played a role—is actually depriving them of a basic understanding of the beauty of the physical universe and the marvellous way in which human mind works.
Dawkins' outburst
Richard Dawkins is known for his temperament. One cannot expect him to be a JBS Haldane. With due respect to his wonderful and popular science writing in books like The Selfish Gene, The Extended Phenotype, Blind Watchmaker and The Greatest Show on Earth, Richard Dawkins has become more a polemical writer than a polymath who could go beyond his prejudices into actual depth of Hindu philosophies, like Haldane or his biologist wife, Helen Spurway.
Naturally, he sees an opportunity to attack both Hinduism and Islam. But what surprises one is that he has invoked Gandhi in his tweet, whose worldview and ideals are rooted in Hinduism.
I do not expect much understanding from the Richard Dawkins of today, regarding the intricacies of Hindu philosophy, or the way Sankhya Darshana is itself a worldview predicated on evolution. But I would definitely like to point out that both in teaching Evolution and the Periodic Table, Hinduism has more to gain than to lose.
The decision to move both the topics to a higher grade is more an unimaginative bureaucratic blunder than a policy decision.
Also read:
--Bring back 'Evolution' in class 10 textbook: It is too important and more common than you think
--Why teaching Evolution is a must
But Dawkins should know better than to trust propaganda. He himself had been a victim of leftist propaganda when leftist students in connivance with leftist professors disrupted his lectures and called him 'racist' and hurled all other kind of labels.
In fact in the Nature report that he quotes there is both distortion as well as propaganda. The distortion part is that both evolution and periodic table were not 'axed' as the report repeatedly claims but moved to grade XI. Of course that is not a healthy move. But evolution was not axed.
Now the propaganda part. The report in Nature states:
"There is a movement away from rational thinking, against the enlightenment and Western ideas" in India, adds Sucheta Mahajan, a historian at Jawaharlal Nehru University who collaborates with Mukherjee on studies of RSS influence on school texts. Evolution conflicts with creation stories, adds Mukherjee. History is the main target, but "science is one of the victims", she adds.
Hinduism not only does not have a singular creation story. But its so-called creation hymn (popularized by Carl Sagan) questions the presence of a creator. So why was evolution moved from X standard to XI and XII standards? Anyone who has moved in Hindutva and RSS circles would hear mostly not anti-evolutionary talk but the statement (not entirely correct) that the ten incarnations of Vishnu reflect evolution. So imputing religious reasons for the moving of evolution is nothing but sheer propaganda.
That a Dawkins should fall for it is definitely a fall - a sad fall.
The original mistake
Meanwhile, the primary mistake in this series of unfortunate events is ours. We could have developed a curriculum on scientific imagination which could have included the works and methodologies of Darwin, Kekule and Mendeleev, Jagadish Bose, Haldane and George Sudarshan, Arya Bhatta, Baskara and the Kerala school of mathematicians. We could have introduced that right from middle school.
India under Modi could have started celebrating Darwin's Day. It could also have introduced and celebrated Jagadish Bose Day for he demonstrated the continuity of cognition in plants - a challenging field today and a demonstration which makes good Darwinian sense.
We missed all that and landed ourselves in a situation where we get ridiculed. It is sad and we feel let down. But then there is always room for course correction and radical reorientation.
Even now the Modi government can show to the world that it can change the textbooks and turn them into a model for science curriculum. Instead of taking Dawkins tweet as offensive, let us take it in the right spirit and do a proper course correction.
Get Swarajya in your inbox everyday. Subscribe here.
An Appeal...
Dear Reader,
As you are no doubt aware, Swarajya is a media product that is directly dependent on support from its readers in the form of subscriptions. We do not have the muscle and backing of a large media conglomerate nor are we playing for the large advertisement sweep-stake.
Our business model is you and your subscription. And in challenging times like these, we need your support now more than ever.
We deliver over 10 - 15 high quality articles with expert insights and views. From 7AM in the morning to 10PM late night we operate to ensure you, the reader, get to see what is just right.
Becoming a Patron or a subscriber for as little as Rs 1200/year is the best way you can support our efforts.
Become A Patron
Become A Subscriber