India-specific findings in a global study by IBM released this week, entitled: Women in leadership, found the number of women at the C-suite (people with 'Chief' in their titles) and at Board level is now 13 per cent and 14 per cent, respectively.
Women in junior professional/specialist roles account for 41per cent.
Globally, the pipeline for top leadership positions still hasn't recovered to pre-pandemic levels — 14 per cent representation of women in senior vice president roles (18 per cent in 2019) and 16 per cent in vice president roles (19 per cent in 2019).
Of those surveyed in India 39 per cent report that they have made advancing more women into leadership roles a top, formal business priority — 6 per cent lower than the global figure of 45 per cent.
Women are significantly under-represented at nearly every level of the workforce — that is the message one takes away.
But women in India see empowerment in less obvious ways. It's not all about high-profile leadership roles in industry.
Today, 54 per cent women in India have a mobile phone, up from 45.9 per cent four years ago, while women operating bank accounts independently increased from 53 per cent to nearly 80 per cent in this time.
Over 22.5 per cent of Indian women use mobile phones for financial transactions. (Data: NFHS-5. National Family Health Survey 2019-21)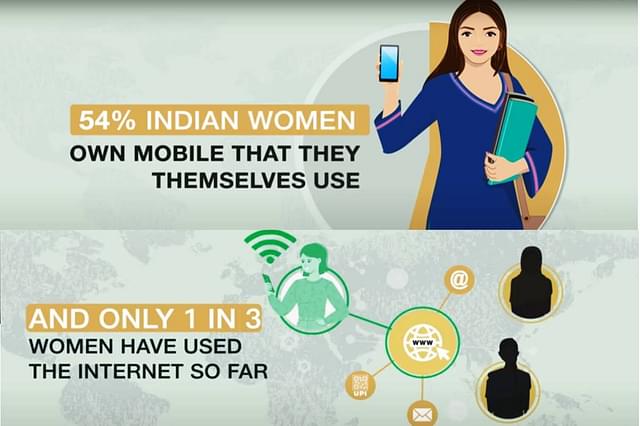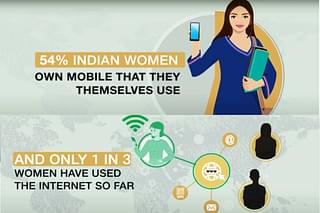 Empowering women with communication tools. (Data- National Family Health Survey NFHS-5 2019-21).
True inspiration may lie in stories of women using digital technologies to bring entitlements, financial services, healthcare, sanitation and more to India's remotest corners.
On the sidelines of the 77th UN General Assembly, the Reliance Foundation and the Observer Research Foundation organised a discussion on women transforming lives with technology.
It highlighted how women in India were emerging as leaders of socio-economic inclusion by harnessing technology to help their local communities — banking the unbanked, connecting people to essential e-services, facilitating access to welfare schemes, promoting entrepreneurship, using technology to strengthen livelihoods, advocating e-health etc.
On International Women's Day 2023, we recall three of these stories of ordinary women doing extraordinary things for their community.
Spreading Health Through Digital Storytelling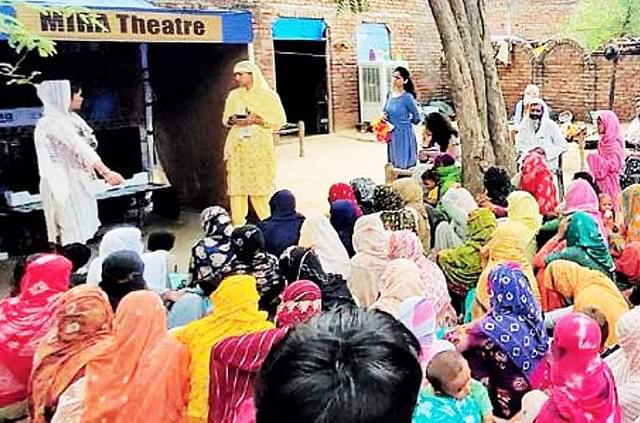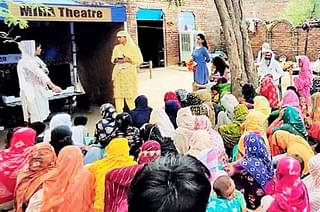 Digital storytelling to spread health awareness.
The Mewat district in Haryana has an age-old connection to folklore and poetry. Mewat's documented history was sourced from folktales and songs by Sufis and saints.
Today, Kajal (23) and Sajida Khan (29), two young women from the district, are using this legacy of storytelling to help the community, but with a digital twist.
Kajal and Sajida spend the day visiting at least 15 houses to showcase a story titled 'Pyaara Munna' (adorable child), through a digital storytelling platform on mobiles.
The story describes the various symptoms of childhood pneumonia and how it is important to seek treatment at a recognised healthcare centre rather than local village doctors.
Since 2019, they have been helping the women of the community by providing them information and connecting them with health centres for maternal and child health, immunisation, family planning, and tuberculosis.
They work with an NGO — ZMQ which has launched MIRA, an integrated mobile phone tool that provides critical information to pregnant women and enables them to access health services in low-resource settings.
Farmers' Teacher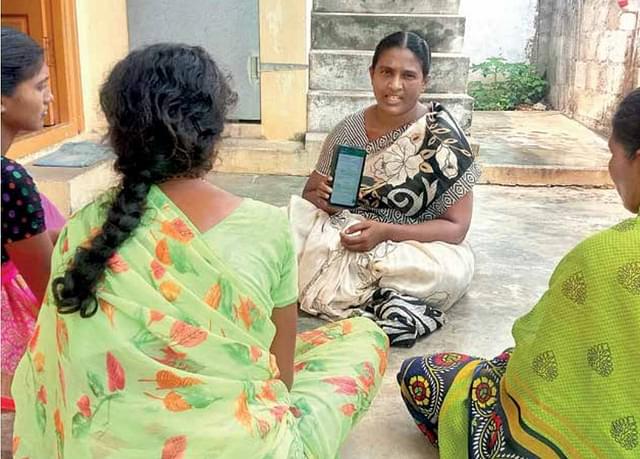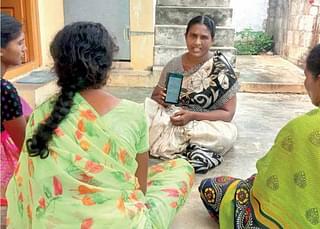 Evangelising organic farming in Andhra Pradesh.
Andhra Pradesh's Kothapalem, is a hamlet of around 1,000 people that leapfrogged the broadband revolution to join the mobile internet bandwagon.
As Kothapalem was charting a new course about a decade ago, one of its inhabitants, a marginal farmer named Tulasi Yeraveda, 38, was on the cusp of her own transformative journey.
The climate-induced changes that Tulasi saw across her village strengthened her resolve to fully embrace organic farming. But the more experienced farmers in the village ridiculed her for this.
Says Tulasi: "I produced 15 bags of rice and 17 quintals of chilli in the first year after I went organic. This was about half of what other farmers produced. I was very proud of this. After three years of making the shift to organic farming, I began producing as much as other farmers."
After getting trained as a Community Resource Person by Digital Green, an organisation that helps smallholder farmers leverage technology, Tulasi began promoting organic farming among other farmers.
That year was also the first time Tulasi used a mobile phone. She used it for bookkeeping activities, internet banking and bill payments for the village organization.
She began using chatbots on WhatsApp and also taught many other farmers to use it, to help them get information on multiple crops at varying stages of the crop lifecycle, and information on pest related issues and improved farming practices.
She has been instrumental in encouraging nearly all women in Kothapalem to enroll in self-help groups, and teaching them skills needed to function effectively as a collective
Using Social Media To Market Manipur's Herbs
Marketing Manipur's herbs through Facebook.
Just as the pink Shirui lily (Lilium mackliniae), Manipur's state flower, blooms in the hills of the Ukhrul district, so has Singmila Kapai Langkan with her entrepreneurial venture 'Herbs & Me' based in the district.
The 38-year-old launched her enterprise of handcrafted organic soaps and shampoos using the local herbs of Manipur in 2019.
Although she initially tried to expand her customer base through flyers and word-of-mouth, she soon realised these were not working. "I set up a physical shop for six months. But due to the pandemic, I had no business from the shop for almost a year."
Instead, she used Facebook and WhatsApp to promote the products to friends, family, and a larger audience.
"I realised that these handmade soaps can benefit people through their medicinal properties. Hence, once I gained some training in soapmaking, I started my business and began sourcing materials from different parts of Manipur," she says.
"I have inspired people to become more tech-savvy. My Facebook page has motivated many women in my region to do their product promotions online," says Singmila.
For more stories of women harnessing technology for empowerment, download a copy of the book "Aspirations, Access and Agency: Women Transforming Lives with Technology" here.