Did Strong Institutions Prevent A Trump Coup Against Biden? Think Again. Many US Institutions Suck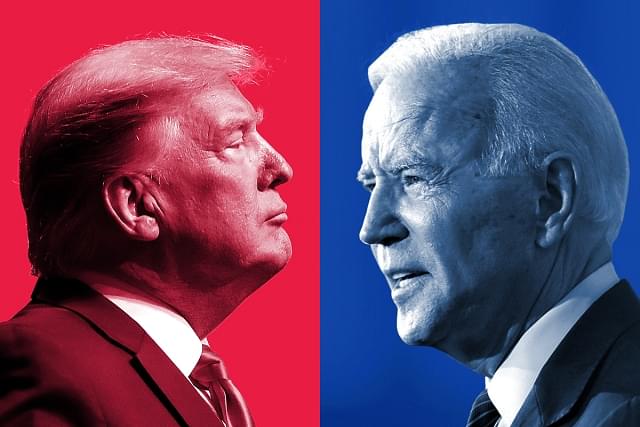 Donald Trump and Joe Biden.
Snapshot
To say that American institutions did not fail while seeing Trump out of the White House may be partly true.

But to pretend that these institutions are somehow worth strengthening when they are seriously flawed is problematic.
One of the things being said about the transition from Donald Trump to Joe Biden, a transition preceded by a violent incursion by Trump supporters into Capitol Hill, is that American institutions have proved their resilience during the storm. Trump's multiple legal challenges to overturn the election victory of Biden were all nullified by courts, including the Conservative-dominated Supreme Court.
Vivek Dehejia, writing in Mint newspaper, had this to say to those smirking about the quality of American democracy. "The truth is that Trump's failure to overturn an election result that went against him via repeated court challenges, and through, at a minimum, his moral support for insurrectionists, is a testament to the strength of the US system, despite its well-known flaws."
An opinion piece in The New York Times was more nuanced in claiming victory for institutions. Authors Susan Hyde and Elizabeth Saunders argue that "though all democracies are imperfect, one of their central virtues is that they are built to be resilient — to bend without breaking, even when elected leaders pull institutions in an authoritarian direction. But just because they're more flexible doesn't mean democracies can't break. Resilience — the ability to adapt and keep functioning under strain — is a resource that needs replenishing, not a guarantee of safe passage."
Indeed. To say that the system worked well in one instance does not imply that it is not already broken. Even a crumbling wall may hold for a while because of the plaster and paint slapped on it for years. In the American context, the institutions may seem to have held merely because those seeking to break them were thwarted by other interests seeking to do some other kind of damage.
In short, one kind of vested interest may have thwarted another, and this time the stronger vested interests may have thrown themselves behind Joe Biden. It is worth recalling that Trump's "insurrectionists" were preceded in running a coach and four over the Constitution by the #BlackLivesMatter and Antifa mobs. Neither group was particularly keen to uphold the Constitution in letter and spirit. It was their way or the highway.
Coming more specifically to the US presidency, it would not be unreasonable to infer that many more institutions were rendered impotent in the move to make Biden President after America's bad experience with Trump.
For example, free speech is the central theme (apart from religious freedom) of the US Constitution's first amendment, but to get Biden to the White House, social media platforms not only deplatformed the outgoing president and his supporters, but also other social media platforms (Parler, which was ejected from Amazon's servers) in order to deny Trump's constituency a voice.
Did the institution of free speech really hold, or were private platforms used to gag free speech? Should private for-profit organisations be the ultimate arbiters of free speech or legally-constituted institutions?
The real judgement on American institutions will depend on how the Parler case is handled by the courts, and if Amazon is shown to have acted in a partisan manner in the name of curbing hate speech or violence. A country that outsources the implementation of free speech laws to private institutions can hardly be said to have robust institutions.
Next, did Biden win fair and square? There are now many reports about how "dark money" played a huge role in getting him re-elected.
According to a Bloomberg report, Biden spent a massive $1.5 billion to get himself elected, including $145 million of "dark money" donations that could not be traced. This contrasts with Donald Trump's more modest expenditure of $28.4 million on his campaign. And yet, 74 million Americans voted for Trump (vs 81 million for Biden). If Trump's loss is not just a win for money power, including shady money, what is?
The 2016 elections were said to have been influenced by Russian cyber intrusions, but which "dark" interests influenced Biden's win in 2020? Can the Federal Election Commission be said to be a strong institution if it can't even police "dark money" usage in an all-important election?
It is interesting that there is bipartisan support for reducing the use of money power in elections, but Biden won due to money power, and the Democrats, otherwise keen to circumvent money power, did precisely what was previously anathema to them.
In a 5-4 Supreme Court judgement in 2010 (Citizens United Vs Federal Election Commission), a conservative majority ruled that multi-billion dollar moneybags had the same rights to free speech as individuals. The Democrats decried that ruling, but they used the same judgement to bring in enormous amounts of money and win in 2020.
Also, what kind of democracy has different rules on how votes will be cast, counted or rejected in an election meant to elect one man — the President? But this was precisely what happened last year, when some counties allowed postal ballots, others didn't, and yet others had different ways of accepting or not accepting votes cast before polling day.
If the same election has different rules for different counties and states, how is it even fair? Trump may have lost fair and square, but the US electoral system clearly is vulnerable to fraud and manipulation. The multiple systems of election conduct existing in the US of A suggest that there is no real institution guaranteeing electoral outcomes. Still think institutions held their ground? Or do we believe in institutions only if the outcomes we want are guaranteed?
The US judicial system, which upheld Biden's victory, is a scam in itself. What kind of democracy uses a strongly partisan way to elect judges to the Supreme Court, and then allows them to continue till they themselves opt to retire or are impeached. You can be a doddering and incoherent old fool but still remain a Supreme Court judge.
This, when American presidents themselves have term limits under the 22nd amendment, in order to prevent them from ruling forever. Lawmakers feared that popular leaders like Franklin Delano Roosevelt, who won four times, could rule endlessly.
But then, what kind of democracy restricts a popular leader from being elected by artificially restricting his term in office? And when this limit does not apply to governors or senators or Congress men and women, who can apparently get elected endlessly. America does not have consistent institutions or judgements. It is about different rules for different situations.
But while the US constitution does not want presidents to continue for long, it gives them powers that only gods and priests have had in the past: to forgive sinners. US presidents can grant pardons to almost all kinds of convicts and felons, and presidents have used this power unsparingly in the past. FDR pardoned 3,687 people, Harry Truman 2,044 and even Barack Obama 1,927 people. One of the presidents to use this power the least was Donald Trump, who pardoned "only" 237 people. What kind of democracy uses human judgements to overturn verdicts arrived at under the law of the land?
Can any democracy give the power of god to any one man?
To say that American institutions did not fail while seeing Trump out of the White House may be partly true, but to pretend that these institutions are somehow worth strengthening when they are seriously flawed is problematic. Only democratic institutions are worth strengthening, not undemocratic ones. They need serious reform, from the courts to the presidency to the electoral process.
Get Swarajya in your inbox everyday. Subscribe here.
An Appeal...
Dear Reader,
As you are no doubt aware, Swarajya is a media product that is directly dependent on support from its readers in the form of subscriptions. We do not have the muscle and backing of a large media conglomerate nor are we playing for the large advertisement sweep-stake.
Our business model is you and your subscription. And in challenging times like these, we need your support now more than ever.
We deliver over 10 - 15 high quality articles with expert insights and views. From 7AM in the morning to 10PM late night we operate to ensure you, the reader, get to see what is just right.
Becoming a Patron or a subscriber for as little as Rs 1200/year is the best way you can support our efforts.
Become A Patron
Become A Subscriber