Is India Playing Bade Bhaiya To Nepal?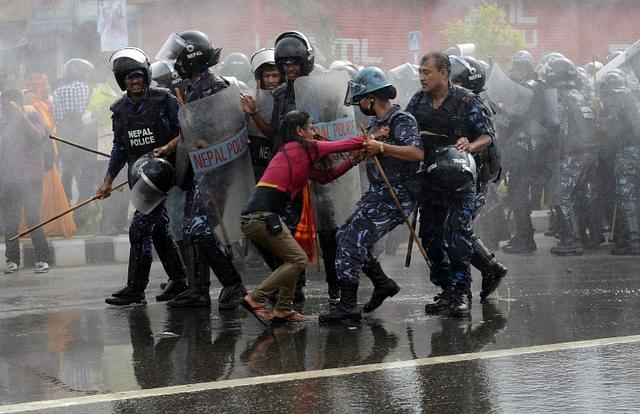 Even as it finds India's response to Nepal's current political impasse curt, Kathmandu too needs to realise that New Delhi has been thrust into a position it did not want to be in.
Just over a year ago, Indian Prime Minister Narendra Modi could do no wrong in Nepal. The man became the first Indian head of government to visit Nepal, on a bilateral tour in 17 years. He spoke to the Constituent Assembly (in Nepali for the first few minutes), stepped out of this motorcade to meet the jubilant crowd, and visited Pashupatinath in all humility of a pilgrim.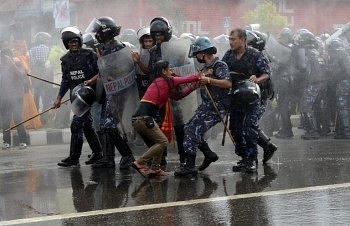 Even the staunchest proponents of anti-India sentiment among Nepal's political elite were softened. This visit also helped dispel the impression that Nepal was being run by the South Block babus and RAW, and made-up for the multiple diplomatic faux-pas of India envoys posted in Nepal.
His visit was a much-need mix of substance and symbolism. India-Nepal relations, most assured us, had turned a new leaf. During his speech the message was clear: Nepal's constitution should be a document that includes all and everyone should be able to take Swamityo, ownership of it.
The constitution, he said, should give direction in the modern era, in the same way that rishis (sages) did through the Veda, the puranas, and the samhitas. But twelve months is a long time in politics, and things have changed.
In the last year, Nepal faced its worst natural calamity in modern history and recently promulgated its much-delayed constitution.
With it Nepal institutionalized itself as a democratic, republic and federal state. Among other provisions, it also adopted a mixed electoral system where around 40 percent of its parliament will be elected under Propositional Representation (PR) system, inscribed provision for a three-tier political setup. It also added further guarantees of inclusion of minorities and women.
The political process that began almost seven decades earlier, with the overthrow of the Rana regime, was to come to an end.
But even before the constitution was passed, it became clear it would not address the aspirations of all. There were discriminatory clauses against women and not enough inclusionary clauses for the historically marginalised.
And when the Constitution was finally passed on September 20, the reaction Kathmandu got from its larger democratic neighbour was at best disappointing. India, in a press release titled 'Statement on the situation in Nepal', merely 'note(d)' the Constitution, expressed concern over the continued violence in regions bordering India. It sounded upset that the new charter doesn't "enable broad-based ownership and acceptance".
New Delhi was especially let down by the inability of the three major political parties – Nepali Congress, CPM-UML, and UCPN (Maoist). They led the constitution making process, to address major grievances of historically marginalised communities, especially those in the Southern plain of Tarai-Madhesh.
More than 40 people (including policemen) have died in the last month. For more than forty days, the state has imposed curfew in parts of Tarai-Madhesh in a desperate bid to control the protests. On the very day of the promulgation, even as a large section of Nepali population celebrated, a protestor was shot dead by state forces.
Madhesh-based parties have been demanding a fairer representation concerning the demarcation of federal units (which they say, as of now, is nothing more than gerrymandering). Additionally the community demands electoral constituencies of Madhesis on bases of the percentage of the population, and reconsideration of certain provisions on citizenship.
The constitution, as is, they argue does not shake the entrenched privileges of historically dominating groups, and goes back on many agreements signed and assurances given to the Madhesi community.
In protest, elected Madhesi leaders quit the Constituent Assembly few weeks before the final stretch and took to the streets. Ever since, violence and protest have marred much of the Tarai-Madhesh region. While before and after the promulgation, both sides have reached out to the other and had several rounds of negotiations, meeting and talks – no compromise has been reached.
There is unnecessary posturing on both sides. In the recent months, especially after the devastating earthquake that shook the central hills of Nepal, the three major parties stream-rolled the constitution, favouring swiftness to waiting for broader inclusion.
They also assumed that because they have the numbers, including a significant presence of Madhesi lawmakers within their party ranks, they might manage to contain the political fallout. When the time came to vote, of the 532 Constituent Assembly (CA) members, 507 voted in favour of the Constitution, 25 voted against (mostly members of RPP-Nepal, who wanted a Hindu state), and 58 (mostly leaders from Tarai-Madhesh) boycotted the voting process.
Further, of the 67 CA members who identify themselves as Madhesi, 40 approved the Constitution.
On the other hand, bolstered by public discontent in Madhesh and in a bid to revive their faltering political fortunes, Madhesi leaders took to the streets. This even as the leaders of all political parties, including the Prime Minister, have repeatedly reached out to find possible solutions.
Disgruntled by the 'lack of conducive negotiating environment', some Madhesi leaders have publicly stated this political deadlock as an aar-ya-paar ko ladai. Some are asking supporters to block supply trucks at border entry points while other are advocating separatism.
There is a recognition that an opportunity to correct historic wrongs and build a truly inclusive political document has been missed. But the constitution must be recognised as drafted by the representative of the Nepali people across all communities (at least in theory, since the major decisions were taken by a select group of political leaders with only limited debate in the CA) in an election that saw a turnout of around 78 percent of those eligible to vote.
It is a text in which the sarvabhaumsatta, sovereignty, is vested in people and not the monarchy. Like in all constitutions, there is still much scope to debate, negotiate and amend.
India's reaction has complicated matters. Regardless of the fact that there are gaps and contradictions in the constitution, Kathmandu did not expect such a curt response to its democratic efforts.
The signs of discontent in Delhi were already there. Indian Foreign Secretary S Jaishankar, came to Nepal, as Modi's messenger, merely 36 hours before the promulgation, with the message for all major political leaders that they should show flexibility and engage in dialogue with the protestors for broadest possible inclusion.
The foreign secretary reportedly said that a constitution that doesn't take everyone on board will not be acceptable to India. Merely 36 hours before the President signed the document, Jaishankar was pressuring representatives of an elected government in a sovereign country to delay the promulgation of its constitution. An interference by any standard of the word.
And when India followed its first statement with a second statement, on September 21, that said, "Our freight companies and transporters have also voiced complaints about the difficulties they are facing in movement within Nepal and their security concerns, due to the prevailing unrest," many in Nepal believed this to be a veiled threat of economic blockade and gross interference in Nepal's internal matters.
The 'threat' of blockade brought back memories of 1989 when Rajiv Gandhi imposed a trade embargo on Nepal – possibly the lowest point of India-Nepal relations in modern history. Though both Nepali and the Indian governments have said there is no such plan or a situation for a blockade, the queue at the fuel station in Kathmandu continues to grow.
While in 1989, the trade embargo allowed the democratic forces another reason to galvanise the people against the monarchy, it also created a generation of leaders that continue to oil their political wheels on anti-Indian sentiment and easy-nationalism. The UCPN (Maoist) leader Pushhpa Kamal Dahal (Prachanda), for example, has tapped into this rallying around flag by stating that Nepal is eager to maintain friendly relations with India, but not at the cost of becoming its 'Yes man'.
Adding fuel to the fire are contradictory media reports, press releases, rumours, inflammatory opinion pieces, and hashtag battles. On September 23, for example, The Indian Express published a story that said the Indian government had 'conveyed' 7 points that it wants to be amended in Nepal's constitution. This irked Kathmandu's sensibilities. India's MEA had to release later a statement denouncing the report and refusing that it had 'handed over' any list of specific amendments. As the drama unfolds, much damage to the Kathmandu-New Delhi relations has been done.
While New Delhi needs to keep Kathmandu's sensibilities in mind, Kathmandu too needs to realise that New Delhi has been thrust in a position that it did not want to be in. It's now in a situation where there is constant violence and instability in areas next to the open border – especially as Bihar goes to polls.
Despite its caution and pressure for broad consensus, Nepal has promulgated a document which will not facilitate long-term stability. While India doesn't want to unnecessarily annoy Kathmandu by supporting groups calling for blockade and separatism, it needs to be seen pushing for consensus, dialogue and stability – and to do all this while denying interference in Nepal's internal matters.
India's interest and curiosity over Nepal's internal business is not surprising. All political leaders try to extract favours from New Delhi and treat it as mai-baap in case of political deadlock. The Indian Ambassador has unhampered access to the highest offices in Nepal and is seen as perhaps the most important political mover and shaker. It was in New Delhi, after all, that the historical peace agreement between former-Maoist rebels and parliamentary forces were signed.
After consultation with New Delhi, Indian Ambassador Ranjit Rae met with Prime Minister Sushil Koirala on September 23, this meeting was an effort to ease tensions. Though welcomed in Nepal, the Constitution has indeed restricted space for political manoeuvring. There is now no scope to delay it or oppose its promulgation. But going ahead, the processes laid out in this imperfect document has to be the basis of all negotiations. If the idea of a constitutional democracy is to have any validity in Nepal, this document will have to be respected – by all forces inside and outside the country – but also amended in the coming days. The battle for the idea of Nepal needs to move away from the streets and into the parliament.
Get Swarajya in your inbox everyday. Subscribe here.
An Appeal...
Dear Reader,
As you are no doubt aware, Swarajya is a media product that is directly dependent on support from its readers in the form of subscriptions. We do not have the muscle and backing of a large media conglomerate nor are we playing for the large advertisement sweep-stake.
Our business model is you and your subscription. And in challenging times like these, we need your support now more than ever.
We deliver over 10 - 15 high quality articles with expert insights and views. From 7AM in the morning to 10PM late night we operate to ensure you, the reader, get to see what is just right.
Becoming a Patron or a subscriber for as little as Rs 1200/year is the best way you can support our efforts.
Become A Patron
Become A Subscriber