While the US continues its loveless engagement with Pakistan, there is a growing enthusiasm about India in Washington's foreign policy circles – a change India must leverage, and if required, even use it to set right the irritants on its western border  
After much speculation that the US might snub the Pakistani prime minister Nawaz Sharif's planned visit to Washington in October this year, the White House has finally confirmed extension of its invitation to the Pakistani premier.
From the Afghan-Soviet war to the post 9/11 – Pakistan has been Washington's closest security ally in South Asia. Yet the relation has often been described by foreign policy experts as 'loveless'.
Nonetheless, the partnership continued and even grew stronger when Washington's Afghan adventure was at its peak. Since 2002, the US is said to have reimbursed Pakistan in billions as part of the Coalition Support Fund (CSF) for using Islamabad's facilities to launch attacks on Afghan militants. The numbers are estimated to be more than $31 billion in civilian and military aid, including $13 billion under the CSF, according to theCongressional Research Service.
But then, in the ever transforming geopolitical priorities of nations, strategies keep changing and so do the names of the friends and their importance. That's exactly what seems to be happening to Pakistan with respect to its strategic importance for Washington.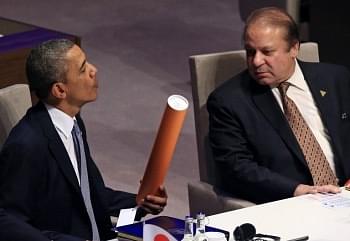 AFP PHOTO/POOL/YVES LOGGHE
As this commentary by Michael Kugelman, Wilson Center's South Asia expert, points out, Washington has always viewed Pakistan from the prism of Afghanistan. Apparently Afghanistan ceases to occupy the American imagination as much as it did six years back. And with that shrinks the interest of the policy makers in the White House to invest time managing the bilateral relationship with Islamabad.
There are even unconfirmed reports that Washington has threatened Islamabad ofwithholding a part of its aid from CSF unless Pakistan shows tangible results of its so-called military operation against the militants targeting U.S. and Afghan troops in Afghanistan belonging to the Haqqani network.
While it remains to be seen whether Washington releases the balance aid amount to Islamabad, what has happened is last year alaw was passed requiring Washington to hold back some of the funds until Islamabad showcases outcomes on its crackdown on the Haqqani network.
The fact that this law had to be passed clearly shows Washington's diminishing level of trust on Islamabad's commitment to wipe out a group of extremists who the U.S. military officials describe as one of itsbiggest threats to Afghanistan.
Apparently the (retired) US Navy AdmiralMike Mullen famously branded the group as "a veritable arm" of Pakistani military intelligence.
Even though Pakistan launched its military offensive in North Waziristan, American experts always felt Islamabad's targeting of the fugitives was 'selective'. It is suspected that Pakistan cracked down only on those militants who it considered adirect threat to the Pakistani state. Thus allowing breeding of groups which could further its goals across the border: the Lashkar-e-Taiba (LeT) and Jaish-e-Muhammad which targets India, and the Afghan Taliban and the Haqqani Network which disrupt Afghanistan.
So after the deadly Army School attack in Peshawar last year when Islamabad said it has reinforced its military operation that didn't even spare the Haqqani Network, very few in theUS Congress are said to have bought it.
However much as the US would want to "wash its hands off" Afghanistan, few facts remain. The drawdown of the American forces is not complete yet. Added to that Islamic State is fast making its way into the country. And with Mullah Omar's death the peace process being brokered between the Taliban and the Afghan government has come to a standstill.
This makes Washington's impatient anticipation, to close its Afghan chapter, even longer. What makes it worse is the Af-Pak relation oscillating back to its bitter days. The Afghan President Ashraf Ghani has alleged that Islamabad continues to deploy non-state actors to disrupt the country further foiling the final desperate attempts of the US to not to leave behind an Iraq kind of legacy in Afghanistan.
In fact in a press statement released on September 1, the Afghan government categorically mentioned that it believes that Pakistan hasn't done enough to disrupt the presence of terrorist groups especially Haqqani Network on its soil. It categorically mentions that it has 'evidence that the leadership, command and control center support infrastructure and sanctuaries of the Haqqani Network and other terrorist groups are inside the Pakistani territory'. The statement adds that the international community has also realised this and that the latest measure by the US to condition its military aid to Islamabad, in exchange for Pakistan's actions against the Haqqani group, attests to the position of Afghanistan. 
It is in this context that India should view White House's invitation to PM Sharif. The US appears willing to increase its engagement with India not only for the virtues of the latter's market—especially defense—but also as a politically stable democratic partner that can contribute to regional stability. With its burgeoning image in the neighbourhood, India is increasingly emerging as a front end for the US to reach out to the smaller nations in South Asia. Not to mention, New Delhi can be Washington's most credible partner in terms of Afghan reconstruction. A stable and a strong India is one of the most important factors today for the US in its aspired Asia pivot doctrine.  
If Islamabad today has any relevance for Washington it is only in the context of 'controlling' it from further disrupting the regional stability.
The current convulsion in Washington's foreign policy think tanks clearly points towards that. There is growing conviction that the approach of containing militancy with humanitarian aid will do little to converge Pakistan's interests with those of the United States.
It is now being suggested more than before that the time has come for Washington to change course. Experts say jihadist organizations are integral to Pakistan's regional strategy. Recommending a strategy of containment, they suggest US-Pakistan relation henceforth should be premised on the understanding that Pakistan is a 'hostile state', rather than an ally.
Equally strong is the persuasion towards cultivating a better relationship with India. Many say India's democratic values make the US closer to New Delhi than to Pakistan.
So Washington must do more toaddress India's anxietiesabout Pakistan which would amount to going beyond just 'placing bounties' on top militant leaders. Some even say that Washington must stoprecognizing the line of control in Kashmir as a disputed border. This will choke Islamabad's 'political justification' for its reliance on non state actors.
Interestingly in an op-ed published by the US based think tank Hudson Institute, former Pakistani Ambassador to the US Husain Haqqani, mentions that Pakistan no longer enjoys international support on Kashmir and is unlikely to get an approval for a referendum in the region from the UN Security Council. 
In that sense, an Obama-Sharif summit is a good thing for India. Over the next few days India should intensify its outreach to the foreign policy circle and decision makers of the US. If Washington still retains any influence over Islamabad, let New Delhi use it to turn the tide in favour of India's interest.   
Critic would say this amounts to the presence of a quasi big brother in what should be a bilateral relation. True. But this applies only when relationship between two nations are strictly 'bilateral'.  In case of Indo-Pak the tie has never been bilateral in true sense of the term. There's always been a China or a US present in this so called relation between two nations.
While trusting China on anything related to border issue could be a risky proposition, what is certain is there's a greater understanding of India in the US.
From Afghanistan to the Indian Ocean, India's partnership will increasingly prove indispensable for Washington. We should leverage this. Can India – a superpower aspirant – commit for a greater role in the region including in stabilizing Afghanistan and get Washington undertake the responsibility of toning down Pakistan?