World
Why India Should Be Concerned Over Chinese-Built Airport At Nepal's Pokhara Becoming A White Elephant And A Chinese Outpost
If Pokhara turns into a Chinese outpost where its fighter aircraft and helicopters are stationed, it will pose a grave danger to India.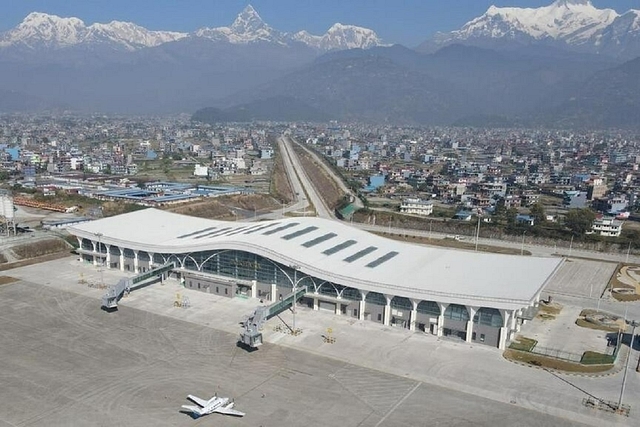 The Pokhara international airport. (Picture: Twitter)
An air crash in its vicinity is not the most auspicious start to a new international airport. The new Chinese-built 'international' airport at Nepal's lake city — Pokhara — will have to live with this blot of a disaster within days of its inauguration.
But more than this 'jinx' which it will find difficult to shake off, the Pokhara airport may end up being a white elephant and a huge drain on Nepal's sparse resources, much like Sri Lanka's Hambantota Port.
That's because the airport was built with a $215.96 billion loan from China's EXIM Bank which is infamous for charging extortionist rates of interest. Civil aviation experts feel that the ill-fated airport will not be able to attract much traffic and will incur huge losses.
And once Nepal is unable to repay the loan, China may well take over the airport and use it as its exclusive military outpost, much like how it arm-twisted Sri Lanka into giving away the Chinese-built and funded Hambantota Port that also turned out to be a white elephant (read this and this).
China is infamous for offering loans to countries to fund major infrastructure projects that have little commercial value and turn out to be white elephants. China does not incur losses since a Chinese company executes the project.
In the case of the Pokhara international airport, China's CAMC Engineering Company bagged the contract for the construction and, thus, almost the entire money loaned to Nepal by China's EXIM Bank for the project went to the coffers of the Chinese company.
Nepal is now saddled with an airport that has no prospects of being commercially viable and it is only a matter of time before it conveys its inability to repay the huge loan it has taken from China's EXIM Bank.
That is when Beijing will arm-twist Kathmandu into offering the airport to it on a long lease for its (China's) exclusive use. China has acquired not just Hambantota Port in Sri Lanka, but also such facilities in other countries through its predatory financing.
Why Should India Be Concerned
Pokhara is a little over 300 kilometres by road — less than a 20 minute flight by a commercial aircraft and well under 10 minutes by a fighter aircraft — from Gorakhpur (Uttar Pradesh) which houses a major Indian Air Force base. A direct commercial flight from New Delhi to Pokhara will take less than 45 minutes.
It will take PLA Air Force's Chengdu J-20 stealth fighter loaded with PL-15 and PL-21 missiles and precision-guided munitions travelling at its top Mach-2 speed a little over 10 minutes to reach New Delhi's air space from Pokhara.
If Pokhara turns into a Chinese outpost where its fighter aircraft and helicopters are stationed, it will pose a grave danger to India. India's military assets starting from Uttarakhand, Uttar Pradesh, Bihar and Bengal, and even beyond, will be vulnerable.
What's more, Beijing is holding up Pokhara as a cheap and attractive destination for Chinese tourists. China is pushing Nepal to allow construction of hotels, resorts and vacation homes exclusively for Chinese citizens.
This, again, is another typical Chinese ploy to establish outposts in other countries.
"Under the guise of establishing hotels and vacation homes for its citizens in other countries, what China does is build dual-use outposts that are used to keep a watch on the region and, in case of a contingency, serve as a base for Chinese soldiers or its mercenaries," said retired Major General Arvind Narain who is a China-watcher.
Narain cited the case of Shwe Kokko, an enclave China built in Myanmar by flouting various local laws (read this and this). China is now using it to carry out various illegal activities and has also stationed its soldiers and lethally-armed mercenaries there.
Shwe Kokko poses a grave threat to regional security in Southeast Asia and is being used by China to keep a close eye on developments in the region, especially Myanmar, Indonesia and Malaysia.
Pokhara, too, can be sinisterly turned by China into another Shwe Kokko. Already, Pokhara is flooded with Chinese tourists and spies, and restaurants and hotels catering exclusively to the Chinese, complete with China's flag displayed prominently outside, have mushroomed in the lake city.
India will refuse to allow its airlines to use the Chinese-funded and built airport. This is in line with New Delhi's policy of not using any facility, be it a hydropower plant or an airport, that has been funded or constructed by China.
In the absence of India's patronage, the Pokhara airport can never become commercially viable. Civil aviation experts say that Pokhara international airport will fare even worse than the Gautam Buddha International Airport at Bhairahawa at Siddharthnagar in Lumbini province adjoining eastern Uttar Pradesh's Maharajganj district.
The modernisation and upgradation of the domestic airport at Bhairahawa into an 'international' airport was funded by the Asian Development Bank (ADB), but executed by a Chinese company.
The airport was inaugurated in April last year, but no international airlines operated flights to or from Bhairahawa and it is incurring heavy losses now.
Even Nepal's Auditor General has flagged "lack of technical preparation for commercial operation of the new airport" and concluded that the facility will not be operational even after it is opened. The Auditor General warned that the new airport would incur huge losses.
Nepal Tourism Board's chief executive officer Dhananjay Regmi also warned immediately after the new airport was inaugurated by Nepal's new Prime Minister Pushpa Kamal Dahal that "a lavish inauguration ceremony does not guarantee the regular operation of an airport".
He predicted that the new airport would meet the same fate as the loss-making Gautam Buddha International Airport.
Dahal had, in his first stint as Prime Minister, given the go-ahead to the Pokhara international airport project in 2009. But the project got embroiled in controversies with allegations of underhand deals and violation of norms.
The Civil Aviation Authority of Nepal (CAAN) invited bids for the project in February 2012, but China's EXIM Bank said it would allow only developers in its approved list to participate in the bidding process. Needless to say, only Chinese companies were on its list.
CAMC Engineering was the lowest bidder, but its quoted price of $305 million was 85 per cent higher than the Nepal government's estimate of $166 million. That stalled the project, but Beijing applied pressure and Nepal had to agree to pay CAMC $ 215.96 million.
With India unwilling to allow direct flights between the new international airport at Pokhara and any Indian airport, Nepal's new airport is destined to be a non-starter.
It can only become viable if direct flights between the new airport and Indian cities like Delhi, Varanasi and Kolkata are allowed.
To become viable, the new airport needs to earn Nepali rupees 2.5 billion ($19.18 million) a year. But there is no prospect of the airport earning even a miniscule fraction of that amount.
India also does not allow aircraft flying into Nepal to use more than one air route over the Indian mainland. In order to attract international airlines, CAAN has to get India to allow airlines to use other air routes to enter Nepal and land at the Pokhara airport.
But India is in no mood to allow that, especially to help a facility financed and executed by China.
The new Pokhara international airport is, thus, doomed to be a failure. And it will only be a matter of time before Kathmandu, unable to make any money from the new facility, throws up its hands and expresses its inability to repay the huge loan it has taken from China's EXIM Bank.
And that is when Beijing will step in and demand that Nepal hands over the Pokhara airport to China in lieu of writing off the loans. China has done this with Sri Lanka, and will do the same with Nepal.
Latest