Harbingers Of Hatred: What IIT Madras Beef Festival Did Not Reveal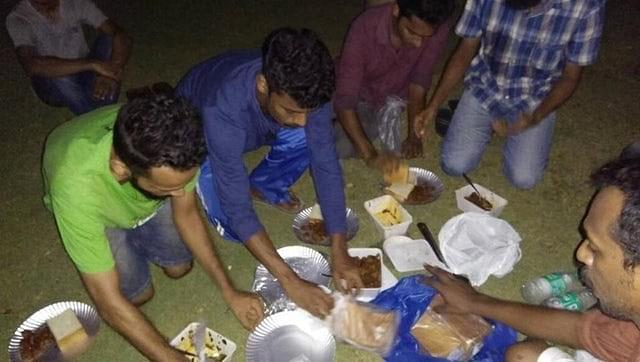 The beef festival at IIT Madras
Snapshot
The beef festival will be remembered not for challenging an imposition of Hindutva values, but as a moment in history when intellectually arrogant and politically conceited members of an ideology exposed themselves as harbingers of hatred.
Facts, or at least the quest for them, have not always been the hallmark of most of our contemporary political discourses, more so, when the latter is espoused by the Left liberal complex comprising of sections of intellectuals, academics, activists and thought leaders. Even then, such discourses come packaged as gateway to profundity and command tremendous attention and respect in the media space.
This power and control over written word, even when it has no referential merit, betray a certain sense of elitism and entitlement over public opinion. Disdain for facts often gets legitimacy by the argument that larger pictures or broad theories should not be constrained by minor details, particularly when the elite speak for the subaltern, protect individual liberty or express dissent.
The recent beef festival at IIT Madras is a wonderful case study to understand how political platitudes are established by ignoring facts. The so-called festival was represented as a spontaneous response to the central government's ban on sale and consumption of beef and the government's denial of people's right over food. By peacefully organising a festival, some students were merely exercising their right to protest, and hence they must be seen as believers in democracy and custodians of individual liberty. And when one of the organisers (let us call him X) fought with another student opposed to beef festival (he may be Y), the scuffle was projected as an organised attack by right wing goons on innocent X. The only problem was that all of these representations were not always factually correct.
The event was attended by about 15 students, mostly from a particular southern state, and was videographed by the organisers themselves. It was circulated amongst students and media houses and got its share of breaking news tag soon. Neither the organisers nor the ones reporting the event cared to ask if there indeed is a ban on beef consumption or if anybody has read and understood the recent government circular on cattle trade. The media blitz continued for a few days. When everybody thought it was all over, there was more breaking news of a pre-planned attack on X by Y, and that Y was assisted by other right wing members.
The fact was that it was a brawl between X and Y over some exchange of words in a Jain mess, that both of them were injured and that both were pulled apart by their friends and mess staff. It may be noted here that X is from a Left ruled southern state (where beef eating is not a taboo) and Y is from a rural north Indian background (where cow is largely respected and worshipped). In terms of news value, this fracas was even more interesting and believable and played around the familiar motif of regressive forces silencing dissent. The well-oiled public relations machinery of the festival organisers successfully projected this as an assault by regressive forces of Hindutva, who are hell bent on imposing an intolerant and violent idea of India. Both the parties (representing X and Y) filed complaints and counter complaints. However, the vociferous Left liberals were in total control of the trajectory this debate will take.
The overall media depiction was the axiomatic villainy of Y and the victimhood, yet intellectual/moral superiority, of X. The latter's swollen face after the brawl was flashed everywhere and the visibility of the injury under his eye made the appeal of liberal discourse even stronger. In contrast, Y remained invisible and his broken arm did not attract media attention, his evil being a given in this narrative of fight between freedom and force. Posters of X appeared everywhere on IIT Madras campus (and even defaced many walls), protest marches were held by concerned students and guided by faculty, a public interest litigation (PIL) was filed and the Madras High Court directed IIT Madras to ensure the safety of festival organisers.
It did not end there. The Chief Minister of Kerala Pinarayi Vijayan demanded justice for X and the General Secretary of Communist Party of India - Marxist (CPI-M) Sitaram Yechury visited X in the hospital. As if that were not enough, huge hoardings appeared in the vicinity of IIT Madras in a regional language (complete with Communist Party of India (CPI) and CPI-M election symbols) highlighting right wing threat to India's unity and inviting people to join the rallies in support of X. Interestingly, Bihar Chief Minister Nitish Kumar who was present in Chennai on the same day Yechury met X did not bother to meet the attacker, maybe because he had trust in the administration of IIT Madras or because he did not want to interfere in a minor scuffle. For all the talk of Y being a right-winger, no BJP president came to meet him.
By then, the video shot by the festival organisers and circulated among media houses had made its way to campus residents, which showed the participants chanting gaumata before consuming beef curry. In this hullaballoo, it was a little difficult to associate victimhood with the organisers. What galled many is the carefully orchestrated PR overkill, which went a bit too far in projecting X as victim and Y as a villain. These developments establish the following: that the festival was organised not to justify individual right over food choice, but to reclaim some institutional space for the Left parties. It also established that the event was not about freedom over food, because there was no such circular prohibiting beef consumption, but to insult the cultural beliefs of thousands of campus residents and instigate them.
In this narrative of good versus evil, what are conveniently ignored are the facts that the festival was a guided event conceived and executed by Left cadre. Also elided is the fact that the event was planned to ridicule the cultural beliefs of millions of Hindus who worship the cow thus inciting hatred and engendering social unrest. Otherwise, how do you justify invoking gaumata before eating beef, videographing and circulating the event? In the exalted discussions around the political nature of everyday reality (the common refrain that everything is political), the moral and ethical imperatives are thrown to the wind and a binary was created between the subjects of modernity (X) and their dark irrational others (Y). What is even more disturbing is the pathological suspicion of anything associated with Hindu belief. Such political culture basking under poorly conceived epithets like freedom over food or reclaiming the idea of India creates a framework, where being a member of majority is a matter of shame, unless that is either disavowed in sophisticated vocabulary or outright demonised as relics of the past.
Intellectualism of this nature, which takes as its entry condition hatred for cultural beliefs of a large section of Indian society, may thrive in some insular space like educational institutions, but will not find resonance among people outside. This makes such intellectualism a dangerous framework, because insulting anybody's faith (however illogical it may be), is morally unsustainable, politically expedient and socially irresponsible. Every religion and culture has its peculiar habits, which may or may not make sense to a few intellectuals, but it creates a sense of belonging, of being parts of a cultural and moral universe. Vitriol targeted at a particular community and the pathological hatred for those who follow their tradition establishes that the festival organisers and their sympathisers are not interested in dialogue. The beef festival will be remembered not because of its resolve to challenge imposition of Hindutva values, but because of the exact opposite — as a moment in history when intellectually arrogant and politically conceited members of an ideology exposed themselves as harbingers of hatred.
The author is in the faculty of Humanities and Social Sciences, IIT Madras. Views expressed are personal.
Get Swarajya in your inbox everyday. Subscribe here.
An Appeal...
Dear Reader,
As you are no doubt aware, Swarajya is a media product that is directly dependent on support from its readers in the form of subscriptions. We do not have the muscle and backing of a large media conglomerate nor are we playing for the large advertisement sweep-stake.
Our business model is you and your subscription. And in challenging times like these, we need your support now more than ever.
We deliver over 10 - 15 high quality articles with expert insights and views. From 7AM in the morning to 10PM late night we operate to ensure you, the reader, get to see what is just right.
Becoming a Patron or a subscriber for as little as Rs 1200/year is the best way you can support our efforts.
Become A Patron
Become A Subscriber