Manish Tewari Deserves Credit For Even The Partial Revelations He Makes About The UPA's Dark Decade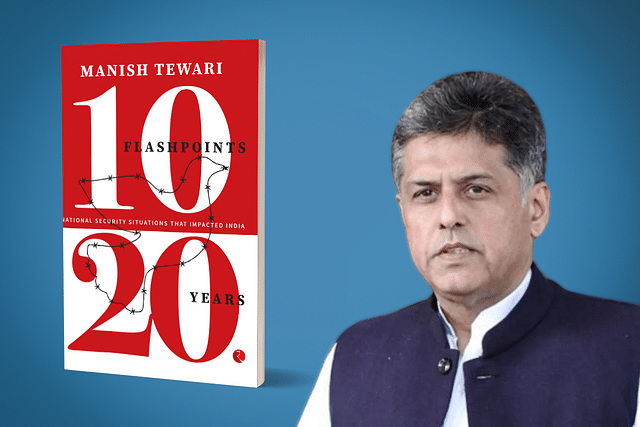 Author Manish Tewari and his book cover.
Snapshot
Manish Tewari acknowledges the cowardly response by the then Indian government headed by Dr Manmohan Singh in response to the 26/11 Mumbai terrorist attacks.
10 Flashpoints; 20 Years: National Security Situations That Impacted India. Manish Tewari. Rupa Publications. Pages 320. Rs 595.
Manish Tewari, once a pillar of the Congress system, but now considered disgruntled, has come out with a new book titled, 10 Flashpoints; 20 Years: National Security Situations That Impacted India.
A passage from the book has already made it to news headlines where Tewari is acknowledging the cowardly response by the then Indian government headed by Dr Manmohan Singh in response to the 26/11 Mumbai terrorist attacks. Tewari says:
There comes a time when actions must speak louder than words. 26/11 was one such time when it just should have been done. It, therefore, is my considered opinion that India should have actioned a kinetic response in the days following India's 9/11.
While this may sound mea culpa, the truth is the full account of how national security was imperilled under 10 years of UPA rule is yet to be written. The country is still paying the price because of the forces unleashed during the Sonia Gandhi-Manmohan Singh rule. Consider the following.
Nepal used to be firmly under the Indian ambit and our overall civilizational ethos. In 2006, driven by the Faustian bargain that the Congress had done with the Left to be in power, Nepal was allowed to go into Marxist territory with mainstreaming of forces who felt ideologically closer to China, and many of whom detested India and actively stoked anti-India feelings in the country. Since then, China has gained a greater foothold in Nepal than it ever had and has posed many challenges to India.
The Communist hangover was not limited to Nepal only. The entire Naxal leadership was surrounded in 2007 by our brace security forces. However, at the last moment, apparently due to a high-level intervention, they were let go. In the years following that, the Naxals would massacre 76 security forces in Chhattisgarh, among other deadly attacks, while Manmohan Singh would lecture his own government on how we should be tough on Naxals!
Rahul Gandhi signed a memorandum of understanding (MoU) with the Chinese Communist Party (CCP) in 2008. Also present in that signing was a leader who is now the President of China. We still do not know the contours of what was directly and secretly agreed to in that agreement.
But here is a data point. In 2004, the trade deficit with China was $1.1 billion. By 2014 this had ballooned to $36.2 billion, an increase of 33 times!
It was during this same period when CPI and CPM used to be guests of CCP, that the Chinese electronics, toys, mobile phones and a host of other manufacturing units penetrated India and started dominating our markets. Make no mistake, this was not because of any fair competition but because of stifling of any chances of manufacturing in India that would take on these Chinese brands. All proposals to kick start Indian manufacturing were simply killed.
AK Antony, defence minister during much of UPA's period, and who gained a reputation for doing nothing, admitted as much in Parliament in 2013 when he conceded that India was no match to China because of the rapid pace at which China had built border infrastructure while India was simply sleeping at the wheels. That it was by design or mere accident is for anyone to guess.
But here is another data point. In 2013, the UPA government signed nine agreements with China. China was parallelly occupying, unchallenged, 640 sq. km of Indian territory in Eastern Ladakh, including the Depsang plain.
But if China was the end of the muddled national security spectrum, then Pakistan was an even more septic end.
The first proud proclamation of UPA government, when it assumed power, was the dismantling of the anti-terror legislation Prevention of Terrorism Act (POTA). Our security forces were stripped off the only weapon they had against Pakistan nurture and funded terror. The message went out to the terrorists that they now had a free run, for now, they had their "own government". Soon enough, it became a monthly recurrence of deadly terrorist attacks.
Manish Tewari mentions 26/11 Mumbai attack. But consider just a small sample of what preceded it. Beginning with the Dheemaji school bombing in Assam on 15 August 2004, the next few years were like living hell.
The July 2005 attacks on Ram Janmabhoomi, the Delhi Diwali bombings just a few months later in October, the March 2006 attacks on Sankatmochan Temple in Kashi, the July 2006 bombings of the local trains in Mumbai, the September 2006 attacks in Malegaon, the February 2007 attacks on Samjhauta Express, the series of bombings later that year in Hyderabad, Ajmer, and the series of bombings of court houses in Uttar Pradesh to round off the year.
2008 was a particularly horrible year with the emergence of Indian Mujahedeen (IM) – Pakistani funded and trained but manned by local jihadis. They executed, without challenge from UPA, the May 2008 bombings in Jaipur, the July attacks in Bangalore and Ahmedabad and the September bombings in Delhi.
When the IM terrorists were neutralised by Delhi Police in an encounter following leads from Gujarat Police, the entire Congress machinery close to Sonia Gandhi sprung into action to defame the police and brand the terrorists as innocent boys.
Of course, 2008 ended in the gruesome and macabre dance of the Mumbai 26/11 attacks, and all the while, the then UPA government sat and silently watched. Or strike that. It was not silently watching. Digvijay Singh, the closest in Congress circles to the Gandhi dynasty, got busy getting a book written as to how 26/11 was an RSS conspiracy!
It is not as if the free run to terrorists was the only sin of that UPA government. A far more insidious and dangerous plot was the open field given to ISI and Pakistani handlers to cultivate Indian opinion makers. Indian polity had been fractious and divided even before the advent of UPA under Sonia Gandhi in 2004.
But on one issue, there was always unanimity – that Pakistan was an enemy nation, because of its own actions, and that designs of Pakistan must be defeated by using all and any means.
That changed after 2004. Pakistani propaganda started finding place in Indian discourse. The method was the Track-II diplomacy, a fancy term for essentially recruiting and grooming useful Indian idiots in exotic locales like Thailand and sometimes directly in Islamabad. The government of the day was willing to let this happen, so all kinds of actors – journalist, think tankers, retired military and intelligence personnel looking for personal aggrandisement and other shady characters all got along on this gravy train.
The contacts that the Pakistani and surely along with it the Chinese intelligence built during these recruitment junkets, have continued to serve them till this day to the detriment of India. Consider, for example, the breadth of people who are opposed to the Chardham project. For the first time in perhaps recorded history, the Indian military has had to give in writing in Supreme Court that it wants to deploy missiles in forward areas and so the project be allowed to be completed. Such forward deployment is always away from public eyes in any country in the world.
And yet, such is the pervasiveness of the ecosystem of China and Pakistan in India that the Army has been pleading its case for border infrastructure, and yet NGOs, with support of high-pitched voices raised and feted during Sonia Gandhi era, are deploying all their might to sabotage this crucial project. The Supreme Court, in its wisdom, and despite Army's pleading, is also patiently listening to the case of these NGOs.
China, whose ability to rapidly create border infra we marvel, faces no delays in its defence preparedness while NGOs and their lawyers groomed in the UPA era are using our democratic freedoms to delay our preparations!
It is these same actors, all groomed during UPA period and many of them part of Track-II with Pakistan (and obviously China), who mobilise at a rapid scale to disrupt India's civil life. Look at the actors who rioted in many parts of the country after the Citizenship (Amendment) Act, 2019 (CAA).
Or the forces that use the liberties of democracy and functioning courts to litigate every action, thereby delaying India's growth trajectory. Or the Padma Awardees who took macabre pleasure in plastering the world with images of burning pyres during the COVID-19 pandemic while simultaneously lobbying for pharma companies from countries that have fared far worse than India in either containing cases or fatalities.
Or take the case of the Indian Air Force, which had long pleaded for the fifth-generation fighter jets to keep up with China and even Pakistan. The deal never materialised during the UPA period for reasons now only too obvious. And when it did during the Modi government, the Congress ecosystem, nurtured during the UPA years, deployed every trick in trade to sabotage the deal. One can only guess their motivations.
There were other implications of the Sonia Gandhi era. For the first time ever, as a direct consequence of grooming of useful idiots in India by Pakistani Inter-Services Public Relations (ISPR), the media and public relations wing of the Pakistan Armed Forces, terrorism became a domestic secularism issue.
Congress was in power before 2004 as well and their policies were hotly contested then also. But on Pakistani directed malevolent action, no one accused them of disregarding India's interests. That could no longer be said post 2004. In fact, it could plausibly be argued that Congress dispensation had become overtly ant-India.
Ishrat Jahan case, where a Lashkar-e-Taiba (LeT) claimed terrorist became an icon of secularism and was used to hound honest Intelligence Bureau (IB) officers, is just the most high-profile case. Incidentally, this case led to an unprecedented revolt by the IB in 2013 when UPA was hell bent on prosecuting a fine officer who neutralised Ishrat and her Pakistani accomplices. It was only after the revolt by the entire IB, did UPA backed down. But this was not all.
An entirely new bogey of Hindu terror was conjured in the secularism project of that UPA era, and innocent men and women were framed and destroyed for political benefits. The world, after 9/11, was for the first time recognising the threat of jihadi terror while India under UPA, long a victim of exactly the same forces, was busy in repudiating any theory of jihadi terror and fabricating the bogey of Hindu terror.
With this sequence in mind, it is not difficult to imagine why Rahul Gandhi reportedly said to the United States ambassador in 2009 that "radical Hindu groups as bigger threats than LeT".
The malevolence Sonia Gandhi era is not over yet. It was during this very period that, for the first time and only time in India's history, a serving chief of staff of the defence forces was corrupted and co-opted to become part of the scam gravy train that ran through much of UPA. Corruption had reached the highest echelons of India's security apparatus.
Look closely, and almost all of these malevolent actions that made a mockery of India's safety, security and territorial integrity, can be traced to the first term of UPA itself, when it was in bed with the Communists.
Sometimes I wonder as to how we survived those years? But then I remember our own long, multi-millennia history. Every time we have been on the brink, we have found it within ourselves to rescue ourselves from imminent oblivion. It is how we have survived and continue to be the oldest living continuous civilisation which has neither fallen to Abrahamic forces nor to Communists. Sometimes it has been Shivaji, other times, it has been Ahilya Bai Holkar.
In 2014 people rallied behind Modi and reduced Congress to just 44 seats. We must credit Manish Tewari for at least partially writing about that dark decade of UPA and specifically about those horrendous first five years. For it must serve as a reminder to us that never again shall we allow our fate to be put in the hands of such evil forces.
Get Swarajya in your inbox everyday. Subscribe here.
Tags: 
ISI

, 

UPA corruption

, 

UPA government

, 

Communist Party of India (Marxist)

, 

Border Infrastructure

, 

Book

, 

India's National Security

, 

Intelligence Bureau (IB)

, 

India Pakistan

, 

26/11 Mumbai Terror Attack

, 

Communist Party of India (CPI)

, 

Ishrat Jahan encounter case

, 

Serial Bomb blasts

, 

Congress MP Manish Tewari

, 

India -China

, 

Pakistani ISPR

, 
An Appeal...
Dear Reader,
As you are no doubt aware, Swarajya is a media product that is directly dependent on support from its readers in the form of subscriptions. We do not have the muscle and backing of a large media conglomerate nor are we playing for the large advertisement sweep-stake.
Our business model is you and your subscription. And in challenging times like these, we need your support now more than ever.
We deliver over 10 - 15 high quality articles with expert insights and views. From 7AM in the morning to 10PM late night we operate to ensure you, the reader, get to see what is just right.
Becoming a Patron or a subscriber for as little as Rs 1200/year is the best way you can support our efforts.
Become A Patron
Become A Subscriber