Google 'Temple elephants' and what greets the eye is sure to melt any heart, giving most readers a feeling that these magnificent creatures are at the mercy, or lack of it, of those who are entrusted with the temple's and their upkeep. But are these mammoth mammals really meted out such terrible treatment? Do temple elephants really need divine, or as claimed, 'human' intervention for their safety?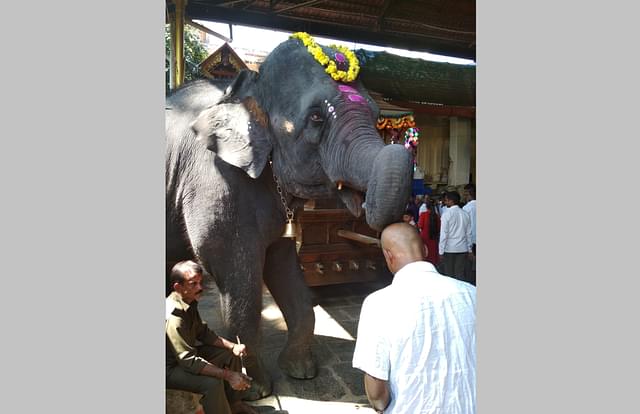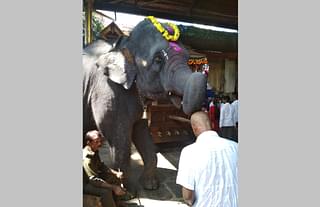 Mahout Srinivas watches as Yashaswini blesses temple visitors (Chethan Shetty)
Elephants in temples are a common sight, atleast in most temples in the southern part of this country. And the sight of the elephants raising their trunks to bless people is a very common one, and to most young visitors, a most sought after one too. But then, this too has been termed 'torture'. All that is part of tradition has often been touted as ill-treatment and crusaders of animal welfare, like the ones who pen those posts defining 'temple elephants', seem to be only wishing that they were no longer a part of the temple ecosystem.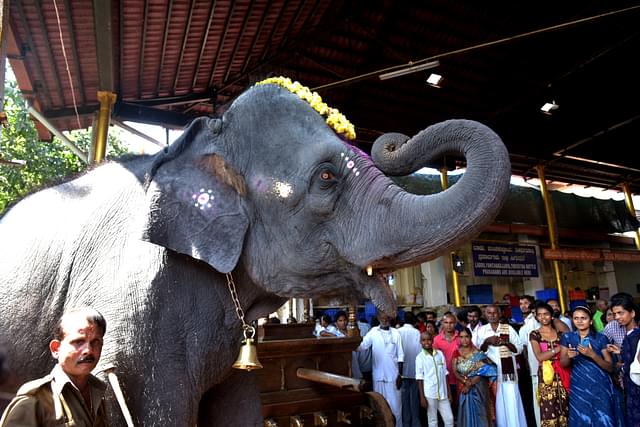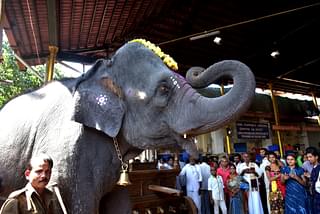 Yashaswini visits the temple along with her three mahouts during pooja hours (Ram Kumar)
A mahout, who is the closest associate of an elephant, is often paraded as a tormenting tyrant who cares not about the elephant. To check for all these popular demonising myths associated with temple elephants, we spent a day with a temple elephant, Yashaswini, who seemed anything but 'captive'.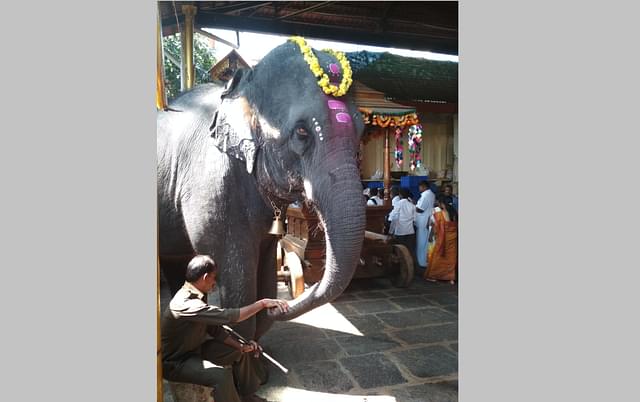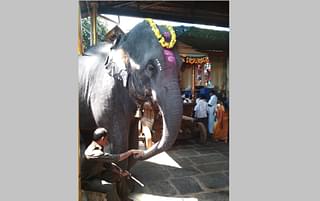 Yashaswini with her mahout Srinivas (Chethan Shetty)
Yashaswini is the elephant at the richest Muzrai temple in Karnataka. Fourteen-year-old Yashaswini was gifted to the temple when she was a two-and-a-half year old by a politician from Hospet, Anand Singh, and is his daughter's namesake. As mahout Guruprasad, who is a third generation mahout, fondly reminisces , "she was tall enough to reach my shoulders then, and now I reach just her knees". She is the heir to Indumathi, who was tended to by Guruprasad's father and grandfather, who died a few years back owing to age and ill health.
And spending a day with Yashaswini gave a glimpse into her happy world where 'discontent' or 'discomfort' seemed to be the last thing characteristic of her being. All three mahouts of hers came across more as foster parents than trainers or 'tormentors' that they are popularly characterised as.
Yashaswini, like any other elephant, hardly sleeps for three hours a night, and the slightest whimper wakes her up. The mahouts who stay in tiny rooms next to her shed, take care to ensure nothing disturbs her. "She wakes up at the drop of a coin, she is very sensitive" says mahout Srinivas, who has been a mahout for over a decade and has previously trained elephants in Dharmasthala too.
Having woken up, she then freshens up and has her breakfast which is around eight to ten kilos of cereal balls. The mahouts feed her with their own hands and limit the quantity of cooked food. As the mahout loads her food onto the vessel she extends her trunk and helps him carry it to her spot in the shed. She posed for me with her food, and an attempt to feed her a ball of ragi had her nodding in disapproval. "She doesn't eat here, her food is placed at the other end of the shed," explains the mahout.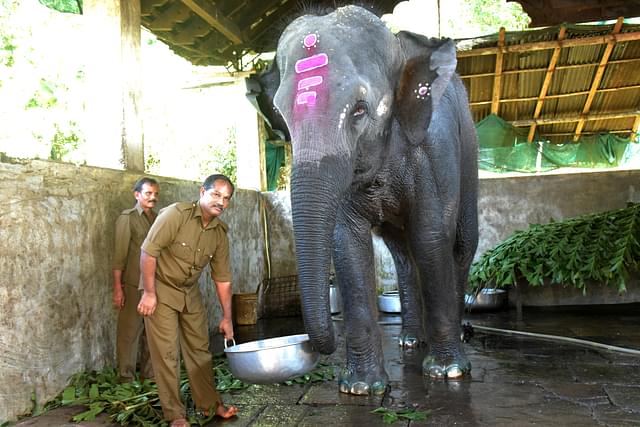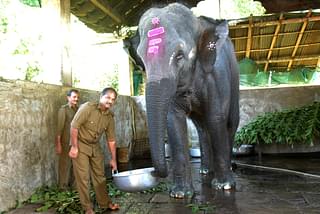 Yashaswini helps mahout Shivakumar carry the vessel with her lunch (Ram Kumar)
Yashaswini then carries one handle of the vessel with the mahout Shivakumar holding the other and places it at her regular spot and happily gulps down the balls of cereals and then munches on a few leaves stacked there. "We limit the quantity of boiled food as that tends to give her indigestion. We let her graze when she goes on walks in the forests, as well as fetch particular kinds of leaves for her," explains mahout Guruprasad listing out various leaves and grass that they pick for her.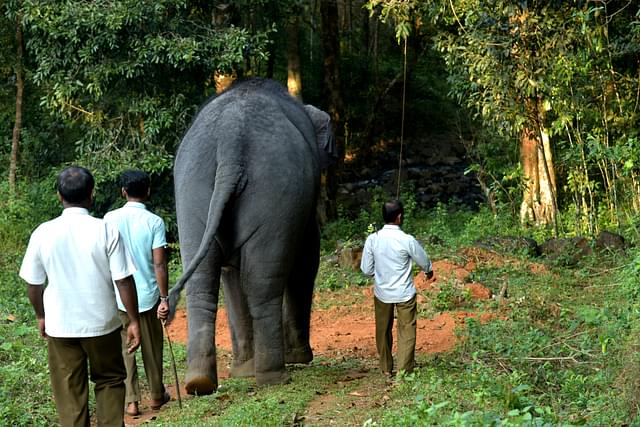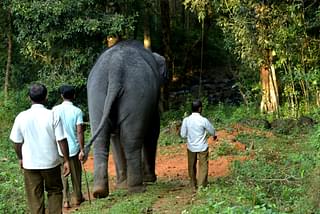 Yashaswini heads for her daily walk with her three mahouts (Ram Kumar)
She goes on walks twice a day for four to eight kilometres. The morning walks are in the forests, upto the river Kumaradhara, where she takes a bath and heads back to the temple in time for the afternoon pooja. She, in all her majesty, with that bell on her neck ringing aloud, announces her presence as she enters the temple, grabbing all the attention. When it is pooja time, she stands in front of the sanctum sanctorum and raises her trunk joyously, nodding her head all the while. She then stands in a corner, blessing people who offer her coconuts and bananas. "We don't let her eat all the coconuts offered as that can give her a bad tummy. She eats four to five a day," says the concerned mahout. Hundreds of devotees each day watch the majestic animal stand there and wave her ears and nod in glee. On utsav days, she wears her finery but on others is adorned with garland of flowers on her forehead along with a coloured bindi and two tiny ones on her ears.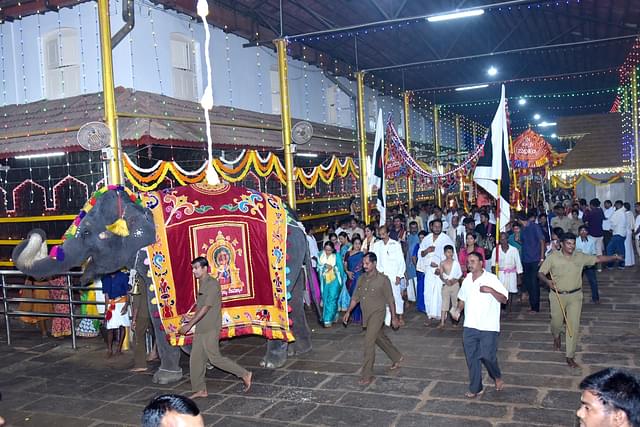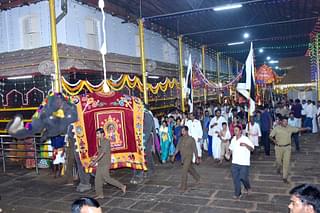 Yashaswini leading the temple rituals during the annual Shashti Mahotsav
When it is time for lunch, she heads back to her shed which is a ten minute walk from the temple. She is then sprayed with water to cool her down post the walk to the temple, before she can grab her meal. Prancing around the shed, Yashaswini is free to move around inside her shed as the mahouts loosely chain her only when they retire to their rooms.
Even as I stand next to her and watch her antics she moves around the shed, rubbing her trunk on the walls and nodding side to side.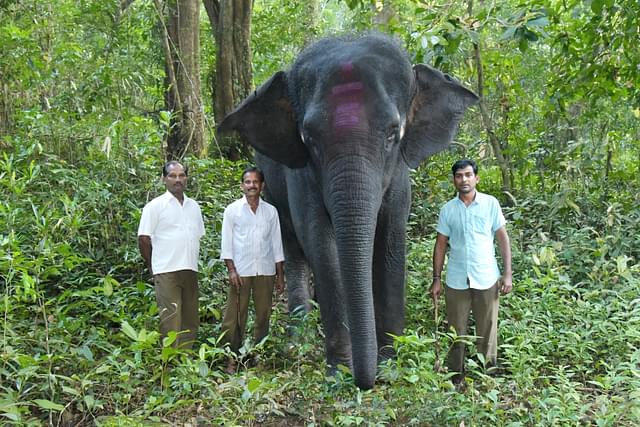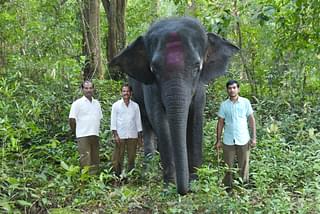 Mahouts accompany Yashaswini on her evening stroll
Again, around 3.30 pm, she heads with her mahouts on her evening walk and is out for around 3 hours. They take different routes through the forests, but take care to avoid wild elephants who sometimes do stroll around. "we avoid routes that the wild elephants take,"says a cautious mahout. We went on her evening walk with her to a rivulet. Yashaswini walked into the woods for over a hour and then got into the rivulet for some play time.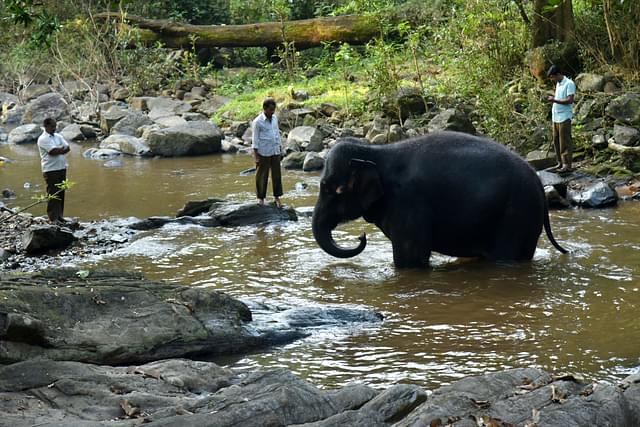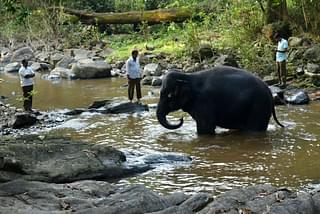 The mahouts watch over as Yashaswini spends time in the rivulet 
Splashing water all over herself, she spent over an hour in the rivulet. The three mahouts stood guarding and watching over her as she sprayed water over herself.
"When we get her to rivulets we let her play, unless the water is very cold," says the mahout, taking pride in the fact that Yashaswini, as she clearly appears, is one of the best kept and cleanest elephant among most temple elephants in the state. The mahouts scrub her back during her morning bath and ensure she is clean and her skin glistening. She also does wash her limbs before she heads to the temple.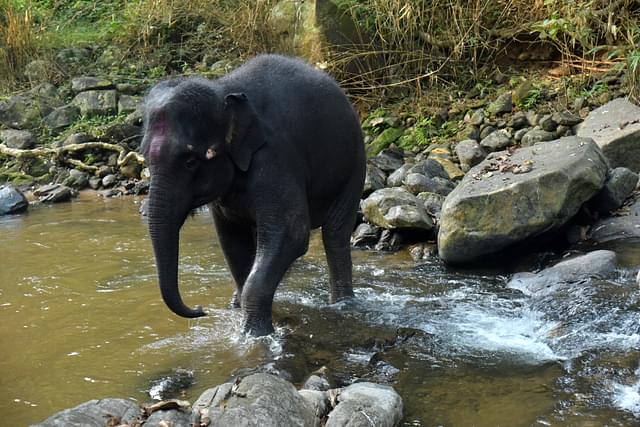 And she heads back home after her evening dip
Having played for over an hour, the mahouts instruct her to head back home. And no, they neither beat her nor use any crude means to get her to act. "It is all about how you train them. Elephants are just like children, and since she has been with us since was two years old, she understands what we say" they explain. But the language felt unfamiliar, and that is when they said that it was a conscious choice to train the elephant in a language that is not that used commonly by locals and common visitors. So what language does Yashaswini understand? "Malayalam. Indumathi was spoken to in a mix of Coorgi and Hindi. But Yashaswini has been trained in Malayalam." This is to ensure that all that the visitors say is not processed by her, either to her liking or irritation.
"Any new task she takes around one week to learn but since she has been with us for so long, she is easier to train. And like what is portrayed, we can't train her with violence." Be it directions or temple rituals like ringing the bell and fanning, the mahouts hold her trunk and do the said task with her for over a week along with instructions till she is able to do it on her own. "It is just like a human child," they say, adding that she loved playing with a ball, standing on two limbs and the like.

But animal activists and the like call it torture. "Such activity, yoga and the exercises kept her fit and happy. But we cannot make her do those exercises anymore," they regret.
While elephant health is an oft-debated issue, with most complaints about having to walk on tar roads, most of the pathway that she walks on is a forest route and her walks, they say, have never hurt her foot. The vet visits her at least five times a month but then "the best doctor for an elephant is a mahout" they muse, describing how they ensure that any tiny injury is tended too with herbal concoctions. "We apply a mixture of neem oil, charcoal and some herbs if she bruises herself or the like. We know when something is hurting her."
Temple elephants are taken to the various camps if they are to breed but the domesticated ones generally do not breed easily. But they are not loners."Yashaswini loved to play with Indumathi when she was here. This one would run between her legs and if we didn't let her play she would scream just like a child," they reminisce.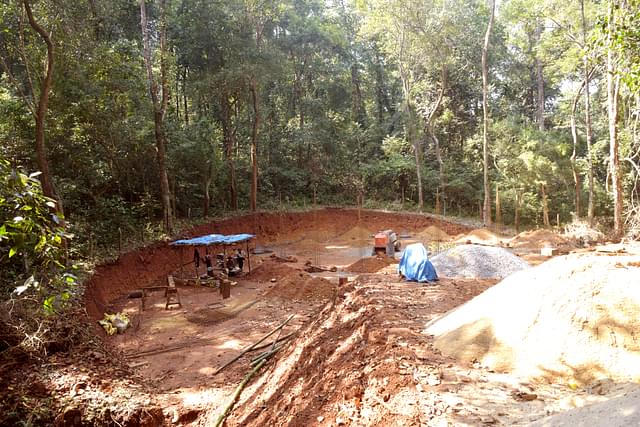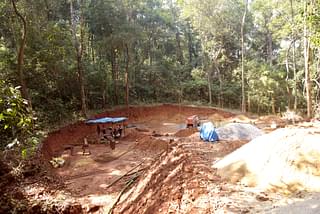 Yashaswini's new resting place under construction (Ram Kumar)
A new shed is being built to ensure Yashaswini never has to be chained. A large expanse in the middle of the forest is being cleared and a compound wall being built to make for an enclosure where she can roam around freely in a natural habitat. A pond is also being constructed to make sure she has access to water. Rooms for the mahouts too will be made near the new shed which is located comparatively farther from the temple, but that is to ensure that it is a much cooler and more natural a space for her to be at.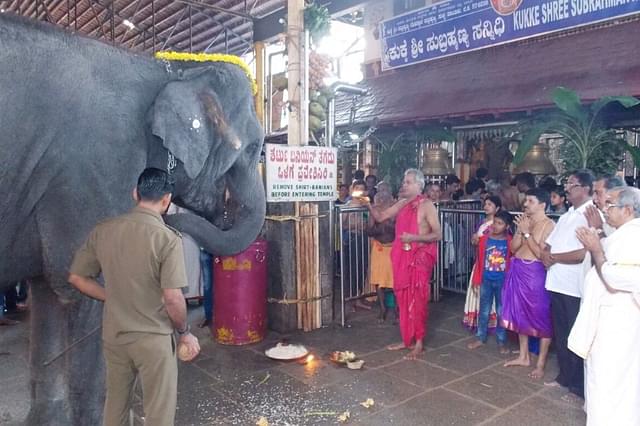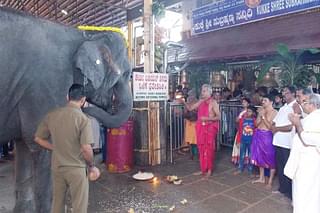 Gaja Pooja being performed to Yashaswini at the annual temple festival
At the recently concluded annual festival at the temple, Yashaswini was decked up in all her fineries and there was a special ritual, the "gaja pooja" or the elephant worship performed at the temple. On the final day of the celebrations called the jhalaka, or the ceremonial bath , Yashaswini too heads to the river where she is let to play in the water with people, an event children look forward to each year. Her birthday has the mahouts offer special prayers in the temple in her name.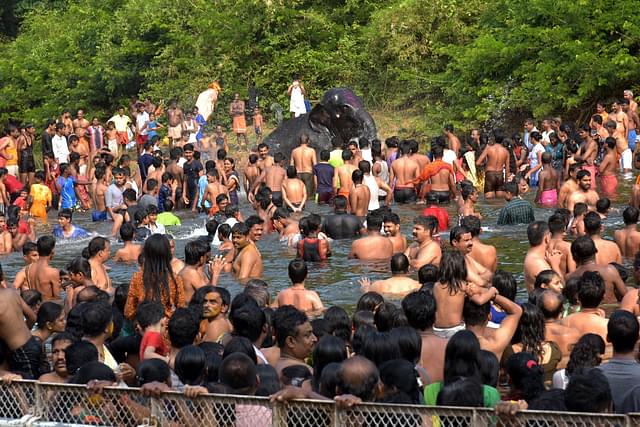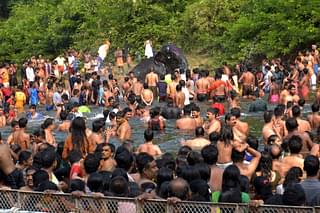 Yashaswini during the annual ceremonial bath as part of the temple's annual festival (Ram Kumar)
For the mahouts, despite their efforts not really being compensated fairly, what with dismal salaries and bare minimum provisions for accommodation and the like, their world revolves around Yashaswini. And the way in which she royally parades herself and playfully nods and interacts with them, she is surely at a happy place. Those who do not believe this report are welcome to go visit Yashaswini and get a tiny reassuring pat on the head with her trunk like the ones she kept giving me through my day with her.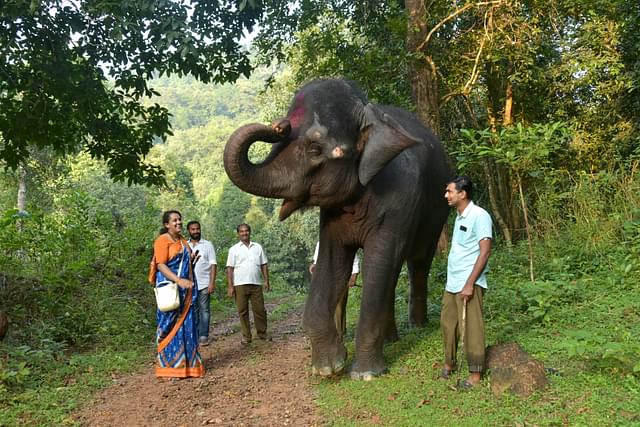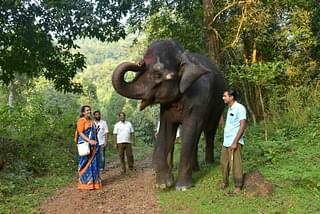 Good bye says Yashaswini as she heads on the last lap of her evening walk (Ram Kumar)
This article is part of the Swarajya heritage programme. If you liked this article and would like us to do more of the kind, consider being a sponsor – you can contribute as little as Rs 2,999. Read more here.