'Land Of Gita And Dharma, Not Just Mahabharata War': The Rebranding Of Kurukshetra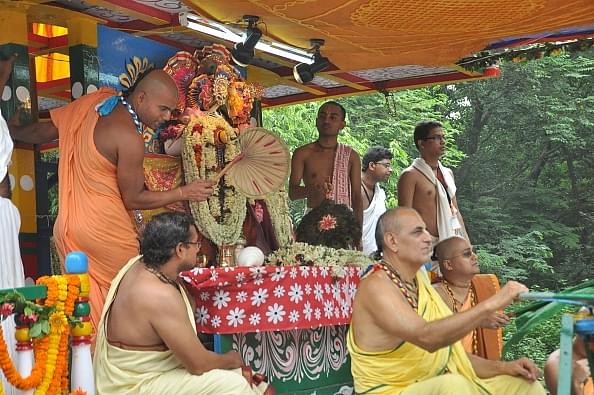 The Haryana government is working to transform Kurukshetra into a major tourism hub. (GettyImages)
Snapshot
There is more to Kurukshetra than just the battlefield. More than Rs 3,500 crore has been invested to transform this historic Haryana city into a major tourism destination.
To most visitors, Kurukshetra is the land where the great Mahabharata war was fought between the righteous Pandavas and their cousins, the Kauravas. Often, the first thing they ask when they arrive is, where is the battlefield?
Well, there is no battlefield left, demarcated or preserved, for them to see. Most of the site as mentioned in the Mahabharata text is populated and occupied by farmers and landowners.
Nor the soil is red in colour.
"A common myth associated with Kurukshetra is that the soil is red with all the blood that spilled. I have myself seen visitors pointing to patches that had turned crimson due to construction debris, and jump in excitement thinking it to be the remnants of the war," says Madan Mohan Chhabra, secretary of the Kurukshetra Development Board (KDB). "Even if it was red at some point in time, it is certainly not anymore."
Rajendra Singh Rana, curator of the city's Srikrishna Museum, says, "lal mitti is just a metaphor. Also, not many people know that the '48 kos' of the Kurukshetra bhumi is actually outside the main city, spread across the five districts of Kurukshetra, Kaithal, Jind, Karnal and Panipat and lying between Saraswati and Drishadvati."
But there is more to Kurukshetra than the battlefield. This historic city in Haryana is home to Jyotisar, where Lord Krishna is said to have preached Bhagawad Gita to Arjuna, and Brahma Sarovar, where Lord Brahma is believed to have performed yagna.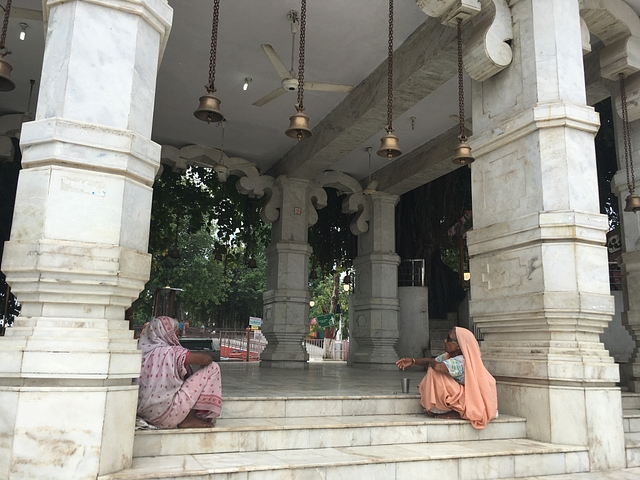 Jyotisar is a temple with a small pond, housing an "immortal" banyan tree and a marble chariot in its premises; Brahma Sarovar is a pond where visitors gather in mornings and evenings for the aarti. Besides, there are a hundred-odd temples. These two non-descript but important sites mainly pull in the estimated 5,000 visitors to Kurukshetra daily.
But authorities believe it has the potential to reach five times this figure. How? "By a complete rebranding of the city as the birthplace of Gita and the land of Dharma, and not just the site of a war," said Chhabra.
"When you enter the city, a huge hoarding introduces it as 'Dharmakshetra Kurukshetra' because this is what it is. This is why Krishna chose it as the site of the war," he said.
To this purpose, the Manohar Lal Khattar-led state government has turned the annual low-key Gita Jayanti celebrations into a mega event from 2016 onwards, upping the expenditure from a few crores to over Rs 100 crores. Gita Jayanti, also known as Mokshada Ekadashi (roughly translated as the day of salvation), marks the day when the eternal message of Gita was delivered and falls in either November of December as per the Hindu calendar. About 20 lakh people visited the fortnight-long fest last year, as per officials.
Another big-ticket project in the works is the multi-crore Mahabharata-themed museum called Gita Gyan Sansthanam. Spread over 19 acres, it will feature a Gita Research Centre, an academic and meditation centre, library, exhibition hall, shopping complex and auditorium. It was sanctioned in 2015, a year after the Bharatiya Janata Party (BJP) came to power in Haryana.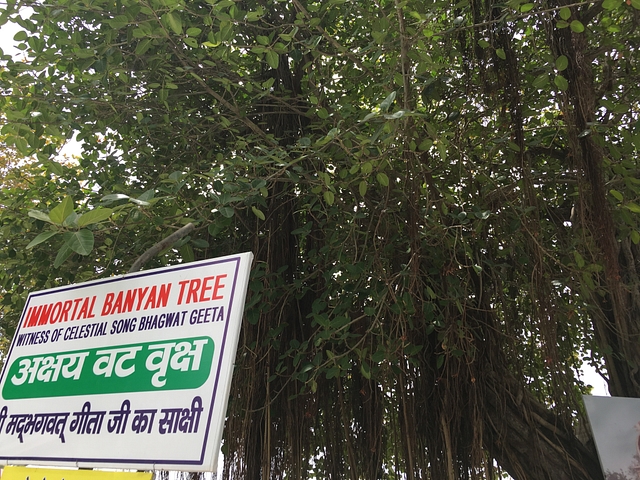 Target: 20,000 visitors a day, more than Vrindaban-Mathura
Authorities expect that by 2020, Kurukshetra will surpass Vrindaban-Mathura as the most sought-after tourist destination for Krishna devotees. "We hope to achieve a daily footfall of 20,000 visitors," says Chhabra. Vrindaban-Mathura in Uttar Pradesh, the birth and childhood places of Krishna, attract an estimated 50 lakh people a year or 14,000 people a day.
The Board has also pinned big hopes on four major temples coming up around the museum.
The first of them to open is Shri Venkateshwara Tirupati Balaji temple dedicated to Lord Vishnu. It was inaugurated last week even as work on guest houses and staff quarters is still on.
Spread across 5.5 acres, the temple is a "franchise" of Andhra Pradesh's famous Tirupati Balaji temple and is an almost exact replica. It's an undertaking of Tirumala Tirupati Devasthanam (TTD), an independent trust that manages the Andhra temple. At two crore people a day, the main temple is regarded as the most visited shrine in the world.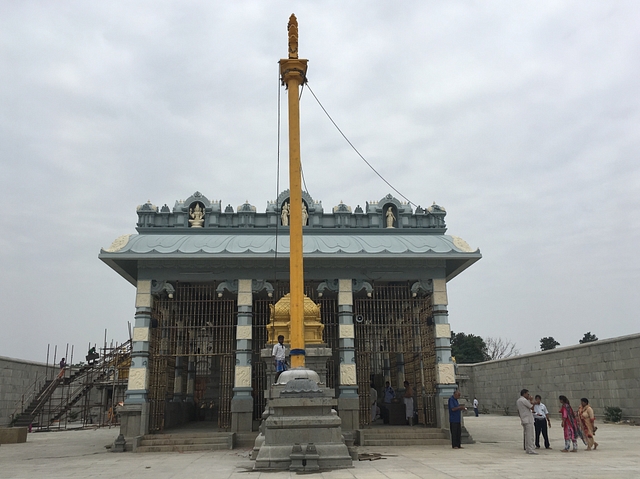 "Those who find Andhra too far off, can come here. A lesser known fact is that majority of the devotees at Andhra are from the north," said Prem Chand, special officer of TTD, who jokingly described himself as "the only North-Indian in the trust".
Why Kurukshetra? Prem Chand said it is because it is the land of Krishna and Krishna is an incarnation of Vishnu.
"In just four days of its opening, we have seen 10,000 visitors," said Prem Chand when we visited the temple on Thursday (5 July). "The number is expected to surge on Fridays when we have a special abhishek of the deity."
"With Brahma Sarovar and Sthaneshwar Mahadev (temple) in the vicinity, the holy trinity of Brahma, Vishnu and Mahesh is complete," said Chhabra.
Of the rest, the ISKCON temple spread across 6 acres in Jyotisar is expected to complete by 2020, while work on Akshardham temple will begin shortly. Land for all these three temples was given by the Bhupinder Singh Hooda-led Congress government shortly before the 2014 assembly polls.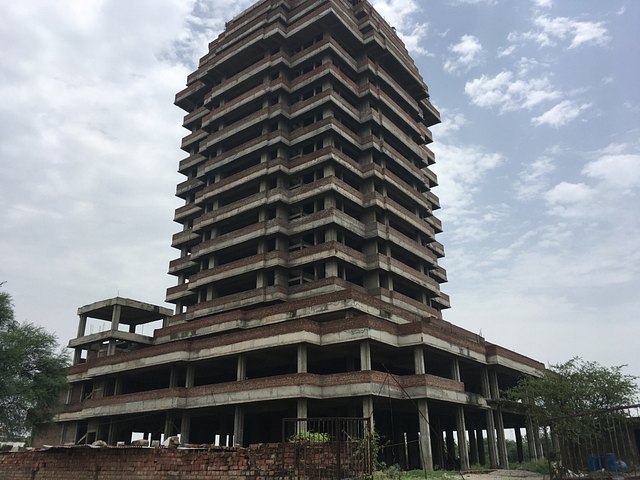 Work on another temple – an 18-storey structure that will depict major events from the Mahabharata – is on at a slow pace since 2006, but authorities are hopeful it will complete in a year. It's being undertaken by one Bhahmapuri Annakshetra Trust.
"Collectively, around Rs 500 crore is being spent on these temples, mainly from donations to trusts. The land has been provided by the Board," said Chhabra.
Controversy: Prime land given away for a song; Hindutva undertones
The "throw away" rates at which the Board has given away land to these trusts has come under criticism and even high court scanner in one case.
Notably, Kurukshetra Development Board (KDB) is a high-profile board, with the governor its ex-officio chair and the chief minister its vice-chair. Other members include cabinet ministers and bureaucrats.
Last year, Indian Express reported that in 2015, the Board gave away six acres of prime land for Gita Sansthanam to one Gyananandji Maharaj at Rs 5 lakh per acre on an annual lease of 99 years. This is pittance because in government records, the land's value is 10 times at Rs 50 lakh per acre. Earlier, the Congress government too gave away land for ISKCON and Akshardham at highly concessional rates. Social workers and rival political parties have slammed it calling it "squandering of public land".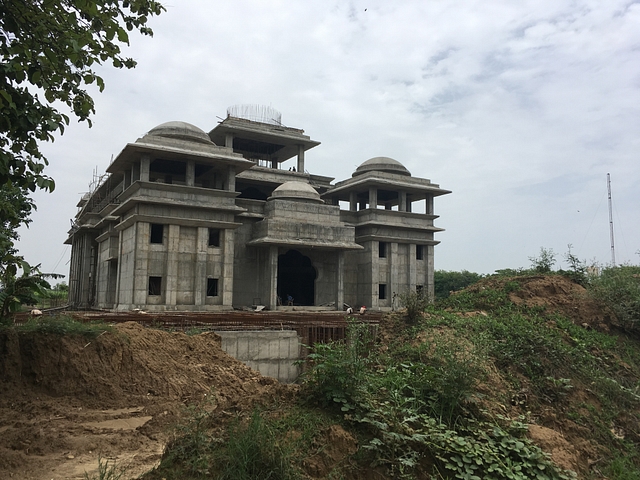 These projects have also come under criticism for "mixing of politics with religion". Former chief minister and Congress leader Bhupinder Singh Hooda has accused BJP of "promotion of religion for their political benefits". Indian National Lok Dal (INLD) state president Ashok Arora has questioned the use of government fund and why is it not being spent on development of villages and health and education instead.
The two ventures that have invited the maximum flak are the revival of Saraswati and Gita Mahotsav that have been seen as Hindutva projects.
The BJP government and the Board, however, are dismissive of these claims.
Chhabra told Swarajya, "the land has been given to these trusts and organisations over 40 years. It's nothing new. Also, the money invested by these trusts is far more than what the government has contributed, which is really nothing. These trusts are helping the local economy and overall development."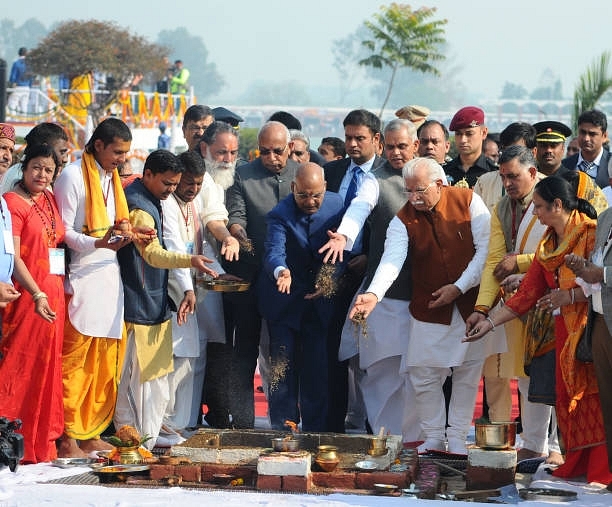 Chhabra, who was earlier the state coordinator of Vishwa Hindu Parishad-run Hindu Helpline before joining the specially-created post in the Board in April, also insisted on calling all these projects "cultural" rather than "religious".
Haryana Education Minister and senior BJP leader Ram Bilas Sharma has earlier said that KDB has not given any land to any private party but only to Ashrams, temples, Brahmin Samaj or places associated with Gita in the periphery. "We have not done any favour to Swami Gyananand," he said about the Gita Sansthanam project.
'Kurukshetra will change forever'
As per a KDB member who did not wish to be named, what the government is really trying to do is make Kurukshetra a one-night stopover for visitors headed to Amritsar for Golden Temple, Jammu for Vaishno Devi or Haridwar and Himachal. "As of today, a tourists stays from morning to evening in Kurukshetra and spends about Rs 500. We want them to stay overnight," he said.
Prem Chand of TTD, however, said the city isn't prepared for it. "There aren't enough hotels. Maybe the fact that alcohol and meat aren't allowed (within city limits) discourages hoteliers to open businesses," he said.
When asked, Chhabra said the hotels will come up in no time when there is demand for it.
As per Chhabra, the Board is focussed on infrastructure so that "Kurukshetra does not go the Kashi or Haridwar way".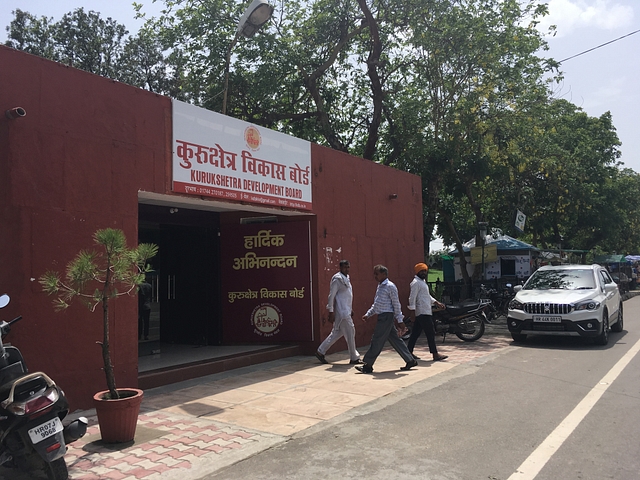 He gave a quick overview of the development works: Rs 700 crore is being spent on road construction. Work on a Rs 65 crore sewage treatment plant is on. The city has also received Rs 97.5 crore from the Centre as a key development site for Krishna circuit (under Swadesh Darshan Scheme). The Brahma Sarovar is being upgraded with Rs 38 crore.
"Overall, Rs 3,500 crore is being invested in Kurukshetra," he said.
As per the other Board member, this is the third and the biggest push the city has recieved in its history. "In late 1960s, it was (former prime minister) Gulzari Lal Nanda who made Kurukshetra his home and developed Brahma Sarovar and Thanesar, and also built Sri Krishna Museum. The other wave came only in 2000 when Jagmohan became Union minister of tourism."
Chhabra said, "All this will help the local economy. The youth will get employment. In fact, it is our dream that Kurukshetra have Govinda teams and mandals like they have in Maharashtra. The youth will channelise their energy."
Get Swarajya in your inbox everyday. Subscribe here.
An Appeal...
Dear Reader,
As you are no doubt aware, Swarajya is a media product that is directly dependent on support from its readers in the form of subscriptions. We do not have the muscle and backing of a large media conglomerate nor are we playing for the large advertisement sweep-stake.
Our business model is you and your subscription. And in challenging times like these, we need your support now more than ever.
We deliver over 10 - 15 high quality articles with expert insights and views. From 7AM in the morning to 10PM late night we operate to ensure you, the reader, get to see what is just right.
Becoming a Patron or a subscriber for as little as Rs 1200/year is the best way you can support our efforts.
Become A Patron
Become A Subscriber